Belgian decathlete Jente Hauttekeete (© AFP / Getty Images)
When 18-year-old Jente Hauttekeete lined up for a low-key heptathlon in Frankfurt on 13 February, his goal was simply to get close to the Belgian U20 record.
Instead, he stole the show, collected the national U20 record, and with a score of 6062 became the first ever U20 athlete to exceed 6000 points, breaking the 11-year-old world U20 heptathlon record.
The spotlight in Frankfurt was due to be on the duel between 2020 German indoor champion Andreas Bechmann and European U20 decathlon champion Simon Ehammer from Switzerland, both of whom were seeking to qualify for the European Indoors in Torun a few weeks later. Ehammer had made the last-minute decision to compete after no-heighting in the pole vault the previous weekend. But at the end of the first day of competition, the attention had shifted away from the senior athletes and towards the young Belgian in the field, as rumours began to circulate of a world U20 record.
In the men's combined events there are two sets of U20 marks: those set using the U20 implements (a lighter shot/discus and lower hurdles) and those set by U20 athletes using the senior implements. It was the world record in the former that Hauttekeete suddenly located in his sights.
"I went to Germany with the national record as a goal: 5820 points, which is a very strong score to beat," he recalls. "I didn't have any expectations for a world record. At the end of the first day, I had three personal records, and my trainer and I saw that the world record was possible. But I would need a strong second day as well."
And a strong second day he delivered. After lifetime bests of 7.33m in the long jump, 15.64m in the shot and 2.10m in the high jump, Hauttekeete went on to achieve a PB of 4.70m in the pole vault, and a six-second PB in the 1000m to arrive at a final score of 6062, exceeding Spaniard Eusebio Caceres' mark of 5984 from March 2010.


View this post on Instagram

There was just the one nervous moment, in the pole vault, as he took all three attempts to clear his opening height. "There was a little bit of pressure on my third attempt at the opening height, and then I did a Huffman Roll which was a bit weird!" he describes.
The Huffman Roll – a theatrical high jump-style straddle – was made famous by US vaulter Scott Huffman in the early nineties and, while accidental on this occasion, it deposited Hauttekeete safely over the bar. Importantly, it didn't faze him, as he then went on to vault higher than ever before.
"I also needed three attempts at my opening height at the European U18 Championships," he explains, "and in my decathlon last year in Belgium I also needed three attempts. So, I know how to keep myself calm, and think about good technique. And luckily, I did it."
Prior to the pandemic, Hauttekeete had been building up his championship experience. He was ninth at the European U18 Championships in Gyor, Hungary in 2018, and then finished second with a score of 7540 at the European Youth Olympic Festival in Baku in 2019, behind Norway's Sander Skotheim.
Skotheim also had a good 2020-21 indoor season and won the Norwegian U20 title on 21 February with 6015, only the second U20 athlete to exceed 6000 points. With his world record only a week old, it was a little too close for Hauttekeete's liking.
"We were sitting at the computer watching his 1000m and timing every lap – it was a little moment of stress!" he says.
After Gyor and Baku, the next major milestones on Hauttekeete's horizon are the age group championships of 2021. As he prepares, he is mindful both of his competitors and the transition from indoor to outdoor – from seven to 10 events.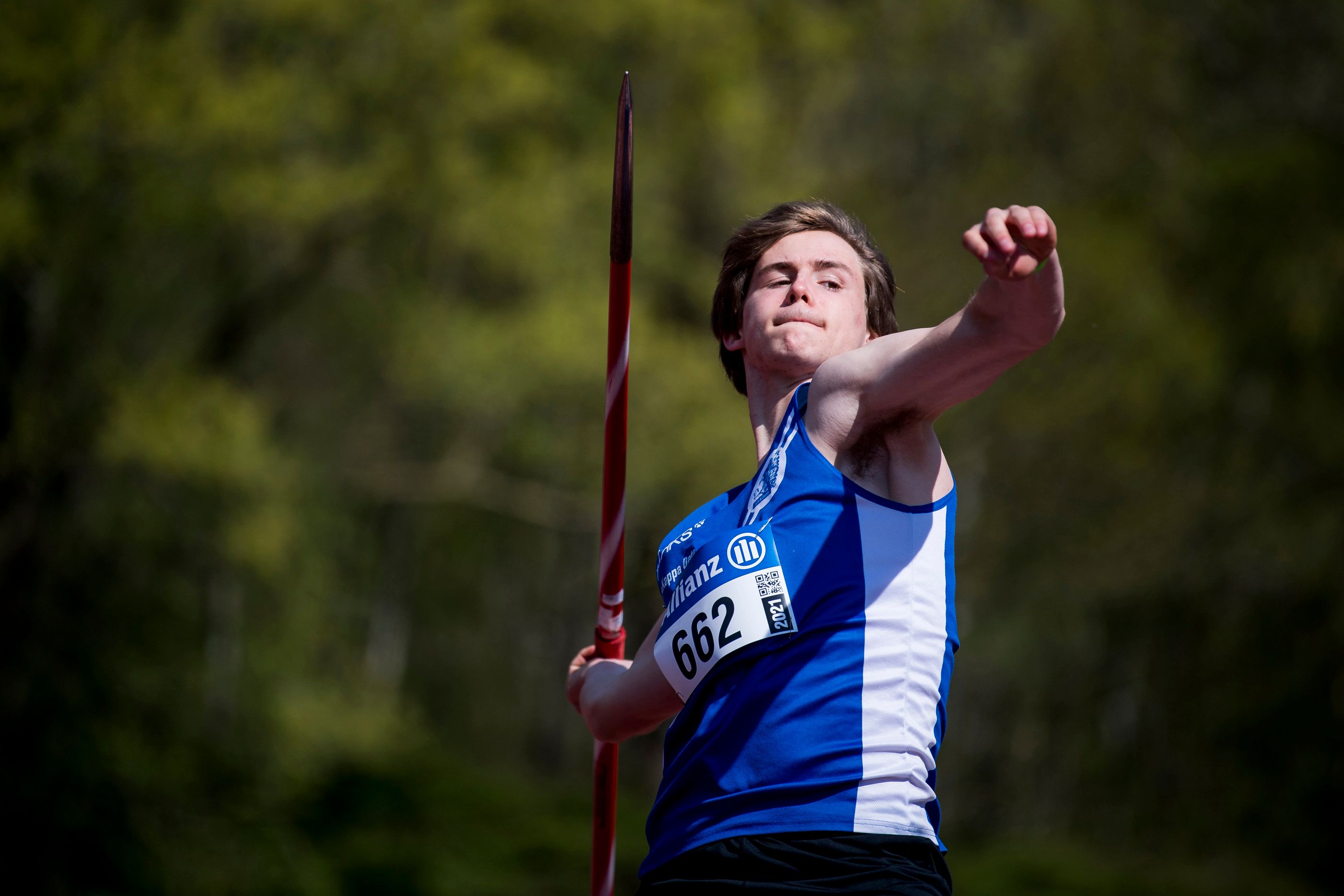 "I think Sander is better in the decathlon because his discus and javelin are much better than mine," he contemplates. "In the javelin I can throw just 50 metres while Sander is already throwing 65. I really have to work on javelin and discus, and I can improve a lot more in the pole vault too. I don't get the same points there as in the high jump or hurdles. That's why I'm glad I have the world record indoors – he might get it outdoors! But I think it will take time to be at my best. It's not what you do when you're under 20 that counts, but later on.
"The experience of Gyor and Baku, competing against athletes who are better than you, will help me in the summer, where I am focusing on the European U20 Championships in Tallinn," added Hauttekeete. "There, I want to be my best, and Nairobi (the World U20 Championships) would be a little bonus. I also hope to beat the national U20 decathlon record this year."
Hauttekeete discovered combined events thanks to his parents Melanie Moreels, a former 400m hurdler who had a PB of 58.38, and Hendrik Hauttekeete, a sprinter and long jumper. They now coach their son, each focusing on their specialist events with an additional four trainers to cover the full 10 disciplines of the decathlon. Jente's cousin, Aaron Botterman, is also an athlete, and won silver in the 800m at the 2013 European U20 Championships.
"My parents got me involved in athletics, and at first I didn't want to do it because I thought it was only running. I wanted to do football, like most little boys. But after one training session, I really liked it. A few months later, we did some competitions and saw that I was talented in the jumps and sprints. And then at the age of 15, we started focusing on combined events.
"I've never done the 400m hurdles, though. My mum recommended that I do it once, but I don't want to die just for fun!
"Decathlon has a special place in my life," he added. "It was my dream as a little boy of six to be a professional athlete, and I think I'm well on the way towards that. The first decathlete I knew of was Ashton Eaton, and I really wanted to be like him and to break a world record.
"Now that I have a world record, it doesn't mean that my dream has come true. But maybe I will also reach the 9000-point barrier. And if my name was on the same list as Ashton and Kevin Mayer, then that would be a dream for me."
Gabriella Pieraccini for World Athletics