Patrick Sang (© Dan Vernon / NN Running Team)
As an athlete, Patrick Sang was one of the best steeplechasers in the world, winning world and Olympic medals in the early 1990s. But his achievements as a coach have already far outweighed his on-track accolades, having guided the likes of Eliud Kipchoge, Faith Kipyegon and Geoffrey Kamworor to considerable global success.
But ask any of the 25 elite resident athletes at the Kaptagat Training Camp and they would say that Sang is more than just a coach. And that approach is reflected in the camp itself, as the athletes do more than just running during their time there.
For Sang and his athletes, running is a way of life.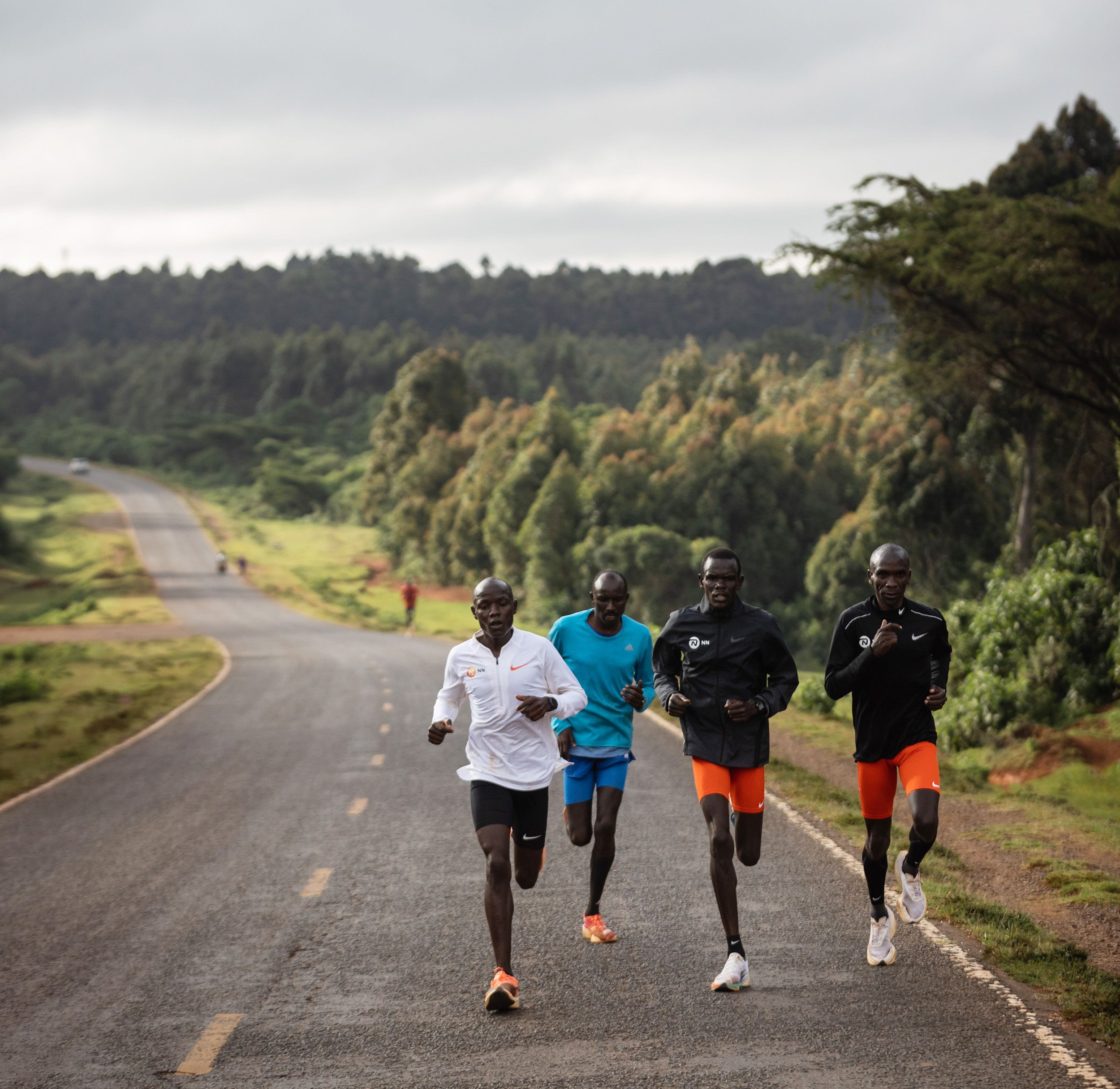 The NN Running Team on a training run (© Dan Vernon / NN Running Team)
How did you get involved in coaching?
Patrick Sang: I first coached myself during my career and even started coaching some athletes back in 1997 while I was still running. But when I retired, I realised I didn't have the skills to be a coach. I could coach steeplechase but didn't have the skills for other distances, so I did a World Athletics coaching course at a regional centre here in Kenya and went through the whole process, from the lowest to the top level of coaching, focusing on middle and long distances. It gave me the confidence to trust in the methods I use and the intensity you put into your training programme.
How would you define the role of a coach?
PS: Being a coach is like being an artist. You see with your eyes the overall picture and the potential of an athlete. When I test an athlete, I see where their weaknesses are.
We're not there to monitor them and tell them what they need to do, but to guide them. If the athletes feel good, they will run. But we need them to understand that when running, it needs to be progressive. Increases in training should come naturally.
The biggest mistake an athlete can make is not listening to their bodies and not understanding what they are supposed to do. If they understand it, then they programme themselves.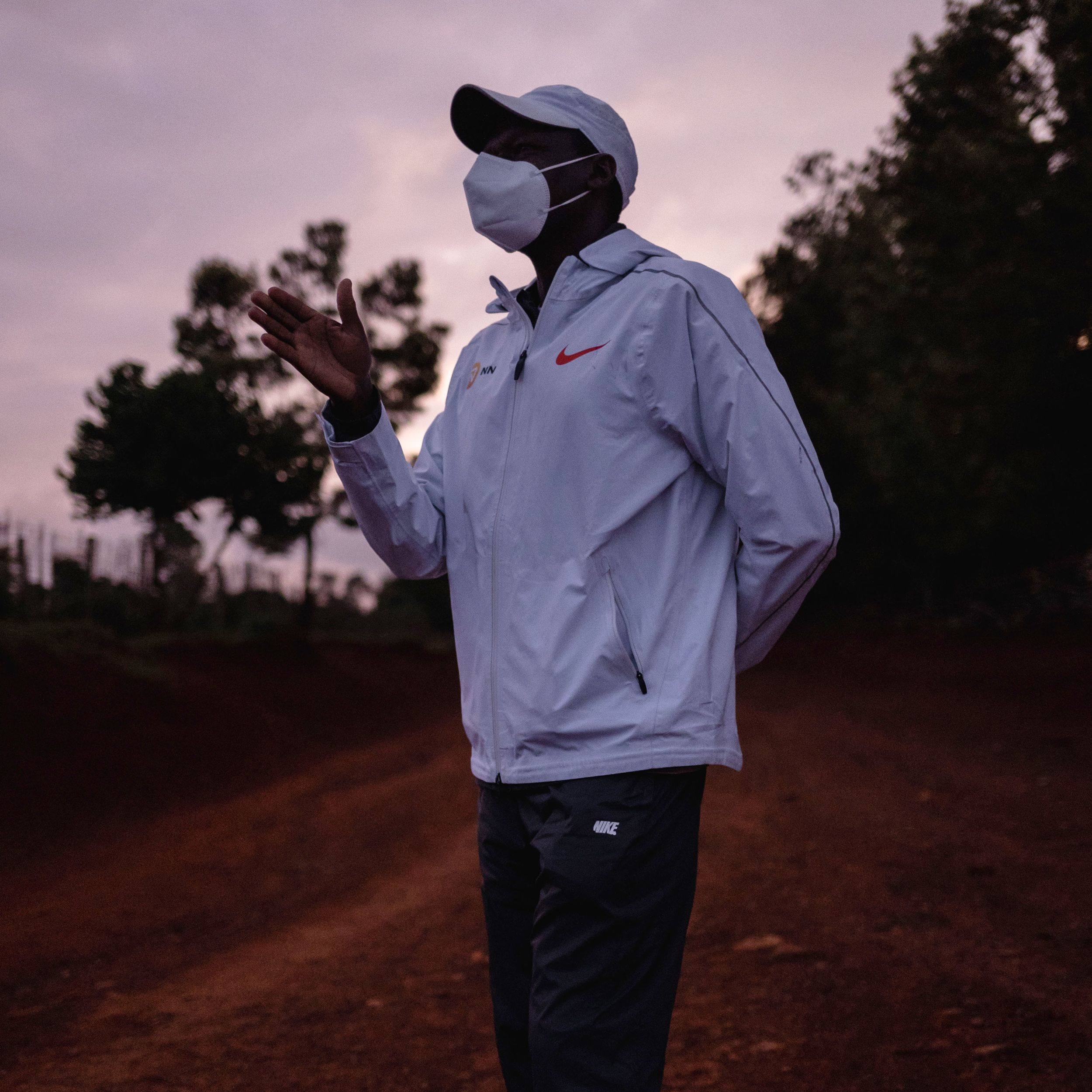 Patrick Sang (© Dan Vernon / NN Running Team)
You are known for being more than a coach to your athletes and are keen for them to develop new skills as human beings beyond running. Can you tell us more about your philosophy?
PS: The Kaptagat camp is run by athletes who do everything there, from making the bread to doing the cleaning and the shopping. Clips of Geoffrey and Eliud making chapatti went viral on social media, but those videos weren't created to show off; this is simply what they do in the camp.
The whole idea is to make these athletes an all-around person. We encourage them to have dialogues and interact with each other to grow and encourage the development of different skills. You don't want to make an athlete who is great at running but then when it comes to social skills they look like monsters or superstars who are out of touch with the real society.
We also have meetings and bring in experts once in a while to teach different things such as financial management, insurance, or any other life issues that you may encounter after your athletics career. This is now also a culture within the camp whereby they help and support each other socially, and you often see them engaging in real debates around serious issues. That's how we develop them as holistic people who are good athletes.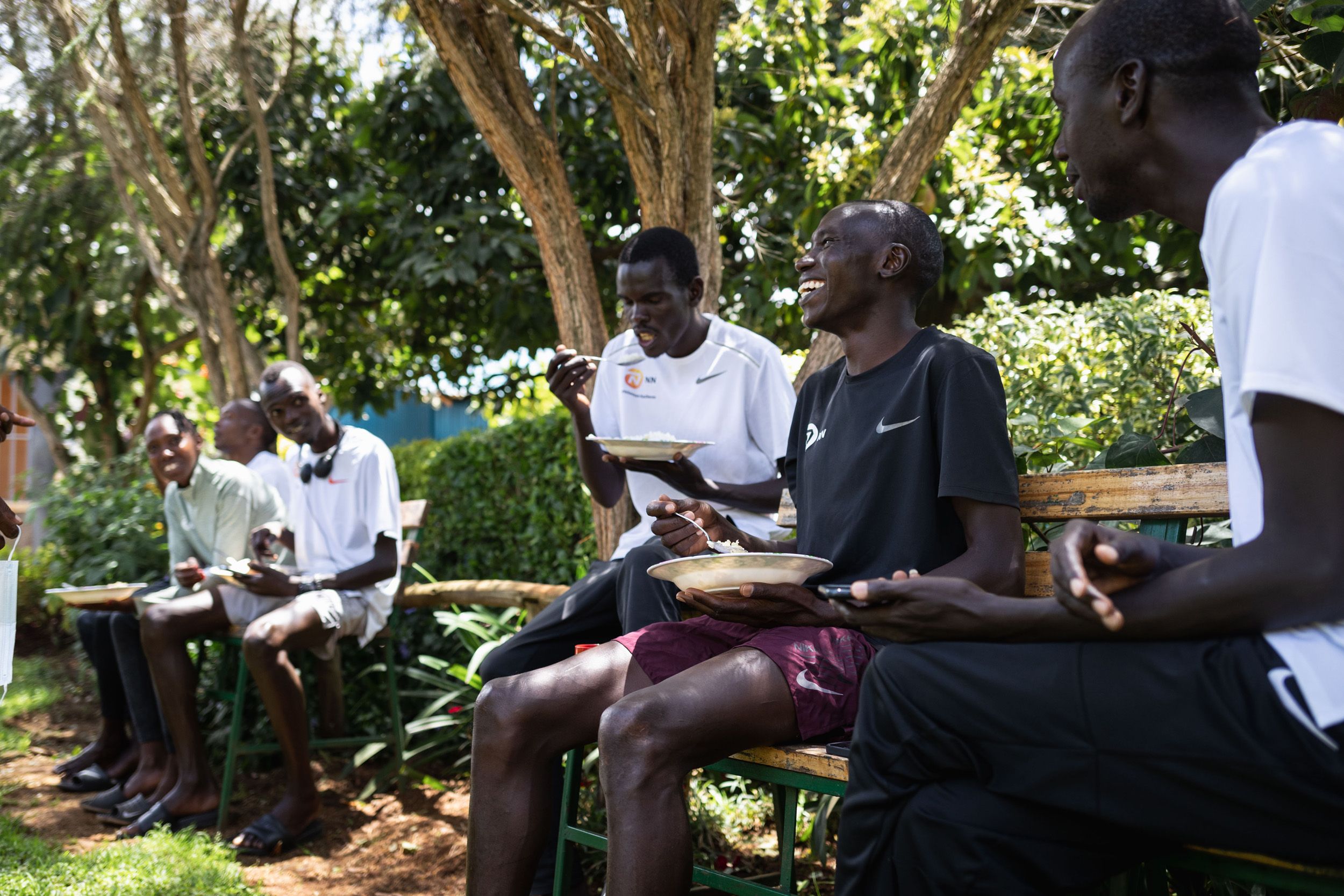 Athletes at the Kaptagat Training Camp (© Dan Vernon / NN Running Team)
How do you cope with having to train so many athletes who often have different training schedules?
PS: When I plan training programmes, we look at the key events within each year where the athlete should reach their peak and then I work backwards for each athlete. That's what makes a difference. When they do recovery runs, of course, they all do the run together. But then when it is a more specific session, it's a different build-up and each athlete has individualised training.
Different people use their energy system differently and if you don't understand them as a coach and train them equally, then you are disadvantaging them. You need to first understand who they are as individuals so that when you work back from their key event, you know in which direction they are going.
How do you stay on top of your coaching game to ensure you use the best training methods?
PS: Generally, the athletes I work with and have been successful place trust in the coach. Without trust, you cannot go far with the athlete. Athletes such as Eliud and Geoffrey have never asked me, 'why do we do this or that?'. They just trust the process and do the job – although sometimes that puts a bit more pressure on you as a coach.
I don't want to claim all the credit for everything my athletes achieve because we are surrounded by a very good team. When it comes to nutrition, for example, I'm not an expert, so I work with people who have the knowledge to help us to move forward. At one point we had a nutritionist come and stay with us to understand things as they are. We learned a lot by having him here and discovered what areas of intervention we needed within the camp.
The nutritionist analysed the content of everything we had, and found that the protein intake was too low for our athletes, so we took action by coming up with home-grown solutions without doing crazy things. We now make our own bread that still looks white (as they prefer white bread to brown bread) but is fortified so that it's healthier for the athletes. We also use fermented milk, which is very rich in nutrients and a great way of taking proteins.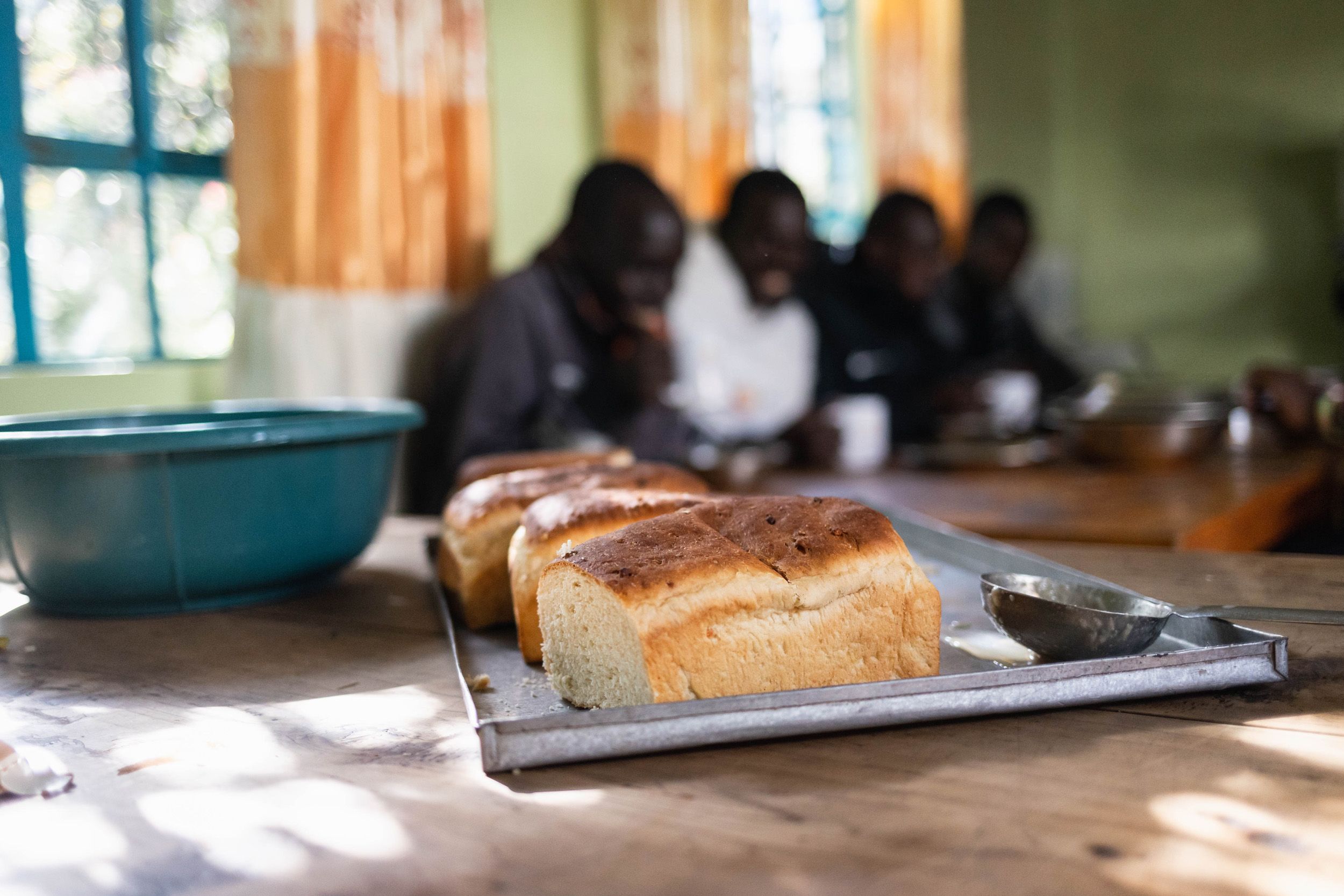 Athletes' mealtime at the Kaptagat Training Camp (© Dan Vernon / NN Running Team)
Your athletes train and live in very basic conditions. Is new technology used anywhere at the Kaptagat training camp?
PS: Previously, most Kenyan athletes would run on dirt roads, but as the country continues to become more developed, more and more asphalt roads have been built. Dirt roads are softer than asphalt, but the new asphalt roads means we're now limited in the areas we can use for training.
The arrival of new technologies in running shoes helps, because athletes can now do a lot more training on hard surfaces and still recover in time to do their next hard session. The evolution of technology in general – including the use of smart watches and data – has really been a plus in my work as a coach and in the performance of the athletes.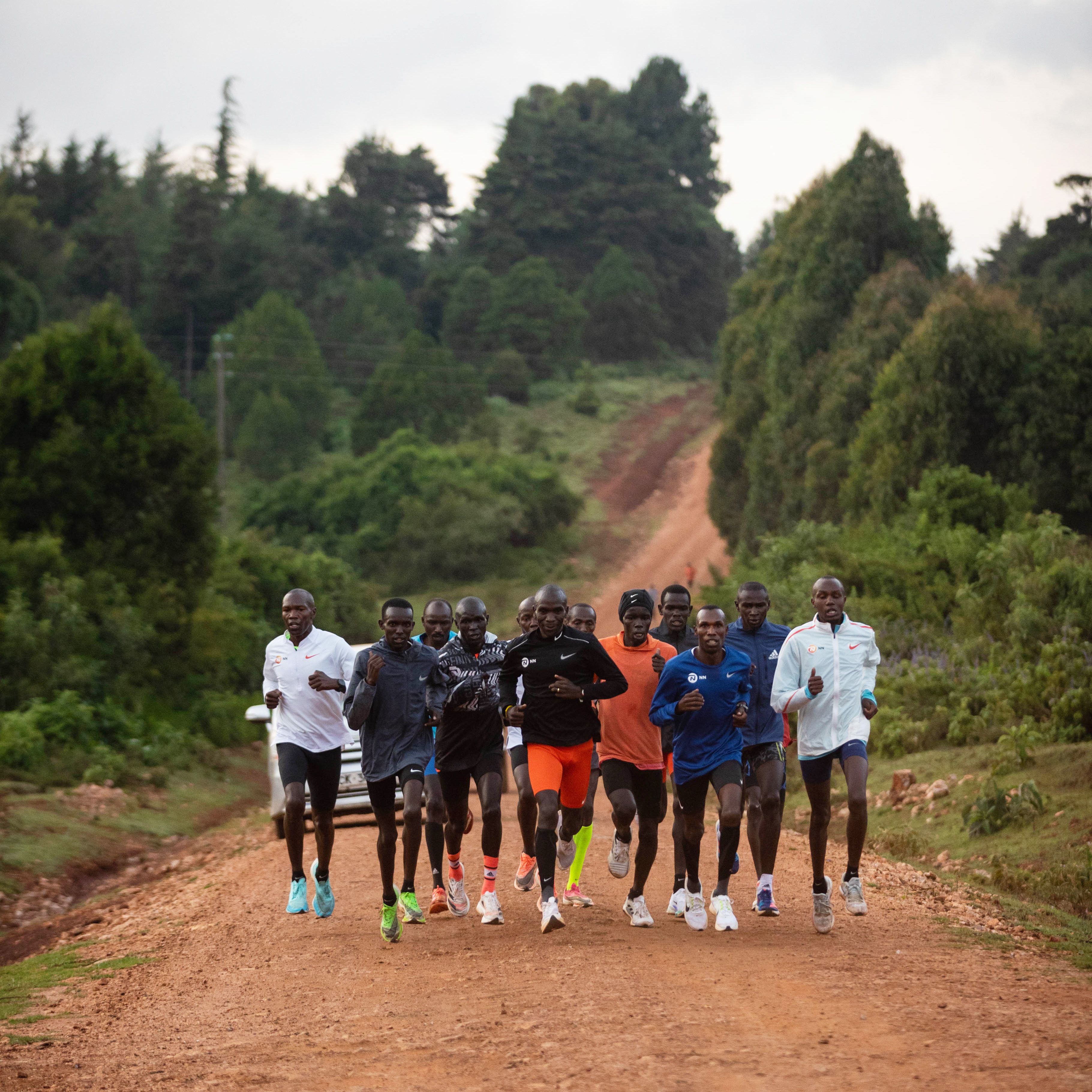 The NN Running Team on a training run (© Dan Vernon / NN Running Team)
Geoffrey Kamworor made a great return to form this year after being involved in a car crash in June 2020. How do you assess his form ahead of his appearance at the Valencia Marathon next month?
PS: To me, Geoffrey came back stronger physically but also mentally. He is a more professional athlete now. I do not set any target for athletes like Geoffrey or any other athlete because setting targets is putting pressure. And I believe that serious athletes like them, they have the willingness to give their best and that's always what we should ask from them.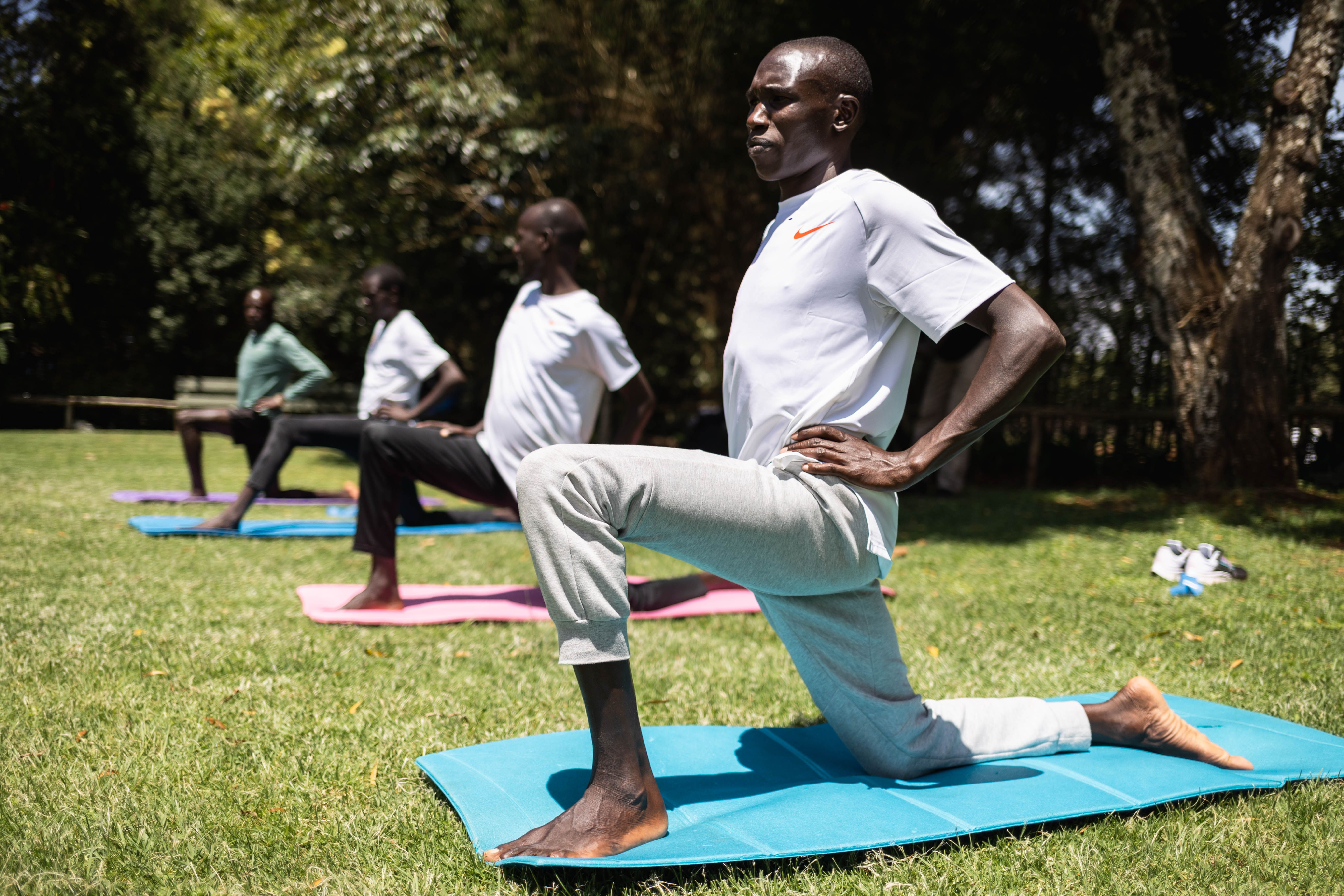 Geoffrey Kamworor at the Kaptagat Training Camp (© Dan Vernon / NN Running Team)
What would you rate as Eliud Kipchoge's best achievements to date?
PS: It's difficult to pick one best moment. For me, the biggest thing is that, having realised he has a special talent, he has managed to navigate this journey to make his talent work for him at the top level. It has been a real journey.
When he won the world 5000m title in Paris in 2003, Eliud was still a teenager and he managed to beat Kenenisa Bekele and Hicham El Guerrouj, who at that time were both very special athletes. But that was just the start of Eliud's journey towards success.
The sub-two-hour attempts in Monza and Vienna were probably the biggest challenges of his career so far. And of course successfully defending his Olympic title in difficult conditions in Tokyo also has to be up there.
What tips would you give to someone who is looking to get into running?
PS: My best advice is to understand yourself, to work at your maximum potential and don't be afraid to seek information from anybody, any expert that you feel can help you to grow as an athlete. Each person's potential is completely different to the next, so the important thing is to work towards your own capability.
Loic Malroux for World Athletics