Sergey Bubka, Tim Mack, Steve Hooker, Thiago Braz and Mondo Duplantis (© Getty)
The six-metre pole vault remains one of the most elusive barriers in elite athletics yet it is also one of the most universal.
Pole vault legend Sergey Bubka was the first to achieve the feat, topping 6.00m exactly on 13 July 1985. Then on 22 January 1989 – 32 years ago today – an unofficial 'club' of six-metre vaulters was formed when Rodion Gataullin became the second person to scale the height.
The club now boasts 24 members, including seven of the past eight Olympic champions in the event. Between them, the group has won 13 world titles outdoors and 14 indoors. The barrier has been scaled at the sport's three biggest senior global events: the Olympic Games, the World Athletics Championships and the World Athletics Indoor Championships.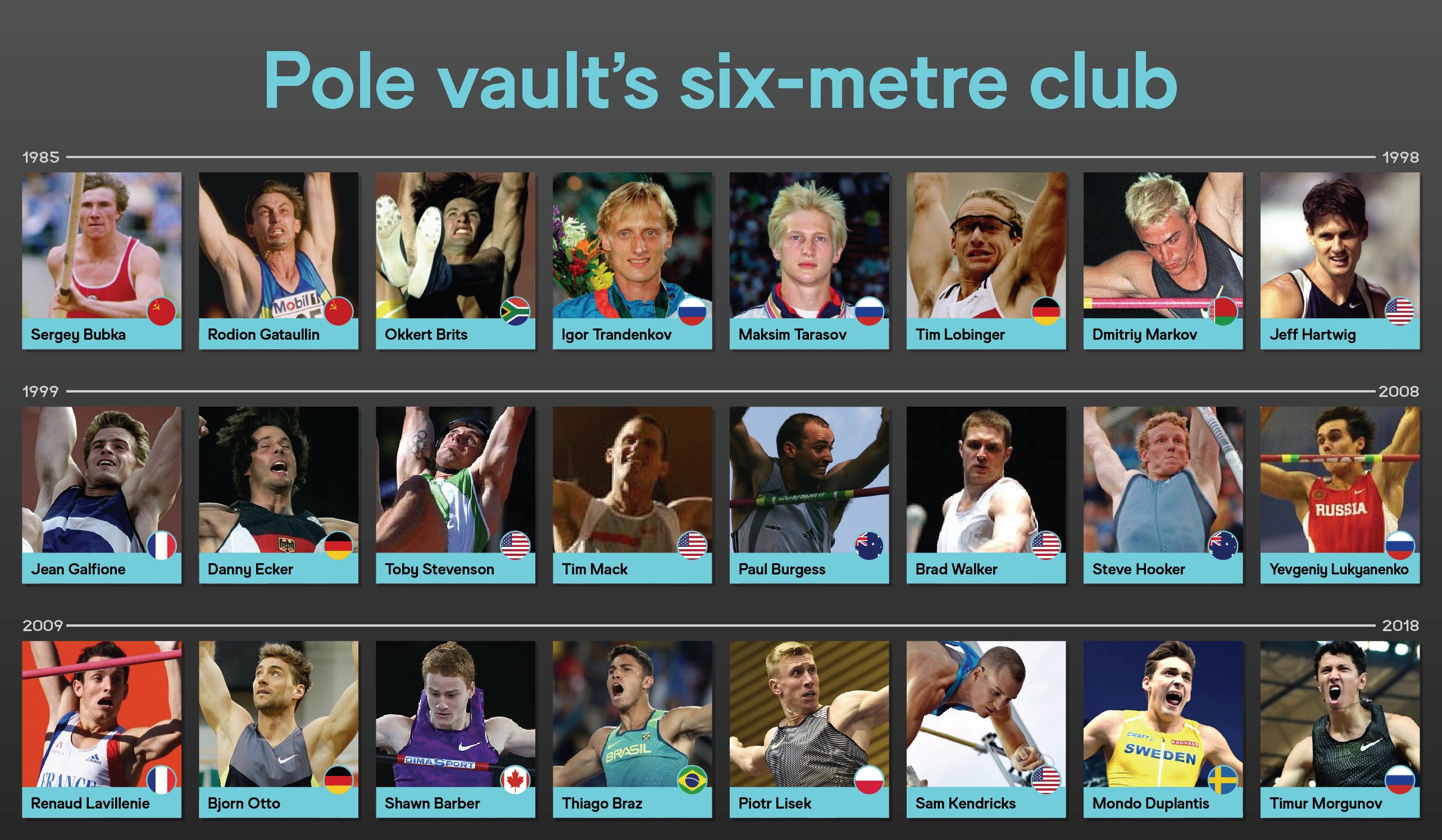 And while certain nations feature prominently on the world all-time list, the global nature of the pole vault is highlighted by the fact there are 11 different nationalities in the group, spanning five of the six continental areas of the sport.
Berlin, with its tally of eight, has played host to more six-metre vaults than any other venue in the world. It is closely followed by the Ukrainian city of Donetsk, one of Bubka's favourite venues which has hosted four world indoor records.
"I was certainly proud and happy to be the first to clear the magic height of six metres," Bubka said a few years ago. "At the time, journalists compared me with Yuri Gagarin, the first human to journey into open space."
Mondo Duplantis, who last year broke the world record for the event, is one of the newest members of the club. And while six-metre vaults have now become commonplace for the young Swede, he will never forget his first 6.00m jump.
"It was one of the most special moments of my life," he said of the 2018 European Championships final in Berlin, where he ended up clearing a world U20 record of 6.05m to take gold. "I'll never forget it."
Pole vault's six-metre club (in chronological order)
Sergey Bubka (URS/UKR) 13 Jul 1985
Rodion Gataullin (URS) 22 Jan 1989
Okkert Brits (RSA) 29 Jul 1995
Igor Trandenkov (RUS) 4 Jul 1996
Maksim Tarasov (RUS) 16 Jul 1997
Tim Lobinger (GER) 24 Aug 1997
Dmitriy Markov (BLR/AUS) 20 Feb 1998
Jeff Hartwig (USA) 4 Jun 1998
Jean Galfione (FRA) 6 Mar 1999
Danny Ecker (GER) 11 Feb 2001
Toby Stevenson (USA) 8 May 2004
Tim Mack (USA) 18 Sep 2004
Paul Burgess (AUS) 26 Feb 2005
Brad Walker (USA) 19 Jul 2006
Steve Hooker (AUS) 27 Jan 2008
Yevgeniy Lukyanenko (RUS) 1 Jul 2008
Renaud Lavillenie (FRA) 21 Jun 2009
Bjorn Otto (GER) 5 Sep 2012
Shawn Barber (CAN) 15 Jan 2016
Thiago Braz (BRA) 15 Aug 2016
Piotr Lisek (POL) 4 Feb 2017
Sam Kendricks (USA) 24 Jun 2017
Mondo Duplantis (SWE) 12 Aug 2018
Timur Morgunov (RUS) 12 Aug 2018