Hayward Field at the University of Oregon (© University of Oregon)
"Take a look, go on a scavenger hunt, and see what we missed. That would be a better question. I've been a lot of places and the attention to detail is uncanny."
As Oregon track and field head coach Robert Johnson highlighted during this week's behind the scenes reveal, Hayward Field at the University of Oregon has so much to offer that listing all its facilities is not a quick job.
From the impressive competition arena and multiple discipline-specific training areas to a theatre, barber shop and salon, weight room, plunge pools and so much more, the track and field athletics-focused venue is a haven for athletes and fans.
While the impressive stadium will welcome the world for the World Athletics Championships Oregon22, athletes and a limited crowd will have the opportunity to experience it on Friday (2) and Saturday (3) as the stadium hosts its first meeting since 2018, when historic Hayward Field closed for reconstruction.
Many college athletics stars, including Oregon's Cole Hocker who claimed a mile and 3000m double at the NCAA Indoor Championships last month, will be competing at the Hayward Premiere this weekend, while action this month will also include the first Continental Tour Gold meeting to be held on US soil, the USATF Grand Prix, on April 24. The NCAA Outdoor Track & Field Championships and US Olympic Trials take place in June, while the Prefontaine Classic, a Wanda Diamond League meeting, is in August.
With so much to explore, check out the video tour to take a look for yourself.
Aside from the track, the facility's outdoor space also features a 5 percent incline track-surfaced ramp that runs from the competition level to the concourse.
'The Vault' provides indoor space for throws, jumps and vaults and six lanes spanning 140 metres allows for indoor training for sprints and hurdles. Track surface can also be found throughout the training-level corridors – 'Lane 10" – that provides an additional 280 metres of continuous training space.
In total, there is almost 18,500 square metres of running surface.
The arena has 12,650 permanent seats – which are expandable to nearly 25,000 – and the spacious multi-colour seating was designed to give a more "full stadium" illusion using different shades of green and yellow. The first row of seating sits on track level and there are unobstructed sight lines throughout.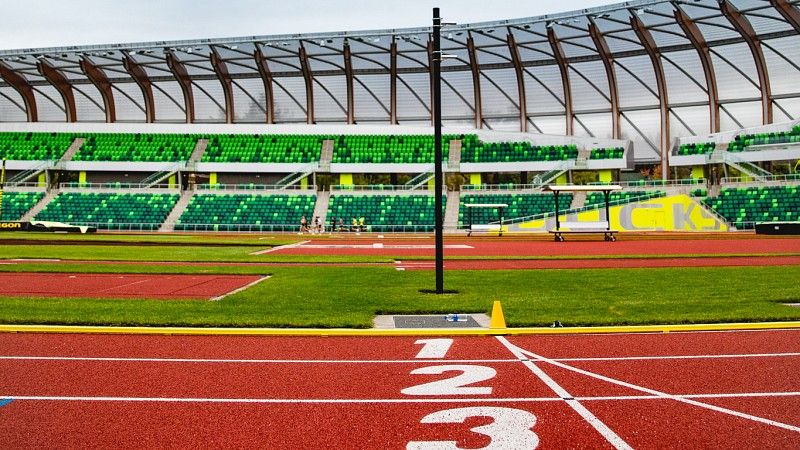 Trackside at Hayward Field (© University of Oregon)

The roof structure includes 76 curved, soaring wood supports – made of Douglas fir – that add a uniquely Oregon and Pacific Northwest character.
Alongside the stadium, and standing over 10 stories tall, is the Tower at Hayward Field which depicts images of five icons who have helped define the Oregon Track and Field legacy. Along with legendary coach Bill Bowerman, it shows Steve Prefontaine, Raevyn Rogers, Ashton Eaton and Otis Davis and inside it features a lobby filled with interpretive exhibits, an observation deck and viewing areas.
An extra touch is that training notes which Bowerman wrote for his athletes are on display throughout the stadium, including on the overhead mesh.
"The main premise of actually rebuilding Hayward Field in this manner is to make it built for the athlete," said creative director and visual branding lead Todd Van Horne.
"When we were evaluating what was in and what was out, it was, 'is this a better experience for the athlete? Is it going to help their training? Is it going to help their performance?' Then it's in.
"It feels very heroic, but it's also intimate. It just feels like this thing now is wrapping you into these big arms. It's welcoming you in."
As Johnson adds: "The theatre for track and field is real." The show starts this weekend.
World Athletics