2020 Annual Report and Accounts
World Athletics has today published its Annual Report for 2020.


World Athletics 2020 Annual Report

The 2020 consolidated financial accounts should have marked the beginning of a new four-year funding cycle tied, in the main, to the revenues received from the International Olympic Committee (IOC). This was not the case given the postponement of the Tokyo 2020 Olympic Games to 2021 and three of our four World Athletics Series events during 2020.
In what was an extraordinarily difficult year for everyone we made a decision early in the year to concentrate on protecting the revenue we had and, more importantly, focus on reducing our expenditure. This was a good strategy which saw our cash reserves increase by 17% to US$40m.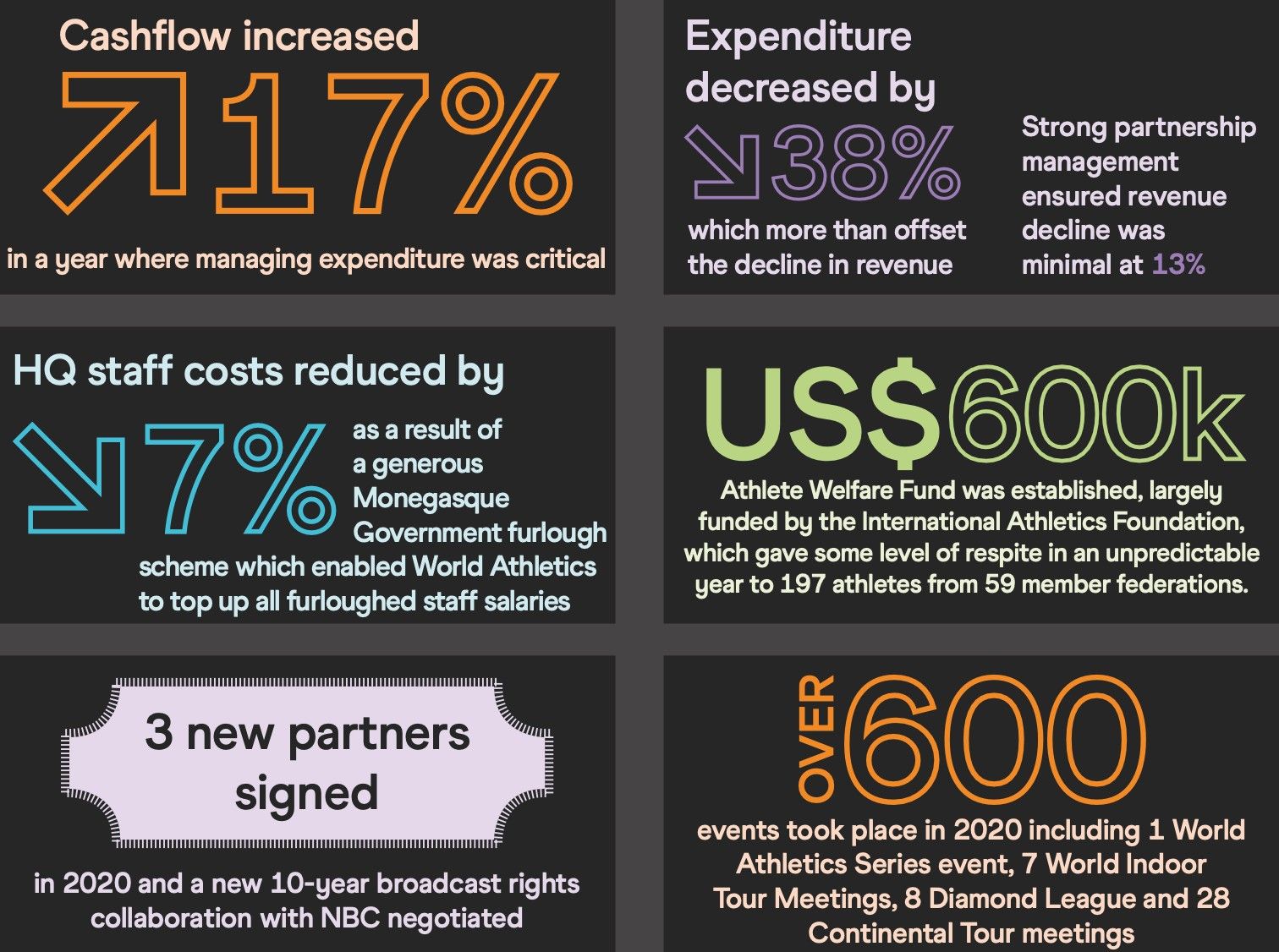 In anticipation of a fractured year of events, significant effort went into the careful management of expenditure with strong results. Expenditure for the period of 31 December 2020 decreased by 38% to US$41.7m from US$67.8m in 2019. Several mitigations contributed to this decrease.
• Competition related expenses dropped by almost half (49% to US$15m) as three of our four World Athletics Series events were postponed.
• Competition, event and development related Area and Member Federation grants also decreased significantly (48% to US$8m) as staggered and extended lockdowns across the world took hold.
• Furlough led to a reduction in staff costs of 7% (US$750k) in 2020 with up to 60% of head office staff fully or partially furloughed during 2020.
• Non-event related travel spend (including accommodation costs) dropped 85% from US$3.6m in 2019 to just US$550k in 2020.
Revenue for the year ending 31 December 2020 declined by 13% to US$44.2m from US$51.1m in 2019, primarily due to the reduced number of events, particularly Label Road Race events. However, maintaining revenue from broadcast and commercial rights by postponing rather than cancelling events helped to deliver US$34.9m revenue in a difficult year. The revenue also benefitted from the Russian Athletics Federation reimbursement of US$6.8m.
"The year 2020 seems a lifetime ago," World Athletics President Sebastian Coe says in his opening message in the report. "But I know that times are still difficult for many of our athletes as the Covid-19 global pandemic continues to restrict our movements and add layers of complexity to our lives.
"Looking back on 2020, I am proud and grateful for the way we came together as a sport. Three words define 2020 for me: resilience, bravery and flexibility.
"Resilience in the way we managed to adapt to the circumstances of the year. It was really hard work, but we were told regularly that we were braver and delivered better than many other international sports federations.
"Bravery in the way we didn't sit by and let the pandemic wash over us. We took action and made decisions to help our athletes navigate the year.
"Flexibility in the way we adapted our ways of working, from our global decision-making forums going virtual to the staging of regular online Member Federation Information Sessions joined by over 85% of our Member Federations.
"I was also delighted to welcome three new partners – Pinsent Masons, parkrun and Nielsen – in 2020. And I was incredibly proud that we managed to stage our World Athletics Half Marathon Championships in Gdynia, Poland, as well as over 600 individual events around the world in 2020 including eight Diamond League and 28 Continental Tour meetings which gave 4000 athletes from 94 countries an opportunity to participate in high level competition through these two meetings series.
"We have been prudent about how we have managed our resources, both financial and human, and throughout the disruption we had the discipline to focus on business-as-usual projects and programmes. This has been a huge effort by everyone in our sport. But we made significant progress across so much of our sport. We didn't just survive, we thrived.
"The priority for all of us right now is to continue to work hard for our sport in a pandemic environment that will be with us longer than we had envisioned," Coe adds.
"We have extraordinary breadth and depth of talented elite athletes in all Areas as we have seen in 2021 where 43 different teams won medals and 82 teams reached a final at the Tokyo 2020 Olympic Games with 151 national records set in 65 countries. At the World Athletics U20 Championships 35 countries won medals with 63 countries finishing in a top eight position.
"Together we came through 2020 stronger, more resilient, more innovative and creative, more connected, and more confident about our sport and its future. And, dare I say it, a little braver."
World Athletics


---
World Athletics publie son rapport annuel 2020
World Athletics a publié aujourd'hui son rapport annuel pour 2020.


Rapport annuel de World Athletics

Les comptes financiers consolidés de 2020 auraient dû marquer le début d'un nouveau cycle de financement de quatre ans lié, pour l'essentiel, à la dotation du Comité international olympique (CIO). Cela n'a pas été le cas, étant donné le report des Jeux olympiques de Tokyo 2020 à 2021 et de trois de nos quatre compétitions de la Série mondiale initialement prévues en 2020.
Au cours d'une année extrêmement difficile pour tout le monde, nous avons pris la décision au début de l'année de nous concentrer sur la protection de nos revenus et, plus important encore, sur la réduction de nos dépenses. Il s'est agi d'une bonne stratégie qui a vu nos réserves de trésorerie augmenter de 17 % pour atteindre 40 millions de dollars américains (USD).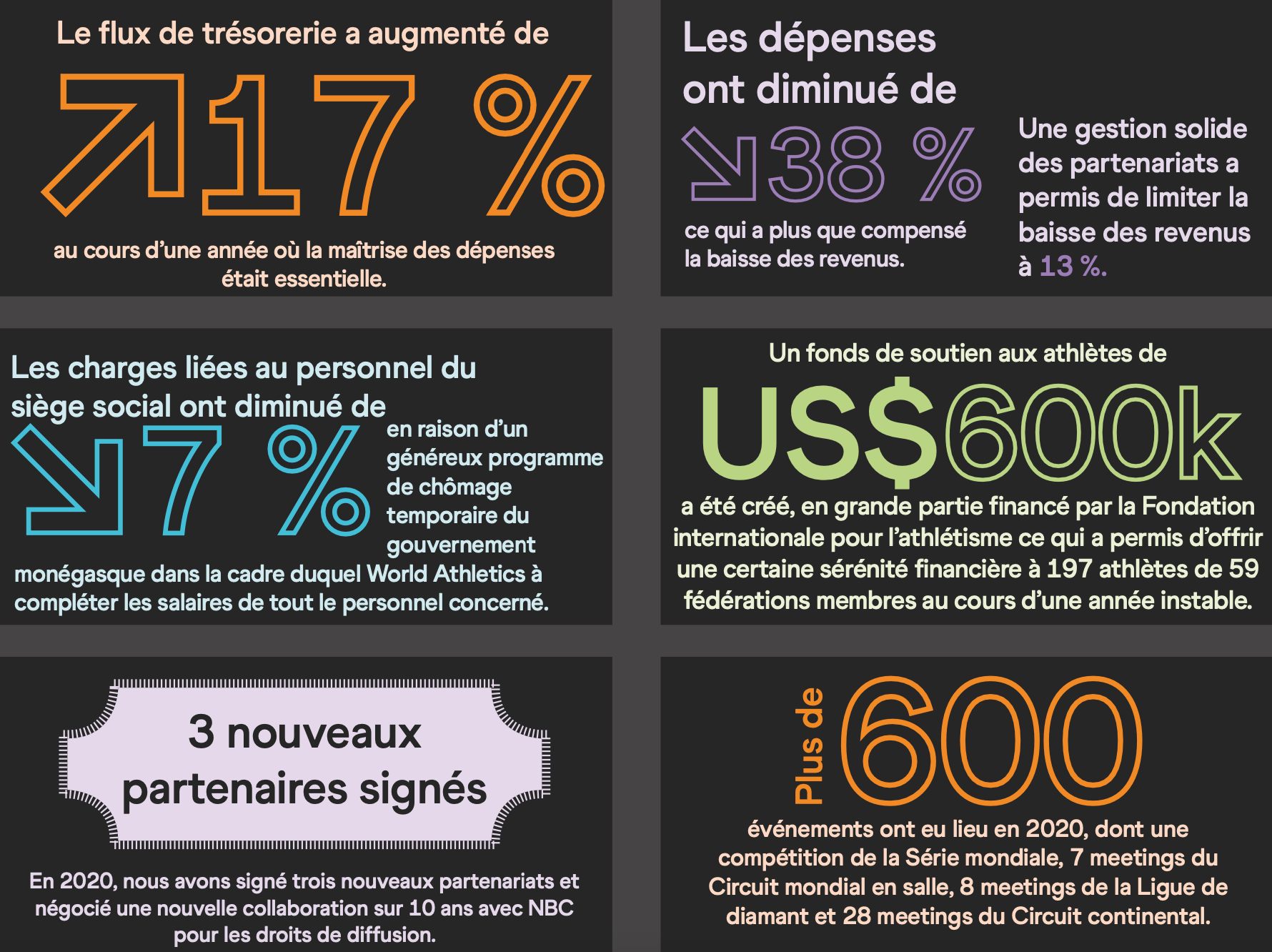 En prévision d'une année mouvementée, des efforts considérables ont été déployés pour gérer soigneusement les dépenses, avec de bons résultats. Les dépenses pour la période du 31 décembre 2020 ont diminué de 38 % passant de 67,8 millions USD en 2019 à 41,7 millions USD en 2020. Un certain nombre de mesures d'allègement ont contribué à cette diminution.
• Les dépenses liées aux compétitions ont chuté de près de la moitié (soit 49 % pour atteindre 15 millions USD) dans un contexte où trois de nos quatre compétitions de la Série mondiale ont été reportées.
• Quant aux subventions destinées aux Associations continentales et aux Fédérations membres liées aux compétitions, aux événements et au développement, elles ont également diminué de manière significative (de 48 % pour atteindre 8 millions USD) à cause des confinements échelonnés et prolongés à travers le monde.
• Le plan de chômage temporaire a entraîné une réduction des frais liés au personnel de 7 % (750 000 USD) en 2020, 60 % du personnel du siège ayant été mis au chômage temporaire partiel ou total au cours de 2020.
• Les dépenses de voyage non liées à un événement (y compris les frais d'hébergement) ont chuté de 85 %, passant de 3,6 millions USD en 2019 à seulement 550 000 USD en 2020.
Le chiffre d'affaires pour l'année se terminant le 31 décembre 2020 a diminué de 13 %, passant de 51,1 millions USD en 2019 à 44,2 millions USD, principalement en raison de la réduction du nombre d'événements, en particulier les courses sur route à label. Cependant, le maintien des revenus des droits de diffusion et des droits commerciaux grâce au report plutôt qu'à l'annulation des événements a permis de dégager un produit de 34,9 millions USD au cours d'une année difficile. Les recettes ont également été alimentées par 6,8 millions USD provenant de la Fédération russe d'athlétisme.
« Devant ces souvenirs récents, l'année 2020 semble être déjà bien loin, » a déclaré le président de World Athletics Sebastian Coe dans son mot d'introduction du rapport. « Pourtant, je sais que les temps sont encore difficiles pour beaucoup de nos athlètes, alors que la pandémie mondiale de COVID-19 continue de restreindre nos déplacements et d'ajouter à la complexité de nos quotidiens.
En repensant à 2020, je suis fier et reconnaissant de la façon dont nous avons fait union en tant que sport. Selon moi, trois mots définissent 2020 : Résilience, Courage et Souplesse.
La résilience se reflète dans la façon dont nous avons réussi à nous adapter à la conjoncture. La tâche s'est révélée difficile, mais nombreux sont ceux qui nous ont salués pour notre courage et qui ont considéré que nous avions mieux réussi que bien d'autres Fédérations sportives internationales.
Le courage s'est manifesté dans la façon dont nous avons lutté pour empêcher la pandémie de nous submerger. Nous avons agi et pris des décisions pour aider nos athlètes à traverser cette année difficile.
Nous avons fait preuve de souplesse dans l'adaptation de nos méthodes de travail, qu'il s'agisse de la virtualisation de nos processus de prise de décision ou de l'organisation régulière de sessions d'information en ligne, auxquelles ont participé plus de 85 % de nos Fédérations membres.
En 2020, j'ai également été ravi d'accueillir trois nouveaux partenaires : Pinsent Masons, parkrun et Nielsen. Je suis très fier que nous ayons réussi à organiser nos Championnats du monde de semi-marathon à Gdynia, en Pologne, ainsi que plus de 600 épreuves individuelles dans le monde, dont 8 meetings de la Ligue de diamant et 28 meetings du Circuit continental, ces deux séries de meetings ayant permis à 4 000 athlètes de 94 pays de participer à des compétitions de haut niveau.
Nous avons été prudents dans la gestion de nos ressources, tant financières qu'humaines, et pendant cette période mouvementée, nous nous sommes efforcés de rester concentrés sur les projets et programmes habituels. Le travail à accomplir était titanesque, mais nous avons fait des progrès significatifs dans de nombreux secteurs de l'athlétisme. Nous n'avons pas seulement survécu, nous avons prospéré.
À l'heure actuelle, la priorité pour nous toutes et tous est de continuer à travailler dur pour notre sport dans un contexte de pandémie qui durera plus longtemps que nous l'avions envisagé », a ajouté Coe.
« Nous avons un panel extraordinaire d'athlètes d'élite talentueux dans toutes les régions continentales, comme l'a montré 2021, année au cours de laquelle 43 équipes différentes ont remporté des médailles et 82 équipes ont atteint une finale aux Jeux olympiques de Tokyo 2020, avec 151 records nationaux établis dans 65 pays. Lors des Championnats du monde U20, 35 pays ont remporté des médailles et 63 pays ont terminé dans les 8 premiers.
Ensemble, nous sommes sortis plus forts de cette année, plus résistants, plus innovants et créatifs, plus connectés, plus confiants dans notre sport et son avenir et, j'ose le dire, un peu plus courageux. »
World Athletics