Chinese shot putter Gong Lijiao (© AFP / Getty Images)
Two-time world shot put champion Gong Lijiao produced one of the best marks of her career to win the shot put at the Chinese Championships in Shaoxing on Sunday (13).
The 32-year-old threw beyond 19 metres on all of her five valid attempts. She opened with 19.43m, then improved to 19.56m in round three and 19.90m in round five before unleashing a world-leading 20.31m in the final round.
The last time anyone threw farther was back in 2018 when Gong herself recorded 20.38m.
Song Jiayuan, the 2016 world U20 silver medallist, finished second with 18.95m, while multiple World Championships finalist Gao Yang was third with 18.44m.
World indoor silver medallist Su Bingtian equalled his season's best of 9.98 (0.8m/s) to win the men's 100m, finishing comfortably ahead of Xie Zhenye (10.15). In third, Yan Haibin came within 0.04 of the Chinese U20 record with a PB of 10.22.
Elsewhere in Shaoxing, Asian silver medallist Zhu Yaming came within one centimetre of his PB to win the men's triple jump with 17.39m, while 2016 world indoor bronze medallist Huang Changzhou won the men's long jump with 8.19m. Wang Chunyu clocked a PB of 1:59.42 to win the women's 800m by almost six seconds, and world bronze medallist Wang Zheng took the women's hammer with 73.38m.
Dustin makes 800m breakthrough in Nice
Britain's Oliver Dustin took almost two seconds off his 800m PB with a breakthrough performance in France on Saturday (12), clocking a world-leading 1:43.82 at the Meeting International de Nice.
In seventh place some way back off the leader Elliot Giles along the back straight, 20-year-old Dustin had closed the gap with 200m to go and then he kicked again. Moving from seventh to third off the final bend, the 2019 European U20 champion blasted down the home straight to pass France's Gabriel Tual and Giles. He won by more than half a second, with Tual claiming the runner-up spot in a PB of 1:44:44 and Dustin's fellow Briton Giles – who ran 1:43.63 indoors in February – finishing third in 1:45.05.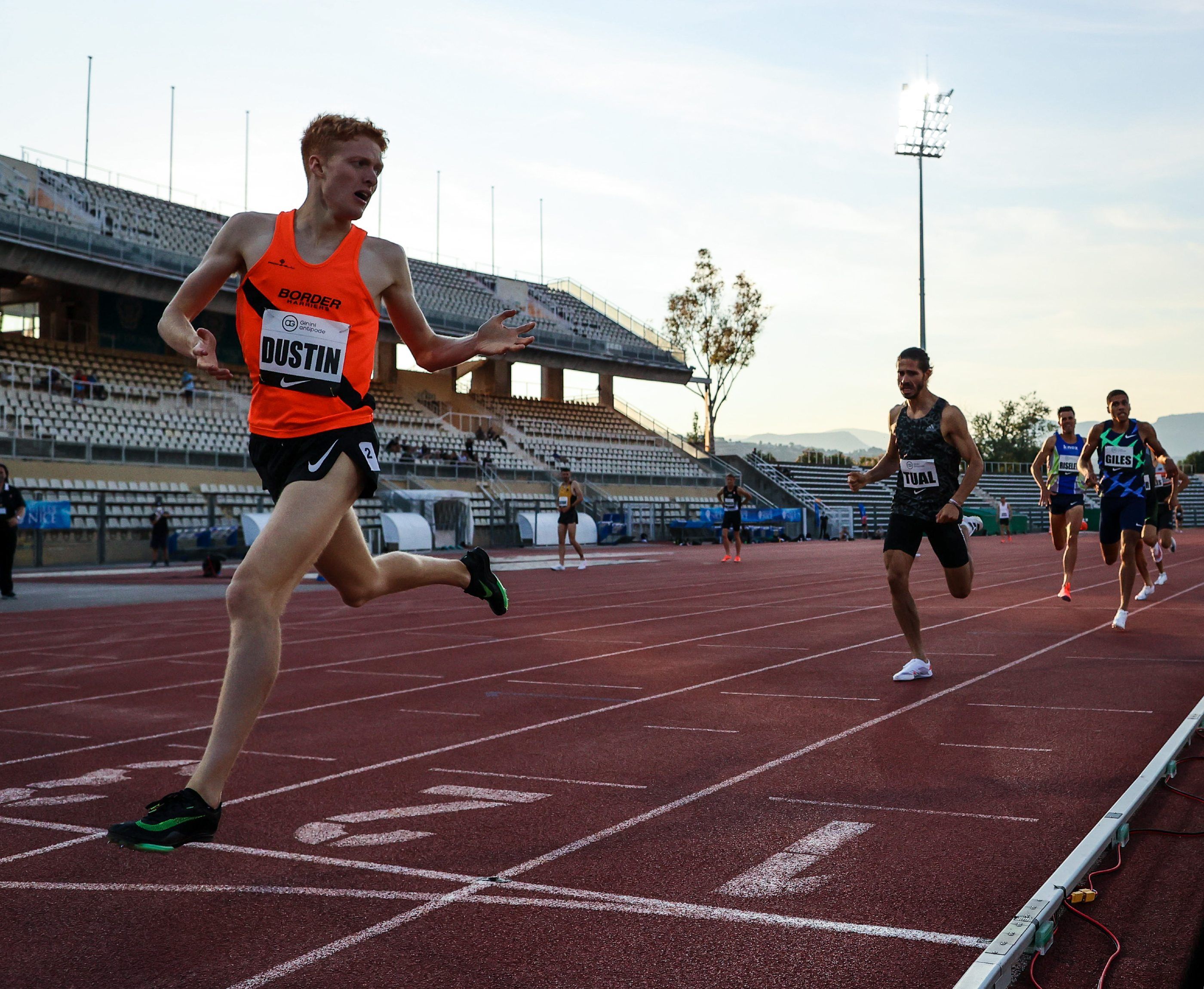 Oliver Dustin wins the 800m in Nice (© Dan Vernon)
Four days after finishing fourth in 1:59.39 at the Ethiopian Trials in Hengelo, Netsanet Desta won the women's 800m in 2:00.86 ahead of Ireland's Georgie Hartigan (2:00.88).
Germany's Hanna Klein was another to run a personal best for an Olympic qualifying mark, improving to 4:02.58 to win the 1500m, while Australia's Jye Edwards won the men's race in 3:34.74.
Ethiopia's Yalemzerf Yehualaw won the 5000m by two seconds ahead of Britain's Eilish McColgan, 14:53.77 to 14:55.79, while Morgan McDonald won a close men's race in 13:13.67. He held off a fast-finishing Mike Foppen by just 0.02 as long-time leader Stephen Kissa was caught on the final lap and faded in the closing stages to place fifth.
France's Mehdi Belhadj (8:17.04) and Kenya's Fancy Cherono (9:27.30) won the 3000m steeplechase events.
The USA's Mike Rodgers ran 10.09 (1.4m/s) for 100m.
Bol, McDermott and Denny highlight second Oceania Invitational
Peter Bol, Nicola McDermott and Matt Denny provided the highlights of the second Oceania Invitational meeting on Saturday (12) as the region's athletes continued to build towards the Tokyo Olympic Games.
Competing at the Runaway Bay Gold Coast Performance Centre, Bol found himself in 1:44 territory for the second week in a row in the men's 800m.
But where he just missed Peter Bourke's Queensland state all-comers' record of 1:44.78 in the first meeting, this time Bol was just under it with a win in 1:44.62, which is also the fastest by an Australian on home soil. Paced again by Jared Micallef, Bol was through the first lap in 51 seconds. Along the back-straight New Zealand's Brad Mathas stayed tenuously in touch, but into the wind up the final straight it was all Bol. He crossed the line 15 metres clear.
Mathas was chased down by Kiwi teammate James Preston who took second place in 1:46.52 to 1:46.65.

Having set a national record and become the first Australian woman to clear two metres in winning the national title in April, Nicola McDermott was back at that level in the women's high jump.
McDermott couldn't go clear on this occasion, despite three good attempts, and had to settle for the win at 1.96m. With Eleanor Patterson having returned to international competition with a 1.93m performance in cool and damp Turku earlier in the week, Australia will have two potential finalists in the event in Tokyo.
Despite finishing sixth at the World Athletics Championships Doha 2019 and sitting safely inside the top 10 in the world rankings, the 66m automatic qualifying standard in the men's discus had continued to elude Matt Denny.
No longer. Having thrown 63.33m in 'qualifying' the day before, Denny completed a qualifying-to-final simulation with a throw of 66.15m in the men's discus.
The 2013 world U18 champion Denny had thrown 65 metres as long ago as 2016, the year he broke through at senior level to earn a place in the Rio Olympic team. Despite regularly breaching the 65-metre line since (including his 65.43m in the final in Doha) the next metre had remained tantalisingly out of reach.
Denny said he and his coach had decided to compete two days in a row after conditions on the Friday were not good for throwing.
"We were going to have a good crack at it on Friday," Denny said. "I threw alright, but (the disc) came out of my hand like a brick."
Denny said the wait had not bothered him, not even when he saw others throwing big distances in good conditions internationally.
"I know where I sit in the world. I was sixth in the Worlds when it comes down to it, even though a lot of others had thrown further. So you've got to keep that perspective."
New Zealand's teenager Connor Bell finished second to Denny with a best of 63.99m, which will improve his chances of qualifying for Tokyo through the world rankings.
Kathryn Mitchell, who had the longest throw in the world in 2018, won the women's javelin with a distance of 63.50m, again boosting her standing in the rankings. New Zealand's Maddison Wesche took the women's shot with 18.47m, three centimetres short of the Olympic standard.
There will be one more area permit meeting for Oceania athletes at the Festival of Athletics in Townsville next weekend.
Len Johnson for World Athletics
Dunfee clocks Canadian record in Burnaby
World 50km race walk bronze medallist Evan Dunfee registered a world-leading 38:39.72 to win the 10,000m race walk at the Harry Jerome Classic in Burnaby on Saturday (12).
He passed through the half-way mark in 19:21, putting him well on course to break his own Canadian record of 38:54.20. He maintained that pace for the next four kilometres and then increased the tempo on the final lap, crossing the line in 38:39.72 to move to 27th on the world all-time list.


View this post on Instagram

"I didn't have much in the tank for a kick, and I feel like maybe with a tiny bit more specific prep, I could have held on to a quicker pace, but I'm thrilled with this," he said. "Things are on track. I'm fit, I'm healthy, I'm happy."
Elsewhere in Burnaby, world finalist Michael Mason won the men's high jump with a season's best of 2.30m – his best jump since the 2019 World Championships. Regan Yee won a close contest in the women's steeplechase, clocking a PB of 9:31.07 to finish 0.20 ahead of Alycia Butterworth.
Hall wins New York Mini 10K
Sara Hall clocked 31:33 to win the Mastercard New York Mini 10K on Saturday (12) as she tested her form ahead of the US Olympic Team Trials.


That was fun! And exactly what I needed for my last race before the Trials 10k (in 2 weeks)!

31:33 on the restless hills of Central Park at the @nyrr #MastercardMini10K & new American record for the race ✨Thankful! pic.twitter.com/H5VONUMEZt

— Sara Hall (@SaraHall3) June 12, 2021

On a hillier-than-usual New York Mini 10K course, the 2020 London Marathon runner-up finished six seconds ahead of Kenya's Violah Cheptoo to claim her second successive title at the event following her 2019 win. Kenya's Monicah Ngige was third in 31:59.
"It feels so good to be back out here racing in New York City and have a real road race. I've been looking forward to this so much," said Hall. "This is the momentum I needed for Olympic Trials in two weeks."