Shelly-Ann Fraser-Pryce wins the 100m final at the Jamaican Championships in Kingston (© Leo Hudson)
On a night of stunning athletics action midway through the four-day Jamaican Championships in Kingston on Friday (25), the most eventful moment came in the women's 100m.
Shelly-Ann Fraser-Pryce, in her first appearance since her world-leading 10.63 three weeks ago, solidified her readiness for Tokyo with a commanding victory.
Fraser-Pryce, who finished second to main rival Elaine Thompson-Herah in the semifinals, was a clear winner of the final in 10.71 (1.0m/s). Olympic 400m bronze medallist Shericka Jackson, who surprised many with her decision to step down in distance, finished with a flourish to snatch second in 10.82, 0.02 ahead of Thompson-Herah.
"The fourth time is the charm, I guess," said a gleeful 34-year-old Fraser-Pryce on securing her fourth Olympic Games place. "All my life, I have had doubters, persons who seem to want to determine when I need to stop or go, but I am glad I'm always so driven and focused on what I want to accomplish," added the multiple world and Olympic champion. "I believe running 10.6 was one of those big dreams for me and I got that and Olympic gold is another and I am going for it."
Jackson, who set a huge 10.77 (0.9m/s) personal best in the semifinals, was elated with her decision and accomplishment. "When I discovered that I was competing in the 100m at the trials, I was so excited," said Jackson. "I did not run a lot of 100m before this as I got a cramp back in March and only ran once after that. So, I wanted to see how fast I could go and getting the two personal bests in the previous rounds and finishing second in the final, I am just grateful."
Thompson-Herah, still bothered by her achilles tendon, was satisfied with her performance. "It's been a rough month for me; I had to pull out of two Diamond League meetings earlier in the season because of my achilles issues," said the double Olympic champion. "My expectations were not high coming into the trials, my aim was to take it slow throughout the rounds and qualify for the Olympics. That's pretty much what I did."
The 100m outcome set the scene for another thriller in the 200m final two days later.
Fraser-Pryce, buoyed by her 100m performance and keen to complete the sprint double, blasted from the blocks and ran a masterful curve, leaving Thompson-Herah and Jackson in her wake. Unlike previous occasions, Fraser-Pryce showed no signs of fatigue as she motored towards the finish line with a comfortable lead, while Thompson-Herah and Jackson were locked in battle a few strides behind.
Fraser-Pryce's winning time of 21.79 (0.8m/s) chopped three tenths of a second off her previous best, moving her to sixth on the Jamaican all-time list.
Jackson's excellent championships continued as she closed rapidly to secure second in a personal best of 21.82, moving to seventh on the national all-time list. Thompson-Herah finished third in a season's best of 22.02.
"I have always wanted to run 21 seconds and I knew that if I put together a solid race it would happen," said Fraser-Pryce. "I was doing the work in training and making sure that my endurance was up. I made sure to use what I had as my advantage and that was my start and making sure that I kept my form when I came into the home straight. I am known to break down in the last 30 metres or thereabouts, but I literally made sure that I kept my technique and follow the coach's instructions."
Yohan Blake, the 2011 world champion, cruised through the rounds of the men's 100m with comfortable wins including a season's best 9.98 (1.2m/s) semifinal victory. Many thought the final was his to lose, and he did.
Tyquendo Tracey claimed his second domestic title (his first was in 2018) with a storming run from the inside in a season's best of 10.00 (0.6m/s), edging Blake with 10.01 and 20-year-old Oblique Seville, who ran a personal best 10.04.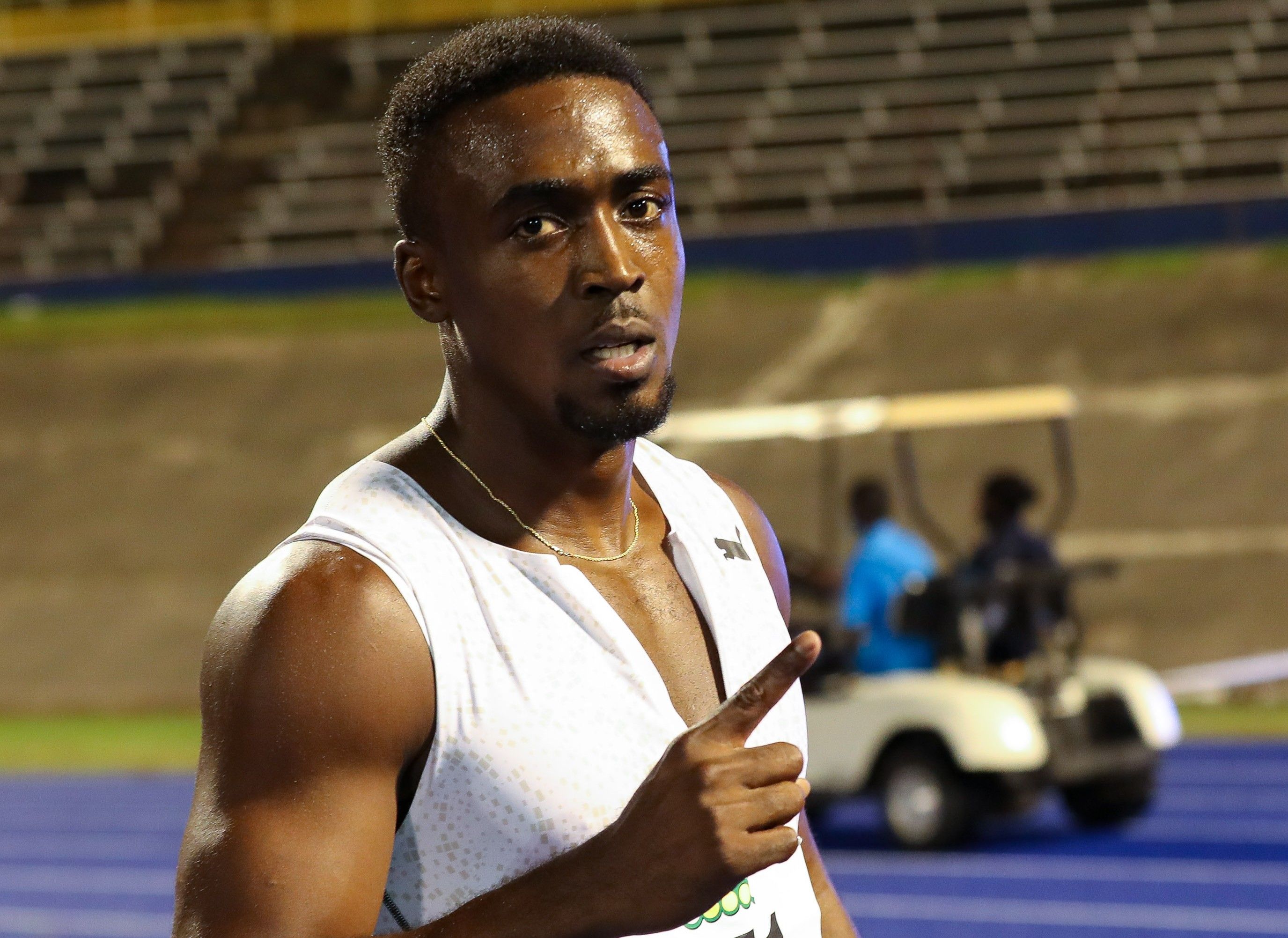 Tyquendo Tracey after his 100m win at the Jamaican Championships in Kingston (© Leo Hudson)

"I felt a lot of nerves before the race, I was surprised with this victory because I was struggling with my start," said Tracey. "My coach gave me a pep talk before race where he basically told me to stop thinking about my start and just go out there and do it."
Runner-up Blake, who had an agonising wait as the scoreboard malfunctioned temporarily with the final placings, was not very happy with a few things that transpired.
"Firstly, I am happy that I finished healthy," Blake said. "I was a bit puzzled when I got drawn in lane six because I ran the fastest time in the semifinals and was expecting another lane where I could hear the gun properly. Secondly, I did not execute like I did in the semifinals and was rushing it, but I will go back to the drawing board and come back stronger in the 200m."


Hurdles shocks
On Sunday, the final day of action, organisers had to revise the schedule to finish well ahead of the 2pm deadline due to Covid-19 curfew restrictions imposed by the Jamaican government.
It meant the session started at 8:15am and involved staging seven finals in little more than an hour.
The day began in dramatic fashion as Megan Tapper pulled off a huge upset in the women's 100m hurdles. National record-holder and 2015 world champion Danielle Williams appeared to respond best to the starter's gun and maintained a slight lead up until the sixth hurdle when she was joined by Tapper, who was running a blinder on the outside lane, and Yanique Thompson, the 2013 world U18 champion.
Tapper surged in front after the eighth hurdle to win in 12.68 (0.1m/s). Thompson clung on for second in 12.73 and with Williams fading, a fast-finishing Britany Anderson came through to snatch third in 12.75. Williams was fourth in 12.80.
The men's 110m hurdles also didn't quite go to script. Olympic champion Omar McLeod crashed out spectacularly after hitting the first hurdle. McLeod later posted on social media that prior to the race he started experiencing severe cramps in his abductor and calf muscles.
Ronald Levy, drawn in lane three next to McLeod in four, kept his composure and ran an almost flawless race to take victory in 13.10 (0.6m/s). Damion Thomas, the world U20 record-holder, competing at his first senior trials, got a sluggish start in lane eight, but made a strong rally over the last five hurdles to grab second in a personal best of 13.11 ahead of Hansle Parchment, who produced a season's best of 13.16.
"My season has been up and down," said Thomas. "Two weeks ago, I finished eighth at the NCAA Championships, but I kept my faith and trusted the process. I felt good in the warm-up, in fact, I felt good all week in practise and I knew once I came out here and stay clean and efficient, I would have made the top three."
Two-time world U20 400m hurdles champion Jaheel Hyde had not broken 49 seconds since 2017, but that drought ended on Friday night.
Hyde emerged from the blocks quickly and took control from the first hurdle. An emotional Hyde did not hide his feelings as he let out an exultant roar after seeing 48.18 on the scoreboard. "My goal was to finish in the top three and get the qualifying time," said Hyde. "This has been a long time coming and with a few weeks before the Olympics, I am going to prepare to make the finals."
In the women's equivalent, Janieve Russell, a finalist in Rio, was a comfortable winner in a season's best 54.07, her fastest time in three years. Ronda Whyte was a distant second in 54.94. "It is a great feeling going back to the Olympics," said Russell. "The last time in Rio I was a wildcard and only got in through a medical exemption. I am happy that I could come to trials, earn my spot, and not wait until the end of the season. I now have time to fix some things."
With Shericka Jackson opting for the shorter sprints, it gave Stephenie-Ann McPherson a clear passage to claim another domestic 400m title. Not that it was any less competitive, though, as two women finished inside 50 seconds for the first time ever at these championships.
McPherson won in a lifetime best of 49.61, her first sub-50-second run since the 2013 World Championships where she claimed bronze in 49.99. First-time Olympians Candice McLeod (49.91) and Roneisha McGregor (50.02) also set PBs to finish second and third respectively.
"Last year a hamstring injury brought an end to my season," said McPherson, who is now the fifth fastest Jamaican over the distance. "The rest from competing did wonders for me; I must give credit to Dr Dawson and Dr Bryan for treating my problems, which included my hip, hamstring and back. Since December, I have had no concerns and today's run was not a surprise. In fact, I am in good shape and expected to go faster based on my impressive time trial a few weeks back."
Elsewhere, Sean Bailey, the younger brother of recently retired Veronica Campbell-Brown, won the men's 400m in a personal best of 45.04.
World silver medallists Fedrick Dacres and Shanieka Ricketts won their respective events. Dacres won the men's discus with a fourth-round effort of 64.31m, while Ricketts bounded out to 14.46m (-0.9m/s) to take the women's triple jump ahead of Kimberly Williams 14.19m (-1.3m/s).
Noel Francis for World Athletics