Hillary Kipkoech wins the 10km at the ASICS Be (at) Your Personal Best (© ASICS)
A Swedish 5km record of 15:22 by Sarah Lahti and a world-leading 10km time of 27:35 by Kenya's Hillary Kipkoech highlighted the ASICS Be(at) Your Personal Best event at Le Bois aux Daims, France, on Saturday (24).
Lahti went out targeting her national record of 15:31 which Meraf Bahta set last year and from the outset, it was clear the Swede was on target. "I was feeling really easy the first 3K and I was looking to my watch and knew if I could keep that pace I could get the record," she said.
Running behind two male pacemakers, Lahti powered to the line and carved 17 seconds off her previous best and nine seconds off Bahta's Swedish record.
"I'm really happy," said the 26-year-old, who will next try to secure the Olympic qualifying standard for 10,000m at a race in Stockholm. "You're always nervous before a race and you always want to do your best. ASICS did this amazing event for us and you always want to show your best shape and I did."
She came home well clear of France's Leila Hadji and Germany's Kristina Hendel, who set PBs in second and third of 15:51 and 15:52 respectively.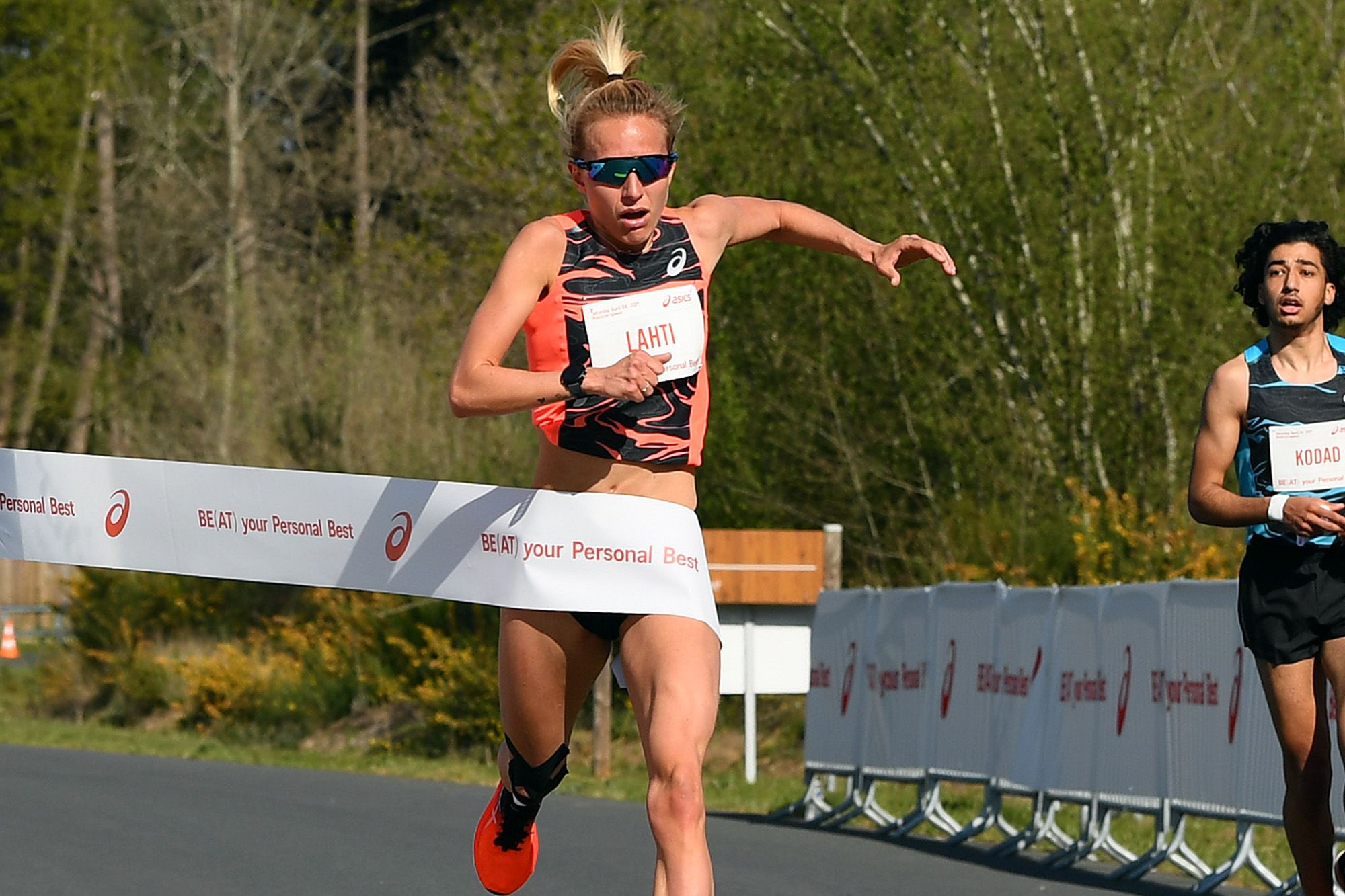 In the men's 5km, the touted European record attempt by Switzerland's Julien Wanders didn't materialise, the European 10km and half marathon record-holder struggling to recover after a bout of pneumonia two weeks ago. Nonetheless he set off with big ambitions behind pacemakers and training partners Boniface Kibiwott and Mathew Kibet Kibarus of Kenya.
But Wanders drifted back through the pack soon after halfway and meanwhile, at the front, Kibiwott broke clear, the 27-year-old powering away over the final kilometre to win in 13:24, with 10 seconds to spare over France's Felix Bour (13:34) and Etienne Daguinos, who ran a French U23 record of 13:36. Wanders came home eighth in 14:13.
"I'm a competitor so even though I knew I was not 100 per cent I tried to go for the European record," he said. "I quickly saw that the body was not responding today but such is life. The most important is that I raced in an amazing race and I'm really thankful to ASICS for organizing such a race in those conditions."
To stage the event, organisers created a bio-secure bubble on site at the Center Parcs resort, with negative Covid-19 tests required for all before travelling, upon arrival and before departure, while athletes stayed in separate accommodation and received their meals delivered to their doors.
In the 5km race, 13 of the 17 competitors set personal bests, while in the 10km 11 out of 18 competitors did, with all athletes competing in the ASICS MetaSpeed Sky, the brand's recently released top-of-the-line racing shoe.
Just as in the men's 5km, the 10km saw a pacemaker upset the odds to come home in front, with Kenya's Hillary Kipkoech clocking 27:35, a world lead.
Kipkoech said he was "so happy" with the time, which took almost a minute off his personal best. He had paced Norway's Sondre Moen through the opening two kilometres before breaking clear at the front, running alone thereafter.
Moen faded slightly over the second half and was passed by Spain's Jorge Blanco, who clocked a PB of 28:27 to finish second, with Moen third in 28:35 and Belgium's Koen Naert, the European marathon champion, fourth in 28:37.
"It was a hard day and I was expecting to run close to 28-flat but it wasn't to be today," said Moen, who is aiming to win a medal in the marathon at the Tokyo Olympics. "A 10K is tough when training for the marathon. It's about one minute faster than my marathon pace. I tried to be competitive but I'm in a hard training period and when Hillary made his move I could not follow."
Mekdes Woldu proved a class apart in the women's 10km, the Eritrean native – who has lived in France for the past nine years – smashing her PB to win in 31:47. "I wished I could do 31:30 but I couldn't breathe very well the first 5K," she said. "I'm so happy to do sub-32."
Woldu recently received confirmation of her French citizenship and she will next attempt to secure the Olympic 10,000m qualifying standard of 31:25, which would allow her to achieve a long-held ambition to represent her adopted nation in Tokyo.
Organisers for World Athletics
Leading results
WOMEN
5km
Sarah Lahti (SWE) 15:22
Leila Hadji (FRA) 15:51
Kristina Hendel (CRO) 15:52
Aude Korotchansky (FRA) 16:19
Ludovica Cavalli (ITA) 16:56
10km
Mekdes Woldu (ERI) 31:47
Julia Mayer (AUS) 33:35
Juliette Thomas (BEL) 34:18
Louise Serban-Penhoat (FRA) 35:30
Beata Popadiak (POL) 35:55

MEN
5km
Boniface Kibiwott (KEN) 13:24
Felix Bour (FRA) 13:34
Etienne Daguinos (FRA) 13:36
Ilyas Yonis Osman (GER) 13:42
Matthew Kibarus (KEN) 13:46
10km
Hillary Kipkoech (KEN) 27:35
Jorge Blanco (ESP) 28:27
Sondre Nordstad Moen (NOR) 28:35
Koen Naert (BEL) 28:35
Enock Onchari (KEN) 28:57