Germany's Konstanze Klosterhalfen celebrates her 5000m win at the European Championships in Munich (© Getty Images)
Konstanze Klosterhalfen was the latest German athlete to surf to gold on a wave of home support at the European Championships in Munich on Thursday (18). On an evening when the action was delayed for a rainstorm, the 25-year-old won the women's 5000m title, but the trick couldn't quite work for home long jumper Malaika Mihambo.
Olympic champion Mihambo's participation on home soil had been in doubt after she contracted coronavirus after retaining her world title in Oregon last month.
She produced the goods, however, with a 7.03m effort – only to have to accept silver as Serbia's 32-year-old Ivana Vuleta secured a second European outdoor title following her success in 2016 with a first-round jump of 7.06m, third best of the season, with Britain's Jazmin Sawyers taking bronze on 6.80m.
Elsewhere in the programme, Norway's Jakob Ingebrigtsen successfully completed the defence of his European 1500m and 5000m titles, clocking a championship record of 3:32.76 in the shorter distance, and Italy's joint Olympic champion Gianmarco Tamberi won high jump gold with a best of 2.30m.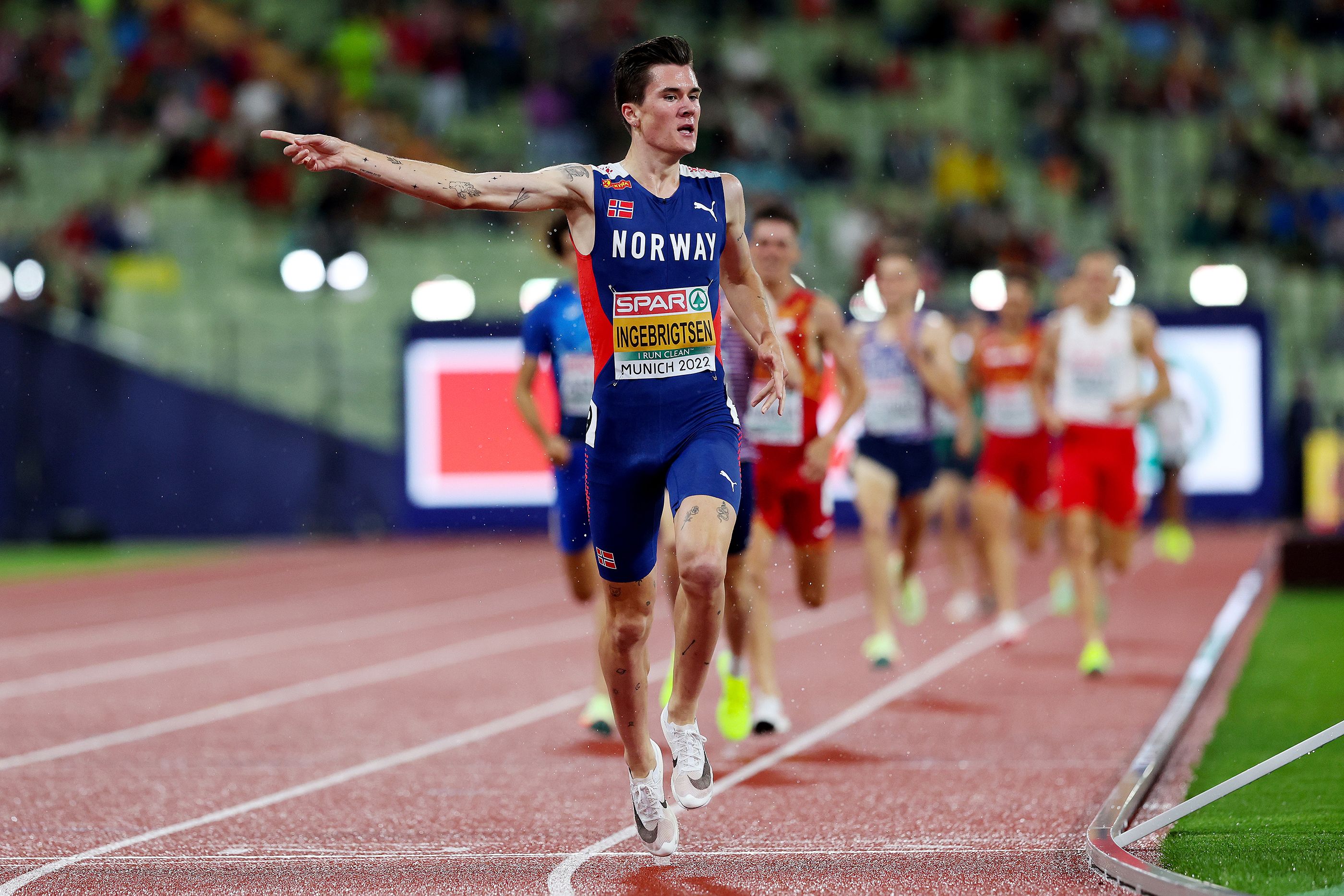 Jakob Ingebrigtsen celebrates his European 1500m title win in Munich (© Getty Images)
Belgium's double world and Olympic heptathlon champion Nafissatou Thiam retained her title with 6628 points and Poland's Olympic men's hammer throw champion Wojciech Nowicki also retained his title with a world-leading effort of 82.00m.
Klosterhalfen, world bronze medallist in 2019, was hugely disappointed at finishing one place off a medal in the earlier 10,000m, but she came good on the night to win the 5000m in 14:50.47. That came after a long pursuit of Turkey's Yasemin Can, who had won the title at the longer distance and was seeking to reproduce the 5000m and 10,000m double she achieved at the 2016 European Championships in Amsterdam.
Just as she did in the 10,000m final, Can pushed decisively ahead as the race moved into the second half, and she gained a 10-metre lead from Klosterhalfen and Britain's 10,000m silver medallist Eilish McColgan.
But as the noise levels rose, the lead diminished, with both pursuers, ponytails swinging, making it clear that they were not going to let Can run clear as she had in the 10,000m final.
As the lead trio came by with two laps remaining, McColgan was fading. But the home runner was closing in on the greatest win of her career.
On the home straight Klosterhalfen – who failed to qualify from last month's World Championships 5000m heats after recovering from coronavirus – made her move and passed the Turkish runner, and the decibel level rose. But Can was not finished either and there was only a couple of metres in it at the bell.
Gradually, inexorably, the cocktail of determined athlete and energised crowd lengthened the gap between the lead pair. Klosterhalfen looked almost agonised with joy as she crossed the line, with Can second in 14:56.91 and an exhausted McColgan, who now has Commonwealth gold and silver and European silver and bronze in 2022, third in 14:59.34.
"The audience carried me so much," Klosterhalfen said. "After those two difficult years, to win a gold medal at European Championships on home soil, this is just amazing, I have tears of joy. I am on cloud nine. I do not have words to describe my feelings. It is a dream come true. The crowd gave me everything."
Earlier, 21-year-old Olympic 1500m champion Ingebrigtsen had shown customary ruthlessness as he took a grip on the race in the first 300 metres and never let go, winding up the pace before concluding with an irresistible last lap of 55.25.
Britain's Tokyo Olympic finalist Jake Heyward took silver in 3:34.44, with Spain's Mario Garcia earning bronze in 3:34.88.
"I felt I had this speed in my legs today so I wanted to go fast from the beginning," Ingebrigtsen said.
"I wanted to have a fast race and I wanted to win. Also, when I heard the great home crowd cheering for us and I also saw so many Norwegian flags in the stands, it was a great motivation for me today.
"The fans here are just awesome. The rain - it feels almost like at home. Rain feels good. I am very glad I managed this double and the championship record is a nice bonus."
Tamberi, the 2016 European title winner, was in his usual hyperactively exuberant form after securing another big gold in the high jump, with Germany's Tobias Potye taking silver on countback from Ukraine's Andriy Protsenko as both cleared 2.27m.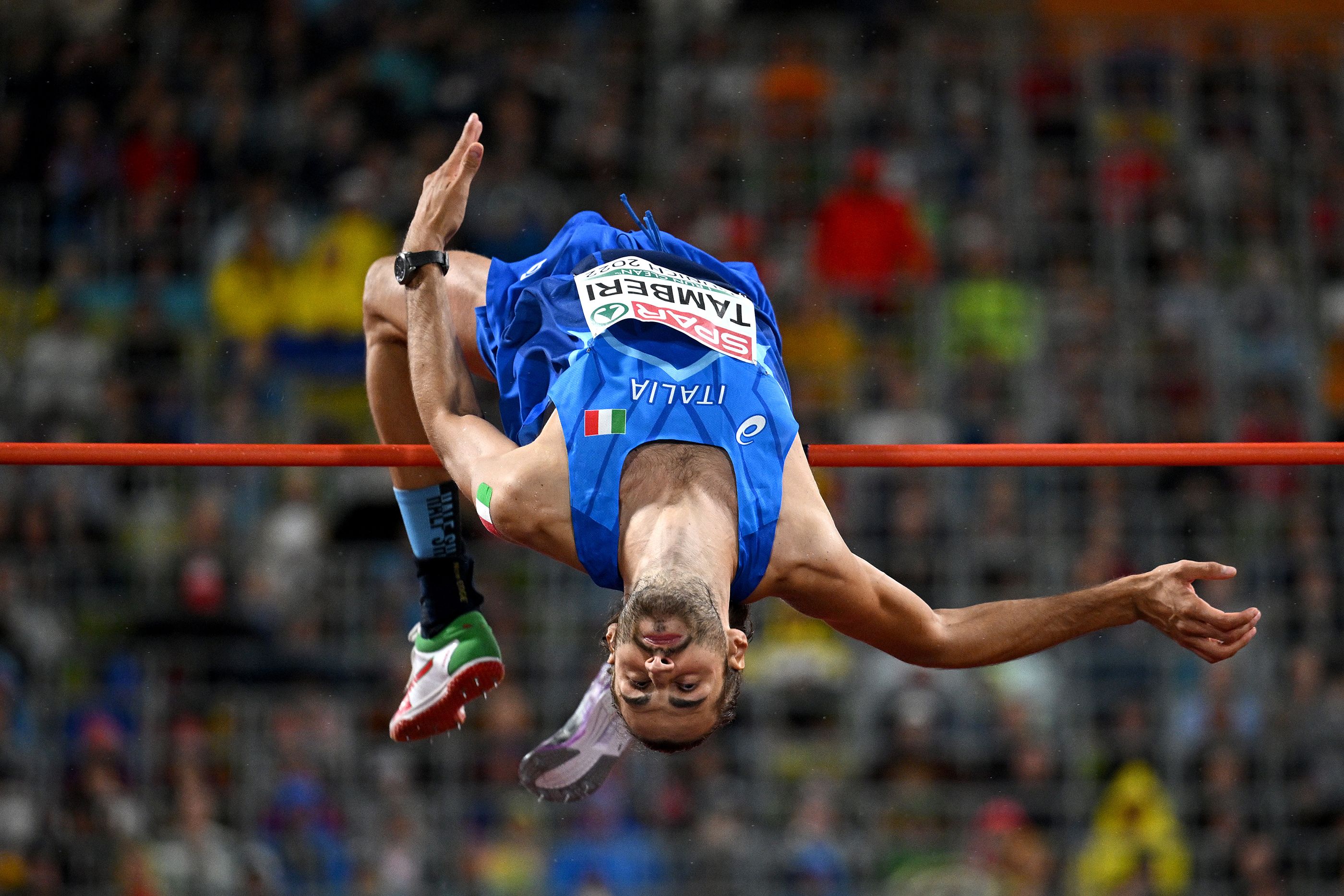 High jump winner Gianmarco Tamberi at the European Championships in Munich (© Getty Images)
Nowicki's big throw came in the fifth round of the hammer contest, allowing him to overtake Hungary's Bence Halasz, who claimed silver with a personal best of 80.92m ahead of Norway's Eivind Henriksen on 79.45m.
Thiam won only one of her seven disciplines – the high jump, where she beat her own championship record with 1.98m – but she remained in top position from the second event onwards and finished almost 100 points clear of Poland's Adrianna Sulek, who scored 6532, with Annik Kalin getting bronze with a Swiss record of 6515.
On Wednesday, Femke Bol secured the first part of her projected 400m and 400m hurdles double with a pulverising run that saw her finish half a second clear in a Dutch 400m record of 49.44, the fastest European time run this season.
The 22-year-old, who has won Olympic bronze and world silver over the hurdles in the past year, was unusually demonstrative, raising her fist in triumph as she crossed the line comfortably ahead of Poland's Natalia Kaczmarek and Anna Kielbasinska, who clocked 49.94 and 50.29 respectively.
It was the fastest winning time in this event since Stuttgart 1986, when East Germany's Marita Koch prevailed in 48.22 to win her third successive title.
"I think this race was harder than the 400m hurdles," said Bol. "It wasn't until after the race that I realised it wasn't such a close race. I won by half a second and with a big personal best. I felt confident and strong. I know I won't sleep a lot tonight, so tomorrow's 400m hurdles semifinals is going to be tough."
Sleepless or not, she qualified for Friday's final with a time of 53.73.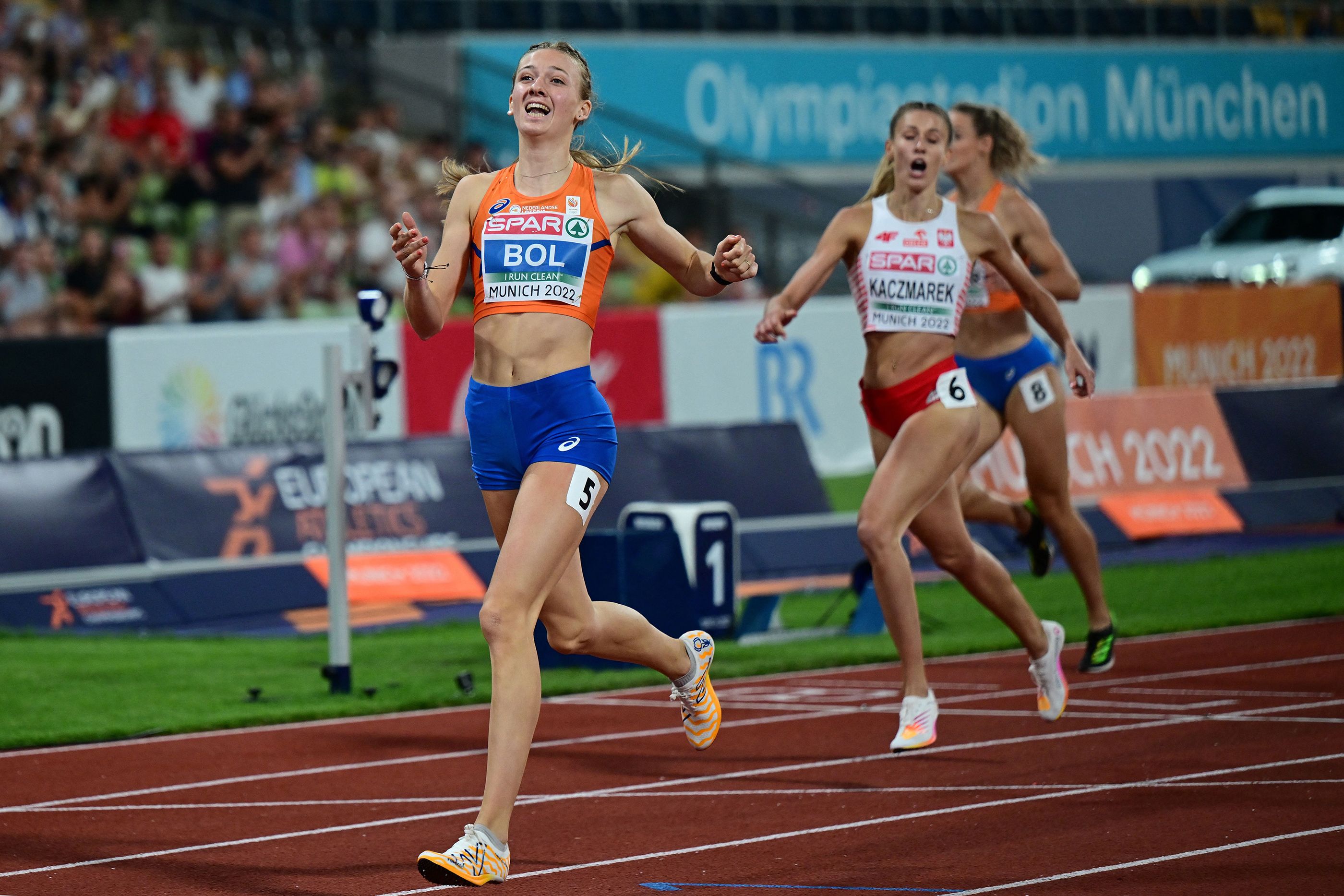 Femke Bol wins the 400m at the European Championships in Munich (© AFP / Getty Images)
Britain's Matthew Hudson-Smith completed his 2022 medal set as he also finished comfortably clear in the men's 400m final, clocking 44.53 to add European gold to the world bronze and Commonwealth silver he had already earned in the space of five weeks.
It has been a whirlwind of accomplishment for the man who arrived in Munich as defending champion, but whose problems with injuries had prompted him to suicidal thoughts only a year earlier.
Hudson-Smith won comfortably from Switzerland's Ricky Petrucciani, who clocked 45.03, and fellow Briton Alex Haydock-Wilson, who earned bronze in 45.17.
"It's great to be here and get the job done," said Hudson-Smith. "All I wanted was to defend my title."
He was the third man to win back-to-back titles in the event after fellow Britons Roger Black, gold medallist in 1986 and 1990, and Martyn Rooney, who won in 2014 and 2016.
Spain's Asier Martinez won the 110m hurdles title from France's defending champion Pascal Martinot-Lagarde by the narrowest of margins, one-thousandth of a second, as both clocked 13.14, which topped this year's European list.
The detailed timing showed Martinez ahead, 13.137 to 13.138.
"Four years ago it was also a close finish at the line and I came first," said Martinot-Lagarde, who got gold in Berlin by two thousandths of a second.
"Today it was the other way round. I gave my best but now I need revenge. See you in Paris at the Olympic Games – and in Budapest at next year's World Championships. I feel like I am old but I believe me: I am still alive. I will do my best."
Martinez commented: "Having such a close race with Pascal means a lot to me. It makes the race special for me because he is a force to be reckoned with. I knew he would have to do a great race to beat me, and he nearly did."
Bronze also went to France as Just Kwaou-Mathey recorded 13.33, but their reigning European U20 champion Sasha Zhoya fell at the last hurdle and finished eighth.
In the field events, two outstanding women's U20 performers came good in senior competition as Finland's 24-year-old Wilma Murto equalled the European Championships pole vault record of 4.85m and Romania's Bianca Florentina Ghelber won the hammer throw.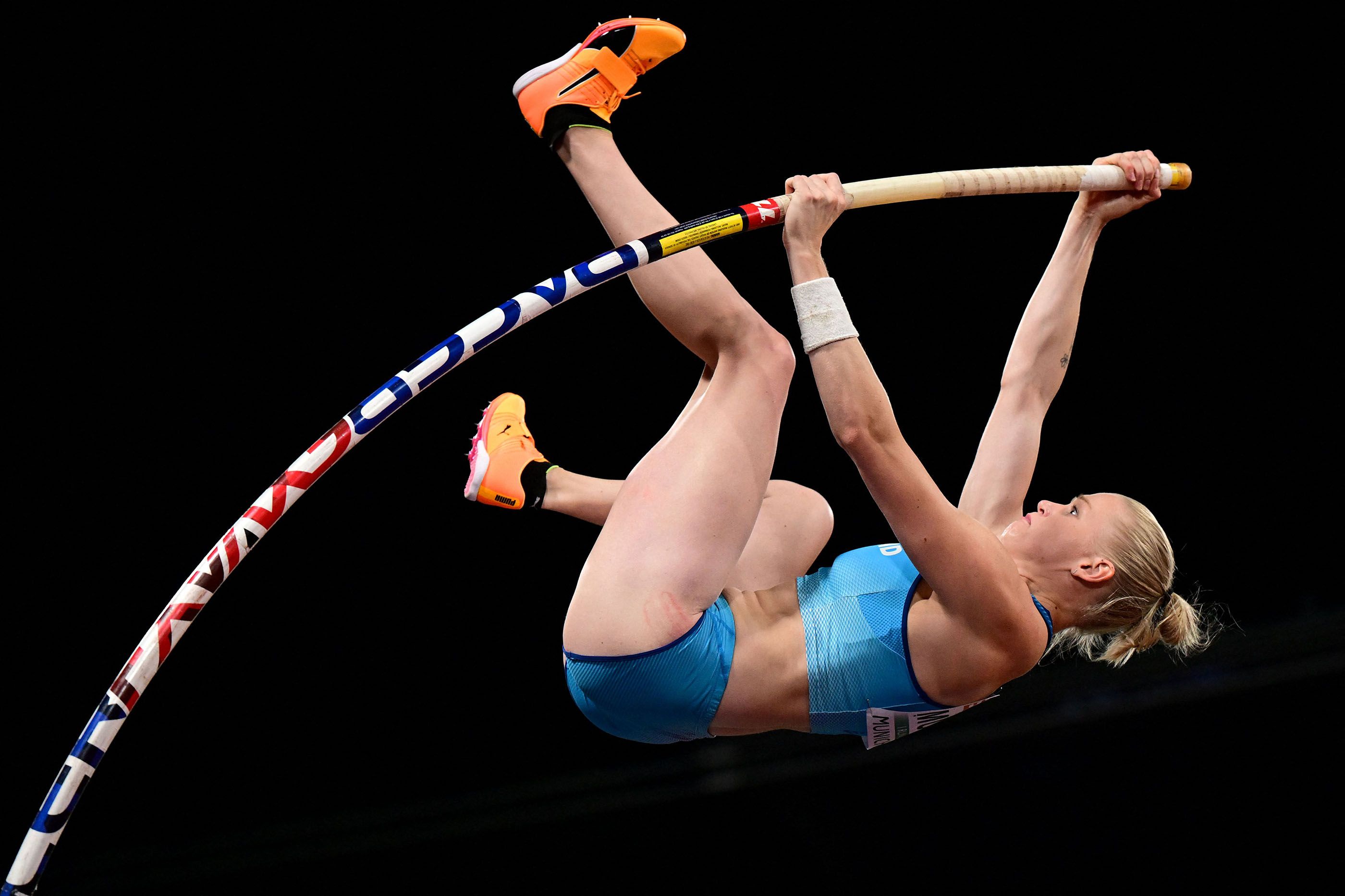 Pole vault winner Wilma Murto at the European Championships in Munich (© AFP / Getty Images)
It was something of a belated triumph for the Romanian, now 32, whose early blizzard of titles – world U18 in 2005 and 2007, and world U20 in 2007 and 2008 – gave way to a highly respectable career which, save for a European U23 gold in 2011, has yielded no big medals.
That all changed in Munich as a first-round throw of 72.22m proved enough to secure the title – although only by 10 centimetres after the final-round PB of 72.12m from Poland's Ewa Rozanska. Italy's Sara Fantini got bronze with a throw of 71.58m.
Murto, who had made a fitful transition to senior competition after the blazing promise of 2016, when she set a world U20 record of 4.71m that she still held on arrival in Munich, produced an extraordinary performance.
After stuttering at the lower heights and passing after one failure at 4.70m, she made first-time clearances at 4.75m and 4.80m to see off the challenge of the defending champion, Katerina Stefanidi of Greece, who took silver on 4.75m ahead of Tina Sutej of the Czech Republic.
As Stefanidi and Sutej embraced, Murto remained utterly calm, composing herself for an attempt on 4.85m after a brief confab with her coach - and clearing it on the second attempt, at which point, even on the way down, the emotion poured out before she knelt briefly on the mat with head in hands.
"After the World Championships I felt like there was so much more to come so I am very thankful now," Murto said.
"This competition was just great. My dreams came true. I knew it had been in me for a long time but I just needed this day to come. Today, it felt like a perfect day to do that with my family and friends in the stands supporting me. This was like the strongest experience I have ever had."
In the men's triple jump, Portugal's Olympic and world champion Pedro Pichardo prevailed with a 17.50m leap to win ahead of Italy's Andrea Dallavalle on 17.04m and Jean-Marc Pontvianne of France on 16.94m.
Mike Rowbottom for World Athletics