Jakob Ingebrigtsen celebrates his Dream Mile performance at the Wanda Diamond League in Oslo (© AFP / Getty Images)
A Wanda Diamond League record from Jakob Ingebrigtsen in the mile, along with meeting records from Mondo Duplantis in the pole vault and Femke Bol in the 400m hurdles brightened a rainy evening at the Bislett Games in Oslo on Thursday (16).
Ingebrigtsen has won almost all there is to win in middle-distance events, but a senior Dream Mile victory in Oslo was one thing missing from the 21-year-old's resume. In fact, before today no Norwegian man had ever won the prestigious discipline at the Bislett Games.
But, racing in the final individual track event of the night, Ingebrigtsen ensured the 15,000 fans at the Bislett Stadion went home happy as he won the mile in a Norwegian record of 3:46.46, breaking the Wanda Diamond League record in the process.
Paced through the first two laps in 56.01 and 1:53.30, Ingebrigtsen was tracked closely by Australia's Oliver Hoare and Britain's Jake Wightman for most of the race. The Olympic 1500m champion never appeared to be under too much strain, though – even when Hoare was attempting to close in on the leader with half a lap left.
Ingebrigtsen – roared on by the home crowd, many of whom were on their feet – kicked down the home straight and crossed the line in 3:46.46, taking almost a second off his own Norwegian record and moving up to sixth on the world all-time list, just 0.14 shy of Steve Cram's European record.
Hoare finished second in 3:47.48 to break the Oceanian record and move to 13th on the world all-time list. Wightman was third in a PB of 3:50.30 from fellow Brit Neil Gourley (3:52.91). There was also a national record for Charles Grethen of Luxembourg in fifth (3:53.20).
"I was ready to run fast and was happy to do that and to win," said the world indoor silver medallist. "Some work needs to be done before the World Championships, but I will work hard to be in better shape there.
"Last year I was sick and couldn't race here, so it was even more special here tonight, as being the first Norwegian to win the Dream Mile. Doing things nobody else has done before is really great."
The on-off rainfall throughout the evening was far from ideal for pole vaulting, but Duplantis didn't seem too badly affected, the world record-holder winning with a world-leading 6.02m to break his own meeting record.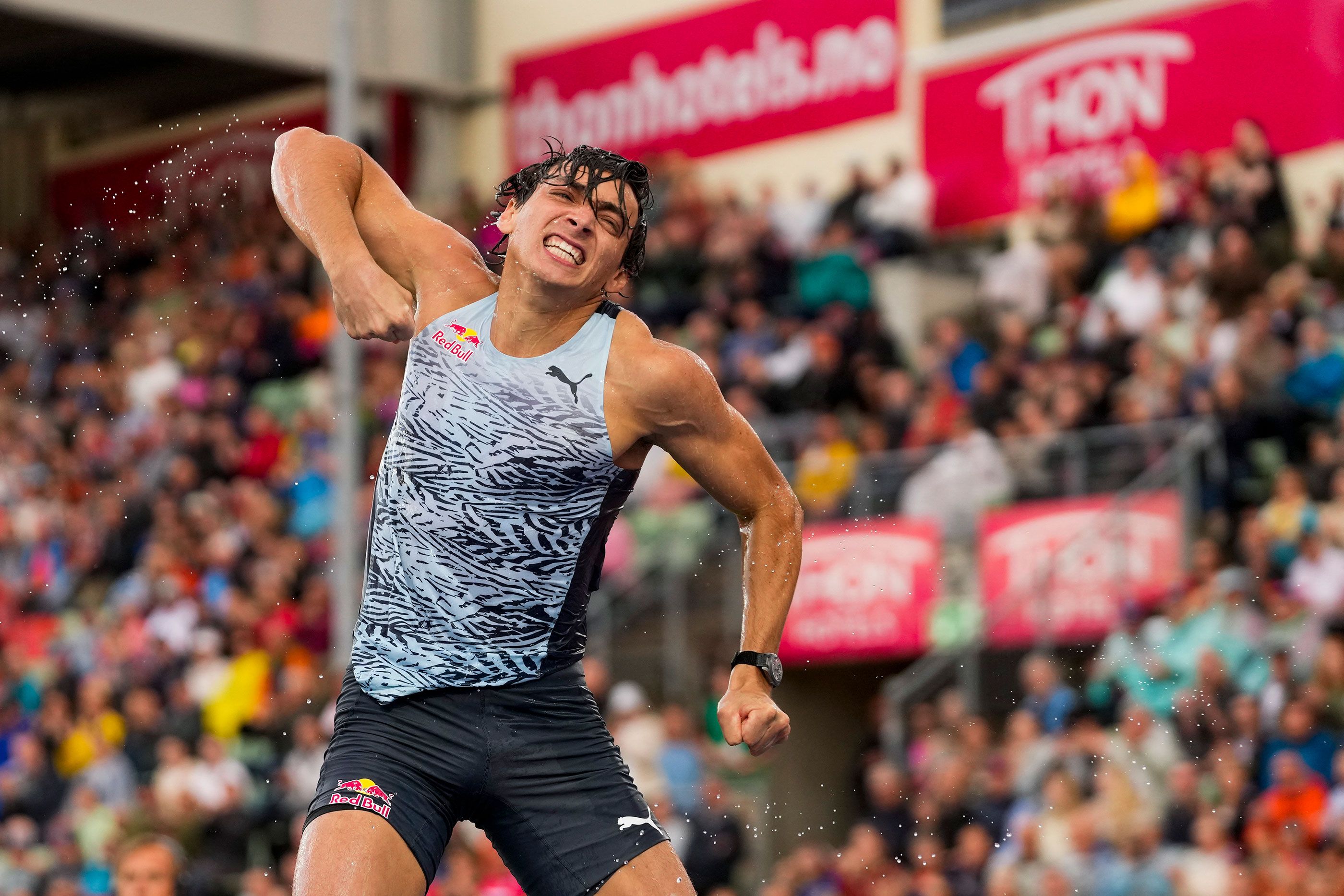 Mondo Duplantis celebrates his world lead and meeting record in the pole vault at the Wanda Diamond League in Oslo (© AFP / Getty Images)
He cleared 5.80m at the first time of asking, as did leading Norwegian duo Sondre Guttormsen and Pal Haugen Lillefosse. Duplantis skipped the next height, while the Norwegian pair were unsuccessful at a would-be national record height of 5.86m. As the sole entrant left in the competition, Duplantis moved on to 5.92m and needed all three tries to go clear.
He then moved the bar straight up to 6.02m, one centimetre higher than his meeting record from last year. He got over on his first try before ending his evening with a couple of unsuccessful tries at 6.10m.
"I felt good, despite it being a hectic day with the rain coming on and off – it was tiring coping with that but I'm happy with 6.02m," said Duplantis, who will compete at the Wanda Diamond League meeting in Stockholm before turning his attention to the World Athletics Championships Oregon22. "My legs ran out of steam, but the energy from the crowd was good, they helped a lot. I feel good ahead of the big dance."
Earlier in the evening the rain briefly eased just in time for the women's 400m hurdles. Bol, looking to improve on the 53.02 season's best she set last week in Rome, got off to a strong start and already had a clear lead at half way.
The Olympic bronze medallist entered the home straight unopposed and continued to pull away from the rest of the field. By the time she crossed the finish line in 52.61 – smashing the meeting record by almost half a second – Bol was more than two seconds clear of her rivals.
"I was very surprised with the time as the weather wasn't the best and I stuttered into the last hurdle, so it was great to see that time," said Bol, who holds the European record at 52.03. "It means a lot to take the meeting record. It's going to be a really busy summer but I'm ready for the challenge – I want to keep running fast and get some medals."
Ukraine's Anna Ryzhykova was second in 54.81, finishing just ahead of Britain's Jessie Knight (54.84).
Bol's fellow Olympic 400m hurdles bronze medallist, Alison dos Santos, dominated the men's race and came within 0.03 of his own world-leading mark.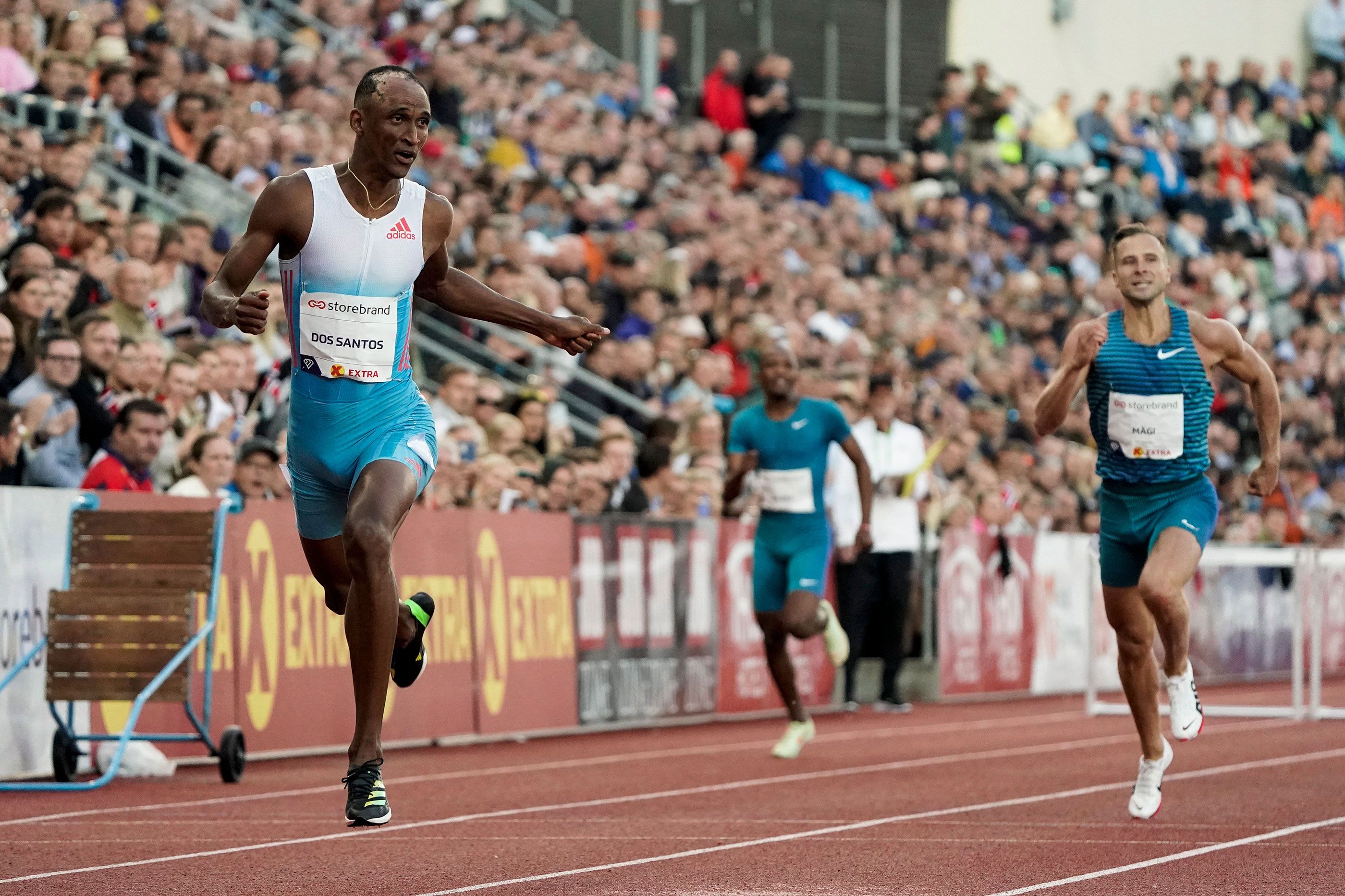 Alison dos Santos wins the 400m hurdles at the Wanda Diamond League in Oslo (© AFP / Getty Images)
Estonia's Rasmus Magi, winner at the Continental Tour Gold meeting in Turku earlier in the week, went with Dos Santos in the early stages, but the young Brazilian pulled away in the second half and ultimately won by more than a second in 47.26. Only Karsten Warholm, with his former world record run of 46.70 from last year, has ever gone quicker in this stadium.
"It was a good time, but we expected more," said Dos Santos, who finished comfortably ahead of Magi (48.51). "For sure, I am in 46-second shape. If Warholm was here, it would be better of course. I just try to have fun and enjoy every moment on the track. I love it."
Seyaum and Bekele lead Ethiopian 5000m sweeps
Dawit Seyaum may be new to the 5000m, but the former 1500m specialist looked anything but inexperienced as she outkicked her fellow Ethiopians to win a high-quality race.
The opening pace was steady, the first 1000m covered in 2:53.83 and 2000m reached in 5:52.33. Versatile Norwegian runner Karoline Bjerkeli Grovdal then took up the pace in the second half and passed through 3000m in 8:48.65, leading a large lead pack. Grovdal held on to that lead for another 1500 metres, but then Seyaum and compatriots Letesenbet Gidey, Gudaf Tsegay and Almaz Ayana started battling for the lead with one lap to go.
Ayana's challenge soon faded, leaving Seyaum, Tsegay and Gidey out in front. Seyaum's kick down the home straight was enough to break free from Tsegay and she won in 14:25.84. Tsegay, the Olympic bronze medallist at this distance, was second in 14:26.69 while world record-holder Gidey was third in 14:26.92. Grovdal held on to fourth place in a Norwegian record of 14:31.07 and USA's Alicia Monson was fifth in a big PB of 14:31.11.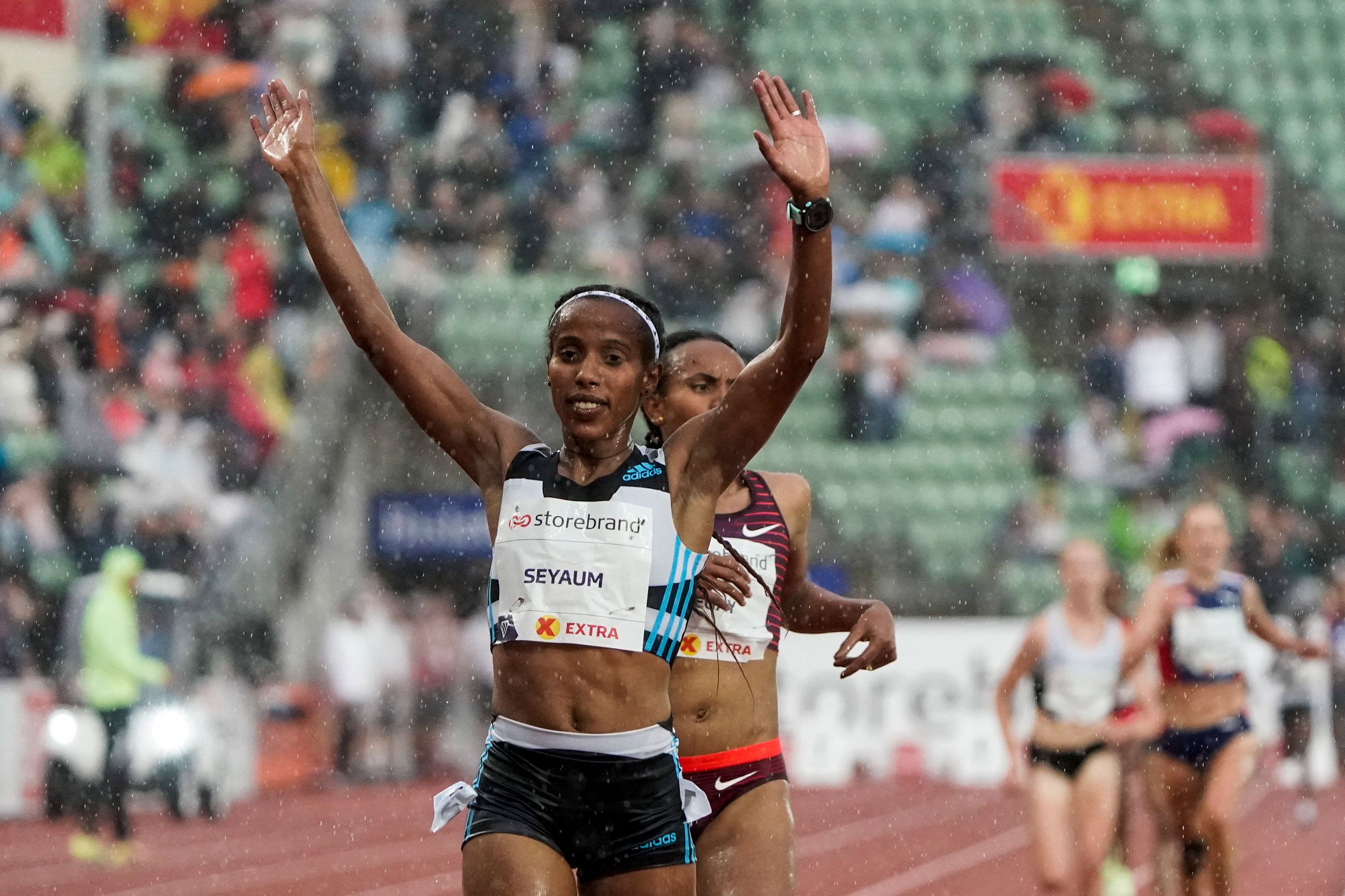 Dawit Seyaum celebrates her 5000m win at the Wanda Diamond League in Oslo (© AFP / Getty Images)
For just the second time in history, seven women finished inside 14:35 and eight women finished inside 14:40.
There was another Ethiopian 1-2-3 in the men's 5000m, though this time the 1500m standout was beaten by the 5000m specialist.
The pace was steady though never blazing quick, meaning most of the field was still in contention at the business end of the race. Two-time world indoor champion Samuel Tefera led at 3000m, passing in 7:54.39, but then sat back in the pack to save his legs for a potential fast finish.
He made his way back to the front of the pack in the closing stages, but could not get on level terms with Bekele, who kicked ahead and won in 13:03.51. Tefera held on for second in 13:04.35, just ahead of compatriot Getnet Wale (13:04.48).
Keely Hodgkinson won the battle of the Brits over 800m, getting the better of fellow Olympic silver medallist Laura Muir.
The 20-year-old ran a controlled and assured race and kept her cool in the closing stages to win comfortably in 1:57.71. Muir was second in 1:58.09, ahead of France's Renelle Lamote (1:58.50) and world champion Halimah Nakaayi of Uganda (1:58.68).
Fajdek breaks Diamond League record
A competitive showdown between global medallists resulted in four-time world champion Pawel Fajdek breaking the Diamond League record for the hammer.
Fajdek took an early lead with 77.96m, then Hungary's world bronze medallist Bence Halasz was the first to throw beyond 78 metres, recording 78.42m in round three. Fajdek improved to 78.16m and followed it with 78.41m in round four, but Halasz then responded with 78.73m to increase his lead.
Olympic champion Wojciech Nowicki (78.21m) and Olympic silver medallist Eivind Henriksen (78.23m) threw beyond 78 metres in round five, with Nowicki improving to 78.36m in the final round. At that point, just half a metre separated the top four. Fajdek, with the penultimate throw of the competition, sent his hammer out to 80.56m to break his own Diamond League record. Halasz responded with a season's best of 79.29m, but it wasn't enough to regain the lead.
The women's shot put was a reunion of the top eight finishers from this year's World Indoor Championships. The three medallists from Belgrade filled the top three places here, though in a different order.
World indoor bronze medallist Jessica Schilder opened with 19.46m, an improvement on her Dutch record, which stood as the leading mark until round three when USA's world indoor silver medallist Chase Ealey threw 19.66m.
Ealey maintained her lead and improved to a lifetime best of 20.13m in the final round, moving her to fourth on the US outdoor all-time list. World indoor champion Auriol Dongmo threw a best of 19.43m in the final round to finish third.
Olympic champion Valarie Allman lost her winning streak in the discus as multiple global champion Sandra Perkovic won with 66.82m. Allman saved her best throw for the last round, but her 65.91m effort came up short behind the Croatian. Olympic silver medallist Kristin Pudenz was third with 63.31m.
Olympic champion Miltiadis Tentoglou, meanwhile, won the long jump with 8.10m from Sweden's Thobias Montler (8.05m).
De Grasse maintains Oslo winning streak
Andre De Grasse has competed at the Bislett Games four times. And, as of today, the Canadian sprinter has also won four times at the Bislett Games.
The Olympic 200m champion came under pressure from Britain's Reece Prescod in the closing stages, but De Grasse just held on to win in 10.05 (0.5m/s) from Prescod (10.06). South Africa's Akani Simbine was third in 10.09.


Devon Allen wins the 110m hurdles at the Wanda Diamond League meeting in Oslo (© AFP / Getty Images)
Conditions were a bit tougher for the men's 110m hurdles and times were affected by the damp conditions and -1.2m/s headwind, but world leader Devon Allen once again emerged victorious in 13.22.
Spain's Asier Martinez took second place in 13.30 from Brazil's Rafael Pereira (13.37).
Grenada's Kirani James has been a regular on the Wanda Diamond League circuit for more than a decade, but the 2012 Olympic champion had never previously raced in Oslo. The 29-year-old made a good first impression, though, and won the 400m convincingly in 44.78.
Botswana's Isaac Makwala was second in 45.45, just ahead of Jamaica's Olympic finalist Christopher Taylor (45.52).
Elsewhere, Denmark's Ida Karstoft maintained her streak of breaking national 200m records this year, winning the half-lap sprint in 22.73 (0.8m/s). It was her sixth Danish record in as many races this year, indoors and out.
Jon Mulkeen for World Athletics