Rafael Henrique Pereira wins the 110m hurdles at the South American Championships (© Wagner Carmo / CBAt)
The Brazilian team dominated the 52nd edition of the South American Championships, held at the Estadio Alberto Spencer in Guayaquil, Ecuador, from 29-31 May, mostly in warm and humid conditions.
Buenos Aires was set to be the original venue, but due to the hard situation faced by most South American countries in the pandemic, the South American Confederation put up an emergency plan in just a few weeks, during which Guayaquil came up as the most favourable venue. It was the first time since 1969 that Ecuador had hosted the event, the oldest area championships in the world.
One area record and eight championship marks were improved, plus the 4x400m mixed relay, held for the first time. Many athletes, aiming to obtain important points towards the Tokyo Olympic Games qualification, welcomed the possibility of competing at such high level in spite of all known difficulties and restrictions.
Ecuador's Glenda Morejón celebrated her 21st birthday with her first victory at this event and a South American record for the 20,000m race walk, clocking 1:29:24.7 to move to third on the world all-time list.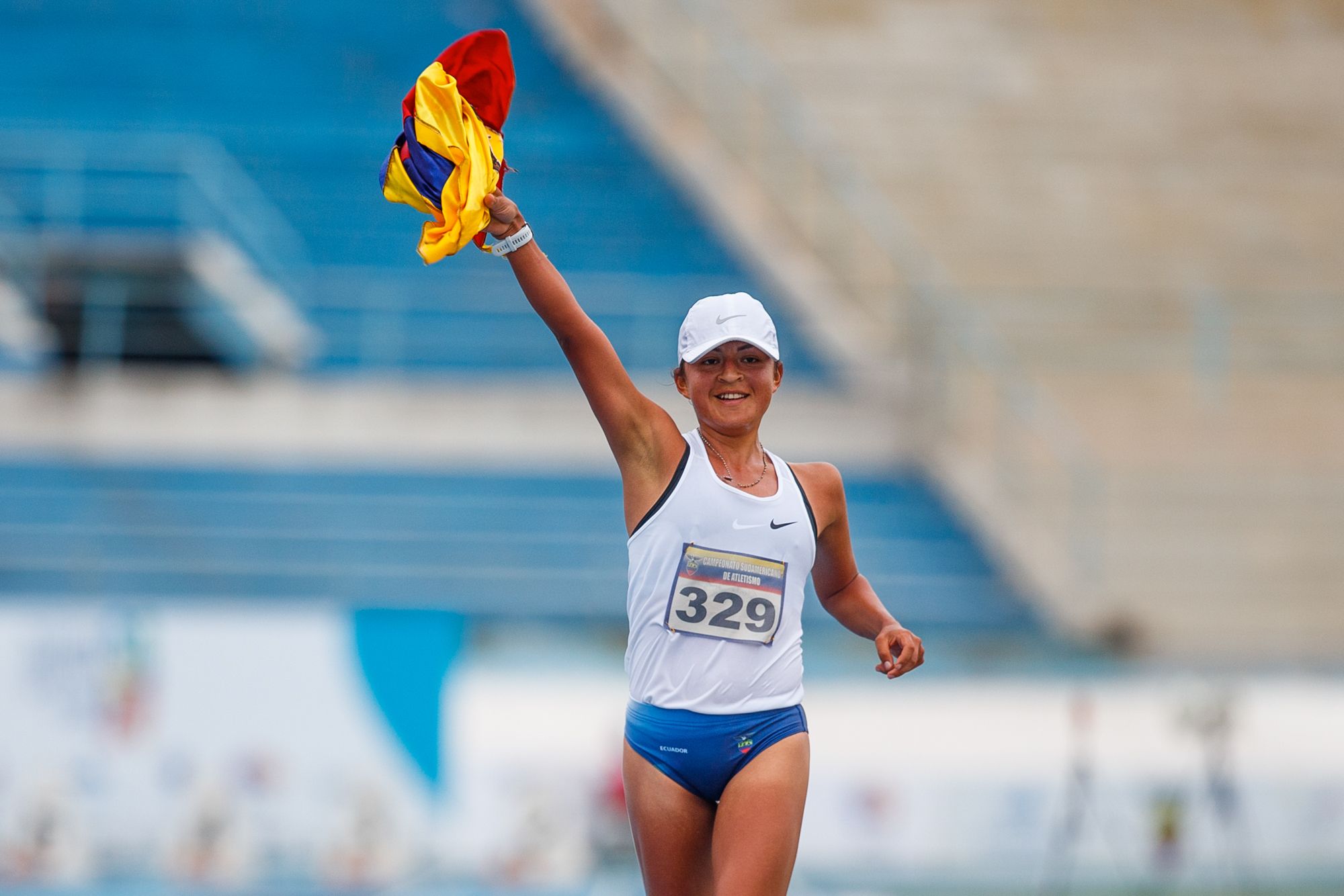 Glenda Morejon after winning the 20,000m race walk at the South American Championships (© Oscar Muñoz Badilla)
Morejón, the 2017 world U18 champion and 2018 world U20 bronze medallist, finished comfortably ahead of Brazil's Érica de Sena, the fourth-place finisher at the 2019 World Championships.
Both athletes walked together through 5000m (22:49) and 10,000m (45:08). Morejón, the South American record-holder for 20km on the roads (1:25:29), took the lead in the 12th kilometre, passing 15,000m in 1:07:26 and finishing with a strong split of 21:58 for the last 5000m. De Sena improved her own national record with 1:30:52.0, while Ecuadorian Maritza Guamán completed the podium with a personal best of 1:32:36.3.
Andrés Chocho, winner of the men's 20,000m race walk in Guayaquil (1:24:19.0), and coach of both athletes, explained that Morejón and Sena had a controlled race because the group will be competing at the Race Walking Grand Prix in La Coruna on 5 June in what will be their last event before the Tokyo Olympics.
Brazil's Rafael Henrique Pereira produced one of the best performances of the championships by winning the 110m hurdles with a personal best and championship record of 13.35 (0.7m/s). The 24-year-old Pereira, South American U23 champion in 2018, is enjoying a break-out season. After finishing second at the 2020 national championships with 13.64, Pereira has improved his personal best four times in 2021, and is now just 0.03 shy of the Olympic qualifying mark.
This is Pereira's first South American title, becoming the 22nd Brazilian to win the 110m hurdles at the event. His compatriot Eduardo de Deus, champion in 2017, abandoned at the eighth hurdle after hitting a couple of barriers; Colombian Yojan Chaverra was second in13.53.
Another Brazilian, Thiago André, won the 800m and 1500m in fine times, claiming his first South American titles. At 800m, André improved the 26-year-old championship record (set by José Luiz Barbosa two months before his birth) with 1:45.62. Colombian Jelssin Robledo set a fast pace (50.1 for 400m and 1:17.5 for 600m) but paid the price, fading to fourth (1:48.31). André passed Robledo with 110 metres to go and finished strongly, ahead of another Colombian, 19-year-old Jhonatan Rodríguez, who set a national U20 record of 1:47.01.



Thiago André wins the 1500m at the South American Championships (© Oscar Muñoz Badilla)
André won the 1500m in similar fashion. Argentina's Federico Bruno and Uruguay's Santiago Catrofe set the pace (2:00 at 800m, 2:44 at the bell) and André prevailed over both of them with a strong finish to set a season's best of 3:37.92, ahead of Bruno (3:38.25) and Catrofe (3:38.67).
Nervi and Mansilla take throws titles for Chile
Chilean throwers displayed their power and promising future, providing the two gold medals won by their team.
Nineteen-year-old Lucas Nervi won the discus with a personal best of 63.18m. The last time that Chile won this event at the South American Championships was in 1974, when Hernán Haddad was triumphant in Santiago with 47.12m.
Humberto Mansilla took the hammer with a championship record of 75.83m, ahead of compatriot Gabriel Kehr, the defending champion and the 2019 Pan-American Games winner. Just a week prior, the 25-year-old Mansilla had set a national record of 77.70m in his hometown of Temuco.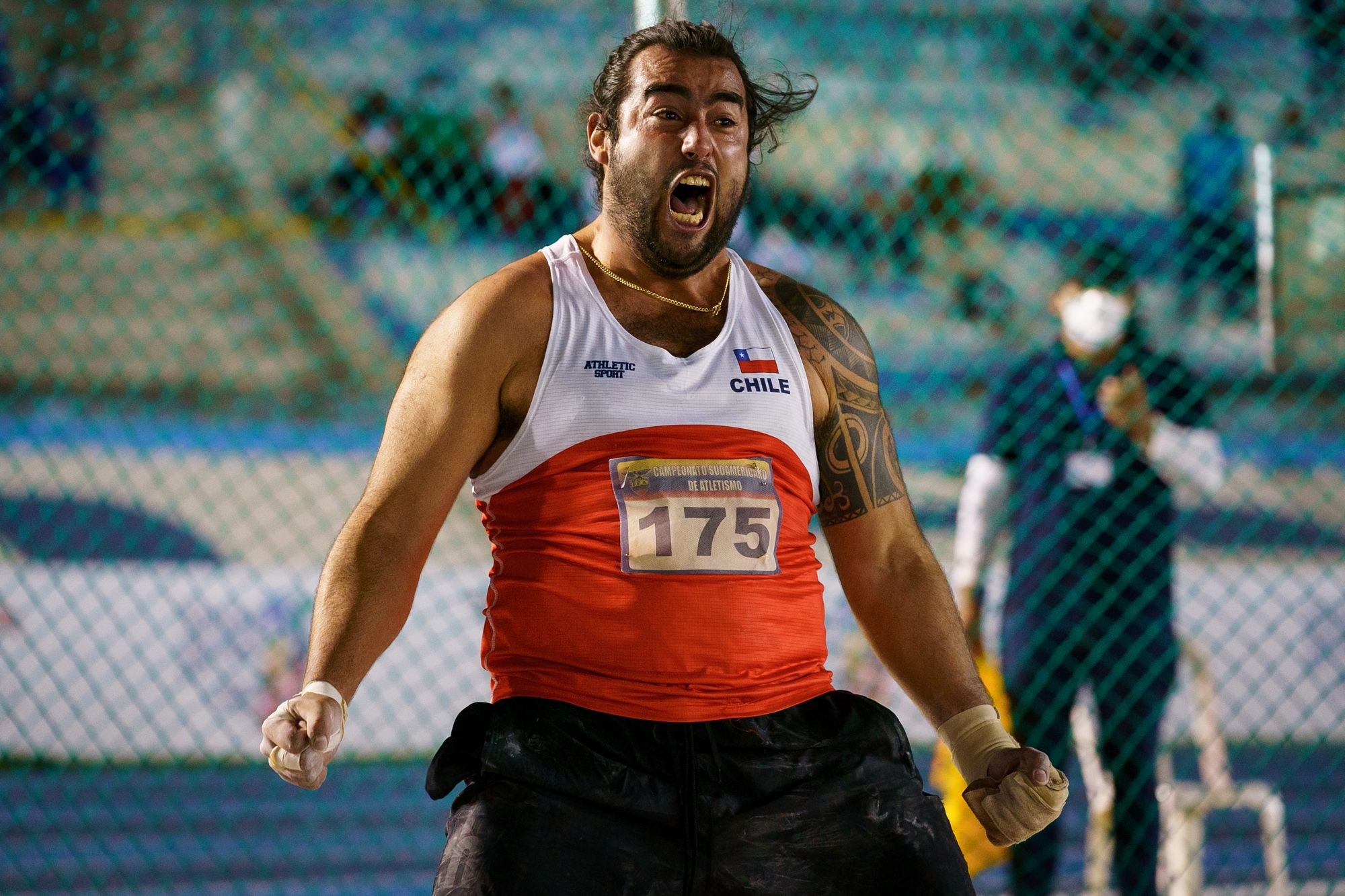 Chilean hammer thrower Humberto Mansilla at the South American Championships (© Oscar Muñoz Badilla)
One of the most remarkable victories by the hosts came in the decathlon, with Andy Preciado delivering the first gold at this event for Ecuador – and only the nation's fourth-ever decathlon medal in the history of the 102-year-old championships.
The 23-year-old Preciado, from Esmeraldas, scored 8004, 476-point improvement on his national record thanks to five personal bests: 10.95 in the 100m, 51.28 in the 400m, 14.23 in the 110m hurdles, 4.50m in the pole vault and 4:45.03 for 1500m. Brazilian Felipe Vinícius dos Santos was second with 7960, while defending champion Georni Jaramillo from Venezuela was third with 7613, after struggling with cramps during the 1500m.
Colombia's South American record-holder Evelis Aguilar dominated the heptathlon as expected, winning with a championship record of 6165.
Aguilar's compatriot Melissa González also delivered a fine performance by winning the 400m hurdles in a national and championship record of 55.68. The 26-year-old, born in Texas, retained her 2019 title thanks to a strong finish and after Brazil's early leader Bianca Amaro dos Santos fell with 100 metres to go. Another Colombian, Valeria Cabezas (57.56), pipped Brazil's Chayenne da Silva (57.78) in the closing stages.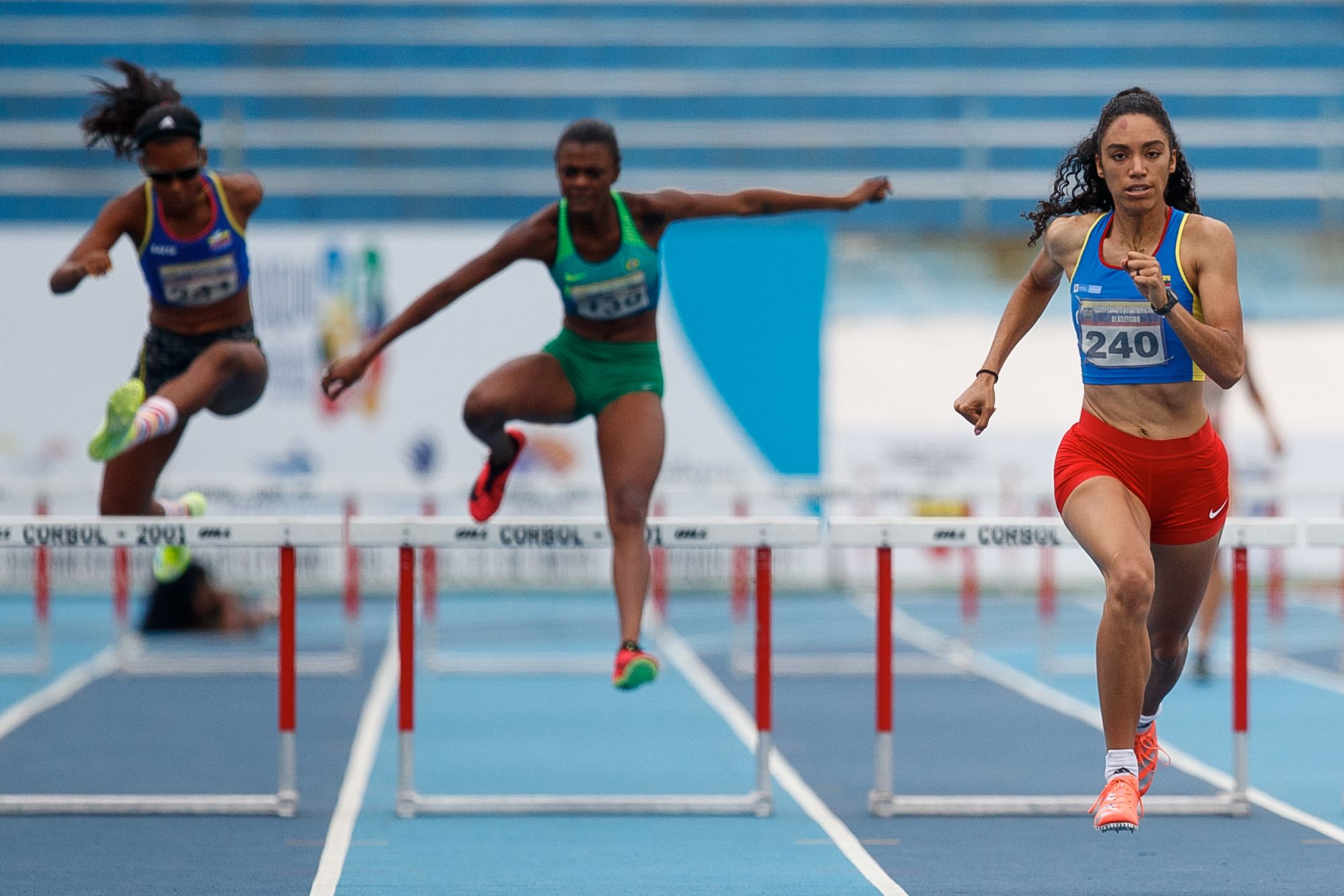 400m hurdles winner Melissa Gonzalez at the South American Championships (© Oscar Muñoz Badilla)
Brazil's Tatiane de Silva retained her 3000m steeplechase title, improving her own championship record and PB with 9:38.71. The 30-year-old wound up the pace with each kilometre and just missed the national record by 0.08. Teammate Simone Ferraz was second with a big PB of 9:45.15 while Argentina's Belén Casetta, the South American record-holder, was third with a season's best of 9:45.79.
The most impressive results in jumping events came from Brazilian athletes. Fernando Ferreira won the men's high jump with 2.29m (his second title) and 23-year-old Letícia Melo took the women's long jump for her first time with 6.63m (1.2m/s).
Argentina's Germán Chiaraviglio won the men's pole vault with 5.55m, obtaining his fourth gold and ninth medal at these championships (three silver and two bronze). He has now equalled Argentina's Oscar Veit and Brazil's Fábio Gomes da Silva as the athletes with more titles in the history of this event.
Sprint doubles for Bardi dos Santos and Rosa
Other highlights were provided by Brazilian sprinters Felipe Bardi dos Santos and Vitória Rosa, who both won 100m/200m doubles. Bardi dos Santos clocked a windy 10.10 (2.3m/s) in the 100m final after 10.15 (1.7m/s) in the heats, and 20.49 (1.9m/s) at 200m. Now, at 100m, he has a bronze medal from 2017, a silver from 2019 and the gold to complete his collection.
Rosa won her second 100m title in 11.31 (1.0m/s) and her third one at 200m with 23.10 (0.8m/s), becoming the first athlete in the history of these championships to win three consecutive titles in the women's 200m.
Up until this year, no Venezuelan woman had won a middle-distance event at these championships. The Brea sisters, Joselyn and Edymar, who live and train in Pontevedra in Spain, made history by taking four medals altogether. Joselyn won the 1500m in 4:15.05, while Edymar took the 5000m and 10,000m in 15:47.16, a personal best (with her sister third in 15:48.24) and 34:05.25.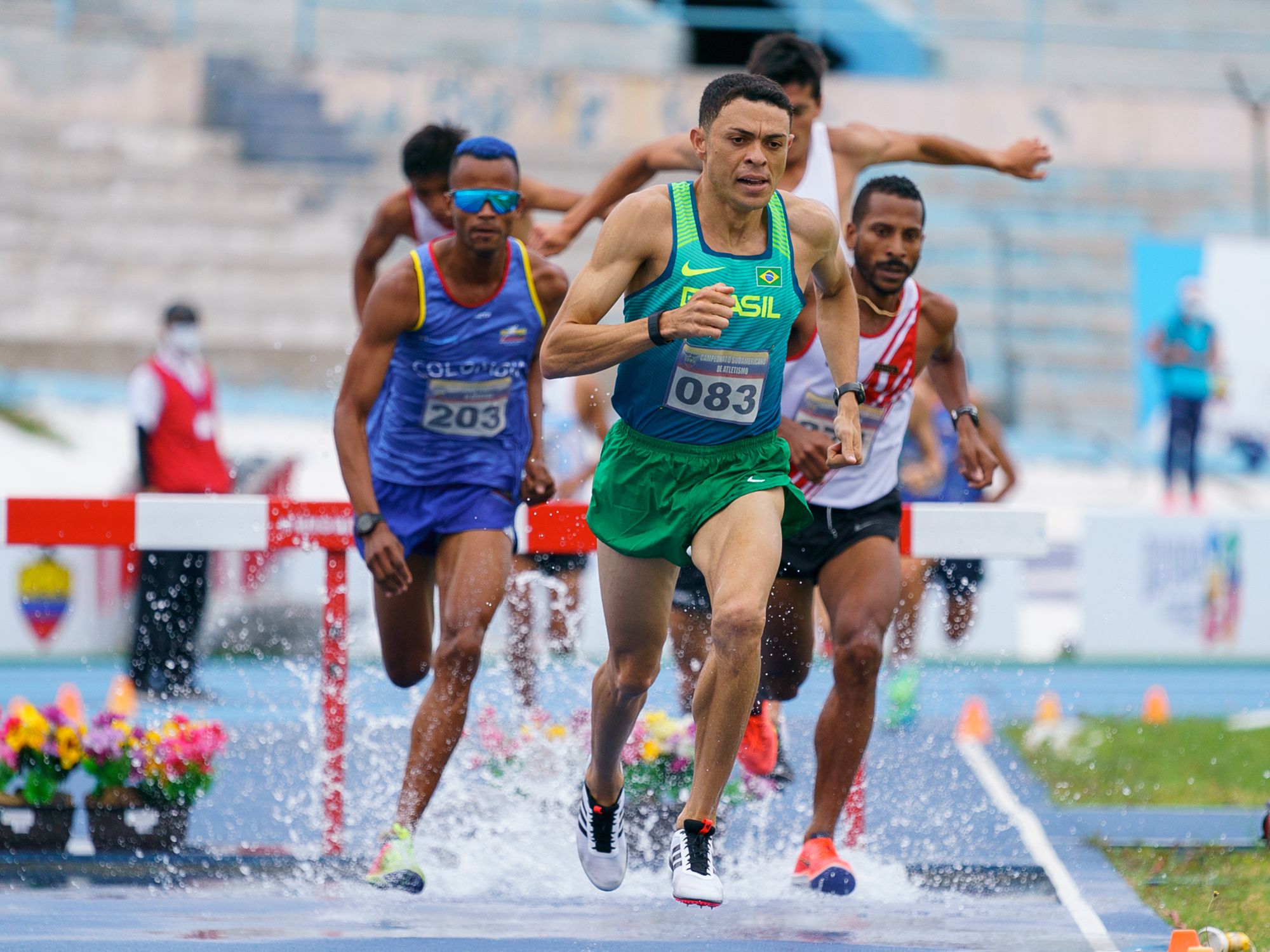 Altobeli da Silva on his way to winning the 3000m steeplechase at the South American Championships (© Oscar Muñoz Badilla)
Brazil's Altobeli da Silva also grabbed two distance titles, winning the 3000m steeplechase (8:34.17) and 5000m (13:51.81).
Colombia won the inaugural mixed 4x400m in a national record of 3:21.28. The Colombian team also won the women's 4x400m (3:31.04), while Brazil took the gold medal at the other relays: 39.10 and 44.91 at 4x100m and 3:04.25 in the men's 4x400m.
Brazil topped the points table with 470, ahead of Colombia (275) and Ecuador (161.5). Brazil also led the medals table with 49 medals, 26 of them gold. Colombia was second, Venezuela third and hosts Ecuador fourth.
Eduardo Biscayart for World Athletics