Abby Steiner celebrates her 200m win at the 2022 US Championships (© Getty Images)
There's no place like Hayward Field for US athletes, who completed their national championships on Sunday (26) in what was essentially a trial run for the World Athletics Championships Oregon22 next month.
Abby Steiner had the race of her life in the women's 200m, while 400m hurdler Rai Benjamin and shot putter Chase Ealey moved atop the world lists on another hot day at the US Championships in Eugene.
For Steiner, Hayward Field is definitely in her comfort zone. She lowered her PB to 21.77 while earning her first national crown just 15 days after shattering the collegiate record and taking the world lead with a 21.80 amid cooler temperatures at the NCAA Championships. The University of Kentucky sprinter equalled that time in the semifinals at the US Championships.
"The main focus was just to come away with a win, make the team," said Steiner, whose performance was another world lead until Shericka Jackson ran 21.55 at the Jamaican Championships. "It was nice having had NCAAs at this track; it was kind of a familiar environment so I knew if I replicated my race that I had at NCAAs with nicer weather, we were going to walk away with a PB."
Steiner will return to Eugene along with the other US athletes who qualified for the World Athletics Championships Oregon22 in less than three weeks, no doubt to enjoy their home field advantage. The World Championships are taking place on US soil for the first time.
While Steiner wasn't as dominant in the first 50 metres, she grabbed the lead with 40 meters to go, defeating Tamara Clark, who ran a PB of 21.92. Olympian Jenna Prandini, who came off the curve in first place, ran a season's best of 22.01 on her college alma mater's track.
Olympic bronze medalist Gabby Thomas placed eighth in 22.47 after battling a hamstring injury the past two weeks, while Sha'Carri Richardson did not advance to the final.
Steiner was smiling with her arms outstretched as she crossed the finish line into a slight headwind.
Steiner said the win means "Everything."
"Coming off the collegiate season, a lot of people want to put limitations on you and say you're going to be burnt out," she said.
Steiner definitely proved she still has momentum.
Benjamin uses final burst to take world lead
Benjamin chopped his steps going into the second hurdle of the men's 400m hurdles and actually trailed Khallifah Rosser at the ninth barrier.
Then Benjamin hit another gear to pull ahead and run a world-leading time of 47.04, 0.45 better than his previous best this season, and leap over Alison Dos Santos' 47.23 on the world list.
Trey Bassitt surged past Rosser to take second with a personal best of 47.47, while Rosser ran a PB of 47.65 for third.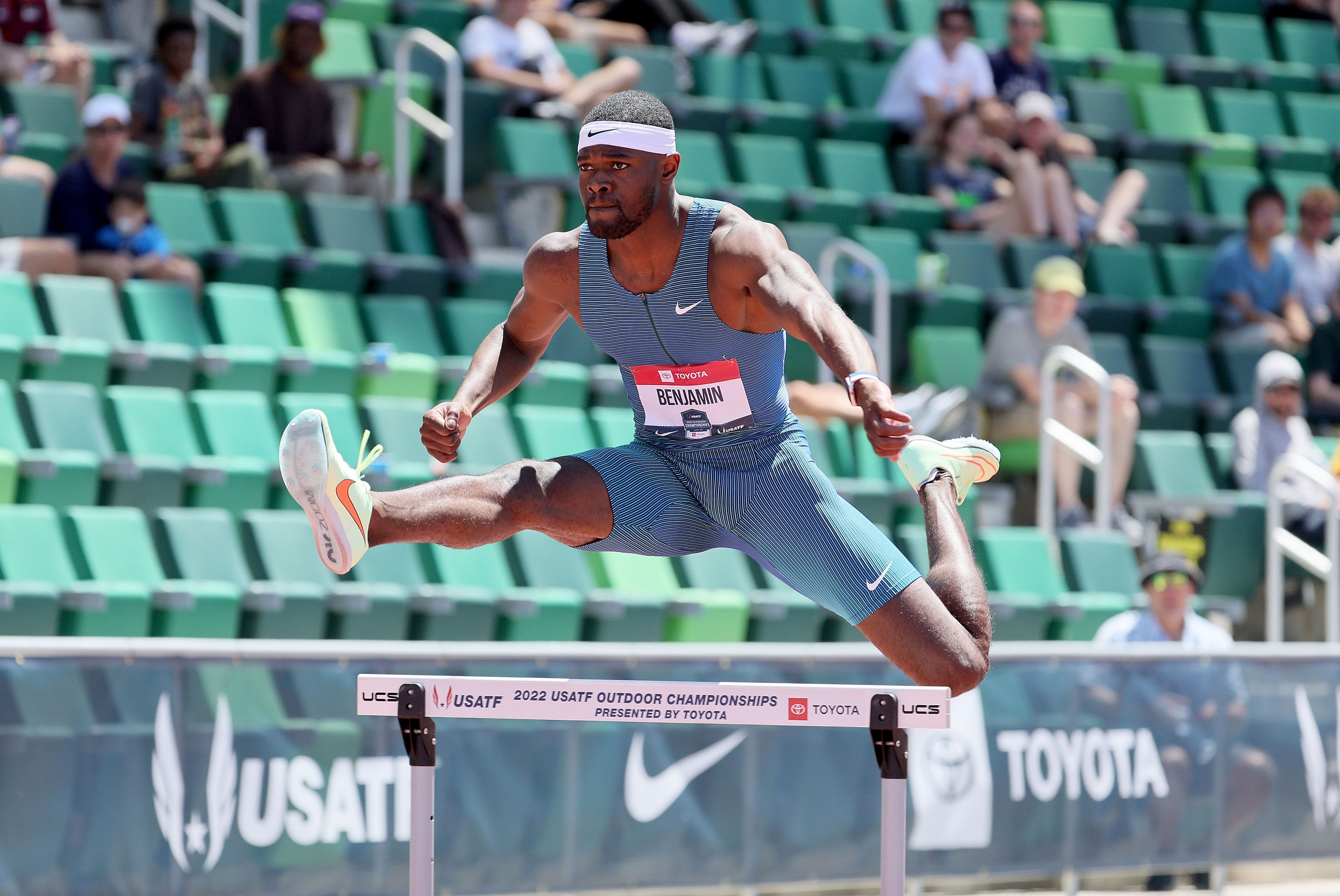 Rai Benjamin in the 400m hurdles at the 2022 US Championships (© Getty Images)
Benjamin has recovered from a tough bout with Covid-19 and had not been able to train as much as he would have liked. He said he felt "kind of banged up" after the weekend.
Winning his third straight US title, Benjamin said: "It feels like a weight has been lifted off my shoulders."
Making the US team, he added, "is the hardest part, in all honesty. Worlds — that's the easiest part. I still have a lot of work to do. I know what I have in store. It's a matter of getting healthy and putting my best foot forward."
Benjamin also hopes to run on the US 4x400m relay as he did in Tokyo, where he won an Olympic gold medal.
Ealey ready to make first world outdoor podium
Ealey, the world indoor silver medallist, took the world lead on her second toss, a throw of 20.51m to move ahead of China's Song Jiayuan with 20.38m and Canadian Sarah Mitton's 20.33m. Ealey's mark was also a meeting and stadium record and a PB by 38cm.
Ealey – who now sits second on the US all-time list – had a stellar series. After three throws over 19 metres (19.30m, 19.46m and 19.80m), she finished with another monster throw of 20.19m.
"I was really nervous leading into this meet," Ealey said. "I hadn't been nervous all year, but I used the nerves really well and was able to push past the nerves and really go for it."
Ealey said she is primed for the World Championships and doesn't want to leave Eugene next month without a medal, "and I'm really hoping it's a gold one."
She added: "Since my breakout year it's been a while since I've finally been on my feet again and I feel like I have it now."
Adelaide Aquilla was second at 19.45m, followed by Jessica Woodard at 19.40m. Olympic silver medallist Raven Saunders had a season's best of 18.95m, but missed the US team, while 2016 gold medallist Michelle Carter closed out her final national championships in eighth place (17.72m).
Thrilling finish to women's 800m
Olympic 800m gold medalist Athing Mu, who turned 20 on 8 June, has not lost a race outdoors at any distance since age 17.
Ajee' Wilson almost ended Mu's winning streak, pulling abreast with her in the final push for the line, but coming up just short.
Mu's time was 1:57.16, while Wilson, who admitted she might have started her kick a little too early, had a season best of 1:57.23. Raevyn Rogers, who went to college at Oregon and whose likeness is on the Hayward Field Tower, was in sixth place with 100 metres to go and wound up third in 1:57.96.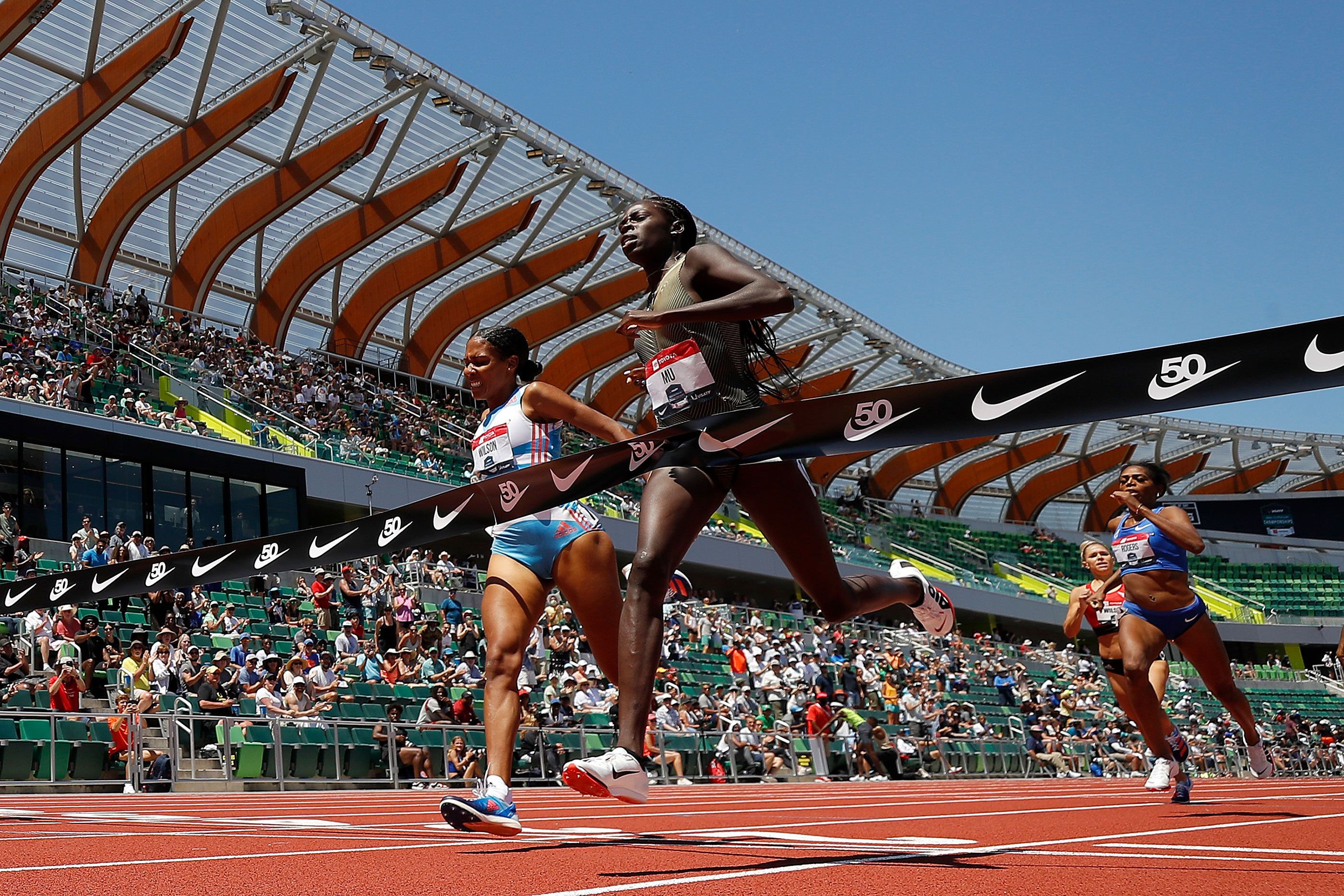 Athing Mu wins the 800m ahead of Ajee Wilson at the 2022 US Championships (© Getty Images)
"I'm glad that I fought," said Mu, who ran 1:57.55 in the semifinals, "and I'm glad that I still had it in my legs to come back and run. I'm glad I was able to replicate what I did two days ago even though it wasn't a super fast time."
She was also happy for her boyfriend Brandon Miller, who threw himself across the line in the men's 800m to deny 2016 Olympic bronze medallist Clayton Murphy another national team. Miller's time was 1:45.19 while Murphy finished fourth with a season's best of 1:45.23.
Bryce Hoppel won the race, fighting off Jonah Koech on the final stretch, 1:44.60 to 1:44.74, with Koech posting a PB to attain the World Championships standard.
Proving a point in the men's 200m
Noah Lyles did not follow the example of fellow world champions Christian Coleman, Nia Ali and Grant Holloway of skipping their final because they had a wildcard entry into the World Championships.
Lyles had something to prove.
He won the 200m with a time of 19.67, blowing past teenager Erriyon Knighton, who clocked 19.69. Fred Kerley doubled by placing third in 19.83 after winning the men's 100m. Kenny Bednarek, the Olympic silver medallist, also made the US team in fourth place with a season's best of 19.87, just ahead of Lyles' brother Josephus with a PB of 19.93.
Knighton has the world lead of 19.49, and the attention on the young sprinter had Lyles feeling left out.
Lyles pointed his finger at Knighton as he crossed the finish line, but he explained that the gesture was meant for the people who had doubted him.
"I'm pointing at all those people who kept doubting me, all year and all last year," Lyles said, "everybody who keeps saying, 'He's out of the picture.'"
Lyles admitted that Knighton got the best of him on the turn, but he refused to panic.
"I saw he reached his top speed and I said, 'Mine's faster,'" he said. "I'm going to catch him."
Knighton was visibly upset by the loss. During the post-race television interview, he vowed to "Just come back and win. The job's not finished, it's never finished." And then he stalked out of camera range.
Lyles shouted after him, "It ain't finished!"
Lyles said the pointing was "just about having fun," but he allowed that the move could have cost him some time with Knighton on his shoulder.
"To be honest," Lyles said, "I risked it for the biscuit."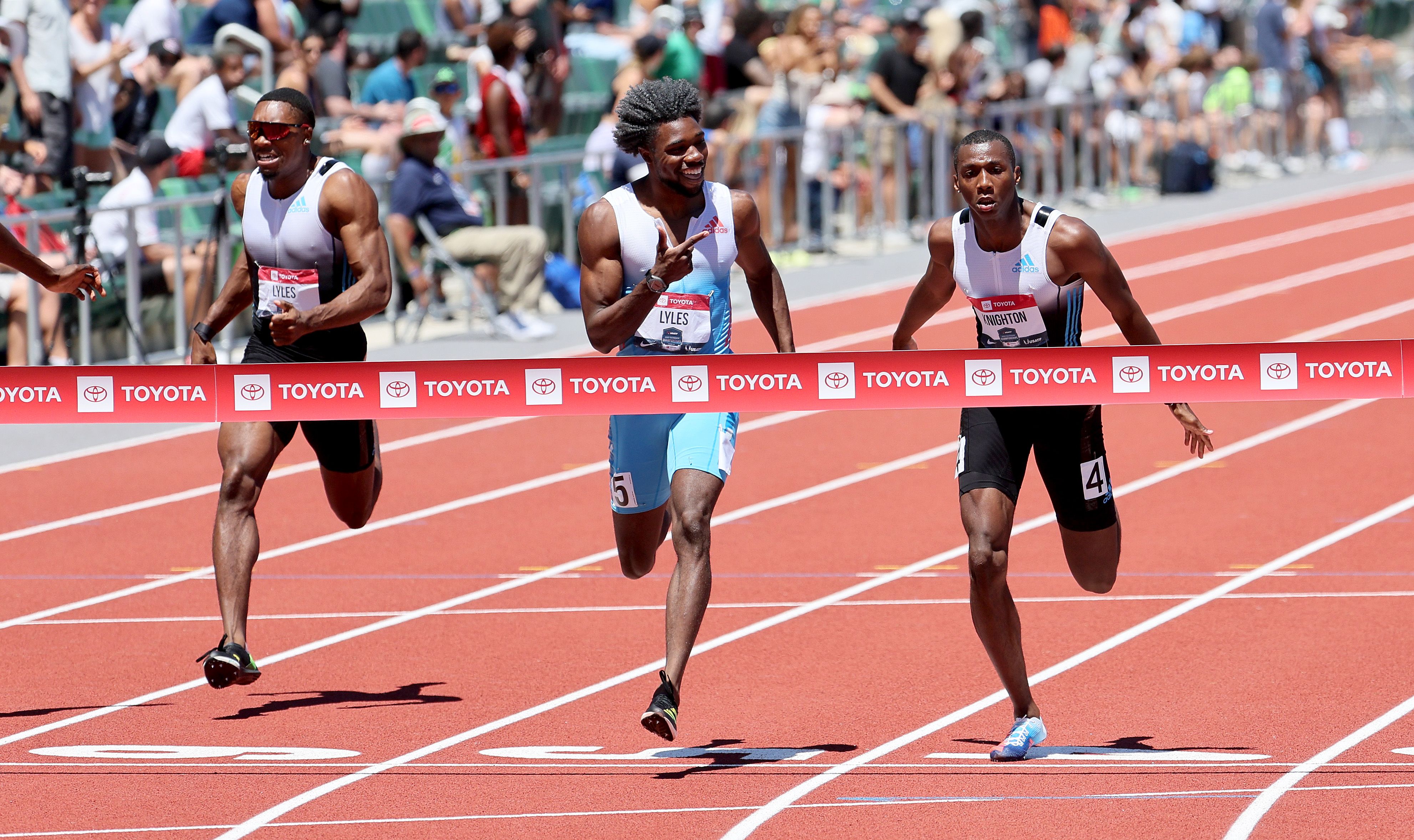 Noah Lyles wins the US 200m title ahead of Erriyon Knighton (© Getty Images)
Grant Fisher withstood the morning heat to win the men's 5000m and set a meeting record with a time of 13:03.86. Woody Kincaid ran a 54-second final lap to move from fourth to second in 13:06.70. Abdihamid Nur was third in 13:08.63.
Fisher was thrilled to win his first national title after three near misses.
"I knew if I put in some pace with a few laps to go that I would break a lot of people," he said, "and I wanted this to be a true 5km. I didn't want it to be a 400m. I wanted to make them hurt and it worked."
World gold and silver medallist Emma Coburn won the women's 3000m steeplechase in 9:10.63 as Courtney Wayment moved into second with a time of 9:12.10 by overtaking Olympic silver medallist Courtney Frerichs, who finished third in 9:16.18.
Shelby McEwen jumped a PB of 2.33m to win the men's high jump, moving into a tie for second on the world list and attaining the World Championships standard. JuVaughn Harrison made the US team with a season's best of 2.30m and Dontavious Hill was third in 2.22m. Harrison, who made the Olympic team in both the high jump and long jump, was unsuccessful in his quest to double at the World Championships in Oregon.
Daniel Roberts won his second national title in the 110m hurdles, clocking a season's best of 13.03. It was a blanket finish for the next three places, with Trey Cunningham, the NCAA champion, taking second with a time of 13.08.
Two-time Olympian Devon Allen, who ran the world-leading time this season of 12.84 two weeks ago, was third by three-thousandths of a second. He edged Jamal Britt, 13.087 to 13.090, to claim the final spot on the US team.
Karen Rosen for World Athletics