Grant Holloway wins the 110m hurdles at the US Olympic Trials in Eugene (© Getty Images)
On one of the most momentous days in the history of the US Olympic Trials – and one of the hottest, with temperatures reaching 38C – Grant Holloway came within one-hundredth of a second of a world record in the 110m hurdles and Rai Benjamin came within five-hundredths in the 400m hurdles. Gabby Thomas made history in the 200m, as did DeAnna Price in the hammer.
All four now rank No.2 all-time in their respective events after their performances in Eugene on Saturday (26).
It was in the semifinals that world champion Holloway achieved his time of 12.81 (1.8m/s), just missing the record set by Aries Merritt in Brussels in 2012. The former trials record was 12.92 by Allen Johnson set at Atlanta in 1996.
Holloway went on to win the final in 12.96 (0.4m/s) over Devon Allen (13.10) and Daniel Roberts (13.11). Allen was fifth at the 2016 Rio Olympics.
Holloway said he knew big things were coming after Friday's first round, and that a world record is "definitely possible."
It is possible for Benjamin, too, whose 46.83 is the closest anyone has ever come to Kevin Young's 46.78 from the 1992 Barcelona Olympics. Benjamin said his goal was to make the USA team, not break the world record – but the time was reassuring.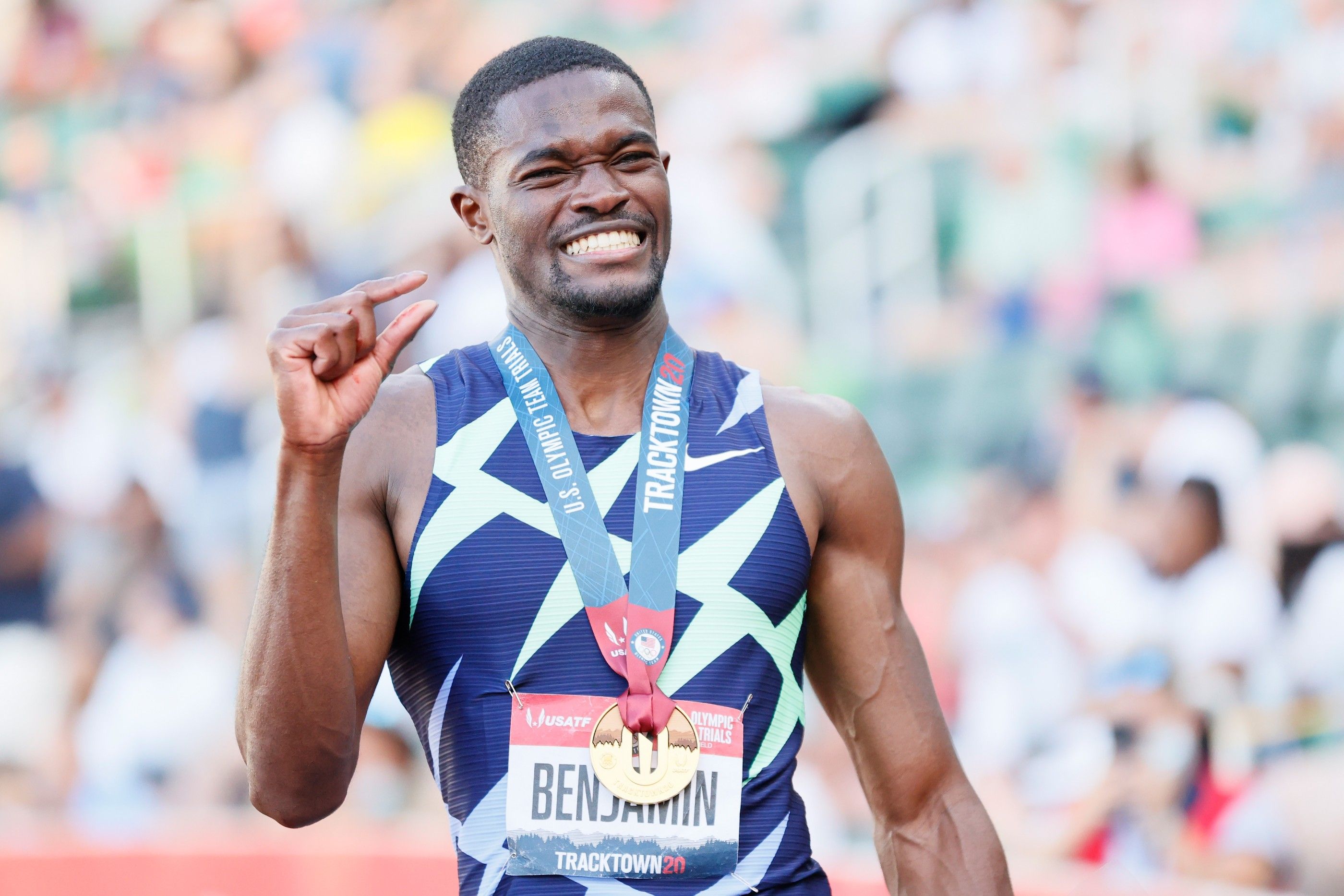 "If I got a world record now," he said, "would I be able to maintain that level of fitness?"
Benjamin broke the Trials record of 47.37 set by Edwin Moses in 1988 in a memorable Indianapolis race in which five men were under 48 seconds.
In Zurich in 2019, Norway's Karsten Warholm edged Benjamin, 46.92 to 46.98. They should meet again at the Tokyo Olympics. "I ran out of real estate because I made such a rookie mistake in the first half," Benjamin said. "I like to think that I'm more experienced now. I have a different drive now, it's a different hunger.
"I want to be the best hurdler that there's ever been. I'm ready to sacrifice anything, and I sacrificed a lot this year."
Benjamin also suggested he would like to race former college teammate Michael Norman at the flat 400m.
To become No.2 in history behind Florence Griffith Joyner left Thomas "in shock". The Harvard graduate won the 200m in 21.61 (1.3m/s), followed by Jenna Prandini in 21.89 and Anavia Battle in 21.95. Prandini was an Olympian in the 200m in 2016.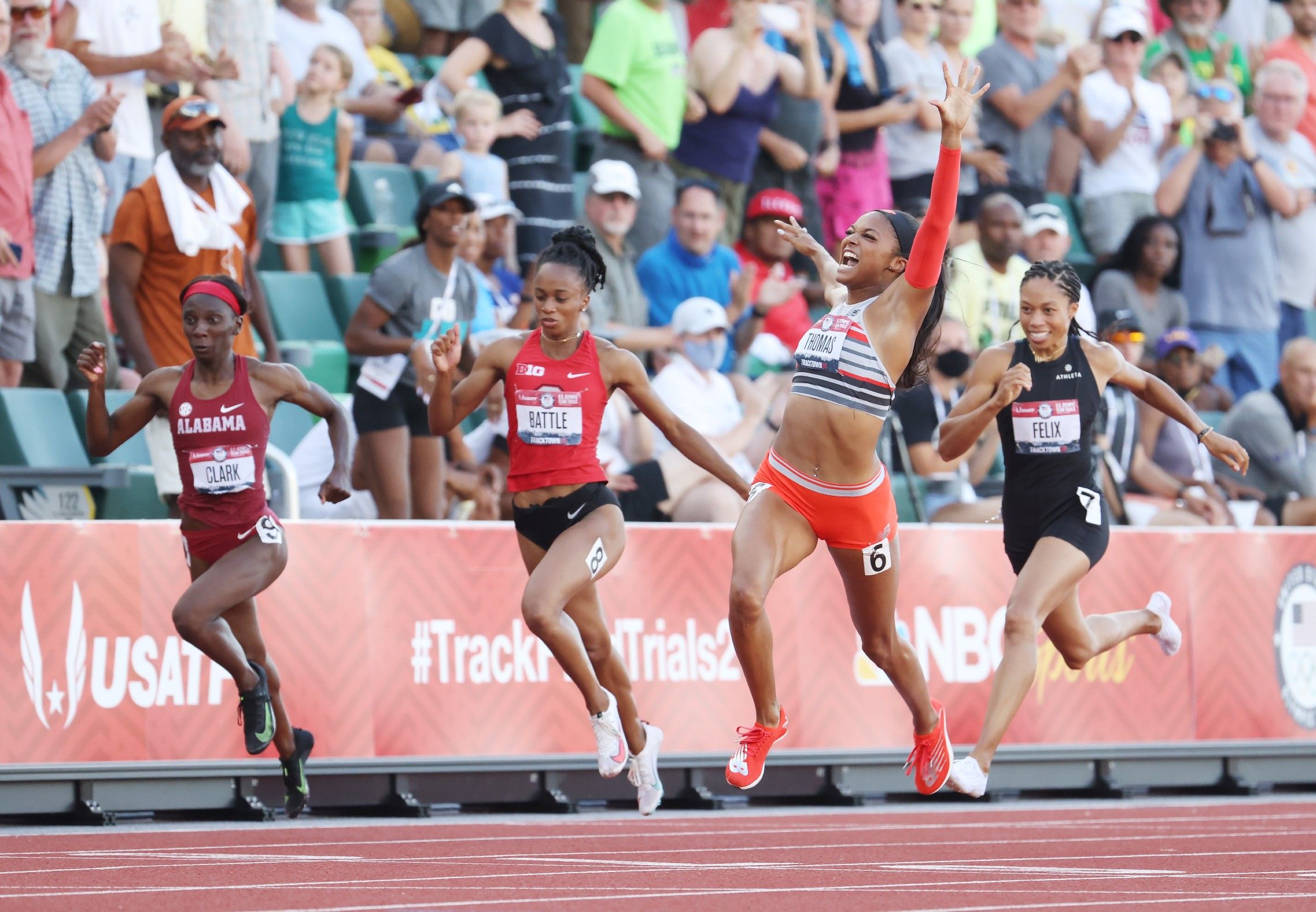 Griffith Joyner set a world record of 21.56 in the semifinals at the 1988 Seoul Olympics, then broke that with 21.34 in the final.
Thus the 21.98 by Alabama's Tamara Clark missed making the team. That time would have earned a silver medal at the 2019 World Athletics Championships in Doha and a bronze at the 2016 Olympics in Rio. Allyson Felix, 17 years removed from silver at Athens 2004, was fifth in 22.11.
Felix has been Thomas' inspiration. "She was the first person I remember watching on TV. The person who has been in the back of my head. To be on the team with her makes me want to cry," Thomas said.
The sprinter had a health scare ahead of the Trials when a tumour was discovered on her liver. It turned out to be benign.
Thomas, 24, earned a Harvard degree in neurobiology and is studying for a master's in public health at the University of Texas. She relocated to Austin to be in a training group led by Tonja Buford-Bailey.
"I wanted to go to a group where I can go to school to be in a group of successful black women, it was something I thought was super-empowering," Thomas said.
In the hammer final Price twice broke her own US record and broke her trials record four times, topped by 80.31m in the fifth round. That made her the second 80-metre thrower ever after Poland's Anita Wlodarczyk, who set the world record of 82.98m in 2016.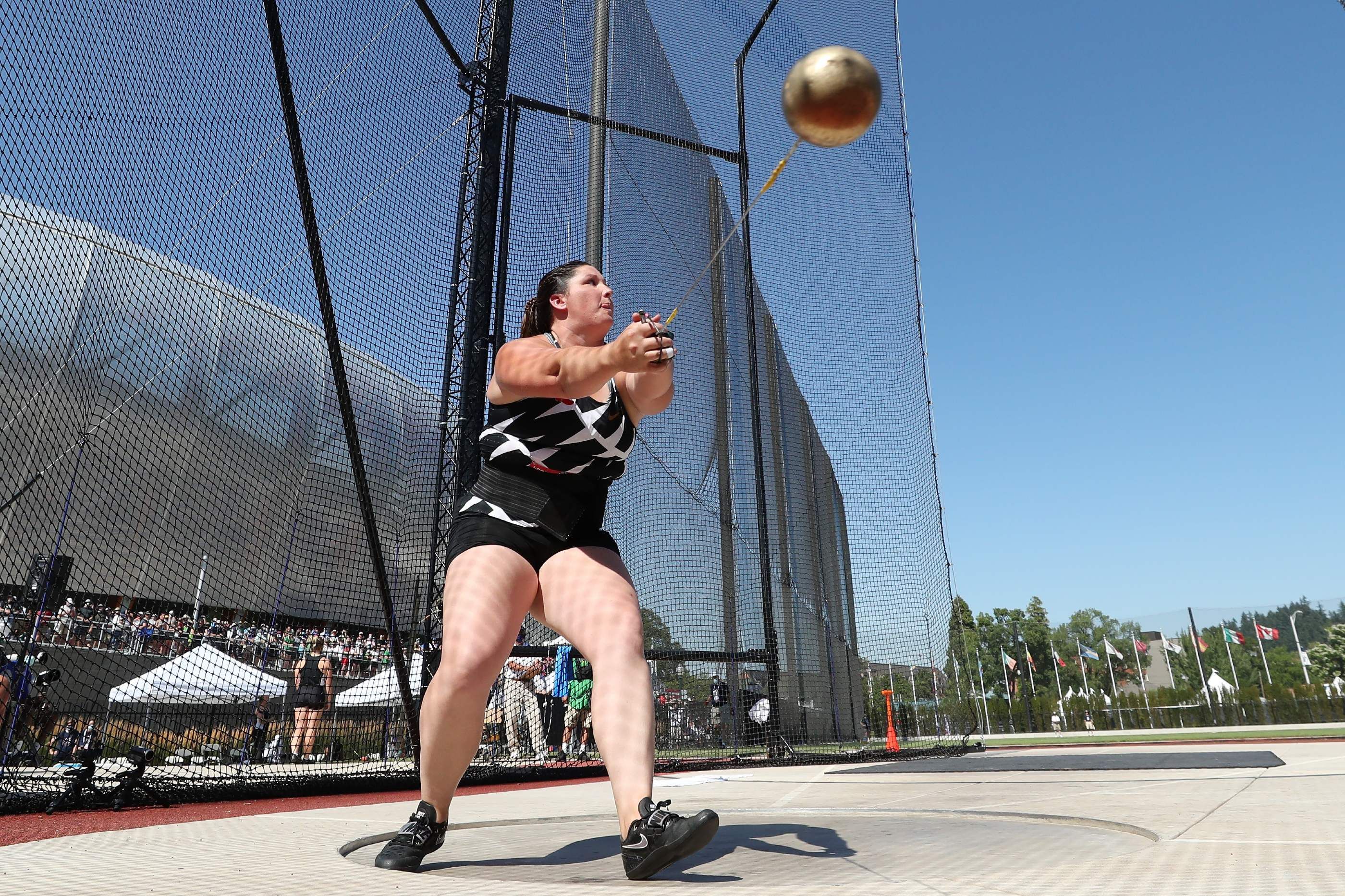 Price's series was 77.82m, 78.51m, 79.98m, foul, 80.31m and 78.16m.
Brooke Andersen was second with 77.27m and Gwen Berry third with 73.50m. The three Americans rank as the top three worldwide in 2021, and Andersen's distance was the best ever for second place.
The most shocking result on Saturday might have been by a 17-year-old in a semifinal. Erriyon Knighton eased into Sunday's 200m final with a time of 19.88, breaking the world U20 record of 19.93 set by Jamaica's Usain Bolt in 2004. That also lowered Knighton's own U18 best of 20.04, set in Friday's first round.
"Did what I had to do. I shut it down the last 20 metres, as you can see," Knighton said.
Knighton finished ahead of 2019 world champion Noah Lyles, second in 19.91. Kenny Bednarek won the other semifinal in 19.90.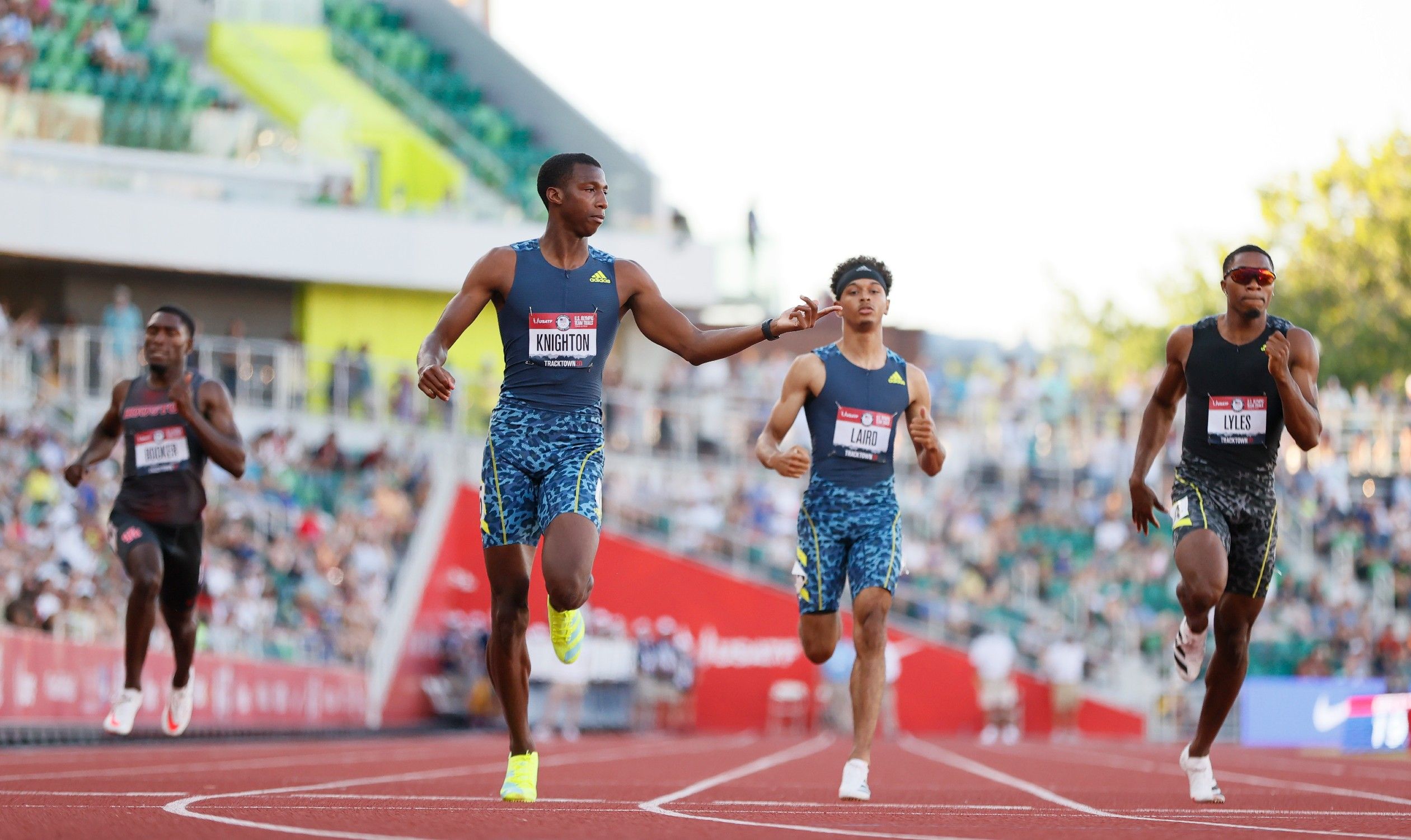 There was also a world record attempt by Katie Nageotte in the pole vault as she set a Trials record of 4.95m before missing three attempts at 5.07m. Morgann LeLeux was a surprise runner-up at 4.70m, and Rio silver medallist Sandi Morris was third at 4.60m.
The last time the US Olympic Trials winner in the long jump was not Brittney Reese was 2004, when she was 17 and attending a Mississippi high school. Reese won by jumping 7.13m to 7.04m for world-leader Tara Davis. Quanesha Burks took the third spot at 6.96m. Tianna Bartoletta, Rio gold medallist and two-time world champion, was 10th at 6.54m.
US record-holder Maggie Malone won the javelin with a fifth-round throw of 63.50m after previous record-holder Kara Winger led through four rounds. Winger, 35, competing 10 months after knee surgery, was second at 61.47m to make her fourth Olympic team.
Emily Sisson, disappointed not to make the marathon team when that was selected in February 2020, won a front-running 10,000m in 31:03.82. It was a Trials record, breaking the mark of 31:09.65 set by Deena Kastor at Sacramento in 2004. Sisson led at 5km in 15:49, then ran the second 5km in 15:14. Karissa Schweizer was second in 31:16.52 and Alicia Monson third in 31:18.55. Weini Kelati, newly granted citizenship, dropped out after 17 laps.
In the women's 400m hurdles, world leader Sydney McLaughlin advanced to Sunday's final in 53.03. The final features Dalilah Muhammad and McLaughlin, gold and silver medallists from 2019; Ashley Spencer, bronze from 2016; and Shamier Little, silver from 2015.
On day one of the heptathlon, Annie Kunz took the lead with 4042 points. She was first in the 100m hurdles (12.95) and shot put (15.73m). Kunz was eighth at the 2016 Trials and 13th at the 2019 World Championships.
Roy Jordan for World Athletics