Bahamian sprinter Steven Gardiner (© Getty Images)
Few athletes had a regular season in 2020. Some were able to compete in a handful of international races, some stayed local and contested a few low-key meetings, while others took a complete break from competition.

In the first of our series in which we chat to medallists from the World Athletics Championships Doha 2019 to see what they did with the extra year leading into the Tokyo Olympics, we catch up with men's 400m champion Steven Gardiner of The Bahamas.
How has life changed since winning world 400m gold in 2019?
Steven Gardiner: Well, for one, it has been great (to be world champion) and number two it is still an unbelievable feeling that I am a world champion. It has been good to have been able to share my experiences when people ask me questions like; 'what does it feel like to be a world champion?'
What is the best thing that has happened to you as world champion?
SG: After Doha I returned back to The Bahamas for a week on an all-expenses-paid trip set up by The Bahamas Olympic Committee. I had a grand time actually, I was really spoiled. One day I went on a trip to another island to speak to some schoolkids. I spent every day on the beach.

WATCH: full coverage of the men's 400m final at the World Athletics Championships Doha 2019
When you started training at the end of 2019 in the countdown to what we then thought would be the following summer's Olympic Games, did you tweak anything in your training?
SG: Many things were the same, although my coach, Gary Evans, introduced a lot more speed work. It was fun and it really paid off (in 2020).
When the global pandemic started accelerating around March of last year, how would you assess your shape and fitness?
SG: I was going very well at that time, although once the pandemic hit the training tracks were shut down, so we had to find another way to train. The reaction of my training group was very positive in terms of having to find other ways to stay active and in shape. I have a street bike, so many of us would hit the bike trails. It was nice to have a break from running and we saw some different scenery.
What was your reaction to the news that Tokyo Olympics were postponed until 2021?
SG: I was not too disappointed that we had to wait another year. I was looking forward to the Olympics, but we had to accept the decision. For the athletes it was right. At that time (of the pandemic) everyone was unsure how things would play out.
You focused on the shorter sprints in 2020, clocking a 100m PB of 10.35 and national records for 150m (15.07) and 300m (31.83) in seven local races in Florida and Georgia. How do you assess your performances?
SG: I had a lot of fun. During the pandemic we decided to focus on the shorter sprints and leave competing again in the 400m to 2021. It was fun and games, I enjoyed competing and it was nice to set a national record.

Steven Gardiner in action in Chorzow in 2018 (© organisers)
What was the biggest challenge you faced during a difficult 2020?
SG: I would say not being able to travel home to The Bahamas. I normally fly the 25 minutes from Florida (Gardiner's training base) to home (on the island of Grand Abaco) whenever I feel, but I have not been back since October 2019 because of the pandemic. I'm very close to my family and we speak every day. I'm the youngest of seven siblings (including half-sisters and half-brothers).
Did you find your motivation waning following the 2020 season and was it hard to get up for training in the countdown to 2021?
SG: It was a bit of challenge for me, but I know what needs to be done and my family is my biggest motivation. I talk to my family every day and they always encourage me to keep going.
You were aged just 20 at the time you reached the 400m semifinals at the 2016 Rio Olympics. What did you learn from your Olympic debut appearance?
SG: It was my first Olympics, so I faced many new experiences. The main thing would be to treat it as no different to a regular World Championships. The overall experience was mind-blowing.
As reigning world champion, you are among the pre-race favourites for the men's 400m at the Tokyo Olympic Games. How do you handle that expectation?
SG: I just do what I have to do, block out the distractions and try to have fun. I am generally pretty calm, but the butterflies are always there and I guess that's normal. I just focus on training hard in practice, so that when it comes to competition I can put it altogether.
How do you relax away from the track?
SG: I just do normal stuff that people with regular nine-to-five jobs would do. I go to the shopping mall, watch TV, hang out with friends and play video games. I love action movies and the Fast and Furious series.
What are your aspirations for 2021?
SG: I just want to compete the best I can and leave with a medal, specifically the gold medal (in Tokyo). I know what I have to do. For the season, I'd like to run a few PBs and then win an Olympic medal.
When winning the world title in 2019, you ran a national record of 43.48 to climb to sixth on the world all-time list. Is the world record a future target?
SG: I would say that is everybody's dream! If I do set the world record, I want it to be a surprise. I just want to go out, compete and then when I look at the clock, find that I've set a world record.
You also hold the national 200m record with a best of 19.75. In future would you consider doubling up at major championships to compete in both the 200m and the 400m?
SG: That is the dream. If the schedule allows, it is something we would also like to work on in future.
Where do you feel you've improved since you won the world title in Doha?
SG: I would say in the longer runs. I'm doing the 500m and 800m sessions better than in previous years. I've got stronger in the gym and this has translated when I move to my track work.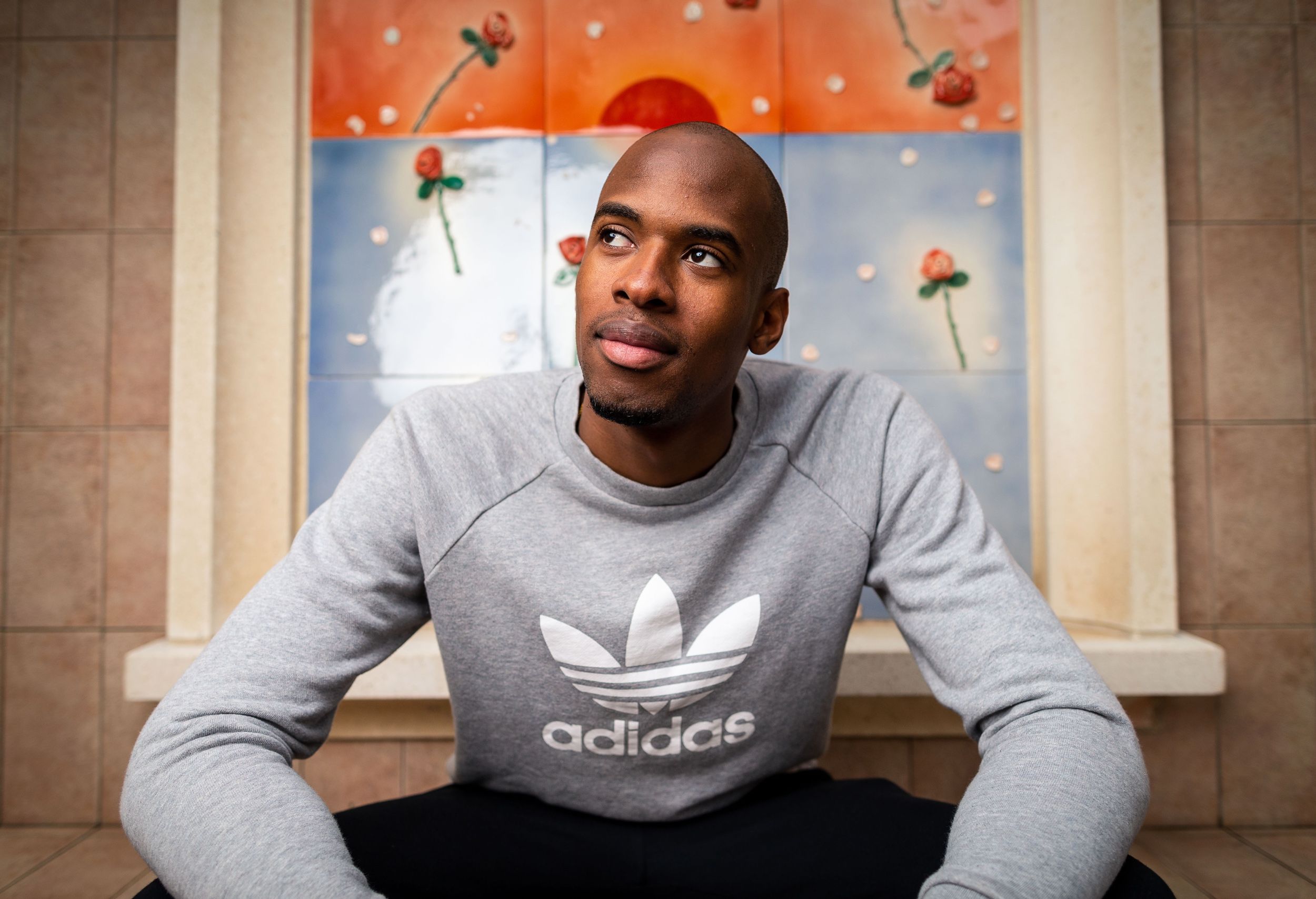 Bahamian sprinter Steven Gardiner (© Dan Vernon)
What are your best qualities as a 400m runner?
SG: I would say my strength and height. You have to be strong in the 400m because you need that mix of endurance and speed. And my height allows me to cover more ground than the average shorter sprinter.
You were first introduced to 400m from your high school track coach who recommend you step up in distance because he saw you as too tall for the shorter sprints. What would you like to say to your former high school coach?
SG: I hated the 400m at first but the event was my calling. I didn't see it at the time but today I would say to the coach 'thank you so much!'
Steve Landells for World Athletics