Jiaozi dumplings (© Mara Yamauchi)
Road racing, especially race walking and the marathon, is booming in China. This weekend alone there is the Chinese Race Walking Championships, plus four World Athletics Label road races taking place in China – the Beverly Wuxi, Qingyuan and Yuanan Countryside marathons, and the Suzhou Jinji Lake International Half Marathon. China is a regular host of major athletics competitions, and we would have been enjoying the World Athletics Indoor Championships in Nanjing around now, had it not been postponed for a second time due to the pandemic. There is no doubt, China is going to be a major force in athletics in the years to come. As Be Active's food writer, I am thrilled about this, since I love Chinese food!
This week I'm making Jiaozi, crescent-shaped Chinese fried dumplings. They are small parcels made with a pork and vegetable filling, first fried to make them brown and crispy on one side, and then steamed so they cook through. I first discovered them while living in Japan, where they are known as gyoza, and written with the same Chinese characters – 餃子. These adopted Chinese dumplings are sold everywhere in Japan, especially in Ramen shops, and are very popular. Alternative fillings include prawn, chicken and vegetarian mixtures, but my favourite is pork!
In the UK and other countries, many of us are still living through lockdowns. With many restaurants closed and limits on the activities we can all do, take-away meals are one of the few highlights we can enjoy at the moment. So next time you fancy a Chinese take-away, why not have a go at making your own Jiaozi dumplings? The filling in my recipe is pork-based, but it is actually packed with vegetables so it gets a gold star on the healthy eating front! I buy the dumpling skins ready-made from my local Asian supermarket – if you really want to go to town, you can make these from scratch.
Ingredients
• Dumpling skins, 30-40
• Pork mince, 200g
• Cabbage (soft green type), 200g, very finely chopped
• Spring onions, 50g, very finely chopped
• Chives, 50g, very finely chopped (giant Asian chives are best but I have used small thin chives)
• Cooking sake, 1 teaspoon
• Mirin, 1 teaspoon
• Soy sauce, 1 teaspoon
• Garlic, very finely grated/chopped, 1 teaspoon
• Root ginger, very finely grated, 1 teaspoon
• Sesame oil, 1 teaspoon, plus a little for frying
• Salt and pepper
• Flour/cornflour, a sprinkling
• Water, for making the dumplings
For the dipping sauce: soy sauce, rice vinegar and chili oil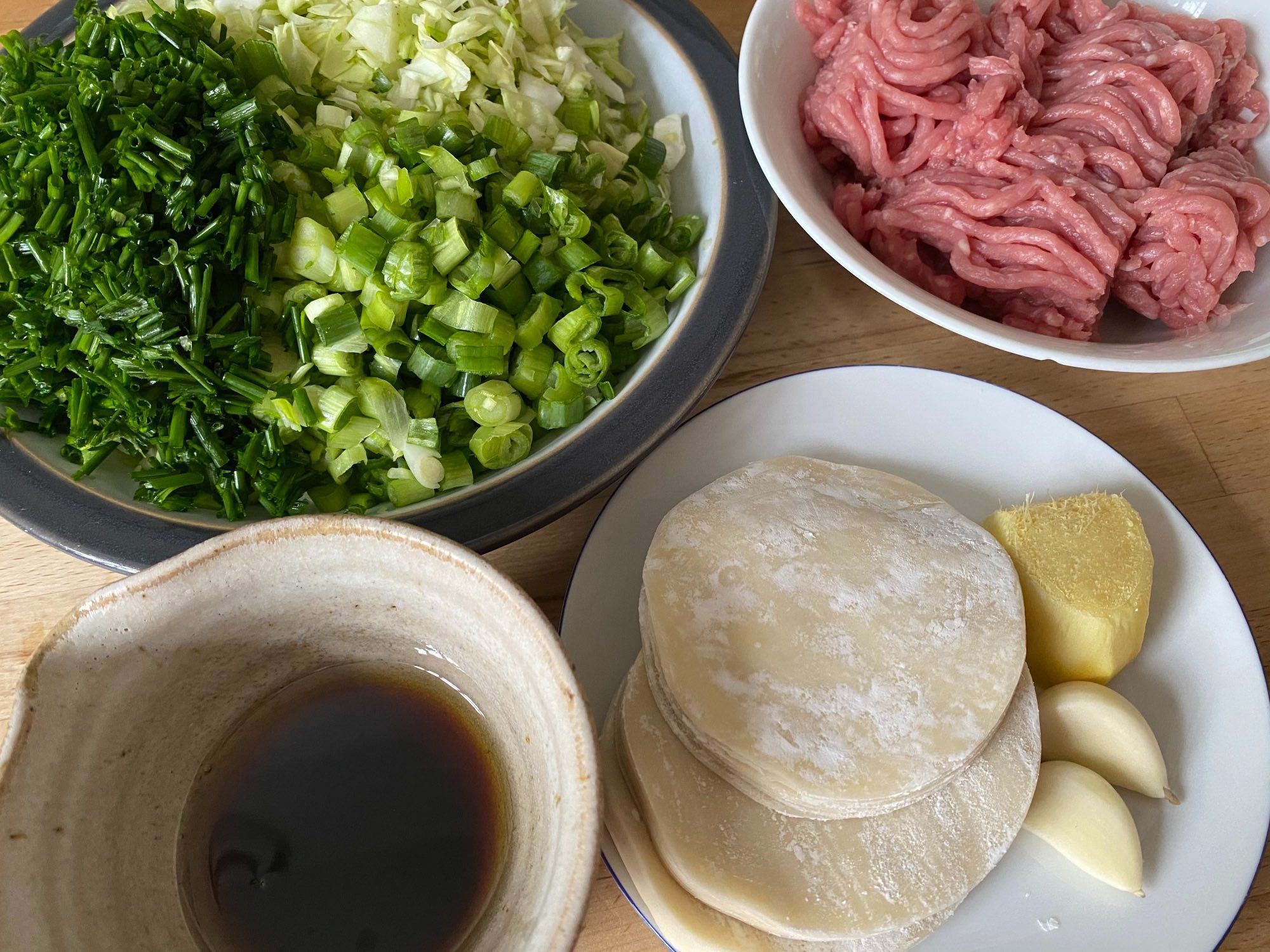 Method
• Start by making the filling. Place into a large bowl the pork, cabbage, spring onions, chives, sake, mirin, soy sauce, garlic, ginger, sesame oil and salt and pepper. Mix very well with one hand, making sure everything is thoroughly blended.
• Place a piece of baking parchment on to a large tray or baking sheet and scatter flour or cornflour thinly over it to prevent the dumplings from sticking.
• Prepare a small bowl with a little cold water in it. Now take one dumpling skin and spoon a small amount of filling into the centre. Dip your finger into the water and wet the edge of one half of the skin, in a crescent shape. Using your hands, fold the non-wetted side of the skin over onto the wetted side. Carefully make a series of small pleats in the skin and press it down on to the wetted skin so it sticks.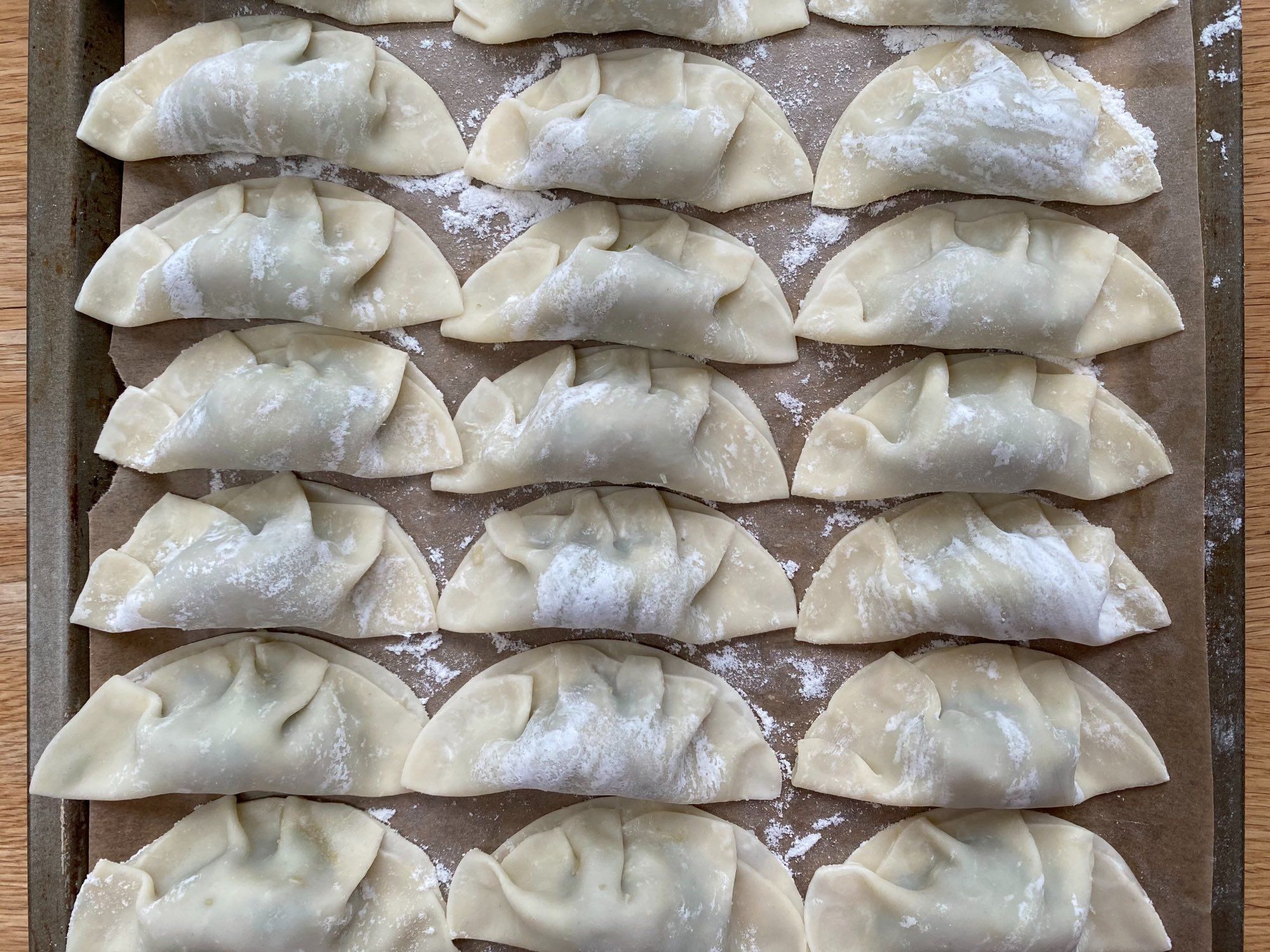 • Your dumpling is now complete! Place it on your floured tray, flat side down. Continue making dumplings until all your filling and skins are used up.
• When ready to eat, heat some sesame oil in a large flat frying pan which has a well-fitting lid (don't use the lid at this stage). Once the oil is really hot, place your dumplings into the pan, flat side down, as many as will fit in the pan comfortably. Fry for a few minutes, then check the flat sides – they should be brown and crispy. If they aren't, continue frying for a few more minutes.
• Now prepare a cup with 5-6 tablespoons of water in it. For this next step, take good care, and ensure your kitchen fan is on full, and no children are present! Hold the frying pan lid with your left hand just above the frying pan. With your right hand, pour the water into the pan in one quick action, and immediately place the lid on the pan securely – this is very important as pouring water into hot oil creates a lot of steam and it will spit. Reduce the heat and leave the lid on for 2-3 mins to steam the dumplings. When they are done, the skins should look moist and soft, and have lost their dry, floury look which they had before cooking.
• Remove the lid and serve immediately.
• To make the dipping sauce, pour equal amounts of soy sauce and rice vinegar into a small bowl and add a few drops of chili oil. Enjoy!
Mara Yamauchi for Be Active