Faith Kipyegon at the press conference for the Wanda Diamond League final in Zurich (© Chiara Montesano)
When it comes to top-class clashes, it doesn't get much bigger than a rematch between Olympic medallists.
The women's and men's 1500m finals were thrilling affairs in Tokyo and the fields for that event at the Weltklasse Zurich look set to offer more of the same for the second day of the Wanda Diamond League final on Thursday (9).
With her time of 3:53.11, Kipyegon retained her title in Olympic record-breaking style as the Kenyan sprinted away from Britain's Laura Muir and Hassan of the Netherlands, while Hassan became a double Olympic champion thanks to her victories in the 5000m and 10,000m.
Now the two Tokyo winners meet again over 1500m.
Their outdoor 1500m head-to-head record, which dates back to 2014, stands at 9-8 in Hassan's favour. Two of those clashes have come during this season's Diamond League, with Hassan winning ahead of Kipyegon in Florence but then Kipyegon turned the tables with an impressive victory in Monaco, where she clocked a Kenyan record of 3:51.07 to move to fourth on the world all-time list. Kipyegon then won in Eugene, and Hassan in Brussels.
"It will be a great battle tomorrow with me and Sifan," said Kipyegon. "We are always friends and we hope it will be a great race for both of us."
Also paying tribute to her rival, Hassan added: "Faith is a really amazing athlete. She is so fast – a little bit faster than me! When we race together we really push to the limit."
On the topic of fast times, might Genzebe Dibaba's world record of 3:50.07 be a target?
"I don't really have my mind on the world record," said Hassan. "I don't know about Faith, maybe if she wants to go we will run a fast time or maybe we will run 4:10 or something! I am here to just enjoy the race."
Kipyegon replied: "We hope we will run a super race and finish in a good way. I hope we will start quick and finish quick, so we hope for the best race."
While Hassan has won two 1500m Diamond Trophies in her career so far and Kipyegon one, in the men's event the Olympic top two – champion Jakob Ingebrigtsen and silver medallist Timothy Cheruiyot – have different levels of experience when it comes to Diamond League finals.
Fresh from his victory in Tokyo, where, like in the women's race, the Olympic record fell, Ingebrigtsen targets his first Diamond Trophy, while Cheruiyot goes for his fourth.
"I have won twice here in Zurich, and I have won three titles back-to-back," said Kenya's world champion Cheruiyot, who in a memorable gesture gifted Ingebrigtsen his bracelet following his defeat in Tokyo as he ran 3:29.01 to the winner's 3:28.32. "I hope to win my fourth one tomorrow."
Of the seven qualifying races for the Diamond League final, Cheruiyot won three – in Doha, Stockholm and Monaco – while Ingebrigtsen triumphed in Gateshead and Eugene.
On how the top level of competition helps to motivate him, Ingebrigtsen explained: "My goal is to always stay competitive and with good competitors on the start line, you need to be ready. Of course, when Timothy is starting you know it is going to be a good race, so you need to be fit and you need to prepare."


Back on the circuit
Karsten Warholm is often one of the most fired-up and animated competitors on the international circuit.
But after fulfilling his wildest dreams with a staggering 45.94 world record run to win the 400m hurdles at the Tokyo Olympics, the great Norwegian admitted that he's found it hard to motivate himself in recent weeks.
"When you achieve all the things that you've been dreaming about, of course you're happy, but you also feel a bit empty because everything you've been working towards is over and it went the way you wanted it to go," he said.
"I had to get used to that and to keep on pushing. That's why I'm back, trying to run again in the Diamond League and trying new events, because I like a challenge."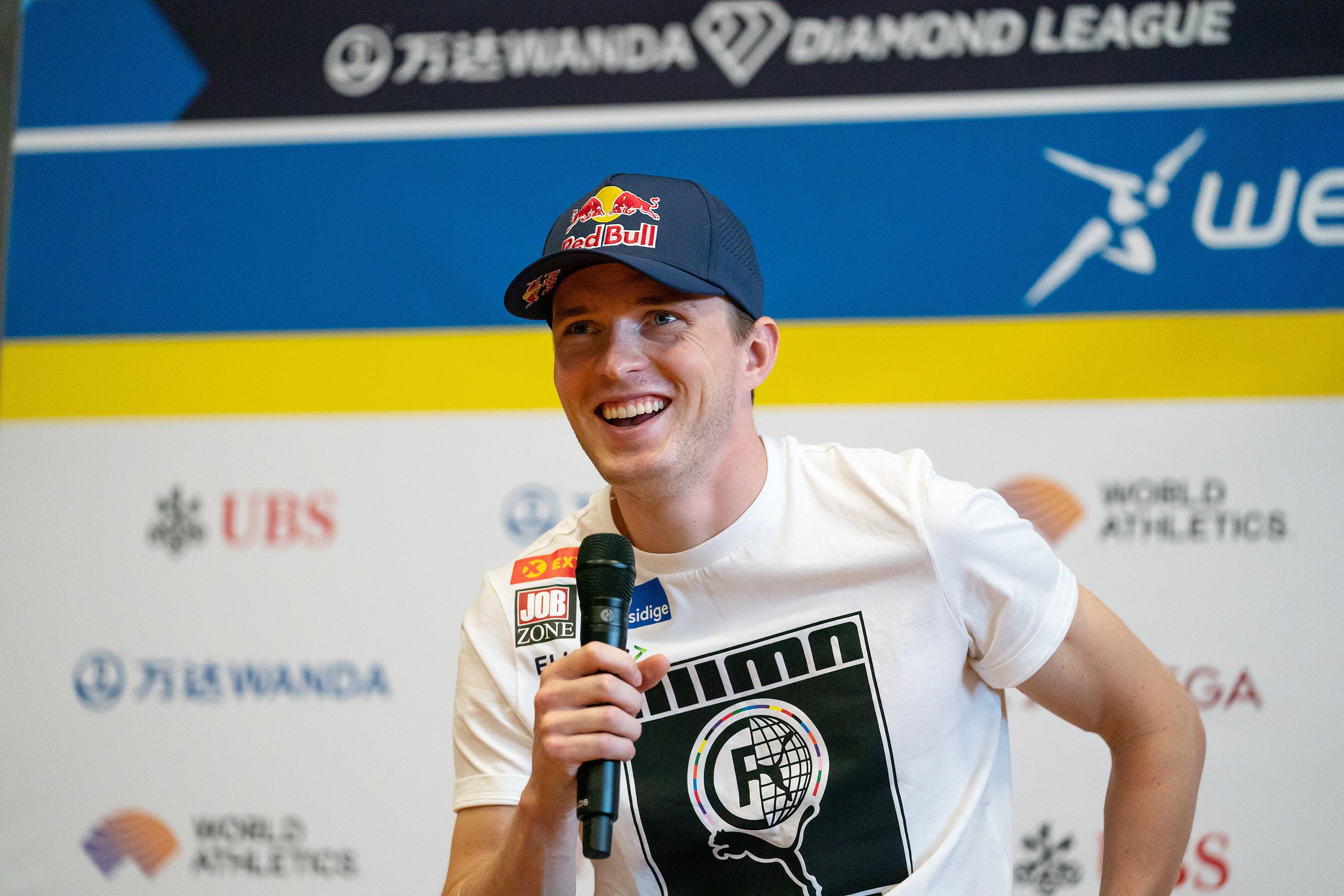 Asked whether he could go faster, the 25-year-old explained that it's unlikely to happen again so soon, but he didn't rule out another world record one day.
"I think Tokyo was the closest that I've ever been – and maybe ever going to get – to a perfect race," said the two-time world champion. "All the things that could go right went right. I had great opponents, great conditions, a fast track, it was the Olympics. I don't think you get too many of those races in your career. But there are always things you can do better.
"Winning the Olympics and breaking the world record changes everything," he added. "But I've always wanted to reach this stage so now I have to live with it. I think I can do that."
Dutch hurdler Femke Bol, who took bronze in the 400m hurdles in Tokyo in a European record time, also feels that she has achieved her peak for this season but is still keen to see what she can do in her final races of 2021.
"This season has been a dream come true," she said. "Even more so because I never would have expected to run 52.03 and become an Olympic bronze medallist with a European record, so it's really been an amazing season. Doing nearly all of the Diamond League races has been really nice.
"I think sub-52 will have to wait until next season," added Bol, whose 52.03 clocking in Tokyo was faster than the pre-2021 world record mark. "I was in my best shape in Tokyo, but I feel that I'm still fit and ready to race. I'm really excited to go out there and run in front of a crowd which will be really loud because I'm running with Lea (Sprunger)."
Swiss record-holder and European champion Sprunger will line up for the penultimate race of her career when she takes to the blocks on Thursday. The 31-year-old plans to retire after racing at the Continental Tour Silver meeting in Bellinzona next Tuesday (14).
"Since the Olympics, everything I'm doing will be for the last time, and I'm really enjoying every race I have left," she said. "Lausanne two weeks ago was really special and amazing and I think tomorrow is going to be exactly the same."


Rojas, Duplantis and Tamberi look to go higher and stronger
While some athletes acknowledge that they've already reached their peak for 2021, world record-holders Yulimar Rojas and Mondo Duplantis are keen to squeeze a bit more out of the season by going higher and farther than they ever have done.
"My gold-medal-winning leap in Tokyo was a great jump, but I think an even longer jump is possible," said Rojas, who bounded out to a world record of 15.67m to win the triple jump in Tokyo.
"Winning gold in Tokyo has given me a lot of energy," added the Venezuelan. "There's still a lot left in me for this season and hopefully I've not yet produced my best jump of the year. I feel very good."
Duplantis has attempted a would-be world record height of 6.19m at 10 pole vault competitions this year, including at the Olympic Games.
While he'd love to finally nail that height in Zurich, the 21-year-old Swede knows he can't take anything for granted, as shown by his recent fourth-place finish in Lausanne.
"The most important thing for me right now is to try not to get too far ahead of myself," said the world record-holder. "Whether it's me or anyone else, you're not really competing against the guy next to you as you're competing against yourself. Whatever Sam (Kendricks) or Renaud (Lavillenie) does, I still have to go out there and make 5.90m or 6.00m. Just because I'm going in as a favourite or have had good competitions in the past, they don't just give it to you. You don't get a free six-metre pass on any given day. I still have to go out there and do it and perform.
"I've had a little bit of a problem with that this year, in competitions where I know I can jump high, above six metres. When the bar is at 5.50m or 5.60m, you don't need six-metre jumps. So closing out the season now, I need to just take things bar by bar. If I do things the right way, I know the bar is going to get up to where I want it to be. I've just got to trust the process."
Gianmarco Tamberi, who memorably shared Olympic high jump gold with Mutaz Barshim in Tokyo, says his actions at the Games were inspired by the updated Olympic motto.
"They changed the motto this year," explained the Italian. "It used to be, 'faster, higher, stronger', but now it's 'faster, higher, stronger, together' – so we were just following the Olympic motto."
He won at the recent Continental Tour Gold meeting in Silesia with 2.30m, his best leap since Tokyo, and he hopes to repeat that victory in Zurich.
"I'm a bit tired and it was really difficult to find motivation for my first two competitions after Tokyo," he said. "It's difficult to find motivation after following a dream so hard for five years.
"My third competition (since Tokyo) was okay, though, and I enjoyed jumping 2.30m last weekend because there were 20,000 people there and I really felt the energy from the crowd. Hopefully it will be like that tomorrow."


Thompson-Herah hopes to make history
A win in Zurich, with all the prizes that come with it, would not be a bad way for Elaine Thompson-Herah to end her season.
In 2021 the Jamaican sprint star has won three Olympic gold medals, having completed the 100m, 200m and 4x100m treble in Tokyo, and taken her PBs to 10.54 and 21.53 to become the second fastest ever in the two individual events. Now there is a Diamond Trophy, top $30,000 prize and wildcard entry to the World Athletics Championships Oregon22 up for grabs as she races the 100m at the Letzigrund Stadium.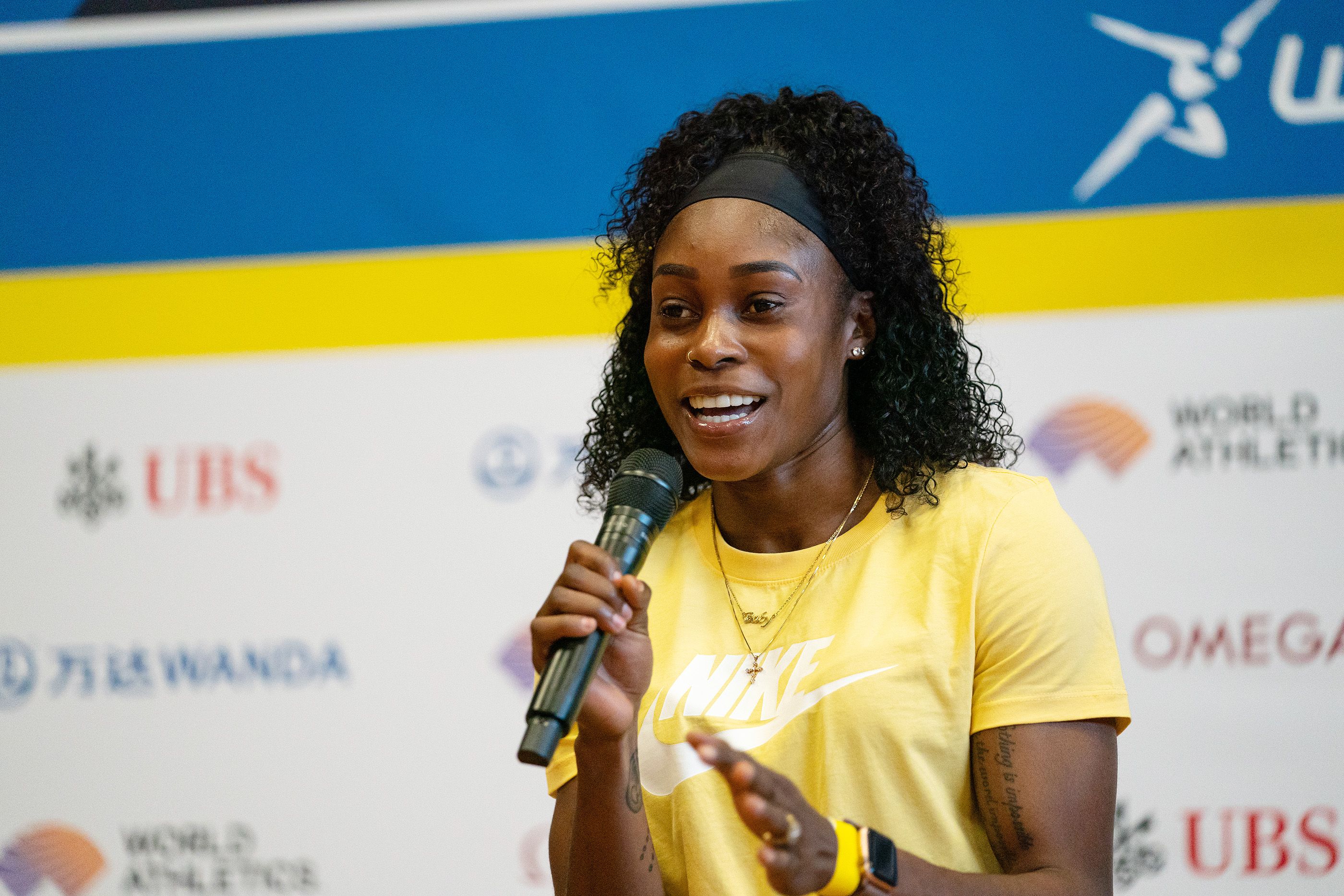 "It's important for me tomorrow," said the five-time Olympic gold medallist. "I'm just hoping to give it my all."
Having come so close to Florence Griffith-Joyner's world records of 10.49 and 21.34, which does she think may be more within reach?
"To be honest, I would say the 200m," she said, "because I ran 21.53 not getting much recovery after running two rounds the previous day so I would say the 200m more than the 100m, because the 100m you have to nail that start and my start is not that perfect yet."
When it comes to record-breaking, the athletes were asked about Germany's Armin Hary, who in 1960 at the Weltklasse Zurich became the first human to run the 100m in 10.0 seconds, and whether that history served as inspiration.
"I didn't know about that history until now," Thompson-Herah replied, "but I hope I can set my own."
Another athlete who has proven their sprint double talent is Canada's Andre De Grasse, who claimed Olympic 200m gold plus bronze medals in the 100m and 4x100m in Tokyo.
Reflecting on his success, he said: "It was good to be able to finally put together an executed race. I felt like it was long overdue. Everything was coming together throughout the whole season."
De Grasse now has three sets of global 100m and 200m medals to his name and will also be racing both distances in Zurich.
"I feel like I am still young and I have a lot more to learn," he added. "Every year I feel like I am improving."
In Zurich, he is relishing the opportunity to race in front of a crowd once again, with more than 20,000 fans expected in the Letzigrund Stadium. That is also the case for home stars Ajla Del Ponte and Mujinga Kambundji, who both raced in the Olympic 100m final, with Kambundji also having competing in the 200m final.
"It is always a highlight of the year for all of the Swiss athletes," said Kambundji on returning to the Weltzklasse Zurich. "It is an amazing competition in an amazing stadium. I think we are all really excited to race here."
Del Ponte agreed. "I think the stadium is going to be packed," she said, "so it will be a really special atmosphere."
In Zurich they will be joined by their compatriot Jason Joseph, who was disappointed to miss out on the Olympic 110m hurdles final but rebounded to run a PB of 13.12 in La Chaux-de-Fonds and then finish second at the Diamond League meeting in Lausanne.
"I came back, I was angry and with myself," he said, reflecting on Tokyo. "I let that feeling carry me and it fuelled everything. Thinking about the future, I know that what happened in Tokyo, that won't happen again."
Looking ahead to Zurich, he added: "I come here to perform and I really want to show people what I am capable of doing. Showing the big athletes that I am here and it is starting to be my time now."
Jess Whittington and Jon Mulkeen for World Athletics