Dalilah Muhammad in the 400m hurdles at the Tokyo Olympics (© AFP / Getty Images)
The women's 400m hurdles is living up to expectations as a must-see event of the Tokyo Olympics.
The top three contenders all won their heats in commanding fashion on Saturday (31) to advance to the semifinals and move one step closer to what should be a spectacular final next week.
World and Olympic champion Dalilah Muhammad of the United States, world-record-holder Sydney McLaughlin and European indoor champion Femke Bol of the Netherlands were so far ahead in their respective heats that they could jog across the finish line.
Muhammad posted the fastest time of all qualifiers (53.97), followed by Bol (54.43). McLaughlin, undeterred by a false start in her heat by Mariya Mykolenko of Ukraine, coasted home with the fourth-fastest time (54.65).
The semifinals are set for Monday, with the much-anticipated final on Wednesday night.
The 21-year-McLaughlin beat Muhummad at the US Olympic Trials on 27 June, clocking 51.90 to break her rival's previous world record of 52.16.
A new record could be on the cards in Tokyo.
''I think anything is possible," McLaughlin said on Saturday. "It is a really great group of girls, so I wouldn't put it past anybody to go out and do it. It's all going to depend on the day."
The quick track could also help produce a special time.
"It feels pretty fast, I must say," McLaughlin said. "You can feel the bounce. Some tracks just absorb your bounce and your motion; this one regenerates it and gives it back to you."
The 31-year-old Muhammad contracted Covid-19 earlier this year but still posted a time of 52.42 at the US Trials to finish second behind McLaughlin.
"I am feeling good now," she said. "Covid is thankfully behind me and the injuries (hamstring) that followed. So, I am feeling good and ready to run."
So is Bol, the 21-year-old Dutch star who is undefeated over the 400m hurdles in the Wanda Diamond League this year and ran a personal best of 52.37 to go fourth on the world all-time list.
"I love the track and these conditions," Bol said. "I am feeling well, sleeping well and am in great shape."
Stay tuned for more. It shapes up to be unmissable viewing.
In other events on Saturday's morning session, Kenya's Ferguson Cheruiyot Rotich won his 800m heat in 1:43.75, the fastest time at an Olympics outside of a final, and Australia's Peter Bol set an Oceanian record with 1:44.13.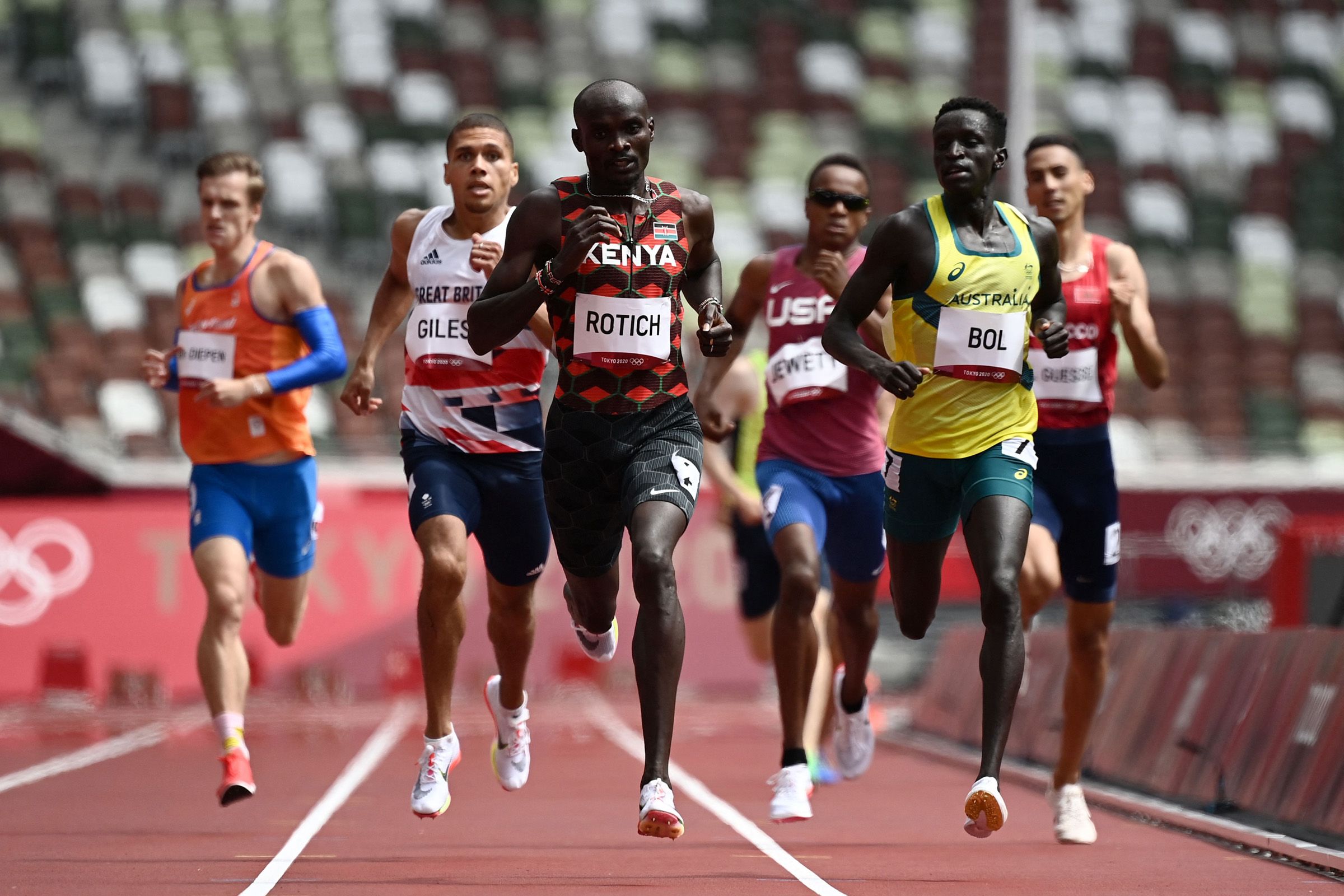 "I didn't know that I could do 1:43, but as long as you are here, you have to compete," said Rotich, the world bronze medallist.
Two other runners also broke 1:45 in that same heat: Great Britain's Elliot Giles (1:44.49) and Morocco's Abdelati El Guesse (1:44.84).
US champion Clayton Murphy pulled ahead in the final stretch of his heat to advance to the semifinals in 1:45.53.
World silver medallist Amel Tuka qualified in 1:45.48 as he bids to win a first Olympic medal for Bosnia and Herzegovina. Tuka recalled the impact of winning bronze at the 2015 World Championships in Beijing, a first for his country.
"I was so excited and also people in my country were so happy," he said. "I would like to repeat that feeling and give the happiness to all people in my country because they deserve it."
In the women's 100m hurdles, world record-holder Kendra Harrison of the US and Puerto Rico's Jasmine Camacho-Quinn – both undefeated this season in races in which they finished – easily advanced to the semifinals.
World-leader Camacho-Quinn won her heat in 12.41 – only three Olympic finals (2012, 2004 and 1998) have been won in faster times.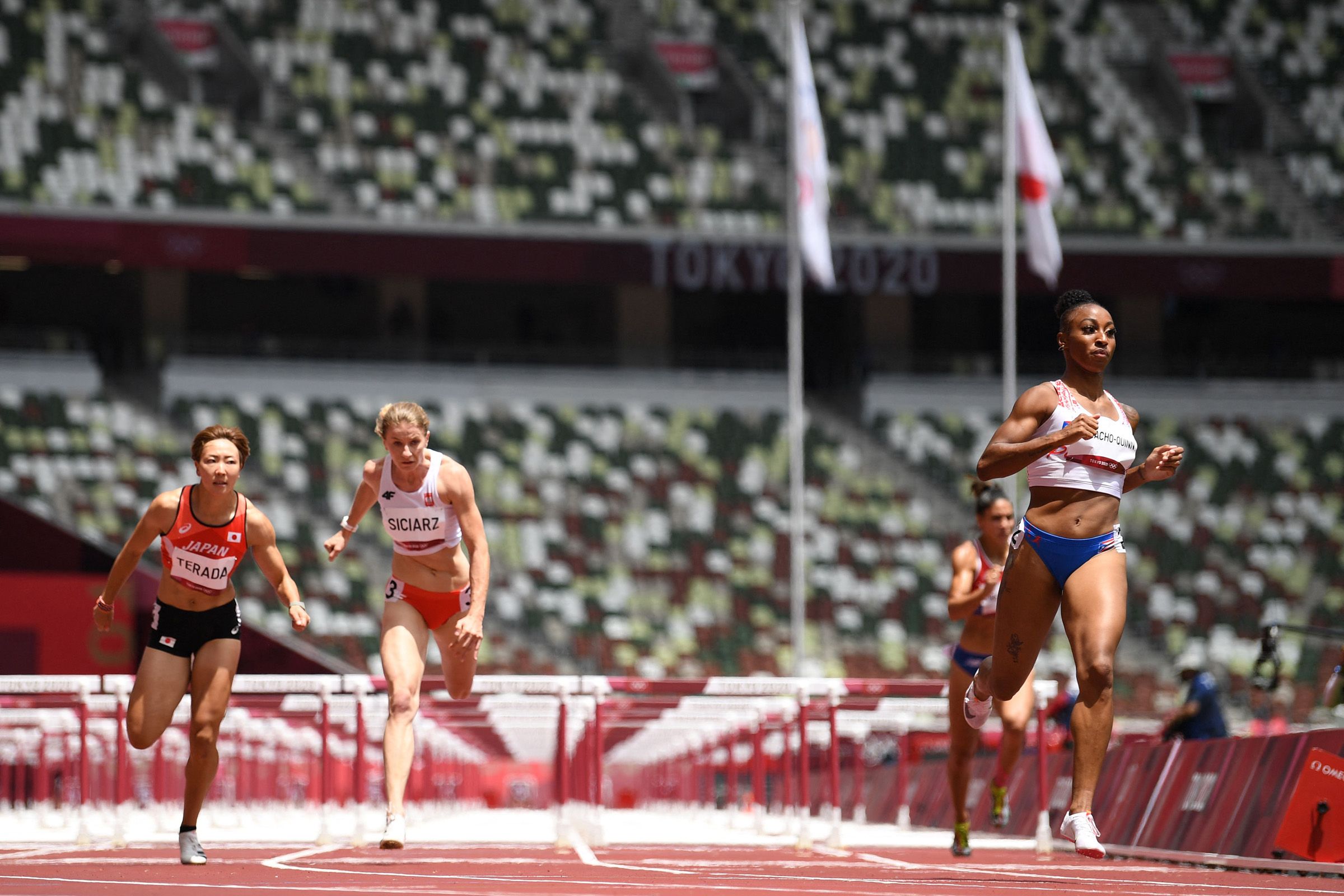 Jamaicans Megan Tapper (12.53) and Britany Anderson (12.67) posted the next fastest qualifying times. Harrison, the world silver medallist, won her heat in an easy 12.74.
"That's not one of my fastest times," she said. "I just plan to improve every single round."
Croatia's Sandra Perkovic opened her bid for a third straight women's discus title by qualifying with a throw of 63.75m.
US champion Valarie Allman led all qualifiers with a first throw of 66.42m. India's Kamalpreet Kaur had the second-best throw of 64.00m. World champion Yaime Perez of Cuba qualified with 63.18m.
Allman is one of only two athletes to have thrown beyond 70 metres this year, producing a throw of 70.01 at the US Trials in June.
"I feel prepared," she said. "I feel ready. I have been looking forward to this day for a long time and the fact that it is here, it is just magic."
World leader Jorinde Van Klinken of the Netherlands, who stunned the sport by unleashing a throw of 70.22m in May, only threw 61.15m on Saturday and failed to advance.
In the men's pole vault, world record-holder Mondo Duplantis was among those safely through with jumps of 5.75m, along with defending champion Thiago Braz of Brazil, former world record-holder Renaud Lavillenie of France and Poland's multiple world medallist Piotr Lisek.
Matt Ludwig was a late replacement for Sam Kendricks, the two-time world champion from the United States who tested positive for Covid-19 in Tokyo and was ruled out the Games. Ludwig arrived less than 24 hours before the competition and was out after missing three times at 5.65m.
Steve Wilson for World Athletics