Tsehay Gemechu breaks the course record to win the Copenhagen Half Marathon (© Copenhagen Half Marathon / CPH Half)
Tsehay Gemechu set a course record while Amedework Walelegn made it an Ethiopian double at the Copenhagen Half Marathon, a World Athletics Elite Label Road Race, on Sunday (19).
Making the most of the flat course in Denmark's capital city, Gemechu took 52 seconds off her almost two-year-old PB, running a dominant 1:05:08 to improve the course record set by Sifan Hassan in 2018 by seven seconds. Walelegn, meanwhile, won a much closer men's race, holding off a challenge from Kenya's Keneth Renju to win by two seconds in 59:10.
Running behind her pacemaker Roy Hoornweg, who also paced Yalemzerf Yehualaw to her world half marathon record in Larne last month, Gemechu had her sights on the 1:05:15 race record set by the now double Olympic champion Hassan three years ago, but the big pre-event favourite wasn't alone in the opening stages. Her fellow Ethiopians Hawi Feysa, Gete Alemayehu and Beyenu Degefa, plus Kenya's Vivian Kiplagat, joined her in a lead group which went through 5km in 15:16 but by 10km (30:48) the pack was starting to stretch, with Alemayehu having been dropped and Gemechu still to the fore and looking comfortable.
A couple of kilometres later Gemechu, who finished fourth in the 2019 world 5000m final in Doha, had broken away and was running clear ahead of her compatriot Feysa, the 2017 U20 world cross country silver medallist. By 15km Gemechu, now running without her pacemaker, had a 13-second lead ahead of Feysa, with Kiplagat another 22 seconds back. That is how the positions remained to the finish line, but with Gemechu's advantage having grown to half a minute.
Feysa, who has a 2:23:36 marathon PB from Dubai last year but was making her half marathon debut, finished second in 1:05:41, with Kiplagat clocking 1:06:07 to take 31 seconds off her PB in third. Degefa was fourth (1:08:15) and Ethiopia's Yitayish Mekonene fifth (1:08:53).
"I was hoping to break my personal best and run close to 65 minutes, and beating Sifan Hassan's race record of course is something special," said Gemechu, back racing in Denmark where she finished sixth at the 2019 World Cross Country Championships in Aarhus. "I am very happy. It was a bit windy, so I had to work hard."
The men's race saw a group of nine athletes, plus pacemaker Abel Sikowo, pass the 5km mark in 13:55 and the 10km point in 28:01. As Sikowo dropped back just before 15km it was the pre-race favourite Walelegn, who claimed bronze at last year's World Half Marathon Championships in Gdynia, who took control, taking the field through that checkpoint in 42:15.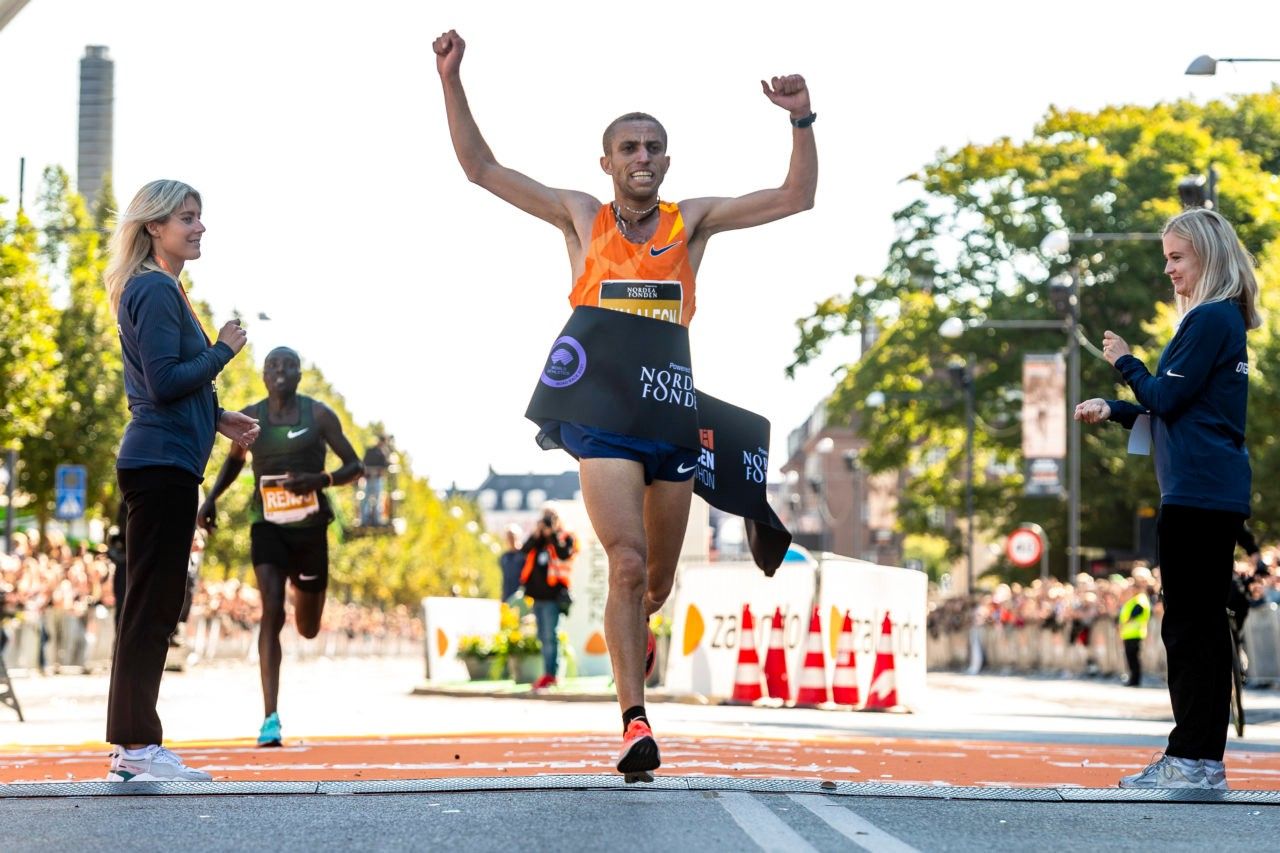 (© Copenhagen Half Marathon / CPH Half)

The podium was decided over the next kilometre, with Walelegn making a move along with Kenya's Daniel Mateiko and Renju. With around two kilometres remaining, Walelegn tried to break away but with a glance over his shoulder he could see it wasn't enough to lose his rivals. Then it was Renju's turn to push the pace and while Walelegn stuck close behind him, Mateiko was dropped and the race was down to two.
Covering Renju's move, Walelegn was determined to take the top spot and with another look over his shoulder at 21km he strode down the final stretch to victory. Renju's runner-up time of 59:12 was a PB and his first half marathon under the hour, while Mateiko was third in a PB of 59:25. The top four all ran under 60 minutes, with Ethiopia's Abe Tilahun finishing fourth in a PB of 59:46, while Norway's Zerei Kbrom, returning to the half marathon for the first time since 2016, ran a more than six-minute PB of 1:00:07 for fifth.
The event incorporated the Danish Championships, with Annah Ritah Nagadya (1:16:49) and Abdi Hakin Ulad (1:03:30) claiming the national titles.
Behind the elite action, the mass event had close to 20,000 entries.
Jess Whittington for World Athletics
Leading results
Women
1 Tsehay Gemechu (ETH) 1:05:08
2 Hawi Feysa (ETH) 1:05:41
3 Vivian Kiplagat (KEN) 1:06:07
Men
1 Amedework Walelegn (ETH) 59:10
2 Keneth Renju (KEN) 59:12
3 Daniel Mateiko (KEN) 59:25


Maru and Chepkemoi claim a Kenyan double in Valencia
The Kenyan pair of Emmanuel Maru and Joyce Chepkemoi took commanding victories at the 15km Nocturna Valencia Banco Mediolanum, a World Athletics Elite Label Road Race, on Saturday (18) in the Mediterranean Spanish city which has witnessed a plethora of world records on road events in previous years.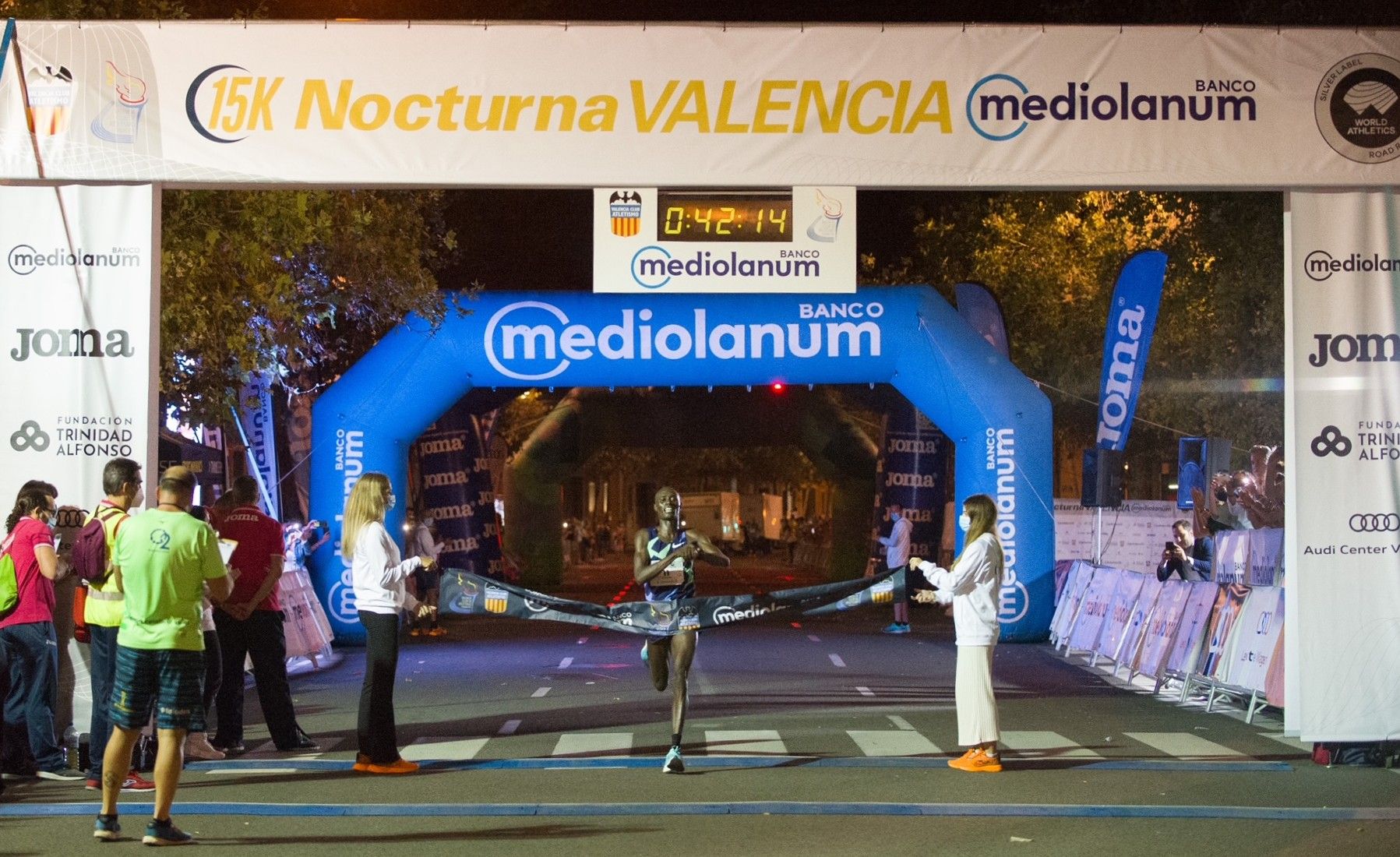 (© Organisers)

The men's race began at a steady 2:50-per-kilometre pace and the large nine-man pack went through the opening 5km in 14:12 behind schedule to break the course record of 41.55 set in 2019. All the main favourites were in the lead pack, led by Kenya's Emmanuel Bor and his compatriot Maru. Bor's relentless rhythm paid dividends and by the seventh kilometre only two athletes remained in touch in the guise of Maru and Joseph Karanja.
After a 28:16 10km split, Bor began to lose ground with the clock reading 33 minutes, and Maru took advantage to unleash his devastating change of speed and open a sizeable advantage over his pursuers.
Maru's late burst of speed didn't prove to be enough to threaten the course record and he had to settle for a 42:14 clocking, head and shoulders ahead of Karanja, runner-up in 42:36, while Bor completed the podium still under the 43-minute barrier (42:49).
The unheralded 20-year-old Maru boasts modest career bests of 13:50.44 for the 5000m and 29:11.69 at the 10,000m in the altitude of Nairobi last March.
By far the main attraction in the women's event was Burundi's Francine Niyonsaba, fresh from setting a world 2000m record of 5:21.56 four days earlier in Zagreb. Yet the Olympic 10,000m fifth-place finisher only could stay in the leading group for the opening three kilometres as the pace, dictated by Kenyans Gladys Chepkurui and Chepkemoi, proved too fast for the two-time world indoor 800m champion who was running her first ever race of more than 10km.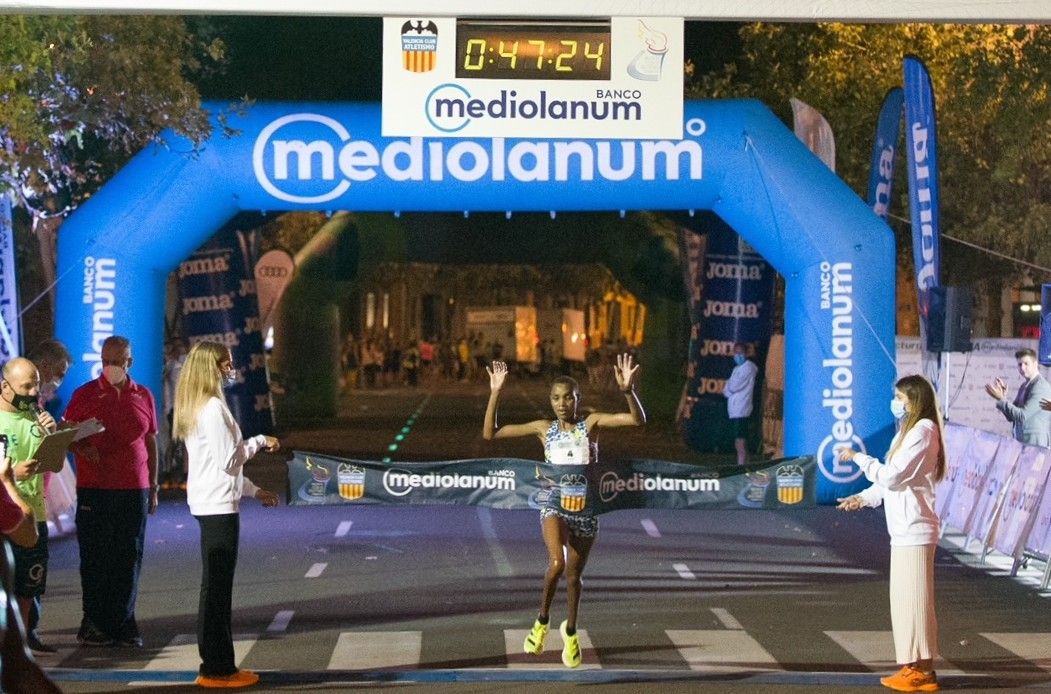 (© Organisers)


The Kenyan tandem reached the 5km checkpoint in 15:38 while Niyonsaba travelled back in third. Shortly afterwards Chepkurui managed to leave Chepkemoi behind but her lead was short-lived as the latter caught Chepkurui a couple of kilometres later. The pair went through the 10km point slightly under 32 minutes to dash any hope of breaking the course record of 46:52 set two years ago.
The 26-year-old Chepkemoi made her move with less than three kilometres left, when she easily broke away from her fellow Kenyan to romp home unopposed in 47:24. A fading Chepkurui crossed the finish line over one minute in arrears (48:30), with Niyonsaba being a distant third in 50:37. The victor holds a 10,000m lifetime best of 30:59.01 set in Hengelo last June.
More than 6000 runners took part in the event held on a pleasant night (20ºC).
Emeterio Valiente for World Athletics
Leading results
Women
1 Joyce Chepkemoi (KEN) 47:24
2 Gladys Chepkurui (KEN) 48:30
3 Francine Niyonsaba (BUR) 50:37
Men
1 Emmanuel Moi Maru (KEN) 42:14
2 Joseph Karanja (KEN) 42:36
3 Emmanuel Bor (KEN) 42:49


Kiprono and

Cherono win in Rome
Clement Langat Kiprono and Peris Lagat Cherono achieved a Kenyan double at the Acea Run Rome the Marathon, a World Athletics Label Road Race, on Sunday (19).
Kiprono won the men's race in 2:08:23, beating his compatriot Emmanuel Naibei by five seconds. Deresa Geleta from Ethiopia crossed the finish line in 2:08:42 for third place, as Kenya triumphed for the 14th time in the Eternal City.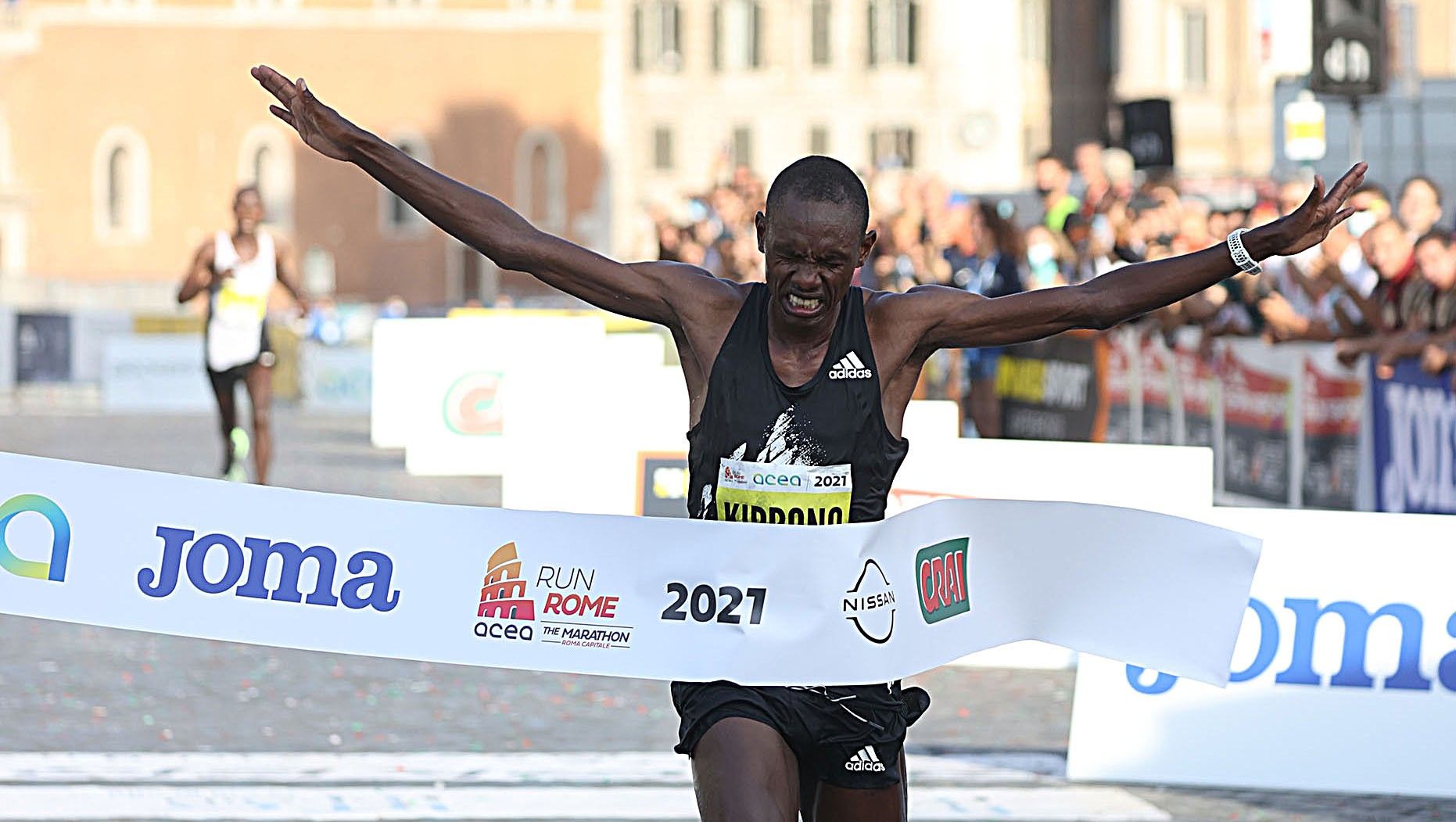 (© Giancarlo Colombo)

Eritrea's 2015 world champion and New York Marathon winner Ghirmay Ghebreslassie dropped out of the race shortly before the 21km mark.
The leading pack went through 21km in 1:03:42, 30km in 1:31:27 and 35km in 1:46:35.
Kiprono, who claimed U20 silver at the 2010 World Cross Country Championships in Bydgoszcz and set a PB of 1:00:29 in the half marathon in Houston in 2018, launched his decisive kick in the final kilometres and went on to win his debut marathon.
"I am happy with my win," said Kiprono, who lives and trains in Eldoret. "I had never run a marathon. I achieved my best result at the Houston Half Marathon in 2018."
Cherono took the honours in the women's race in 2:29:29, beating her compatriot Judith Jurubert (2:30:50) and Ethiopia's Fantu Zewude Jifar (2:32:02).
The women's race was decided in the final stages when Cherono closed the gap on her fellow Kenyans Winfridah Moraa Moseti and Jurubert, who had led for most of the competition. Cherono broke away shortly before the 40km mark to cross the finish line clear.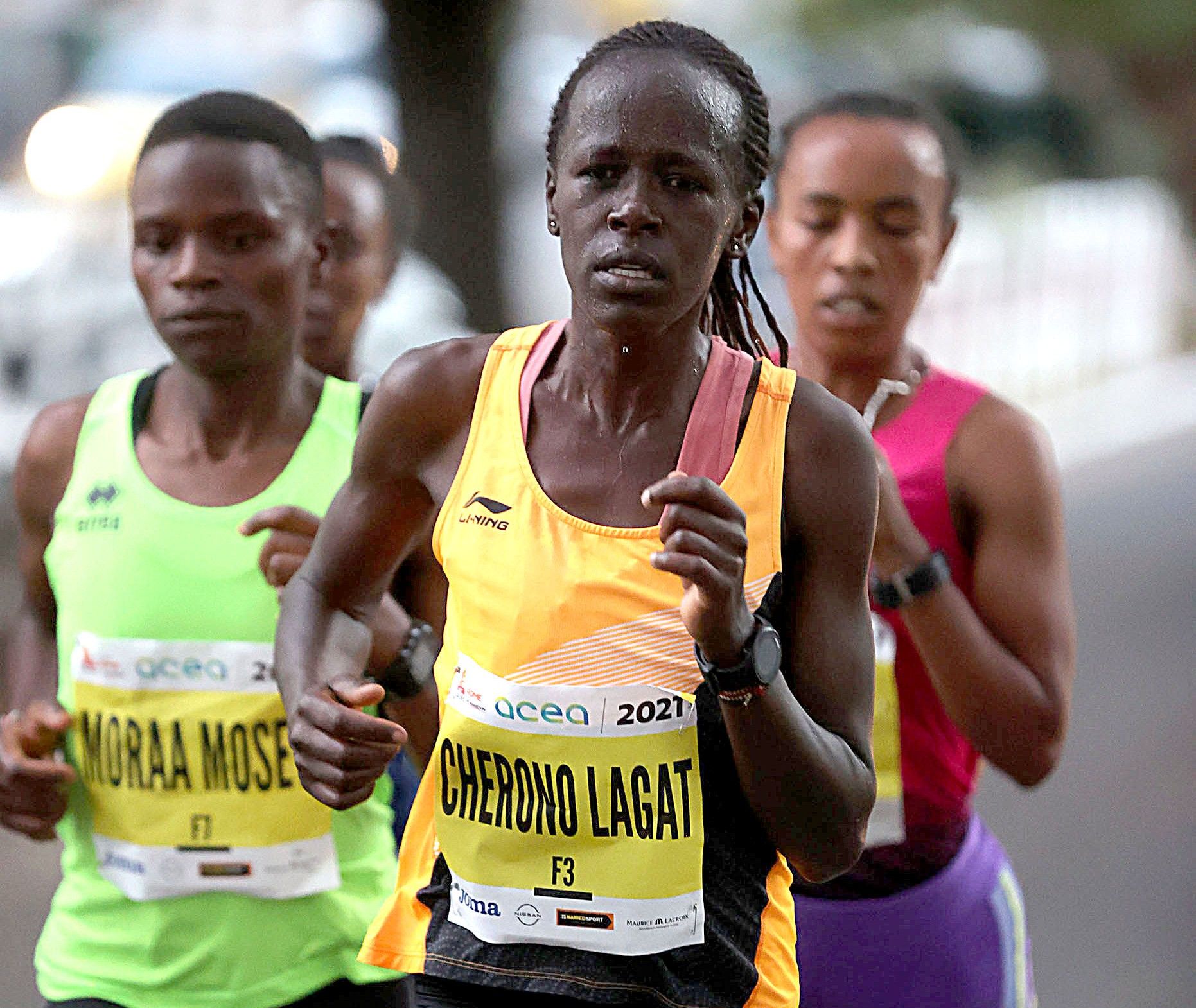 (© Giancarlo Colombo)

The 2021 edition of the Acea Run Rome the Marathon featured 7500 runners, who started at dawn from the Fori Imperiali and passed in front of the Vittoriano in Piazza Venezia, the Circus Maximus, Castel Sant'Angelo, Viale della Conciliazione, St. Peter's Basilica, the Foro Italico and the Mosque.
Diego Sampaolo for World Athletics
Leading results
Women
1 Peris Lagat Cherono (KEN) 2:29:29
2 Judith Jurubert (KEN) 2:30:50
3 Fantu Zewude Jifar (ETH) 2:32:02
Men
1 Clement Langat Kiprono (KEN) 2:08:23
2 Emmanuel Naibei (KEN) 2:08:28
3 Deresa Geleta (ETH) 2:08:42