Anita Horvat at the World Athletics Championships Oregon22 (© Getty Images)
A stubborn resistance can be a positive trait for many elite athletes. The refusal to yield space or submit to internal fatigue is a valuable characteristic for any 800m runner of substance.
But for Slovenia's Anita Horvat, it was only when she backed down and took on the recommendations of others that her career moved on to a different level. And it has led to a breakthrough season where she reached the 800m final at the World Athletics Championships Oregon22, placing seventh.
A successful 400m runner, Horvat represented Slovenia in that discipline at the 2017 and 2019 World Championships and the Tokyo Olympics. It has also brought her the national record of 51.22 and six national titles over 400m.
She also teamed up with compatriot Zan Rudolf to finish third in the mixed 2x2x400m at the 2021 World Relays in Silesia, Poland, offering a glimpse into her endurance as well as her speed.
"When I was running 400 metres, other coaches were always telling me that I should run 800m because I had a body for 800m, but I was not ready to listen," she now freely admits. "When I changed coach, we talked about it and decided to change.
"Last year it was Olympic season and I stayed with 400 so I could qualify, but this season we said we would try 800 more seriously."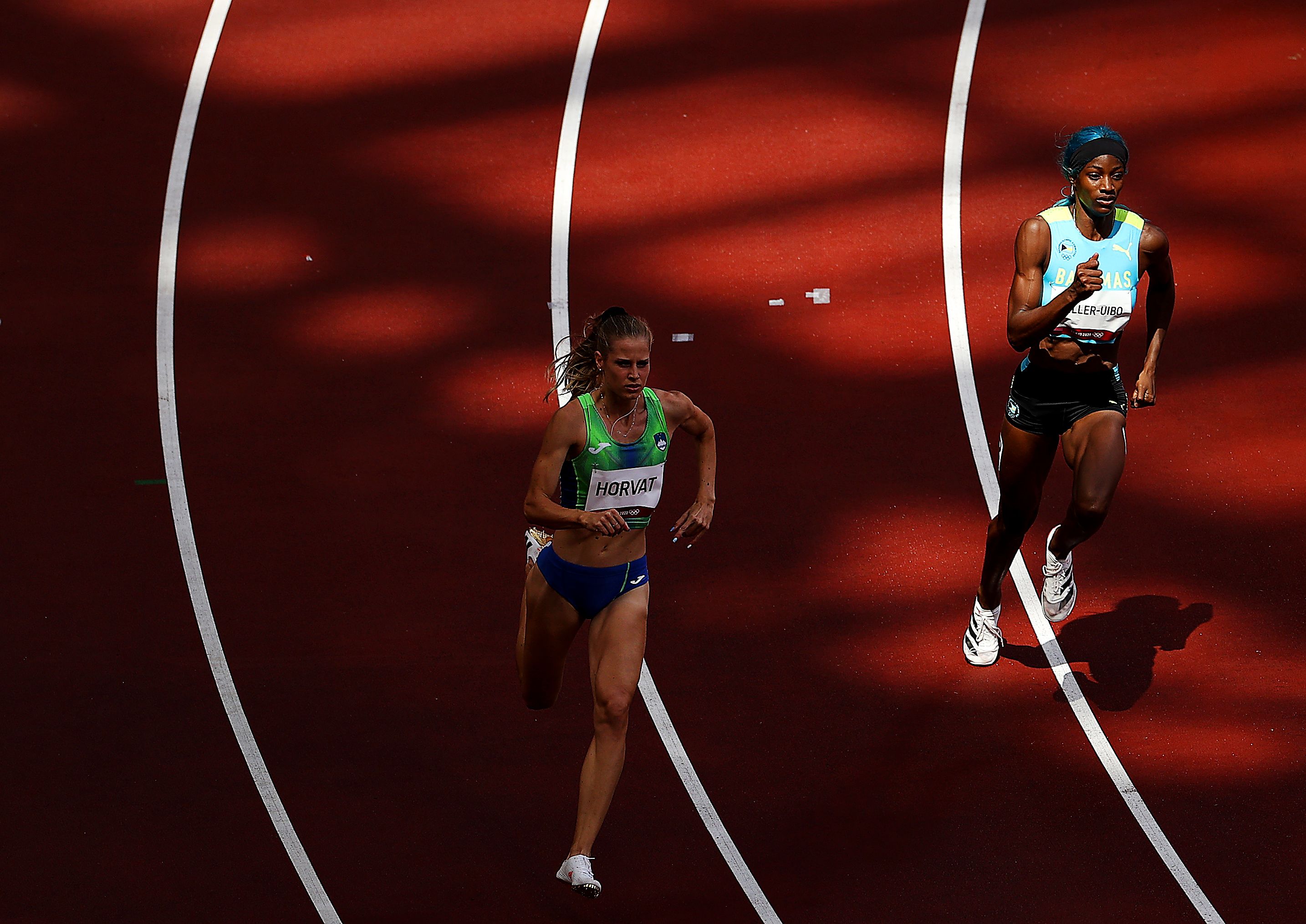 Anita Horvat running alongside Shaunae Miller-Uibo in the 400m at the Tokyo Olympics (© Getty Images)

The results have been clear evidence that the move has paid off handsomely. Her first 800m of the year came indoors and was a modest 2:05.23 in Novo Mesto, Slovenia. She chopped two seconds off that time two weeks later with a 2:03.27 clocking in Padua. And by the time the outdoor season began, she was really finding her stride in her new event.
She logged 2:01.60 in Savona, Italy, in May and followed it with a run of top-three finishes, including a 2:00.31 victory at the Slovenian Championships. Her consistency meant that she qualified for the World Championships through her world rankings position.
Having also qualified in the 400m, Horvat lined up for her 'old' event on the third day of the championships, but finished sixth in her heat. Four days later, she finished second in her heat of the 800m and then placed third in her semifinal, breaking the two-minute barrier for the first time (1:59.60) and qualifying for her first global championships final. She eventually placed seventh in 1:59.83.
"It was full of surprises," she says of her experience in Eugene. "I didn't expect that I would run that fast and get to the final. It was a really surprising championship for me. Everything is possible. I have learned that I belong among the best in the world. I gained some confidence there."
Since then, Horvat has maintained the momentum, racing to another lifetime best at the Wanda Diamond League meeting in Silesia, placing third in 1:58.96 in a race won by USA's world indoor champion Ajee Wilson.
"I think it is like a dream season. I never even dared to dream about what I am doing right now with my results," she smiles. "I am very, very happy with my progress."
But as her speed improves, she also recognises the need to refine her tactics for the two-lap tussle.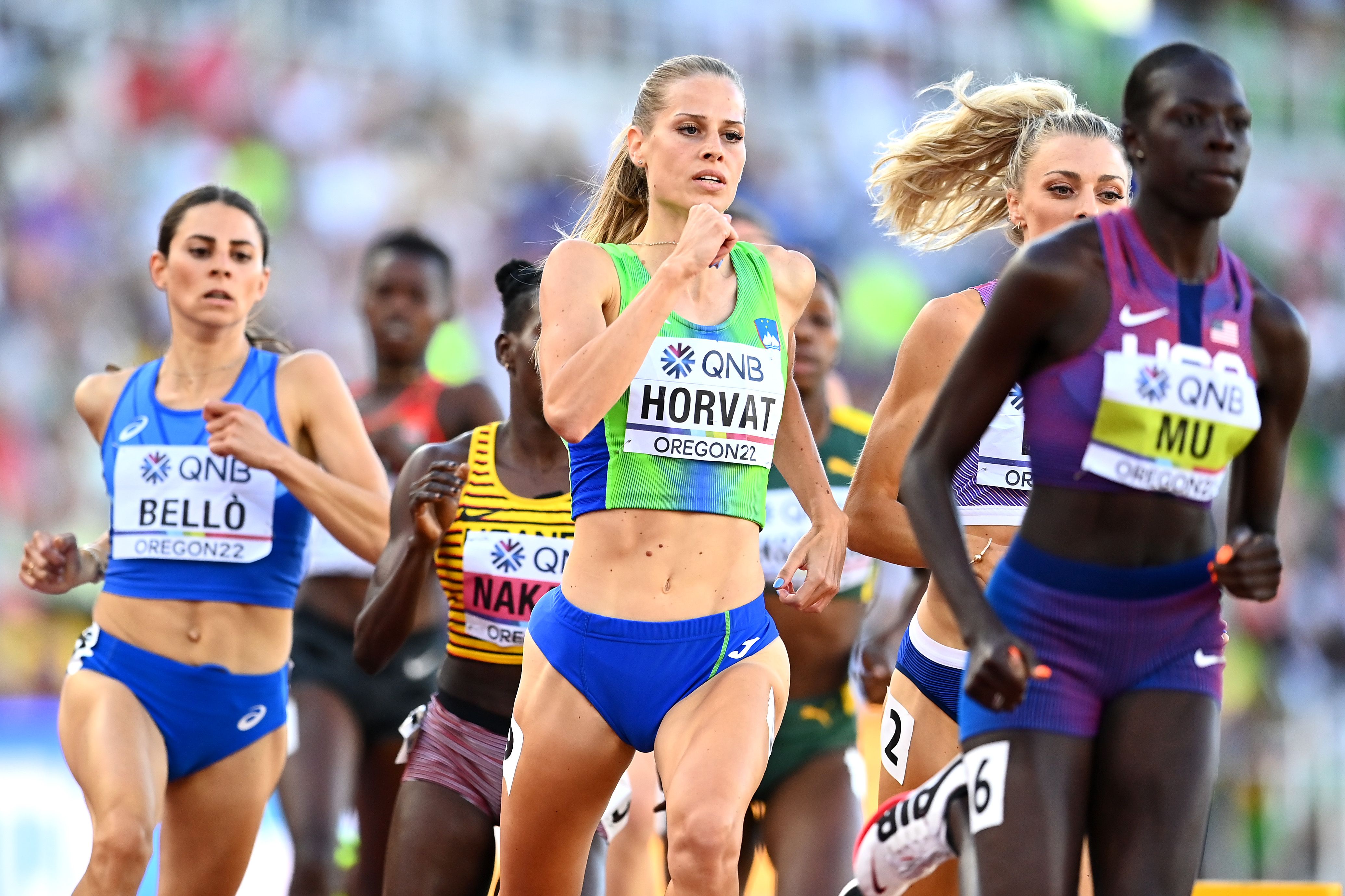 Anita Horvat in the 800m at the World Athletics Championships Oregon22 (© Getty Images)

"In 400 you have your own lane. In 800, you need to fight for space. I don't like it right now. I don't know the tactics. I don't know the girls. It's a bit hard for me, but I will get used to it. I am trying not to be too aggressive, but eventually I will have to – because they are."
Based in Trbnje, Horvat is coached by former Slovenian 110m hurdles champion Tevz Korent in a group that contains several rising talents including Marusa Mismas and Veronika Sadek. Mismas was sixth in the steeplechase at the Tokyo Olympics last year and Sadek finished fifth in the 800m at the recent World Athletics U20 Championships Cali 22.
Horvat also has another important member of her training group to accompany her on runs through nearby forests. "I have a dog, I love him," she says of her canine companion. "He is a King Charles spaniel called Jack. He runs with me and is a very sporty dog."
As well as Jack, her family ties have played a critical role in her ascent in the sport. The athletics career of her elder sister Janja made an indelible impression on her growing up.
"My big sister was an athlete, she ran the 400m hurdles," recalls Horvat. "She is nine years older than I am. I was always cheering for her, going to her races. She was always winning nationals.
"I really enjoyed it and I always said as a child that I wanted to be an athlete. So, a few years later I started with athletics and here I am!"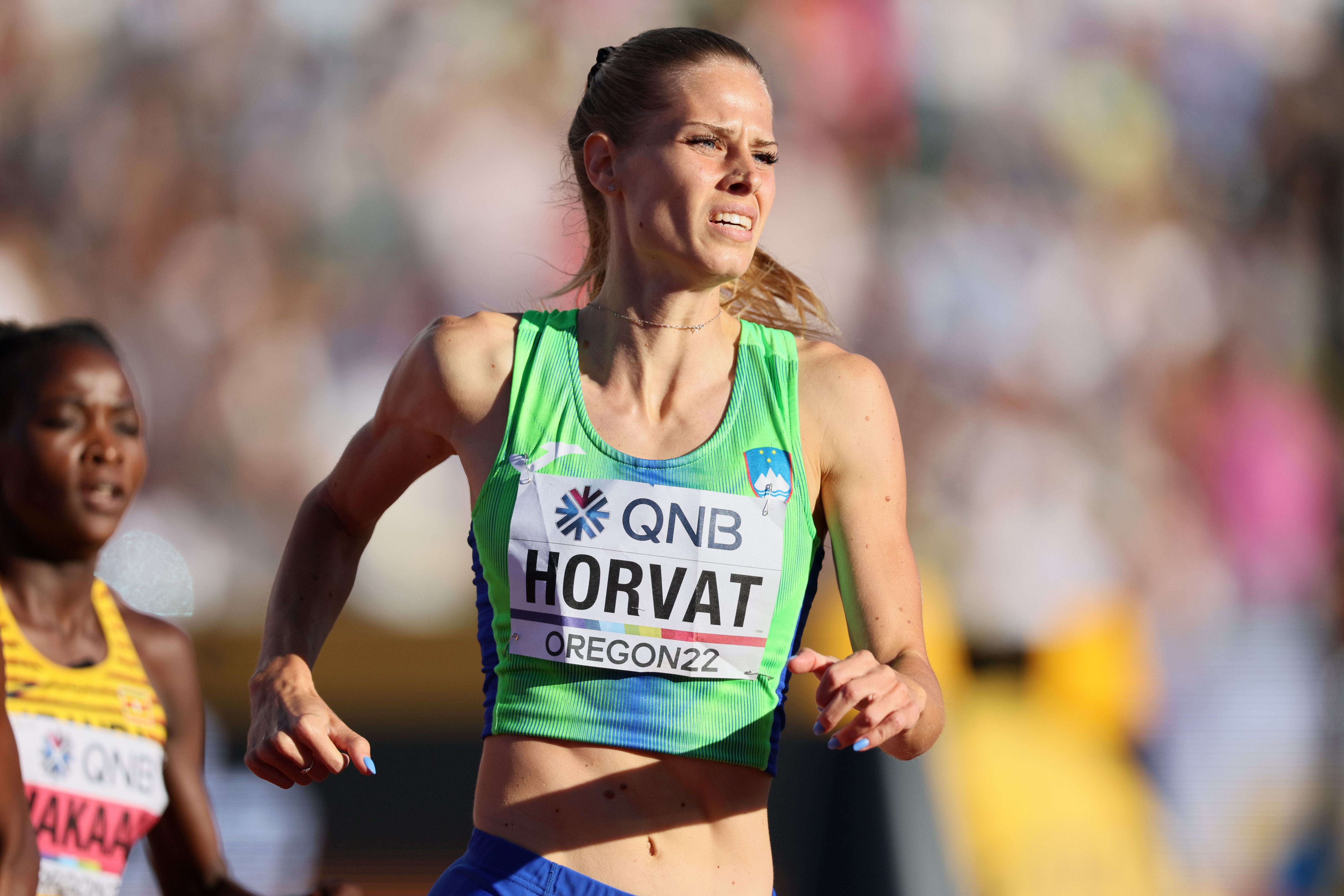 Anita Horvat at the World Athletics Championships Oregon22 (© Getty Images)

Looking ahead to the rest of the season, she is focused on the European Championships in Munich, where the athletics takes place 15-21 August.
Horvat will head to the German city with expectations raised, but with ambitions kept in check. "I want to run faster," she says. "I want to get to the final and you know, be fast in the final."
As for trying a further step in middle distance to 1500m, that strong-willed streak remerges. "No, no definitely not. 800m is the limit," she insists with a smile. But for Horvat, in her new event, the sky is perhaps the only other limit.
Chris Broadbent for World Athletics