Japanese sprint hurdler Asuka Terada (© Gladys Chai von der Laage)
Asuka Terada's career as a track and field athlete is unique.
She was a promising young athlete, breaking high school records and winning various national age-group titles. Not long after graduating from high school, she won her first senior Japanese title at the age of 18, clocking a Japanese U20 record of 13.05 in the process.
The performance earned her selection for the 2009 World Championships in Berlin, where she was the youngest in the 100m hurdles field. She ended that season by taking the silver medal at the Asian Championships.
But although her future seemed bright, she struggled with a series of injuries and an eating disorder, and in 2013 she decided to retire at the age of 23.
"I hated training. I was miserable every day," she recalls.
When Tokyo was announced as host for the 2020 Olympics, Terada and her husband were very excited.
"We look forward to watching the Games," she said. "I was not thinking about returning to sports at all. I just wanted to be a spectator."
In 2014, after having a daughter, her career as an international athlete already seemed so distant.
But a turning point came in 2016 when she was asked to try out for the national rugby sevens team. Terada hated the thought of being tackled and feeling in pain, so at first she declined the offer. Her friends didn't give up trying to recruit her, though, and eventually she agreed to give it a go.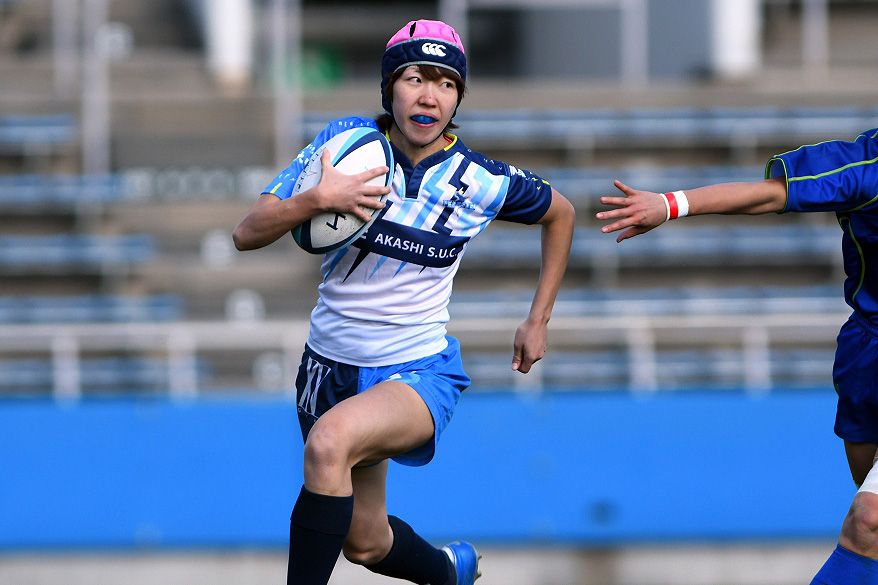 Before she joined the rugby team, she had hoped that her natural speed would help her succeed in her new sport – and perhaps even carry her all the way to the Tokyo Olympics.
Terada soon started to make good progress on the rugby pitch, but after suffering a bone fracture during a match in May 2017 she was unable to play as she had hoped. In time, she realised that making the national team may be too ambitious a target.
One goal hadn't changed, though: she was determined to make it to the Tokyo Olympics.
Back to track
Giving up rugby and returning to hurdling was an organic decision for Terada. Running had been part of her rugby training, while gym work and heavy weights helped Terada maintain her strength.
She was ready to return to her first sporting love.


View this post on Instagram

Terada resumed athletics training in early 2019 and it didn't take long for her to return to the top spot in her country.
She finished third at the Japanese Championships in June and then set a national record of 12.97 in September. Not only did she become the first Japanese woman to better 13 seconds, she also qualified for the World Athletics Championships Doha 2019.
She headed to the Qatari capital with high expectations, but the competition didn't quite go to plan.
After believing she was ready to compete with the world's top athletes in what was her first global championships in 10 years, Terada's lack of experience on the big stage was exposed and she finished fifth in her heat in 13.20.
"In Berlin in 2009, I couldn't do anything, but I was only 19 years old at the time," she recalls. "I thought that I could do something in Doha, but once again I couldn't do anything. It was frustrating."
There were a few reasons behind her underperformance. After setting a Japanese record in early September, Terada was worried she'd lose fitness before the World Championships so she continued with heavy training sessions. As a result, she wasn't at her sharpest when she arrived in Doha.
She also admits to overthinking during the race. When athletes started to pass her, Terada tightened up and she was unable to respond.
Terada shed tears after the race, but she was determined to make the most of her experience.
After the qualifying round, Terada went to the warm-up area every day to watch top athletes in action, monitoring their movements as they honed their skills.
"Kendra Harrison is my role model," says Terada. "She is about the same height and leg length as me, and the way she hurdles with her leading leg is similar to mine. She is very quick and fast. I learned a lot from her."
After Doha, Terada and her coach Takano watched race videos of Harrison and other hurdlers over and over again, absorbing their technique.
Terada rarely thought about running form when she was a teenager; she felt she didn't need to, as her natural speed was so good. But her stint in rugby forced her to think about the best way to move.
"Rugby is not just about running straight, it's about stopping and running," says Terada. "I have learned a lot from it. I have good sprint speed, so now I'm working on utilising my speed for running between the hurdles."
Making her daughter proud
Terada's daughter, Kao, travelled to Doha to cheer her mother on. When Terada failed to advance to the semi-final, Kao said matter-of-factly: "Mom, you're too slow." But after Kao saw her mother's tears, she added: "You did a great job, Mom."
Six-year-old Kao then saw eventual winner Nia Ali and her daughter going on a lap of honour.
"Kao told me, 'The reason why I can't participate in the winning run is that my mom is too slow, so you have to work harder for me'. She wants to be a special kid."
In Doha, Terada was inspired by other athletes like Ali, Shelly-Ann Fraser-Pryce and Allyson Felix who had returned to the sport after becoming mothers. And while Terada's daughter brings so much happiness, sometimes it's hard to wear different hats.
"I don't have as much time for myself now, and no matter how tired I am, I need to take care of my daughter. I always fall asleep with her," she says. "But having a family has brought me so much joy, and I don't have time to be depressed about the competition, which is a big benefit."


View this post on Instagram

Terada recently returned from a training stint in Miyazaki as part of her preparations for the Olympic Games, where her goal is to reach the final.
Few sportswomen in Japan return to competitive action after giving birth, but Terada wants to buck the trend and hopes to use this year's Olympic Games as a platform.
"In Japan many people say to female athletes who have children, 'Your husband is very understanding and supportive'. But I don't understand why people say something like that to women yet don't say it to men. I hope that the Tokyo Olympics will change their mind set.
"Around the world the number of athletes returning to competition after childbirth is increasing, and it's becoming more common," she added. "I saw such female athletes at the Berlin World Championships, and I thought it was cool, and I thought I wanted to be like them someday.
"I hope I can be an athlete who inspires young athletes."
Ayako Oikawa for World Athletics
---
ラグビーからハードルに復帰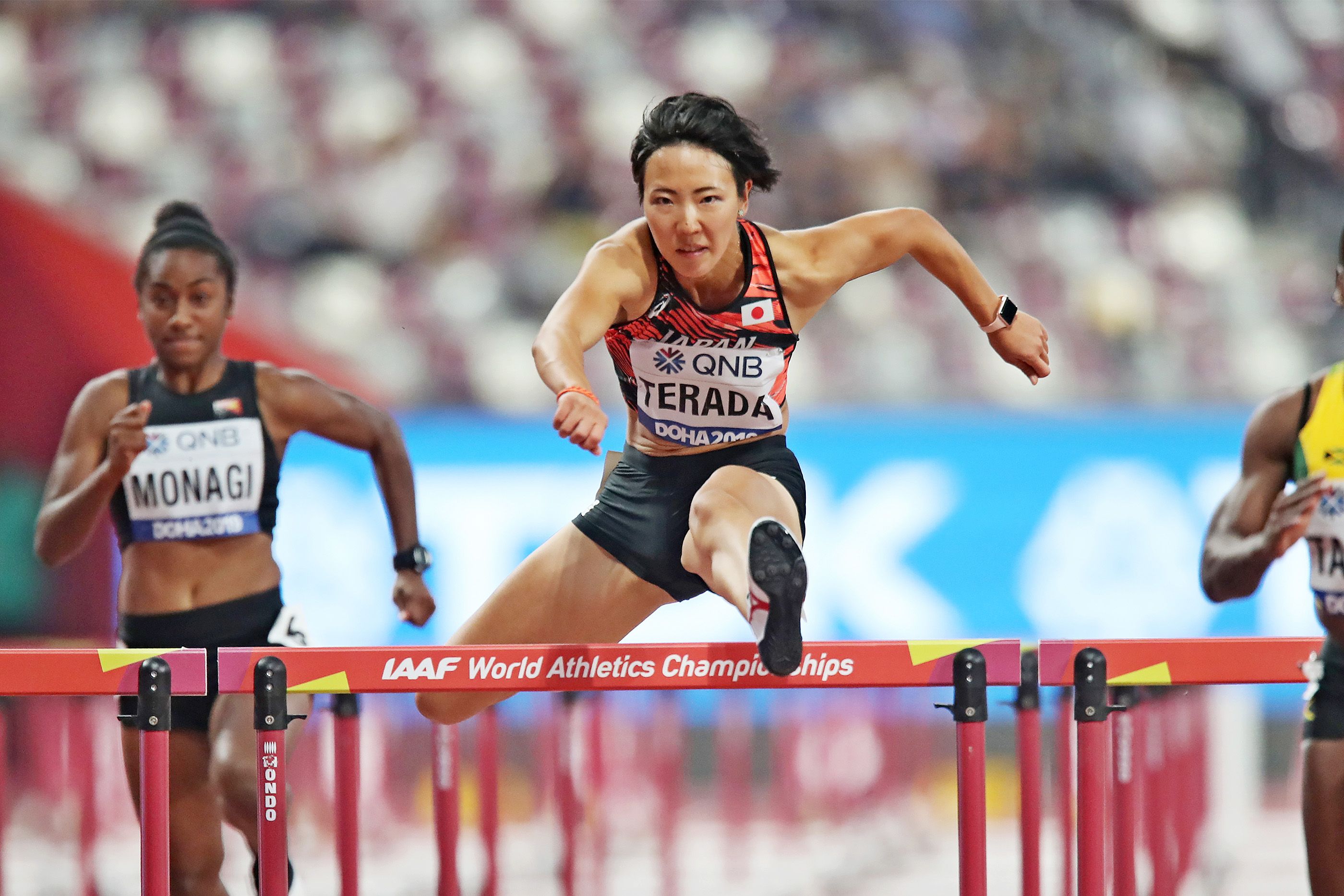 寺田の陸上選手としての軌跡はかなり異端だ。
10代の頃から将来を嘱望された選手だった。高校時代にはインターハイ3連覇、高校記録を樹立。18歳で日本選手権優勝、翌2009年には13秒05の日本ジュニア記録更新、ベルリン世界選手権に出場、日本選手権3連覇など輝かしい実績を立てた。しかしその後、怪我や摂食障害などで不振が続き、2013年に23歳の若さで引退している。
2013年に東京五輪の招致が決まった際、夫と「東京五輪の観戦が楽しみだね」と話していた。競技復帰など全く考えていなかった。翌2014年には娘を出産。競技とは懸け離れた生活を送っていた。
転機は2016年。友人に誘われ、7人制ラグビーの世界に。歴史の浅い女子7人制ラグビーなら、自分の走力を生かせるプレーで代表チームに、そして東京五輪にいけるかもしれない、そう思ったからだ。
日本代表候補に入り、チームでも順調に力をつけていたが、2017年5月、試合中に骨折するアクシデントに見舞われる。復帰したものの、思うようなプレーができず、代表入りが難しくなったことを痛感。2018年12月にラグビーの世界から引退を決めた。
陸上の復帰したのは自然の流れだった。ラグビーの練習で「いろいろな走り」を学び、またウェイトトレーニングや体幹練習をみっちり行い、走れる感覚が戻っていた。
「もう一度、ハードルを跳びたい。五輪で走りたい」
大好きだったハードルにもう一度正面から向き合う決意をした。
日本人初の12秒台、そしてドーハへ
2019年に本格復帰すると、6月の日本選手権で3位、9月には日本人初の12秒台となる12秒97の日本記録を樹立した。
しかし好調で臨んだ世界選手権では予選落ちという悔しい結果に終わっている。
「ベルリン大会は19歳で出場しましたが、ボロクソでした。ドーハでは『何かできるんじゃないか』と思って臨みましたが、何もできなかった。悔しかったですね」
戦える自信はあった。しかし10年ぶりの世界選手権。大舞台での経験の少なさを露呈した。
失敗の原因はいくつかあった。日本新記録を樹立した後、ピークが下がるのが嫌で落とせなかった。またいくつかある課題をレース中に考えすぎた。レース中は、並ばれたときに体が反応してしまい、置いて行かれた。何もできず、13秒20の予選5位に終わった。
不甲斐ない自分に涙が出た。しかし失敗してもただでは起きないのが、寺田だ。
予選敗退後、連日サブトラックに通い詰めた。海外のトップ選手の動きを間近で見られるチャンスはなかなかない。手本になる選手の動きをスパイした、と笑う。
「ケニー・ハリソン選手は身長や足の長さが同じくらいだし、踏み切りで煽る感じも自分に似
ている。彼女は足のさばきがすごいし、速い。参考になることばかりでした」
ドーハから戻った後、寺田は高野大樹コーチとハリソンや他の選手のレース動画を何度も見て、技術を貪欲に吸収した。また走りそのものも深く考えるようになった。
10代の頃は、走りについて深く考えたことがなかった。子供の頃から足が速かったこともあり、考える必要がなかった、と言ってもいい。しかしラグビーを経験したことで、走りについて考えるようになった。
「ラグビーは真っすぐだけではないし、止まって走る。走って止まる、という細かな走りが要求されます。スプリントには自信がありますが、今はさらにスプリントを上げるとともに、ハードル間の走りの改善に取り組んでいます」
東京で娘に雄姿を見せたい
娘、果緒ちゃんはドーハにも駆けつけ、大きな声援を送った。寺田が予選落ちすると「ママ、遅い」ときつい一撃を食らわせた。寺田の落ち込む姿に「ママ頑張ったね」とねぎらいもくれたものの、100mハードルで優勝したアリが子供を抱いてウィニングランをする姿を見た果緒ちゃんの闘志に火がついたという。
「『私がウィニングランに参加できないのはママが遅いせいだ。だからもっとがんばって』って言われました」と笑う。
ドーハでは出産後に復帰した選手たちからも刺激を受けた。
アリソン・フェリックス、シェリーアン・フレイザープライス、ニア・アリなど、彼女たちは出産後にトップに戻り、活躍する。自分も負けられない、そう思った。
「(子供を持って)自分に使える時間が減ったし、どんなに疲れていても家事や子育ては待ってくれない。疲労困憊で寝落ちなんてしょっちゅうです。でも家族ができて喜びは増えたし、競技のことで落ち込む暇もないのはプラスですね」
東京五輪に向けて、充実した練習を送っている。2月に1週間宮崎で強化合宿を行ったばかりの寺田は、シーズンインに向けて充実した日々を過ごしている。
「東京の目標はファイナリストになること」寺田はそう話す。
日本では出産後に競技を続ける選手が少ない。
「世界では(出産後に復帰する選手が)増えているし、自然な流れになっている。でも日本ではまだまだです。ベルリン世界選手権の時にそういう女子選手を見て、かっこいいなと思っていました。自分も若い選手を刺激できるような選手になれればと思います。子供がいる女子選手に対して、『旦那さんの理解があるんですね』と言われるのは日本ならではですよね。だって男子選手には『奥さんの理解があるんですね』と言わないですから。東京五輪をきっかけにそういった意識も変わってくれるといいなと思います」若い世代を刺激し、古き伝統を崩す寺田、五輪まであと4ヶ月。初の五輪に向けて寺田は走り続ける。
及川彩子