Australian pole vaulter Nina Kennedy (© Getty Images)
For many people, lockdown evokes emotions of frustration and anxiety. Yet for recently-minted Australian pole vault record-holder Nina Kennedy, she credits the period last year for helping transform her career.
"In hindsight, lockdown was probably one of the best things that happened to me," explains Kennedy. "Lockdown gave me time to reflect. I would go on long walks and just think, what did I want to do for the rest of my sporting career? It was fine to be a 4.60m vaulter, but I wanted to be a 4.80m or 4.90m jumper and that is when I really started to hone in on those one percenters."
No stone unturned
In an effort to improve every area of her athletic life, the 24-year-old underwent two months of sleep studies with the Western Australian Institute of Sport in an effort to ensure she slept in the most efficient way to maximise her recovery. She underwent dietary changes, minimising processed foods and introducing more organic foods. And she continued to work hard with her coach, Paul Burgess, whom she joined in late 2019, to improve her strength and technical gains.
It is a combination of factors that have all played their part in enabling the 1.65m-tall vaulter to enjoy the best season of her career this year, highlighted by that fabulous world-leading (outdoor) mark and Australian record 4.82m in Sydney last month.
"For me, lockdown was definitely a blessing in disguise," she adds.
Born and raised in the small Western Australian country town of Busselton, about a three-hour drive south west of Perth, Kennedy – whose mum, Gwenda, is a former Australian lightweight rowing representative – grew up as an active sport-mad youngster.
In her youth she impressed in a range of sports including hockey, tennis, basketball and netball – and excelled at gymnastics – but after begging her mum to take her to the local athletics club at the age of 11, she found her true calling.
"I loved athletics days at school and as soon as I joined the club I found sprinting, hurdling and jumping came quite naturally to me," explains Kennedy.
However, her true niche was discovered after being invited to try the pole vault through her local club at the age of 12. Possessing good speed and athleticism through her gymnastics background, she enjoyed a rapid rise and as success arrived quickly so did her passion for the discipline.
A rapid rise
Fortunate to be geographically close to the powerhouse Perth-based pole vaulting squad in which many top vaulters – such as 2008 Olympic and 2009 world champion Steve Hooker, six-metre vaulter Paul Burgess (coincidentally Kennedy's current coach) and Alana Boyd, the former owner of the women's Australian pole vault record – thrived, Kennedy made rapid gains.
Aged just 14 she won the 2012 national under-16 pole vault title, setting a PB of 4.10m en route to the title. The next year she vaulted a PB of 4.31m and went into the World U18 Championships in Donetsk a clear favourite. However, she could not match the level of this performance in Ukraine and placed fifth with a best of 4.05m.
"I went into the competition ranked No.1 but I had never competed internationally," she explains. "I was thrown in the deep end. I came away fifth. It was not the best experience but definitely not the worst and I felt I learned a lot."
That knowledge was then put to good use just 12 months later when she placed fourth in a personal best of 4.40m at the World Athletics U20 Championships in Oregon.
In a high-class event – in which the championship record of 4.50m was equalled – she had contributed to a memorable competition and fondly recalls the experience.
"The Juniors in Oregon was one of my favourite ever competitions," she explains. "I was competing against such high-calibre athletes and was unlucky not to medal."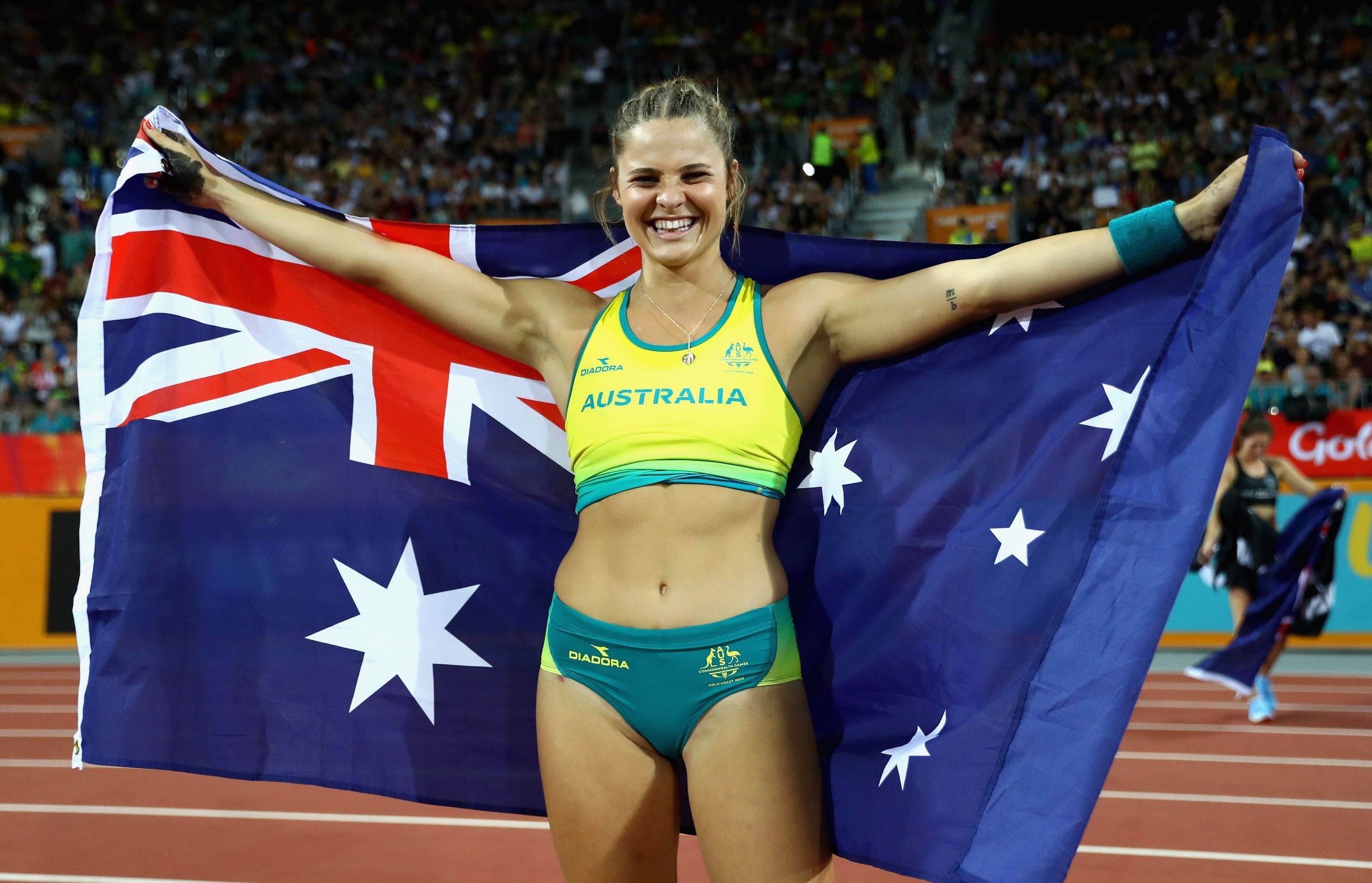 Nina Kennedy celebrates her bronze medal at the Gold Coast 2018 Commonwealth Games (© Getty Images)

If 2014 had been good, 2015 went even better for the then teenage vaulter. Competing at her home track in Perth in February she set a stunning world under-20 record of 4.59m.
The performance represented a stunning near 20cm improvement in one competition and elevated the then 17-year-old to a new stratosphere.
"It was crazy," she says of the competition which had seen her clear three PBs that day – 4.43m, 4.50m and 4.59m with her third and final attempt.
"I was in great form but I definitely didn't expect to jump that high," she adds. "I got a bit lucky that day, I jumped a huge bar but it was definitely a standout moment in my career."
Later that year the then 18-year-old was selected to compete at the World Athletics Championships. The youngest competitor in the field, she no-heighted in Beijing, describing her memories of competing inside the Bird's Nest Stadium as a "massive learning experience."
Building pressure
So much of the talented Australian's career had gone so well up until this point, but this was to come to an abrupt end the following year as mental health issues took a grip on the young vaulter.
Out of the daily structure of school life, having graduated the previous year, coupled with the pressure and demands of having to train while her friends were out having a good time – things unquestionably took a toll. Pressure was further built as she struggled to attain the automatic Olympic qualification mark in 2016, having sailed beyond it the previous year.
Failing to win selection for the Rio Olympics unquestionably had a damaging impact on her mental wellbeing and although she competed at the World U20 Championships she describes herself as "a mess" in Bydgoszcz and no-heighted.
"It was by far the hardest year in my life," she explains of 2016. "I was devastated to miss out on the Olympics but I was just not in a good place mentally. I battled depression and for some time I couldn't go to training. I spent time on anti-depressants and I saw a psychologist. For me, it wasn't about jumping high it was about staying happy.
"Looking back, it was a terrible year but also one I wouldn't change either. I learned many coping strategies. It made me realise I still wanted to do the sport and I knew deep down I would bounce back one day, but at that time I wasn't in the right space mentally."
In an effort to find greater equilibrium in her life she started meditating and journaling. She learned much about herself during this period and gradually over time her mental health improved.
Returning to competition in 2017 she jumped a best of 4.55m at the Western Australian Champs in Perth and qualified for the World Athletics Championships in London. Sadly, a quad tear would deny her a chance to compete in the British capital as the mental demands of the previous year were replaced by physical challenges.
Her rollercoaster career took an upward trajectory in 2018 as the more mature vaulter bagged a PB of 4.71m in Perth in February and later that month secured the national title in Gold Coast.
The following month she finished a solid eighth with a vault of 4.60m at the World Athletics Indoor Championships in Birmingham – a performance which filled the Australian with confidence ahead of the Gold Coast Commonwealth Games.
"To go the World Indoors and compete against the top girls and finish eighth in the world after not even making the Olympic Games two years earlier was pretty cool," she remarks.
Unfortunately, an inflamed foot denied her the chance to train for four weeks in the countdown to the Commonwealth Games. But despite the far from ideal preparation she maintained her composure to bank bronze with a best of 4.60m.
"I only had my first training session back from the injury after arriving in the Athletes' Village, so to come out and jump 4.60m in front of family and friends and my home fans was such a great reward," she says. "It felt like all the hard work of the previous three years had paid off."
New heights
A series of injuries which included a quad tear, hamstring tear and back issues decimated her 2019 campaign but later that year she made the decision to team up with her current coach Burgess, who also guides current Australian men's pole vault No.1 Kurtis Marschall.
Describing training under Burgess as "on a completely different path" to what she had previously experienced, the workouts have less emphasis on gymnastic work and running and far more on strength training.
"Paul is a coach who trusts me and what I feel," explains Kennedy. "He sets out a rough programme but if I feel I want to do more of this or that he really listens. We collaborate really well. He was an athlete himself so understands what I'm going through."
Taking time to adjust to Burgess' new methods, she enjoyed a solid 2020 domestic campaign – achieving a best of 4.61m – before the global pandemic struck and she went into lockdown.
Taking the time during this period to rethink her goals and ambitions, it is little surprise the Behavioural Sciences student has emerged stronger than ever during this season.
View this post on Instagram

Setting a PB of 4.72m (and also going beyond the automatic Olympic qualification mark of 4.70m) in Perth in mid-December, she clad a further 3cm on to this height in her home city in January.
Leaving her home state of Western Australia for the first time in a year to attend the Sydney Track Classic was a slightly strange experience for the young vaulter, but feeding off the "wave of energy" generated by competing in front of a big crowd for the first time in many months she enjoyed a dream night. Bettering her PB by 2cm with a second-time clearance at 4.77m, she next achieved a world-class clearance of 4.82m at the first time of asking to surpass Boyd's five-year-old Australian record of 4.81m.
"I'd attempted 4.82m many times this season and I'd got so close on many occasions," she says. "I knew I could do it, and to pull it off with my first attempt was really special."
It was also ironic she was to achieve the mark using Boyd's old poles. In the form of her life this year, she required bigger poles to jump the heights she knew she was capable of.
Recognising that it would take longer to order the poles from the US, she contacted the now retired Boyd, who was more than happy to assist and quickly sent her old poles from Queensland to Perth.
"It was lovely of her to do that and after I broke the national record she was one of the first people to message me," adds Kennedy. "That meant a lot to me because she was one of my role models as a youngster in the sport."
With her next target this week the Australian Championships, Kennedy then plans to base herself in North Queensland in the countdown to the Tokyo Olympics – where she hopes she can make an impact.
"Firstly, I would love to make the Olympic final but 4.80m won a bronze at the last Olympics and I would also love to medal. Fingers crossed I just hope it goes my way. Now I have the Aussie record, I just want to ride this wave."
Steve Landells for World Athletics