Swiss decathlete Simon Ehammer competes in the long jump at the World Athletics Championships Oregon22 (© AFP / Getty Images)
On his way to heptathlon silver at the World Athletics Indoor Championships in Belgrade in March, Swiss decathlete Simon Ehammer looked longingly at the long jump competition taking place a few metres away. "A little bit of my heart would like to jump with the specialists," he said at the time. "But I'm a decathlete. It's my passion."
Four months later, after winning bronze in the individual long jump at the World Athletics Championships Oregon22, Ehammer was similarly pining for the two days of 10 events. "I'm a little sad that I'm not starting in the decathlon, because of the Europeans," he explained.
While Ehammer is a world-class long jumper, it's clear that he considers himself first and foremost a decathlete. Rather than the two events vying for his attention, they work seamlessly to fulfil his needs. Together they provide an outlet for Ehammer's boundless optimism and palpable energy, but they also give him valuable space to switch focus when things aren't going as planned.
As Ehammer prepares for the decathlon at the European Championships in Munich on Monday and Tuesday (15-16), things haven't always gone as planned. While he might have kickstarted the re-emergence of Swiss decathlon, sparred with the decathlon world record-holder indoors and relieved the Olympic champion of his decathlon long jump world best, it has not been a smooth path.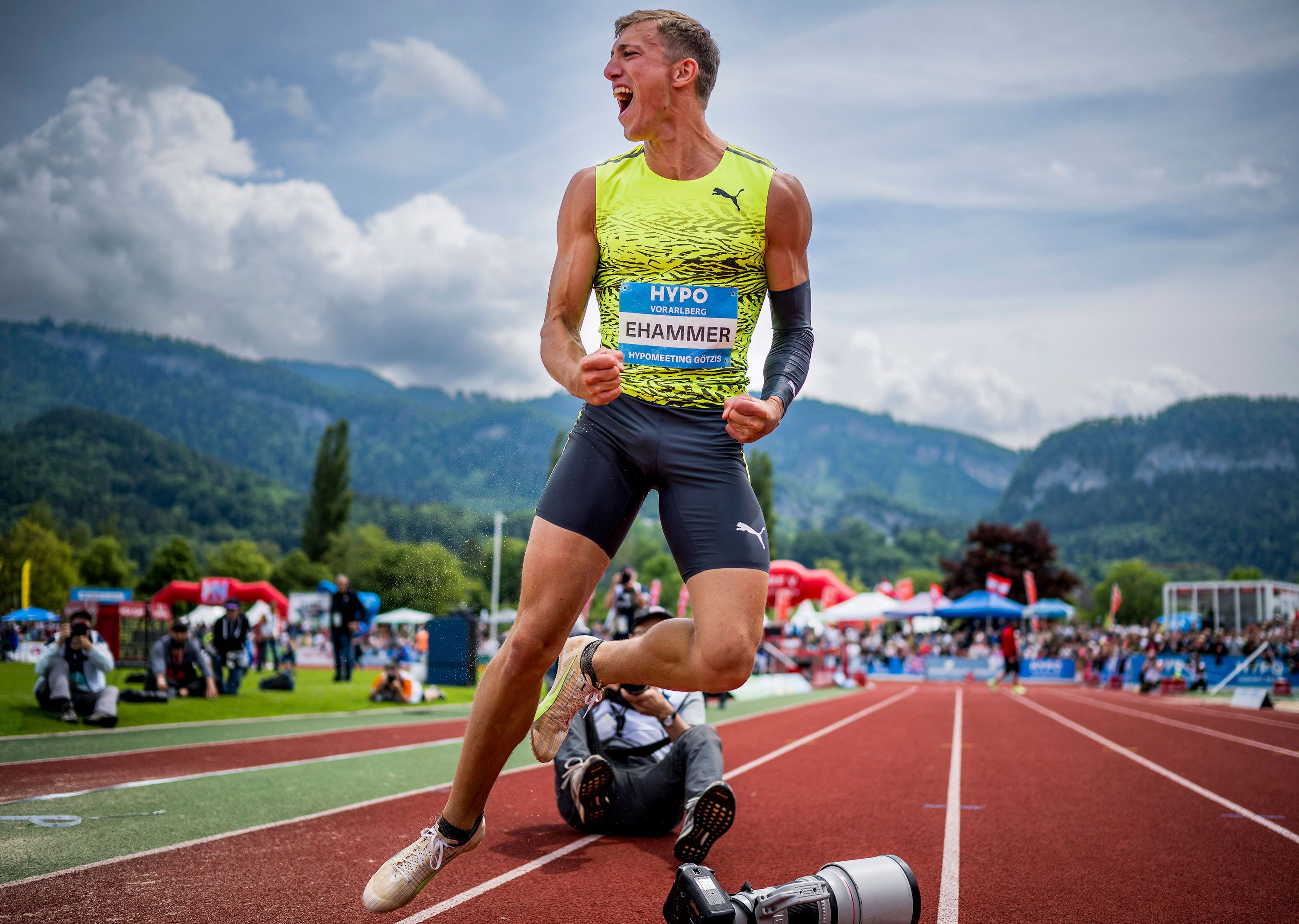 Simon Ehammer celebrates his 8.45m long jump in Götzis (© AFP / Getty Images)
Ehammer was successful at U20 level in decathlon, winning bronze in 2018 at the World U20 Championships in Tampere and gold in 2019 at the European U20 event in Boras. In 2020, Switzerland was able to rescue part of the Covid-truncated season, allowing Ehammer to continue his progression.
He scored 8029 points in July 2020, and extended that to 8231 in August, just 13 points away from the Swiss record of 8244 set by Beat Gahwiler in 1988. He jumped 8.15m in June 2020 and ticked off numerous national age records along the way in both events.
"The memories are still present for the 2020 season, because it was the first time I jumped over eight metres. It was the first time I scored over 8000 points, and it was the first small breakthrough for me as an athlete," he says. "But it was tough to have no competitions outside of Switzerland. No Olympics - you need to wait another year when you're in such good shape right now. But the motivation was strong, and the goals were still the same for 2021, to reach the Olympics."
Ehammer entered 2021 full of pent-up energy, and in his first heptathlon at the Swiss championships in Magglingen, his superb day one total of 3592 led to murmurings about how close he might get to Kevin Mayer's European record of 6479. His second day also started well, but a no-height in the pole vault brought Ehammer's surge to an abrupt halt, and Andri Oberholzer won the title in a national record of 5940.
Ehammer picked himself up for another competition in Frankfurt the following weekend. He scored 6092 to break Oberholzer's record, and qualify for the European Indoor Champions in Torun, where the decathlon world record-holder Mayer awaited.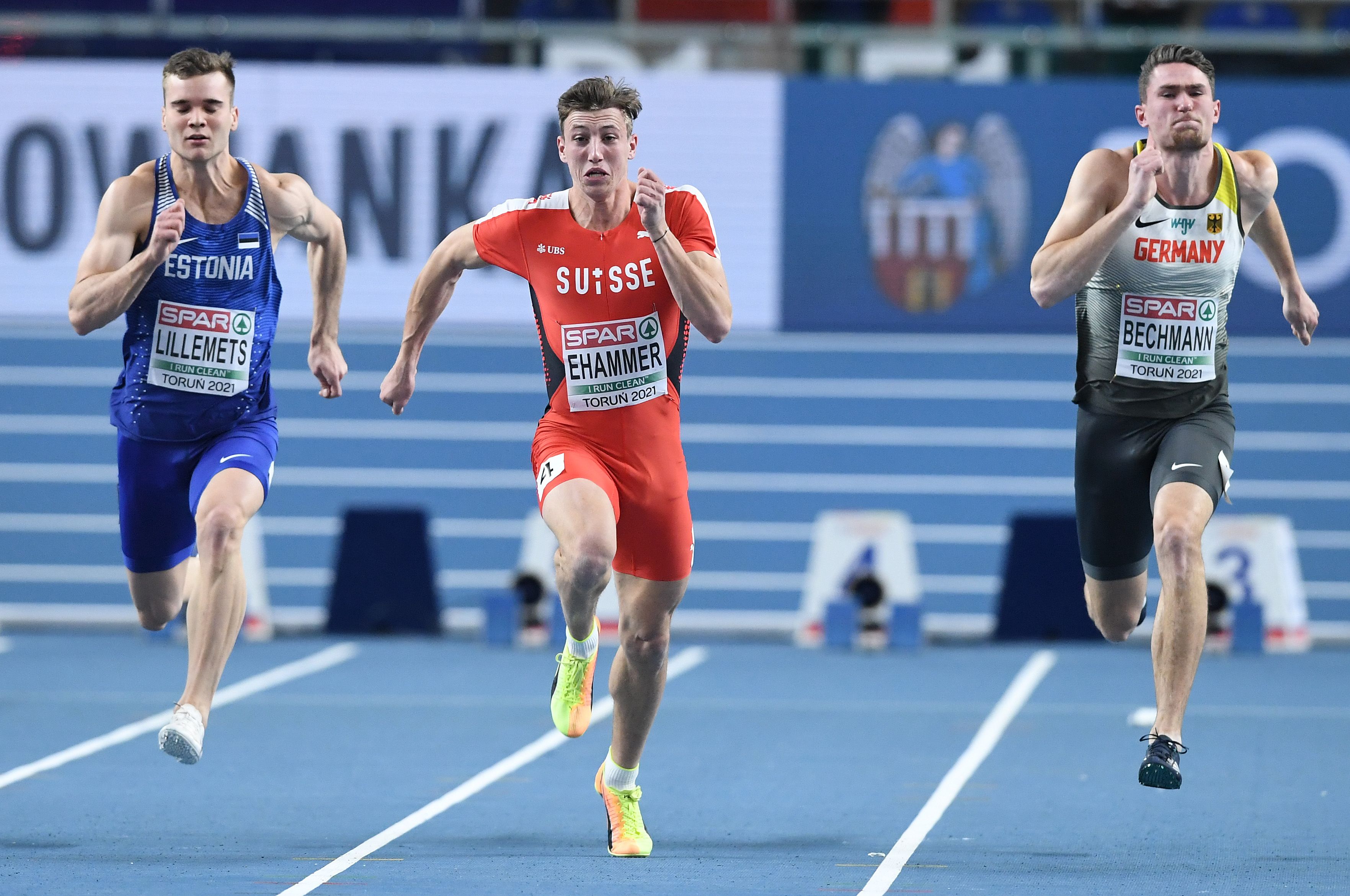 Simon Ehammer competes at the 2021 European Indoor Championships in Torun (© Getty Images)
Ehammer's exploits in 2020 had limited reach outwith Switzerland, so the newcomer with the audacity to lead Mayer after one, two and three events in Torun brought an unexpected twist to the competition. When the pole vault arrived, Ehammer entered at 4.50m, 20cm lower than his aborted competition in Magglingen. One failure. Two failures. A third. The Swiss star's progress had been halted by another brick wall.
"In the pole vault, I had some problems in my head." Ehammer recalls. "I didn't jump well, and I had completely lost the comfortable feeling. I lost my medal in the indoor championships and had a lot of tough days struggling in training. But when you have mental problems or are struggling, the best thing is to take a three- or four-week break. Forget about the discipline and focus on other events."
Next on the agenda was Ehammer's debut in Götzis in Austria, just 30km east of his home in the Appenzell region of Switzerland. He failed to log a mark in the long jump, but this was different from the vault problems of the indoor season.
"In Götzis I was injured. I knew it was my last chance to do the Olympic standard, and it's Götzis, the biggest event for us decathletes," he says. "But I wasn't in shape, and I knew when I don't have the maximum in the long jump, I can't make the standard."
Ehammer took his own advice, forgot about pole vault, and focused on the long jump. It was a good decision, as he recovered to win long jump gold at the European U23 Championships in Tallinn in July 2021.
On to 2022 and the first heptathlon was in January in Clermont-Ferrand. Taking their lead from Mayer, who was participating in a few individual events, the French crowd quickly warmed to Ehammer. He responded to their support and in the long jump he leaped to 8.26m, extending Ashton Eaton's heptathlon world best by 10cm. His overall score of 6285 added almost 200 points to his national record and secured his place for the World Indoor Championships in Belgrade. This time the competition would not be Mayer, but the new Olympic champion Damian Warner.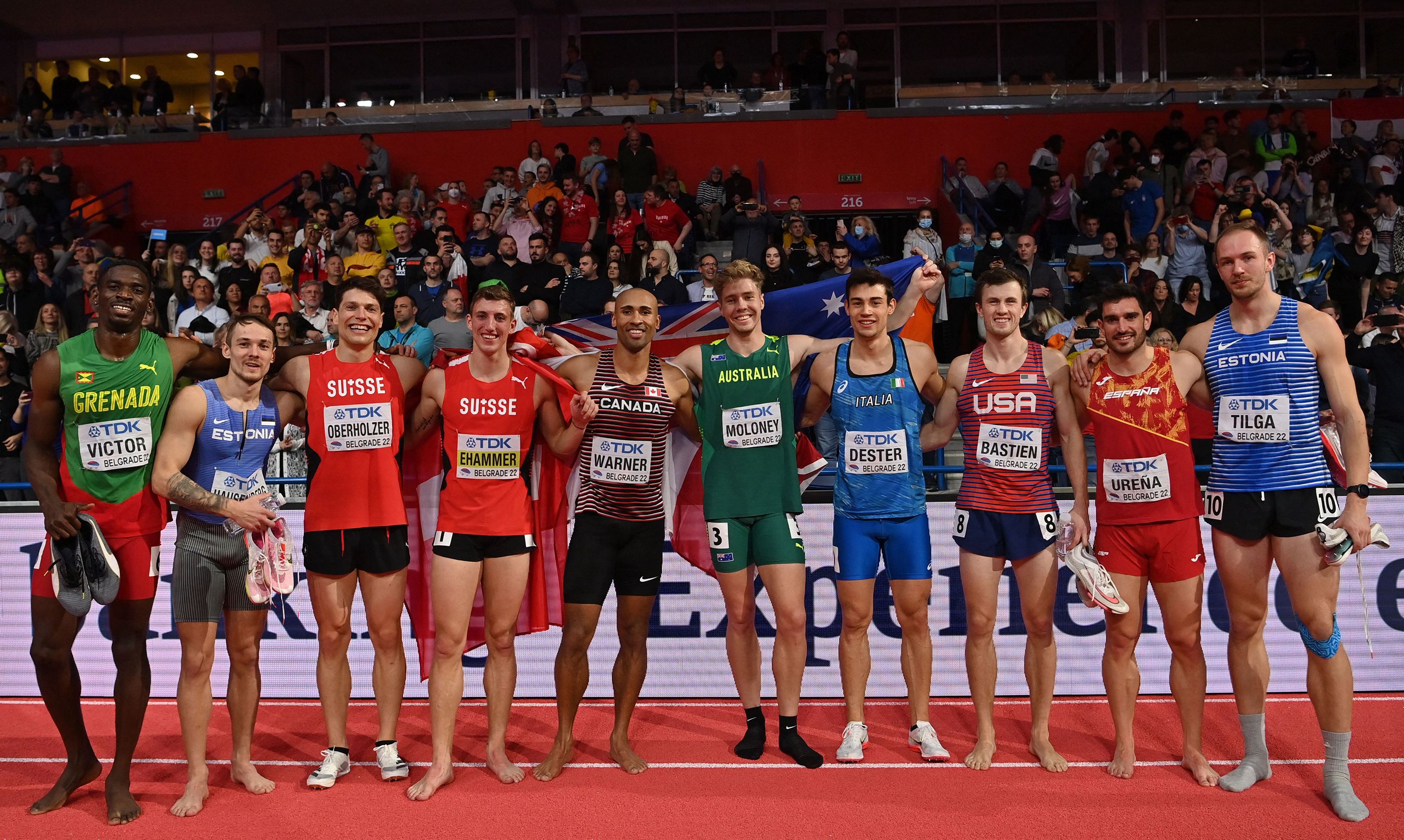 Silver medallist Simon Ehammer and his fellow combined events athletes at the World Indoor Championships in Belgrade (© AFP / Getty Images)
In Belgrade, the Swiss athlete tracked Warner through the first day and, pole vault safely navigated, even edged ahead of the Canadian after the penultimate event. Of course, with a superior 1000m Warner was in no danger of losing, but the sheer energy and enthusiasm of Ehammer's performance had brought the competition alive. The Olympic champion took gold, while Ehammer won his first major senior medal, silver in another national record of 6363.
"I had a really great season in 2020, a bad season in 2021, and I came back stronger than ever in 2022," Ehammer summarises.
He continued his success outdoors, surpassing Warner's 8.28m decathlon long jump world best with 8.30m in Ratingen, en route to a World Championships qualifying standard of 8354, which also finally broke the 34-year-old Swiss decathlon record. And a few weeks later he returned to Götzis, where he leaped to a huge 8.45m, still the world lead.
Ehammer also improved his national record to 8377 but was suddenly subject to speculation about whether he would continue with 10 events or focus only on one. The scrutiny continued as Ehammer competed at the Diamond League meetings in Rabat and Oslo and elected only to do the individual long jump in Oregon, where he won bronze with a jump of 8.16m. But Ehammer has no intention of choosing one event over the other.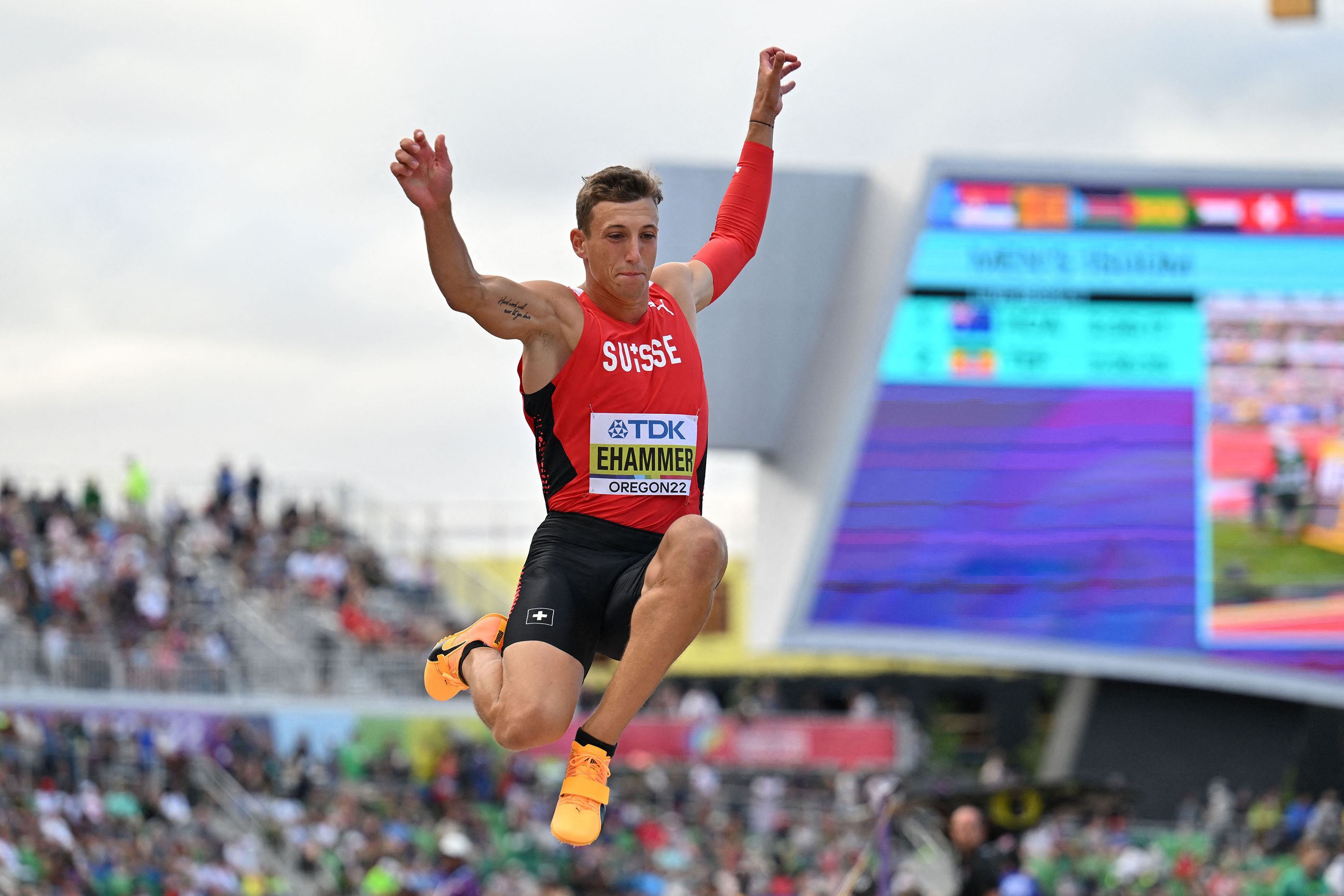 Simon Ehammer in long jump action at the World Athletics Championships Oregon22 (© AFP / Getty Images)
"I don't need to choose one discipline," he explains, "because it works - it works well for decathlon, and it works well in the long jump. And that's the goal for the next few years – it's not possible in Munich, but hopefully I can do both long jump and decathlon in every world and European championships and in the Olympics.
"It's a lot of fun to do the long jump as a decathlete at the level of the individual specialists, but the decathlon… it's so much love. The feeling is different from any other event because it's like a family. Everyone knows each other, everybody cheers for each other, fighting through two days – it's different from when you only have two hours and then you're done with your competition. The decathlon is really special. I would say that every athlete who hasn't done a decathlon should do one once.
"It's so cool to do both; the long jump and – for my heart, for my love, for my soul – I have the decathlon. So, for as long as possible, I'll do both of them."
Gabriella Pieraccini for World Athletics