US long jumper Tara Davis (© Getty Images)
Tara Davis was enjoying a day off from her track and field training duties at the Mike Myers Stadium in Austin. "No, it's not named after the movie guy," she chuckles, referring to the star of the Austin Powers films.
Indeed, the Mike Myers Stadium was christened in honour of a Texan entrepreneur rather than the celebrated Canadian comic actor. Yet it is true to say that Davis has found her world-topping powers there, on the campus of the University of Texas, in Austin.
In the past two months, under the astute direction of UT's hugely accomplished head track and field coach Edrick Floreal, the 2015 world U18 long jump champion has not just rediscovered the capability that made her an age-group star in her teens; she has kicked on towards the fulfilment of her considerable potential with world- leading performances indoors and outdoors.
At the Texas Relays at the Mike Myers track on 27 March, Davis leapt through the seven-metre barrier for the first time with a 7.14m (1.0m/s) jump that continues to head the 2021 world outdoor list.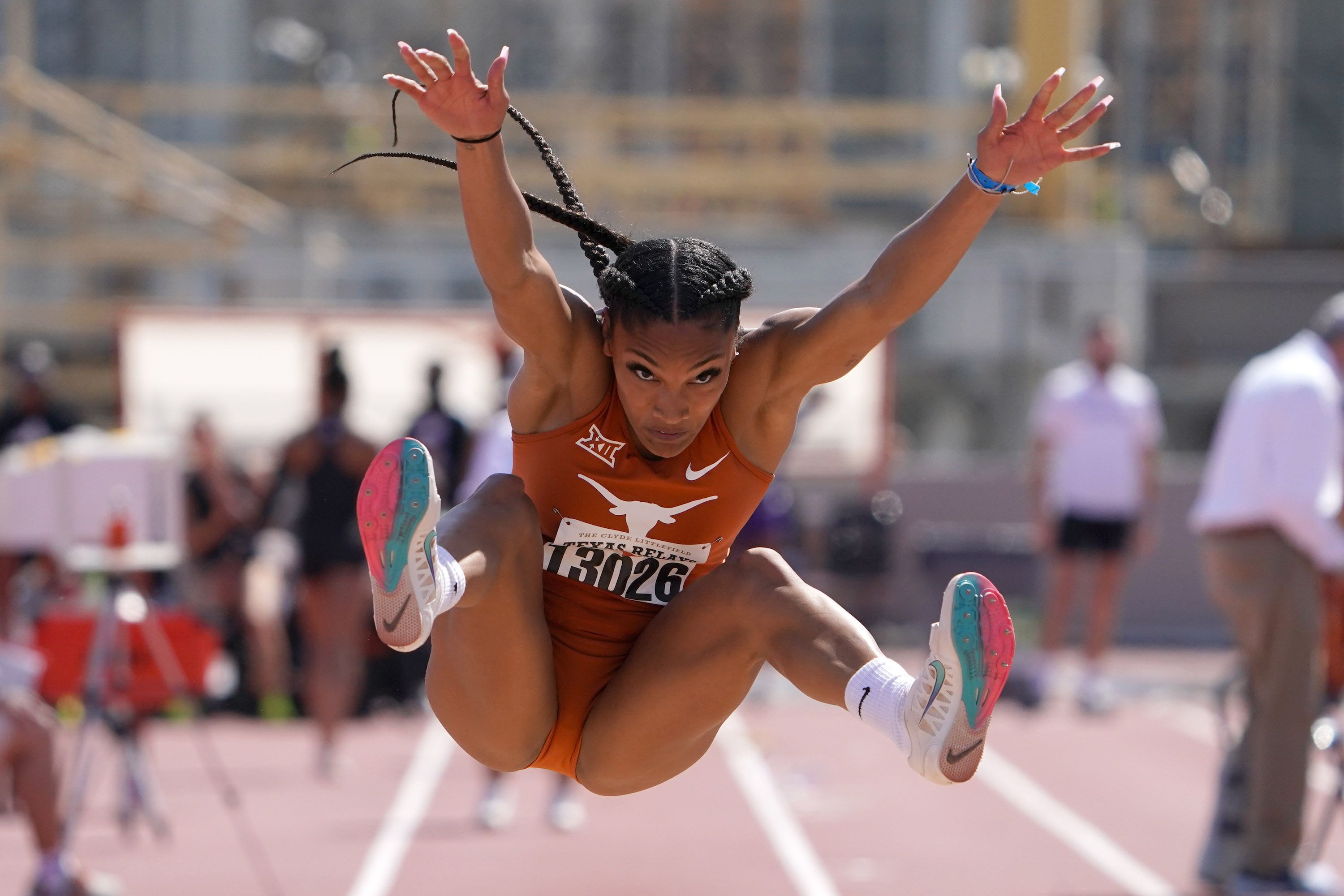 It was the longest jump in the world since the 7.30m that secured Malaika Mihambo the world outdoor title in Doha in September 2019, the fifth best of all-time by a US woman – and 21 centimetres farther than the 36-year-old 6.93m US collegiate record held by one Jackie Joyner-Kersee.
It came just a fortnight after Davis had broken the collegiate indoor record with 6.93m at the NCAA Indoor Championships in Fayetteville, Arkansas. That itself was an absolute PB for the multi-talented young woman who had been held back by a succession of setbacks (a collegiate transfer competition suspension, a foot injury, the 2020 season-blightening Covid pandemic and, not least depression) since 2018, when she took long jump bronze at the World U20 Championships in Tampere.


The esteemed coach who guided the likes of Keni Harrison, Omar McLeod and Kori Carter to great successes is now working his magic with Davis

Davis attributes the major turnaround in her fortunes to the prompting influence of Floreal, a two-time Olympian in the long jump and triple jump for Canada, whose coaching CV includes guiding Keni Harrison to world record breaking heights over the 100m hurdles, and to the inspiration of her long-distance partner Hunter Woodhall, a trailblazing Paralympic double amputee sprinter.
"Hunter is a world-class athlete himself," said Davis, who catches up with her boyfriend in age with her 22nd birthday today (May 20). "He's the first ever double amputee to receive a scholarship to a Division 1 school in the US and he won a silver medal in the 200m and bronze in the 400m at the 2016 Paralympics.
"He inspires me every day to be the best I can be – just from his thoughts and I guess adversity that he's gone through in his life. It just readily changes my whole entire mindset of how good of an athlete I can be when I look at him."


View this post on Instagram

A native of Utah, Woodhall was born with fibular hemimelia, a lower leg bone deficiency. His legs were amputated at the age of 11 months. He became a high profile figure in the United States last year after sharing his story on TikTok, attracting 5.5m viewers and an invitation to appear on the Ellen DeGeneres Show.
Davis and Woodhall, who met at a track meet in 2016, have gained a huge social media following with regular video clips of their long distance relationship. Woodhall turned professional in January but has maintained his training HQ at the University of Arkansas track in Fayetteville, 1000 miles from Davis' Austin power-base.
Davis moved to the Texan state capital in 2018 after an unhappy freshman year at the University of Georgia. It enabled her to hook up with Floreal, who had been a long-time influence from afar.



"When I was in high school, Coach Flo actually recruited me into the University of Kentucky," reflected Davis, who also trains in Floreal's hurdles group with Harrison and lowered her 100m hurdles PB to 12.75 earlier this month.
"I went to visit and didn't like the university but I really loved Coach Flo and his knowledge of track and the way he coaches.
"I just didn't want to live in Kentucky, and be in that state. But we kept in touch. He was one of my closest coach-friends while I was at the University of Georgia. We'd always talk, laugh and have a good time any time we saw each other.
"Then, once I wanted a transfer, I heard the news that Flo had gone to the University of Texas and Texas was my dream school when I was younger. I thought, 'Wow! Now I can finally get my chance to be with Coach Flo and go to dream school'.
"I finally got here and it wasn't all rainbows and sunshine at first. We had our ups and downs. But then we just clicked. Like, we always clicked but we're clicking even more now.
"We relate to each other. We understand each other's thoughts and what we want from my career and what I want from a coach. I think we've struck a really good dynamic duo."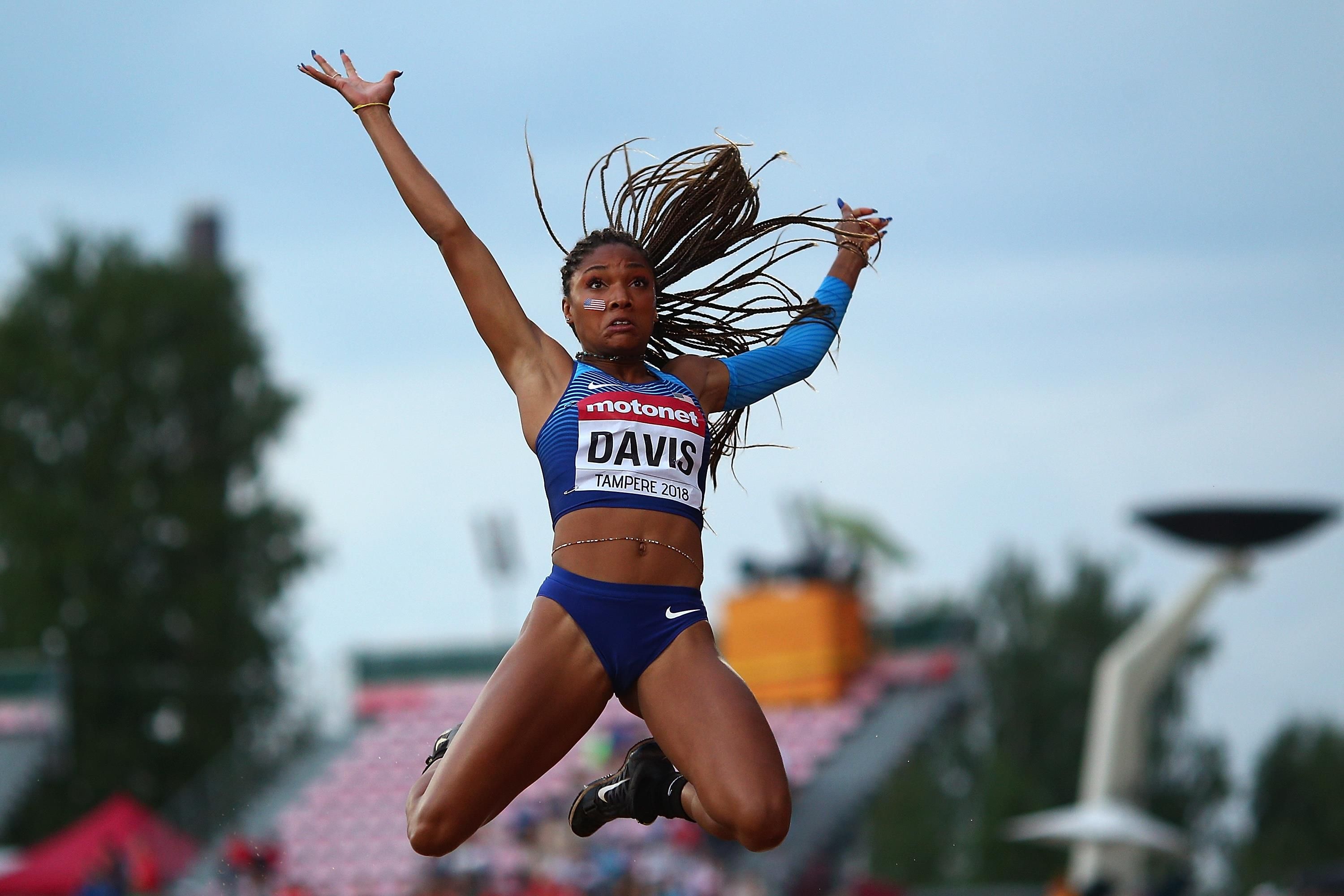 As an athlete, Floreal won a Commonwealth Games triple jump bronze medal in Auckland in 1990 and competed in the qualifying rounds of the triple jump at the 1988 Olympics in Seoul and of the long jump at the 1992 Olympic Games in Barcelona. He remains the Canadian record-holder in long jump (8.20m) and triple jump (17.29m).
As a coach, as well as his success with Harrison, Floreal has guided Omar McLeod (110m hurdles) and Kori Carter (400m hurdles) to outdoor world titles (both in London in 2017). In his time at the University of Kentucky, he also coached Jasmine Camacho-Quinn and Sydney McLaughlin.
"Coach Flo has a huge pedigree in the sport," said Davis, who hails from Agoura Hills on the outskirts of Los Angeles, also the home town of 2004 Olympic marathon bronze medallist Deena Kastor. "That's one of the things that makes him one of the best coaches in the world.
"He just has experience. He's been around the block and he knows what he's talking about. He knows everything.
"He's very passionate about track and field and he's passionate about getting people to be the best that they can be. And he works day in, day out.
"He gets up at 6am, comes to the office, and doesn't leave until 9pm. He is very determined and committed to his job as a coach and a mentor to us athletes. I think that makes him stand out with any other coach I've had.
"He truly cares about us. He just wants the best for us and wants us to be the best that we can be."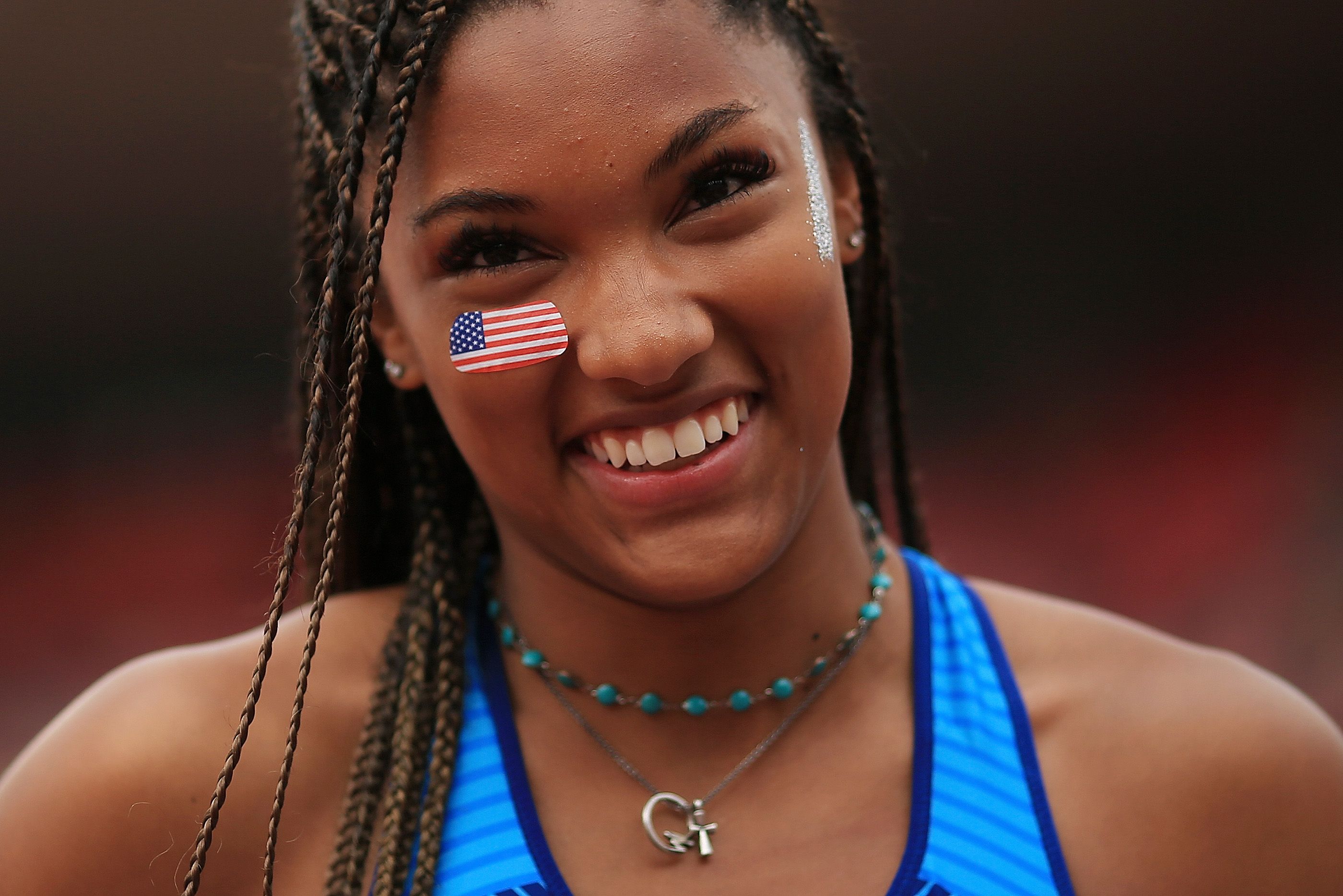 In Davis' case, Floreal has helped her to start fulfilling the potential that took her to national indoor high school (6.68m) and outdoor state (6.73m) records in 2017, eclipsing ancient marks set by Carol Lewis and Marion Jones.
In doing so, he has played his part in rebuilding confidence that Davis admits had "been shot for two years".
"Coach Flo really does help with the track side of things," Davis said, when asked about her psychology support system.
"I do have a therapist who works with the mental health and just life in general. I've been seeing her for about two years now.
"She's part of my support team. She's helped me tremendously. She was there at my lowest of lows. I talk to her about pretty much everything.
"She's been pretty good. I've seen her every week.
"I also have my parents who are part of my support team, my mom [Rayshon] and my dad [Ty]. And obviously my boyfriend, who's heard more than my therapist unfortunately.
"He's been an amazing help… with all my transferring colleges, and my transition from the worst athlete in my head to the best athlete on the world list."
Simon Turnbull for World Athletics