Christina Schwanitz celebrates her win at the 2015 World Championships in Beijing (© Getty Images)
Germany's multiple world shot put medallist Christina Schwanitz, who gained global gold in 2015, has announced her retirement from competitive athletics.
The 36-year-old shared her decision to bring her long and successful career to a close at the German Indoor Championships in Leipzig on Saturday (26), where she made the podium for one final time in front of home fans.
"Today I was proud, happy, relieved, satisfied and sad – actually every emotion that is attributed to the sport, I felt today in the hour of competition," said Schwanitz after her third-place finish in the national competition. Her goal had been to qualify for the World Athletics Indoor Championships Belgrade 22 and while she threw a season's best of 18.49m, it was not enough to place her in the top two and book her a spot on the German team for Serbia. Sara Gambetta won the competition with a throw of 19.05m, while Schwanitz's training partner Katharina Maisch was second with 18.54m, and the trio later completed a lap of honour together.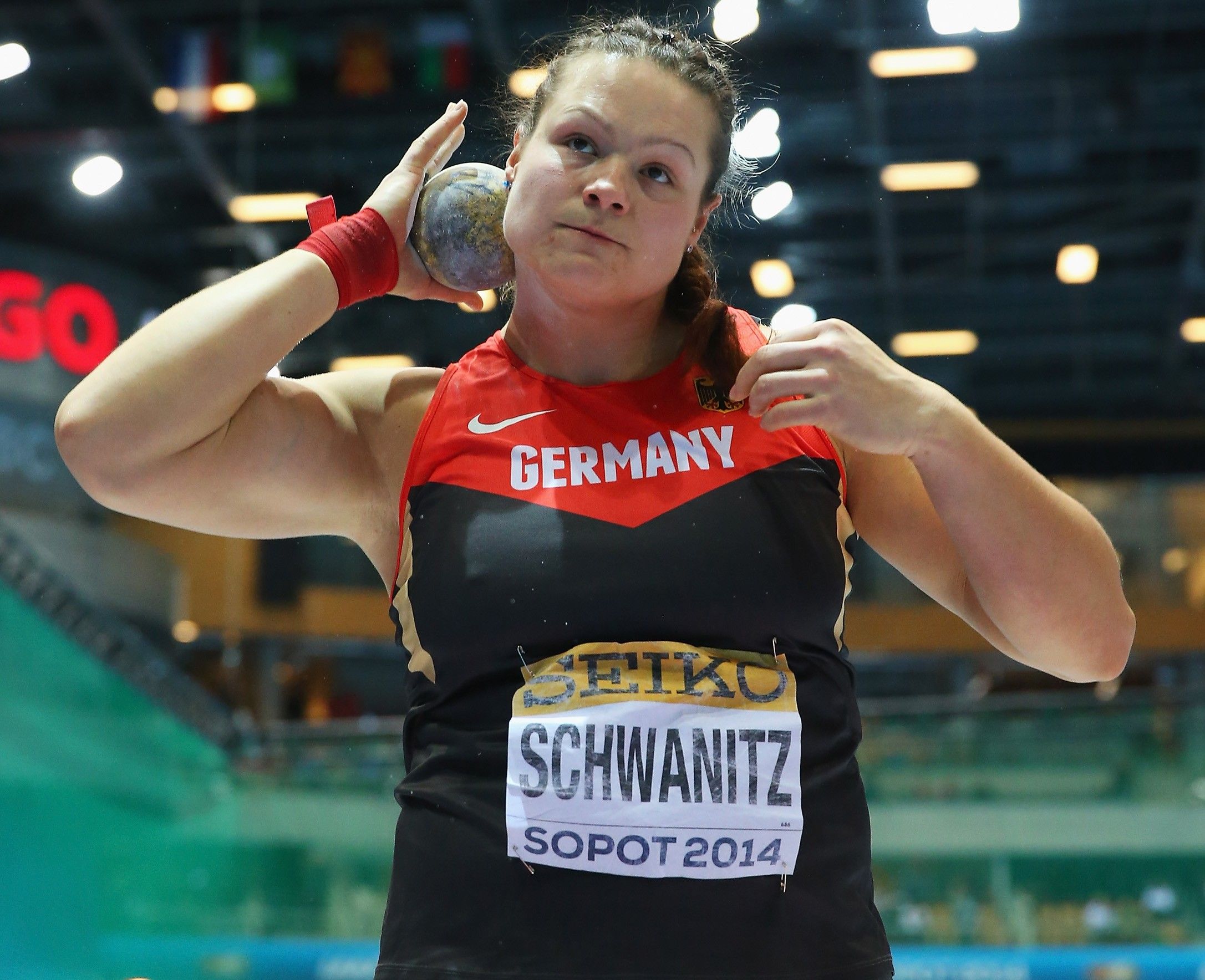 Christina Schwanitz at the 2014 World Indoor Championships (© Getty Images)

"My goal was to qualify for the World Indoor Championships in Belgrade. It's annoying that it was six centimetres too little today," she added. "It's super nice that I was lucky enough to have my last competition with spectators. I had wished for that."
Following a 20-year career, Schwanitz retires as a four-time world senior medallist and a three-time European champion. After discovering the shot put during a PE lesson at the age of 15, her first global medal came at U20 level, when she claimed bronze at the World U20 Championships in Grosseto in 2004. The following year she secured European U23 silver and she started her senior continental medal collection in 2011, when she was second at the indoor competition in Paris. She would graduate to gold in Gothenburg two years later and also won silver and bronze in 2019 and 2021 respectively, while outdoors she won European titles in Zurich in 2014 and Amsterdam in 2016, as well as silver on home soil in Berlin in 2018.



Her world title win came in Beijing in 2015, when she threw 20.37m to take the title ahead of China's Gong Lijiao and USA's Michelle Carter. Schwanitz also threw her PB in that same year and city, launching the implement 20.77m at a World Challenge meeting in the May. Two years earlier she had won her first senior global medal with silver in Moscow and in Doha in 2019 she completed the medal set with bronze. Schwanitz also secured silver at the World Indoor Championships, finishing second in Sopot in 2014.
While her own competitive career has now come to an end, Schwanitz intends to remain in the sport and help the next generation of athletes. She also plans to maintain a role with the German military, managing the education and training of coaches and soldiers.
World Athletics