Italian long jumper Mattia Furlani at the European U18 Championships in Jerusalem (© Getty Images)
On a day when 11 gold medals were decided at the European U18 Championships in Jerusalem, Israel, pride of place went to Italian long jumper Mattia Furlani and British 100m hurdler Mia McIntosh, who revised the record books in their respective events on Tuesday (5).
Furlani had already broken the championship record to lead the long jump qualifiers with 7.62m on Monday but produced a jaw-dropping opening effort of 8.04m in the final.
He is still getting to grips with the nuances of long jump technique having previously concentrated on the high jump – an event in which he also leads the European U18 lists with 2.16m this summer – after trying out the horizontal event indoors and making a spectacular outdoor debut to win the Italian U18 title with 7.87m less than a month ago. But Furlani put all the pieces of the jigsaw puzzle together in almost perfect conditions as night fell across the Givat Ram stadium, aided by a helpful 1.8m/s breeze.
He became the first European U18 athlete to jump more than eight metres outdoors and his mark on a continental basis has only been surpassed by Ukraine's Viktor Kuznyetsov, who leapt 8.12m indoors in 2003.
"I had a really good feeling with my first jump. To be honest, I didn't expect something like this at my first attempt though, especially after having gone through the qualification in the high jump just a short while before," said Furlani, who has the high jump final on Thursday morning.
Furlani confirmed, like several leading athletes in Jerusalem, that he will aim to add to his medal collection at the World Athletics U18 Championships in Cali, Colombia, at the start of next month.
McIntosh almost goes sub-13
McIntosh had laid down a marker in her heat and semifinal, running a British U18 best of 13.22 in the latter, and in the final she flew flawlessly over the barriers to set a 100m hurdles championship record of 13.05 and move up to second on the European U18 list.
She was pressed by the fast-starting Finn Essa Niskala, running one lane to her inside, for two-thirds of the race before pulling away over the final three hurdles, with Niskala taking the silver in a personal best of 13.29.
"I wasn't sure how I was going to cope with that because I've never done three rounds across two days. My coach told me I had to focus on one thing at this championship, which was my arm. I have been swinging it across, and it has taken me a while to get it back down, so that was the one tip my coach gave me (ahead of arriving in Jerusalem)," analysed McIntosh.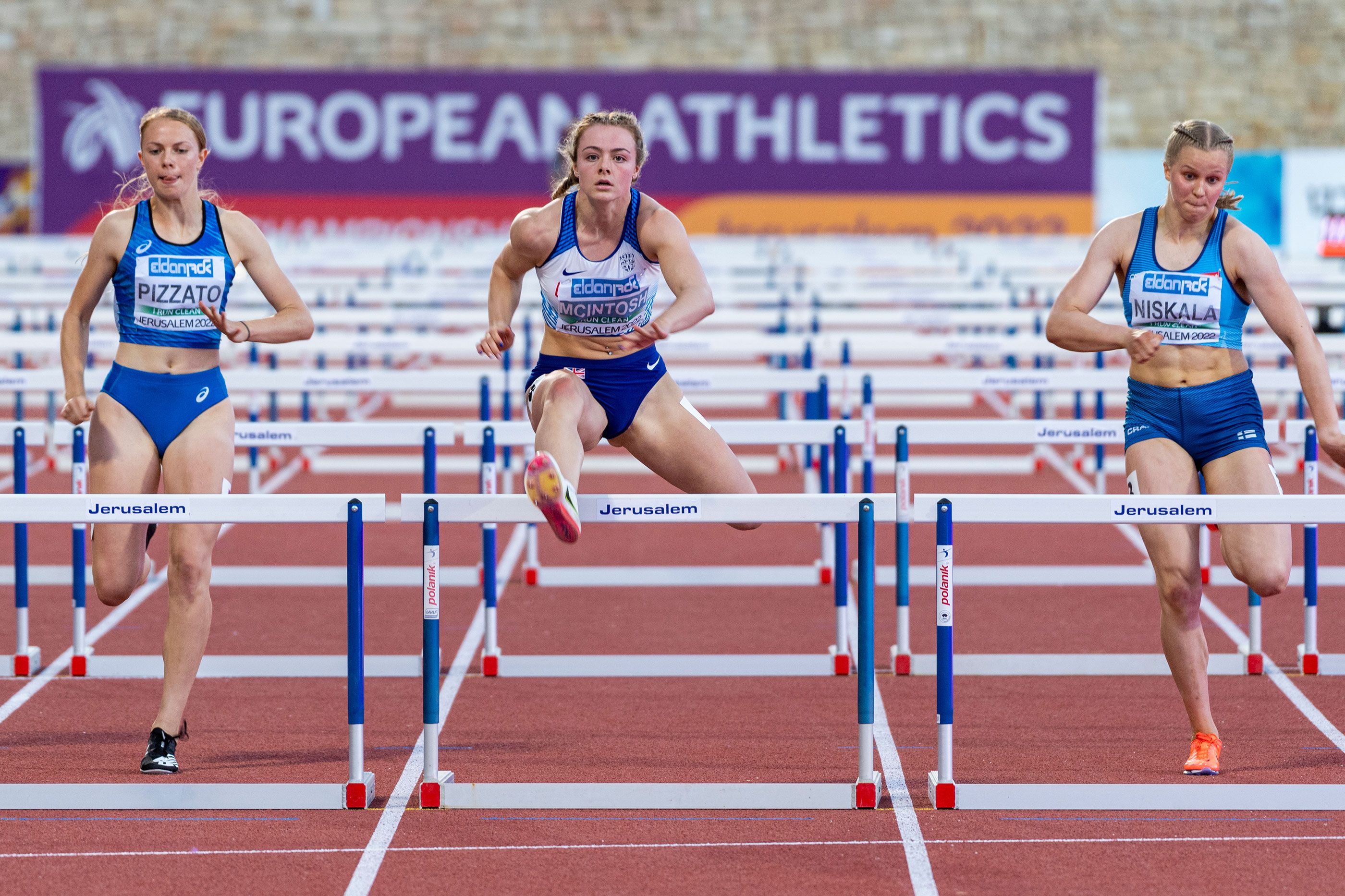 British 100m hurdler Mia McIntosh on her way to victory at the European U18 Championships in Jerusalem (© Getty Images)
Great Britain added two further golds later in the evening to top the medal table at the halfway point in the championships.
Nia Wedderburn-Goodison had positioned herself as the favourite for the women's 100m title after flying to a wind-assisted 11.30 in her semifinal. With a record-legal 1.8m/s wind behind her in the final, she dominated her rivals over the second half of the race to stop the clock in a championship record of 11.39.
Agyepong upsets the odds
If McIntosh and Wedderburn-Goodison's victories had an aspect of a prophesy foretold about them after their performances in the earlier rounds, the same couldn't be said for Cleo Agyepong's win in the shot put.
Ranked fifth on the European U18 list ahead of Jerusalem with a best of 16.46m and facing four other putters who had gone beyond 17 metres already this year, Agyepong went into new territory when she reached 17.12m in the second round and then one round later went further still with a British U18 best and European lead of 17.39m.
Nobody could respond, with Agyepong being the only competitor to go over 17 metres, and the gold was hers.
"My coach (former British international John Hillier) said that he knew I could go for 17 metres, and I felt I could do that as well. Yesterday, in qualifying, I didn't throw so well because I was so hyped up and thinking about today. This was the final so there was more at stake, I had more to lose," reflected Agyepong.
The Netherlands' Niels Laros set a 1500m championship record of 3:53.68 in Monday's heats and then completed the first half of a difficult double with a win in the 3000m on Tuesday. Carefully following the pace and any moves at the front, he then sprinted away from his three rivals for the gold over the final 250m and crossed the line in 8:11.49.
Poland's Marek Zakrzewski – who had run a championship record of 10.33 in his men's 100m semifinal – overcame a mediocre start to clinch the gold medal with an outstanding second 50m and reduce the championship record further to 10.32.
Brudin maintains the family tradition
Perhaps the most poignant win so far came in the discus, where Ukraine's Mykhailo Brudin took gold with a championship record of 64.51m.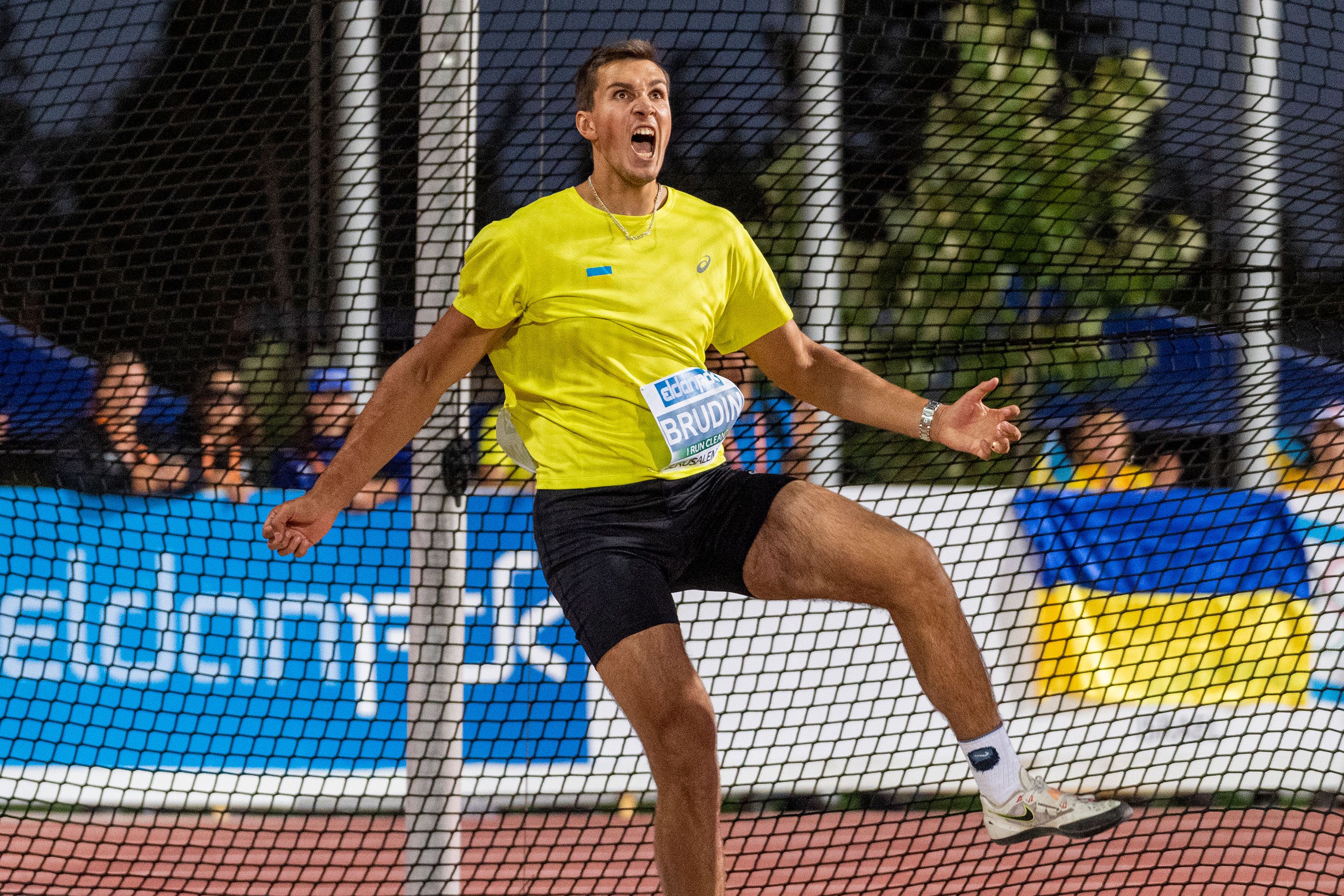 Ukraine's Mykhailo Brudin wins the European U18 discus title in Jerusalem (© Getty Images)
Brudin, whose great aunt was the 1972 Olympic champion and former world record-holder Faina Melnik, has been based in Spain in recent months following the war in his homeland.
He sent his opening effort with the 1.5kg implement out to 63.57m. This alone would have sufficed for victory, but he improved further to 64.19m in the fourth round and, with the competition won, finished with 64.51m.
Cyprus got a rare triumph on the continental stage when favourite Valentina Savva, fifth at last year's World Athletics U20 Championships in Nairobi, won the women's hammer with 70.28m, while French triple jumper Clemence Rougier added a massive 51cm to her personal best when she uncorked a second round 13.72m to effectively kill the competition for gold at that point.
Croatia's Jana Koscak won the heptathlon with a personal best of 6106 points to move up to fifth in the European all-time list, helped by an 8cm improvement in the high jump on Monday, and had a winning margin of 312 points.
But for nursing a tender elbow and only throwing a conservative 40.58m in the javelin, the penultimate event, and with a personal best almost 11 metres better, Koscak might have posted an even bigger tally.
Phil Minshull for World Athletics