Colombian 400m sprinter Anthony Zambrano (© Getty Images)
Anthony Zambrano emerged as a world-class athlete in 2019, earning 400m silver at the World Athletics Championships in Doha in a South American record of 44.15 in Doha.
In the final part of our Doha to Tokyo mini-series, we put the spotlight on the 23-year-old Colombian sprinter.
The world is gripped by a global pandemic, so how are you feeling emotionally at this moment about the season ahead?
Anthony Zambrano: I'm extremely happy to be able to race again, improve my times, chase my dreams and put all my focus into the Olympic Games.
In 2019 you made a huge leap forward in your career; what factors contributed to that?
AZ: It was the best year. My life changed completely. I was able to finally have a home of my own, I enjoyed good sponsorship – all of which led to a hugely successful season.
Leading into the 2019 season what were your aims and expectations?
AZ: I knew I was strong. I had started training with coach (Nelson) Gutierrez and assembled a proper team around me who believed in my strengths.
Were you surprised by the huge national record of 44.68 you set in La Chaux-de-Fonds in 2019?
AZ: It was, obviously, a gratifying surprise, but I knew it was possible because I'd enjoyed a great competitive US season in March/April and my training had gone according to plan.
What memories do you have of winning the 2019 Pan American title and how much confidence did it give you?
AZ: I knew I was bound for a medal, I just didn't know the colour! I was constantly improving my times and the micro-cycle of training I did prior the Pan American Games got me in the right condition to challenge the podium as we set the aim to run around 44.60 (Zambrano won the Pan American 400m title in Lima in a time of 44.83).
What were your hopes and expectations leading into Doha?
AZ: I was expecting to be in the final and my hope was to fight for a medal. I owe a huge thanks to my team – my coach, physio, manager, agent – and the love of my family and country that I was able on to win a silver medal.

WATCH: full coverage of the men's 400m final at the World Athletics Championships Doha 2019
When Kirani James went flying past you on your inside in the World Championships final, what were your thoughts? How did you keep composed?
AZ: I have a deep respect for Kirani, he is an athlete I have studied closely. In consultation with my coach we discussed a pre-race strategy that if Kirani did pass me, to follow him closely and then change gears in the final metres. I work hard every day on the mental focus in order to compete well.
How did you feel in the final 100 metres of the World Championships final? You were flying.
AZ: That is a strong part of my race, and since the group was within range, I just went for it! In my mind, every sacrifice I made in training – the pain, the muscle cramps and occasional tears – was worth it at this moment. The fuel I needed in those final few metres was just picturing the look of happiness on my mother's face when I picked up a medal.
What did it mean to you to win Colombia's first track medal at the World Championships and set a South American record?
AZ: Extreme happiness. When I was injured for most of 2017 and 2018, I told myself that if I recovered, I was going to put in all the effort necessary to become the best athlete in Colombia. The silver medal and South American record is just the beginning of something bigger.
Colombia also set a national record of 2:59.50 to place fourth in the 4x400m at the World Championships. How special was this moment for you?
AZ: It was a great feeling to place fourth in Doha and win the Pan American 4x400m title in August. We didn't train very often together but I know in the near future we will be able to produce even better results.
Why is Colombia so strong in 400m sprinting at the moment?
AZ: Because I was able to overcome many difficulties in my life, and choose wisely the best team around me (coach, physio, manager and agent). That motivated me every day to aim high, to lead by example, and inspire others.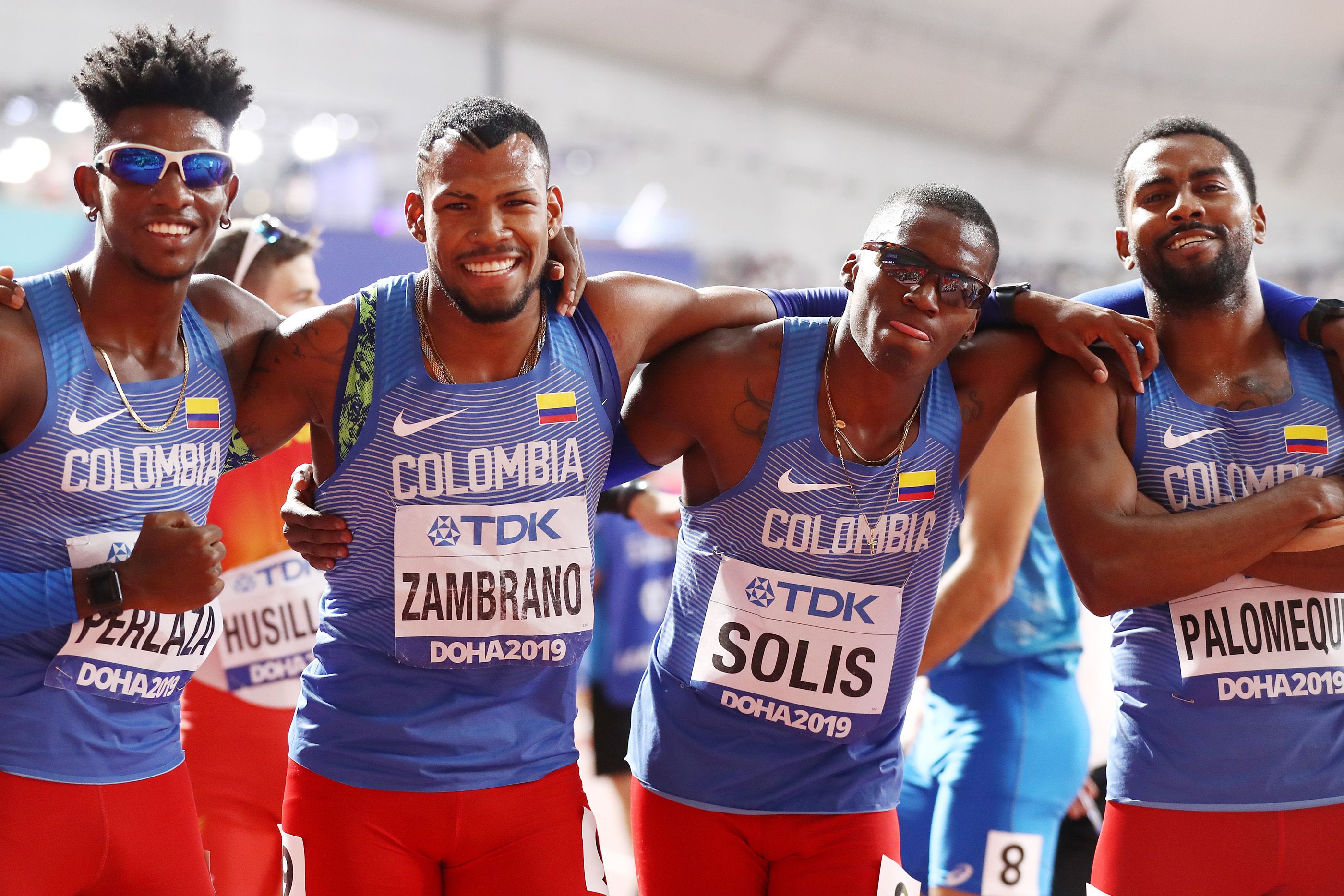 The Colombian 4x400m team at the World Athletics Championships Doha 2019 (© Getty Images)
How did winning that medal change your life?
AZ: Everything changed. After Lima and Doha, I was able to buy my mum a home, buy a car, sign new sponsorship deals and grow as a person. If all that was with a silver medal, I can't imagine what's next for me when I win a gold!
You pay credit to you coach Nelson Gutierrez and physio Caridad Martin who fed you when you had nothing. Can you explain more?
AZ: You know the quality of a human being by their generosity of heart. When I didn't have a penny in my pocket, shoes to train in and many injury worries, I almost retired from the sport. But both coach Nelson and Caridad sheltered me and embraced me like a son. They shared wisdom, care and helped rebuild me. They had total confidence in me and I moved to train in Ecuador with them.
Where is your training base and can you explain a typical training week for you?
AZ: When I´m not in my hometown (Barranquilla) or training and competing abroad, I live and train in Quito, Ecuador
My typical week is focused on strengthening my body to avoid injury. Monday: strength and sprint work. Tuesday: longer track reps in the morning and weights in the afternoon. Wednesday: track work. Thursday: am: strengthening and track work, plus gym in the afternoon. Friday: high intensity track work. Saturday: weights.
What are your qualities as a 400m athlete?
AZ: I am a good starter and very strong in the closing stages.
Can you explain what you love about the 400m?
AZ: It involves both speed and strategy. I like the fact you have to grasp the pace of the field and adapt your tactics accordingly.
When the global pandemic hit, how did it impact on your training?
AZ: It greatly impacted me. I was feeling very strong and getting ready to start the US outdoor season and then suddenly a full stop was put on the season. I had to return to my hometown of Barranquilla, tracks were closed both in Colombia and Ecuador and I was basically confined to my home for six to eight months with very little space to workout.
What was your reaction to the news that the Olympic would be postponed for a year?
AZ: I think it was the smart thing to do. Athletes like me would not have been in the best shape to perform well.
Why did you decide not to compete in 2020?
AZ: I was just not in a position to compete. As I said, tracks were closed, I was not able to train or travel and I was confined to my home for months.
Many athletes' motivation waned in a difficult 2020. Who helped keep you motivated during these difficult times?
AZ: My faith in God, composure, strong mentality and happiness for life.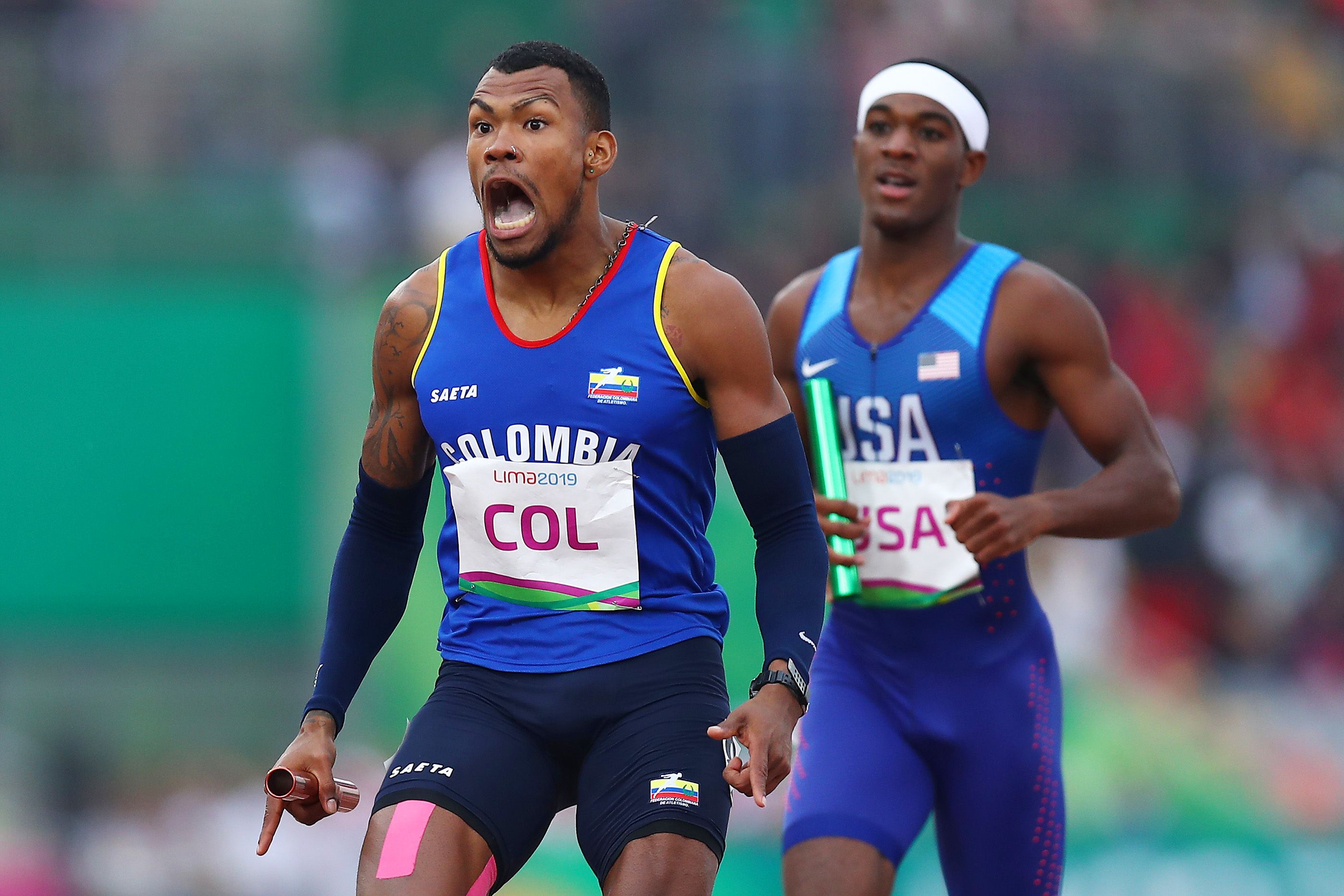 Anthony Zambrano anchors Colombia to 4x400m gold at the Pan-American Games (© Getty Images)
When did you return to full training for 2021 and how has your preparation gone?
AZ: Back in late November (2020). I'm still a few months in but very happy with the results so far.
How do you think you have improved as an athlete since the World Championships in Doha?
AZ: I have been focused on improving some key areas of the race between 200 and 300m.
When do you expect to compete once again, and when that is the case, can you describe your emotions?
AZ: I hope to race again during the US outdoor season. My coach has the final word on specific dates. Also the calendar is not very clear at the moment because of Covid.
What are your aims and ambitions for 2021?
AZ: To be a finalist in both the Diamond League and Olympic Games. I'm just hoping for a full calendar of races in the US, Europe and Asia.
How do you hope your achievements will impact Colombian athletics?
AZ: I would like to see Colombia develop into an athletics powerhouse. I hope to inspire my countrymen to believe that sport can be a vehicle of change and to nurture a philosophy to aim high, and that there are no limits.

Steve Landells for World Athletics