Yaroslava Mahuchikh at the Wanda Diamond League meeting in Eugene (© Matthew Quine / Diamond League AG)
Ukraine's Yaroslava Mahuchikh continued her winning ways with a world-leading 2.00m clearance to take the women's high jump on the first night of action at the Wanda Diamond League meeting in Eugene on Friday (27).
On an evening of touted world record attempts at the Prefontaine Classic, none actually materialised, though Burundi's Francine Niyonsaba and Ethiopia's Ejgayehu Taye turned in worthy efforts, with Niyonsaba clocking 8:59.08 for two miles – the second fastest time in history – and Taye clocking 14:12.98 for 5000m to go fifth on the all-time list.
With heavy rain expected on Saturday, three field events were switched to Friday night's programme, and in cool, dry conditions Mahuchikh looked supreme in what was her first competition since taking the world indoor title in Belgrade in March.
The 20-year-old had some nervy moments at 1.93m, clearing it on her third attempt, but a first-time clearance at 1.96m and a second-time clearance at 2.00m handed her a comfortable victory over USA's Vashti Cunningham (1.93m) and Kazakhstan's Nadezhda Dubovitskaya (1.93m).
"It was a good competition," said Mahuchikh, who has been training in Turkey for the last two months due to the war in her native country. She said she plans to compete in Wanda Diamond League meetings in Rabat, Paris and Stockholm before the World Athletics Championships Oregon22. "I missed competition, this feeling, this excitement," she said. "Two metres is a good jump to open my outdoor season."
Sweden's Mondo Duplantis continued his winning streak in the men's pole vault, the Olympic champion sealing victory with his best clearance of 5.91m. Duplantis then took three unsuccessful attempts at 6.07m. USA's Christopher Nilsen was second with 5.81m while Norway's Sondre Guttormsen took third with a national record of 5.81m.
"Winning was the most important thing but I think I'd be lying if I said I'm not bitter about making that 6.07m bar," said Duplantis. "I felt like it was very possible. I gave it three good attempts, but it just wasn't for today. I felt good jumping, it was just a situation where I barely nicked it off all three times."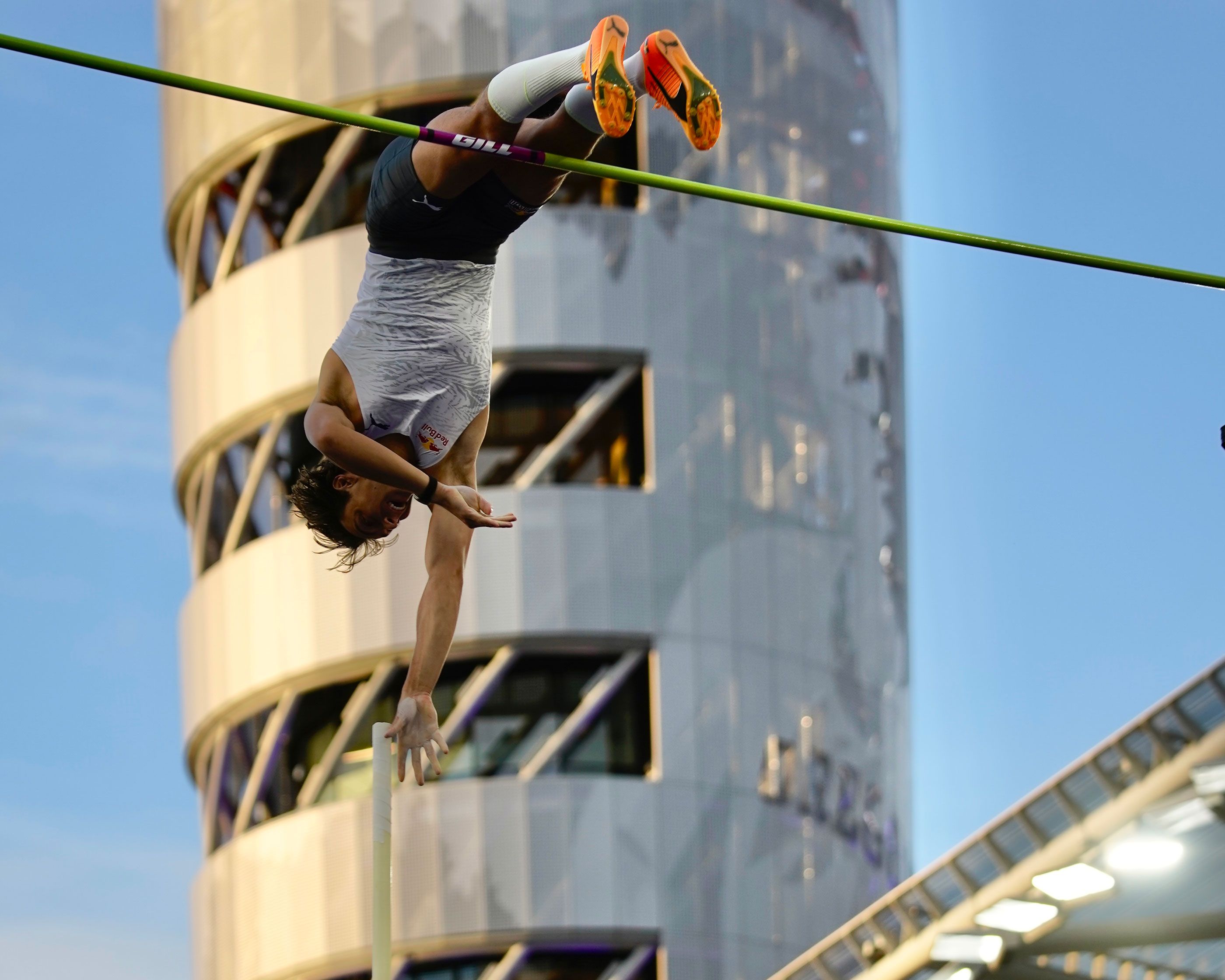 Mondo Duplantis competes in the men's pole vault in Eugene (© Matthew Quine / Diamond League AG)
In the women's discus, USA's Valarie Allman didn't quite produce the same historic throws she has of late, but the Olympic champion was once again dominant, taking victory with a best of 68.35m from the fifth round. Croatia's Sandra Perkovic was next best with 65.50m, while Germany's Kristin Pudenz took third with 62.58m.
Niyonsaba was a class apart in the women's two miles, a non-Diamond League event, the Burundian coming up just shy of Meseret Defar's world best of 8:58.58 when clocking 8:59.08. Next best was Beatrice Chebet of Kenya in 9:14.71, with Mexico's Laura Galvan third in 9:15.74.
"It was so close," said Niyonsaba. "It's not bad. I wanted the world record but I'm happy."
The women's 5000m produced, as expected, a blazing performance from an Ethiopian, but it was not world record-holder Letesenbet Gidey who proved strongest but her compatriot Taye, who powered away over the final two laps to clock a meeting record and world lead of 14:12.98, which puts her fifth on the world all-time list.
The touted world record attempt by Gidey appeared on track after she reached 3000m in 8:32.07, but it was clear when she hit 4000m in 11:24.38 that the 14:06.62 mark she ran in October 2020 was safe for another night.
Gidey's pace fell well behind the pace lights on the penultimate lap and Taye blew by her, the world indoor 3000m bronze medallist taking two seconds off her PB when hitting the line in splendid isolation. Gidey finished a distant second in 14:24.59 with Eritrea's Rahel Daniel third in a national record of 14:36.66.


Digging deep for the bell lap.

A new Hayward Field record for Ejgayehu Taye. Fastest 5,000m on US soil.#PreClassic #EugeneDL pic.twitter.com/XNS9zp0UkO

— Prefontaine Classic (@nikepreclassic) May 28, 2022

The men's 5000m was billed as a world record attempt by Olympic champion Joshua Cheptegei, but with temperatures dropping swiftly throughout the evening it was clear early on that the mark the Ugandan ran in Monaco in 2020 would be safe.
Cheptegei ran behind the pacer as 2000m was reached in 5:04.16, but he was doing all the work thereafter, towing Ethiopia's Milkesa Mengesha through 3000m in 7:41.19. Mengesha took over just before 4000m, reached in 10:24.44, with Cheptegei taking command again on the penultimate lap and kicking off the front to win in a world lead of 12:57.99, with Mengesha second in 13:01.11.
There were a pair of thrilling finishes in the US 10,000m Championships, with Joe Klecker taking the men's title in 28:28.71 and Karissa Schweizer the women's in 30:49.56.
After a steady early pace in the women's race, with halfway reached in 15:50.43, Alicia Monson cranked up the tempo through the latter half, with both her and Schweizer clocking a sub-15-minute second half.
Schweizer kicked clear off the final bend to seal victory, with Monson second in 30:51.09 and Natosha Rogers edging 2015 world bronze medallist Emily Infeld for third in 31:29.80.
The men's race proceeded at a relative crawl in the opening half, reached in 14:31.27, and a pack of 11 went into the final lap in contention for the crucial top three spots.
Grant Fisher kicked to the front and looked to have victory sealed halfway down the home straight, but Klecker fought back on the inside to edge it, with Fisher a tenth of a second behind in 28:28.81. Sean McGorty came from behind to take third in 28:29.57.
Cathal Dennehy for World Athletics