Mariya Lasitskene, winner of the high jump at the Wanda Diamond League final in Zurich (© AFP / Getty Images)
Wednesday on Sechselautenplatz must have felt like a street party for Mariya Lasitskene and Ryan Crouser as they followed their Olympic glory by becoming two of the seven Wanda Diamond League champions crowned on the first day of the Weltklasse Zurich meeting.
In another exciting women's high jump contest, Lasitskene flew to a world lead and meeting record of 2.05m to top the first ever Diamond League competition in which three women have cleared 2.01m. The leading three spots were filled by the Olympic medallists, with Ukraine's bronze medallist Yaroslava Mahuchikh this time finishing second thanks to a 2.03m clearance and Australia's Olympic silver medallist Nicola McDermott placing third with a best of 2.01m.
On the eve of the competition, Lasitskene had refused to say how it would feel to cap her year with Diamond League victory. "First let the competition finish," she smiled, "and after that I will answer the question."
But her emotion at clearing 2.05m was obvious as it secured her the fifth Diamond Trophy of her career so far, as well as the top $30,000 prize, with wildcard entries to the World Athletics Championships Oregon22 also up for grabs for winners.
All 32 Diamond League finals are taking place over two days in Zurich, with the first welcoming athletes to a temporary track and arena in one of the city's most famous squares on the shore of Lake Zurich.
The women's high jump had been highly anticipated, with each of the medallists having claimed one Diamond League win apiece since their Olympic podium places and their season's bests separating them by just two centimetres.
Lasitskene entered the competition at the opening height of 1.84m and cleared that, 1.87m, 1.90m and 1.93m on her first attempts. She needed all three tries to get over 1.96m but then refound her rhythm, making 1.99m on her first go before passing 2.01m and then managing 2.03m first time.
The next height would decide the winner and, after one failure, the authorised neutral athlete soared over 2.05m on her next try to take the title, roaring with delight. She then had the bar raised to a would-have-been PB of 2.07m and after asking for quiet for her second attempt she called it a day.
"It is an unbelievable feeling," she said. "Jumping with spectators is fantastic. The venue here is difficult and fantastic at the same time – difficult because of the track and fantastic because of the spectators. Yet for some attempts I asked them to be quiet because I needed to concentrate. This season was really fantastic."
Mahuchikh and McDermott both enjoyed perfect performances up to their final heights, clearing each bar first time before their respective bests of 2.03m and 2.01m. Mahuchikh also had one try at 2.07m after two 2.05m failures, while McDermott tried 2.05m twice after knocking the bar during her first go at 2.03m.


Another crown for Crouser
World shot put record-holder Crouser also capped a sensational season on Sechselautenplatz by securing his first Diamond Trophy win, throwing a meeting record of 22.67m in the third round and backing it up with two other 22-metre-plus puts.
Speaking ahead of the meeting, the Olympic champion explained how a win in Zurich would "really put the capstone" on a year in which he broke the world record with 23.37m at the US Olympic Trials, got gold in Tokyo with an Olympic record of 23.30m and then set a Diamond League record of 23.15m in Eugene.
A fan of street athletics meets, the US thrower put on a show for the 2500 fans in the temporary stands as he opened with 21.98m before a foul in the second round, his best in the third and then another foul in the fourth. He threw 22.29m from his fifth attempt and closed his series with 22.30m.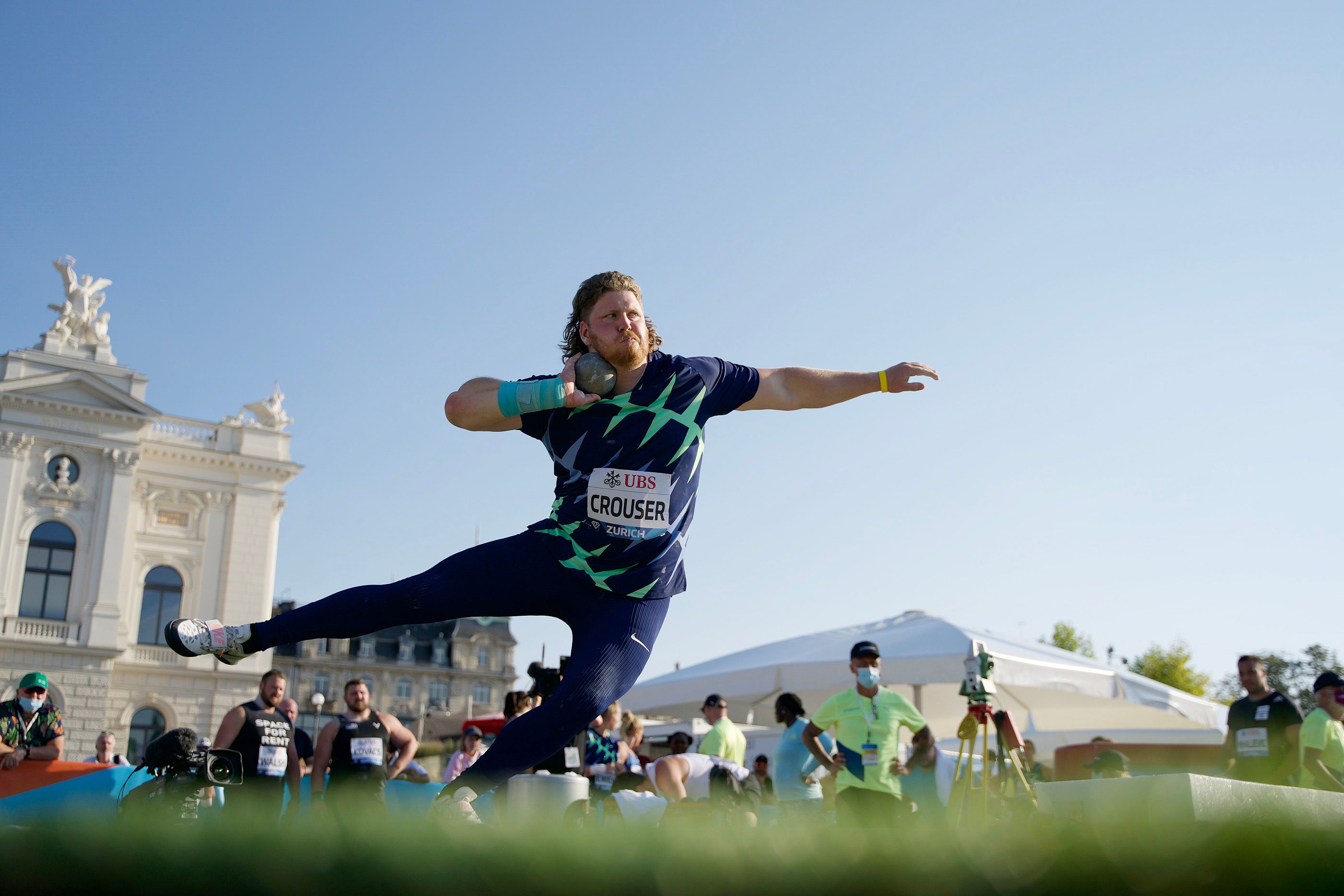 "This meeting record is a big one for me," he said. "I am very excited about this Diamond League title. I won two Olympic gold medals and have the world record, but only today I won the Diamond League Trophy. This is the best year of my career."
It was his compatriot Joe Kovacs, the Olympic silver medallist and world champion, who had led until that third round thanks to a mark of 22.29m from his second throw. That remained his best and secured him the runner-up spot ahead of Armin Sinancevic of Serbia, who threw 21.86m in the fifth round.
New Zealand's world and Olympic bronze medallist Tom Walsh finished fourth with 21.61m following an eventful competition in which he dislodged part of the throws circle.
"I'm feeling strong today," he laughed. "I gave it a bit of a boot and it came loose!"
The women's contest was won by the USA's world fourth-place finisher Maggie Ewen, as she became just the fourth athlete to win the women's shot put Diamond Trophy after Valerie Adams, Gong Lijiao and Christina Schwanitz.
Ewen, who missed out on making the Olympic team by just a few centimetres, achieved it with her best performance of the year. Peaking with a season's best of 19.41m, she was just six centimetres off her outdoor PB in the first round of the final. She then had two fouls before 18.87m and 18.98m in the fourth and fifth rounds, and ended her series with 19.11m.
As the only athlete to surpass 19 metres, her victory was secured ahead of Portugal's Olympic fourth-place finisher Auriol Dongmo, who threw 18.86m in the fifth round, and Sweden's Fanny Roos, who achieved 18.75m in the first round.
"I think I am still in shock," said Ewen. "I am super excited. For my very first throw I was very nervous, but then everything came together so well.
"My season had ups and downs but I kept working and kept believing and then you get wonderful moments like this one."


Niyonsaba takes first trophy
The intrigue of a 560m-long temporary track which saw runners race around Sechselautenplatz meant tactics came into play in the women's 5000m final, with Burundi's Francine Niyonsaba taking charge on the final lap to claim her first Diamond Trophy.
Five days after her win over the same distance in Brussels, where she clocked a national record of 14:25.34, Niyonsaba triumphed again, running 14:28.98 to hold off a fierce challenge from Kenya's two-time world champion Hellen Obiri, who was runner up in 14:29.68.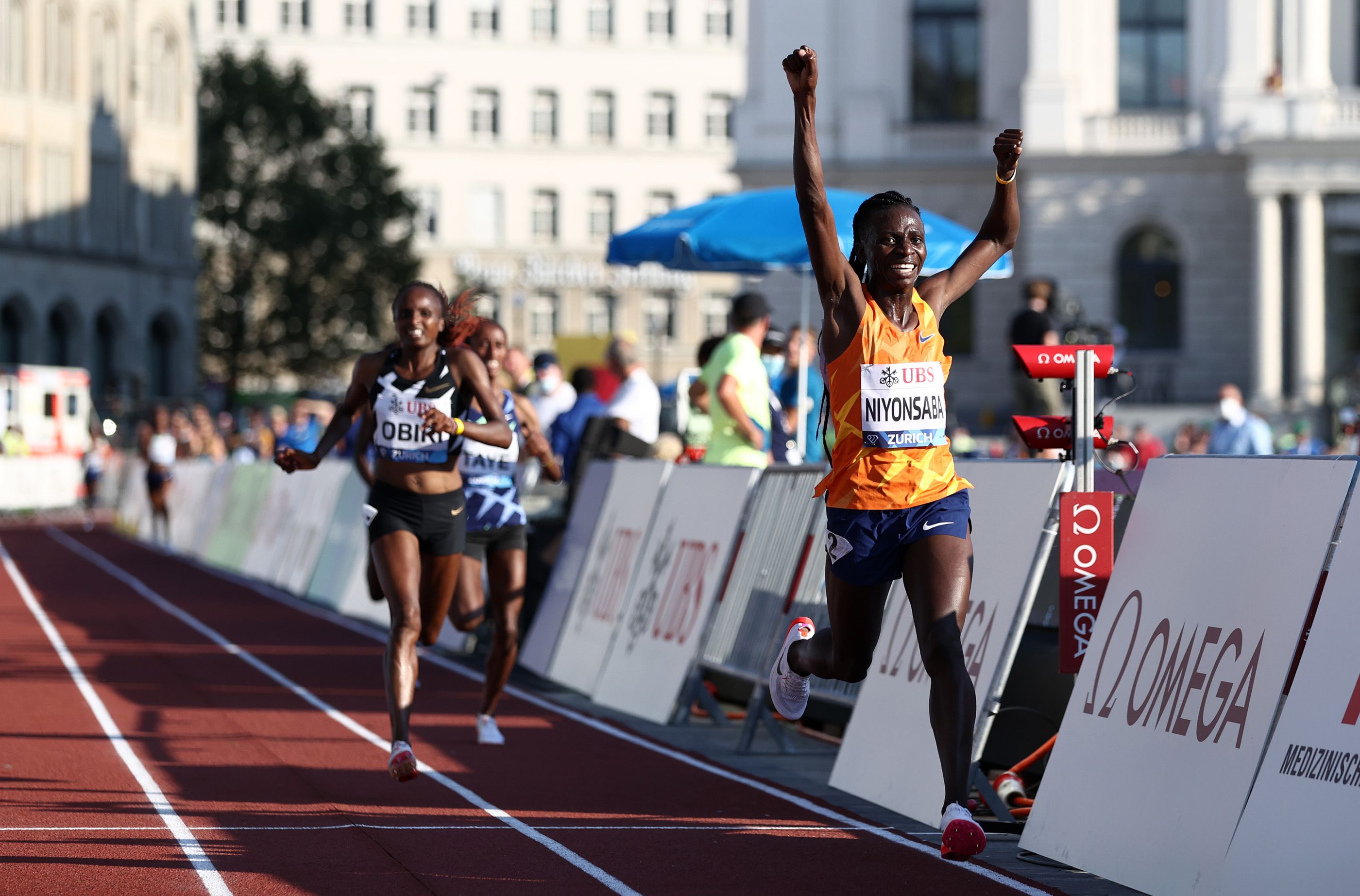 The field had followed the pacemaker through 1000m in 2:49.49, with Kenya's world silver medallist Margaret Chelimo Kipkemboi taking over by the 2000m mark (5:46.08). Obiri was to the fore at 3000m, passed in 5:46.08, before Ethiopia's Ejgayehu Taye took the lead with a kilometre to go (11:44.00). Leading a surge, that front group was soon down to five, before Niyonsaba started to make her move on the last of the nine laps.
Passing the Opera House for the final time, Niyonsaba strode on to the home straight with Obiri on her shoulder, eventually crossing the finish line clear.
"I don't know how I can express myself. I am very happy," said Niyonsaba, who had finished fifth in the 10,000m in Tokyo but was disqualified from her 5000m heat. "I knew it was going to be tough but I tried to give it all I had. I won, the first trophy of my life. I am very proud."
For Obiri the race offered the ideal transition as she starts the next chapter of her career with a focus on road racing. On Sunday she will race the Great North Run half marathon in Newcastle, UK.
"I am not disappointed, I am quite happy," she said. "This race was like a championship. It was a new experience and we did not know where we can start to kick and to accelerate. It was a memorable moment for me."
Behind them, Taye, who had finished second between Niyonsaba and Obiri in Brussels and had broken the Ethiopian 3000m record as runner up to Niyonsaba in Paris, this time ran 14:30.30 in third, while Kipkemboi was fourth (14:31.18) and Kenya's Eva Cherono fifth (14:36.88).
Ethiopia's Berihu Aregawi just missed out on a medal in Tokyo, finishing fourth in the 10,000m, but the 20-year-old took top spot in the men's 5000m final in Zurich as he ran 12:58.65 to claim a clear win.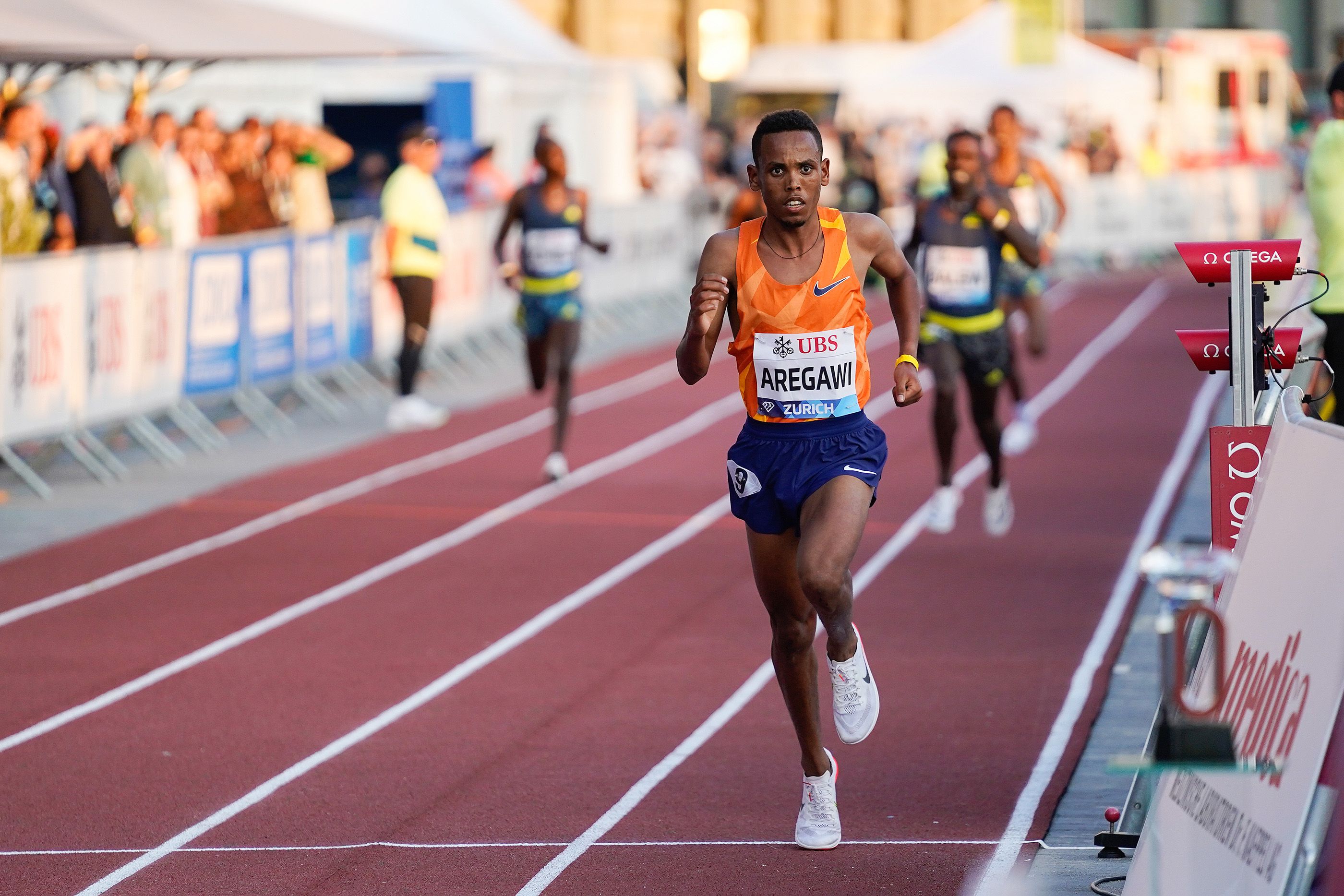 Going 10 seconds faster than his previous 5000m best, set at the Kip Keino Classic in Nairobi last year, he was unchallenged as he stormed away to win ahead of Bahrain's Olympic 5000m sixth-placer Birhanu Balew, who ran 13:01.27, and his fellow 20-year-old Jacob Krop of Kenya (13:01.81). Kenya's Nicholas Kimeli was fourth (13:02.43) and Ethiopia's two-time world indoor 3000m champion Yomif Kejelcha fifth (13:04.29).
"The time is excellent, I did not expect such a fast time," said Aregawi, the 2018 world U20 10,000m bronze medallist. "This venue in the city is good. It is the first time I have done something like this and it was wonderful, yet the curves were a bit difficult for me."


Spanovic and Montler save their best for last
Their last leaps of the competition proved to be the best for Ivana Spanovic and Thobias Montler, with the long jump titles also decided on Sechselautenplatz.
For Sweden's two-time European indoor silver medallist Montler, it was a close win over the USA's Steffin McCarter as they were separated by just three centimetres. For Serbia's 2018 world indoor champion Spanovic, who finished fourth at the Olympics in Tokyo, her performance gained her a third Diamond Trophy after her wins in 2016 and 2017.
Montler opened with 7.72m but then achieved eight-metre-plus jumps in the following five rounds, taking the lead by a single centimetre in the fifth round before extending that advantage to three centimetres with his final jump.
McCarter had leapt into the lead with 8.14m in the third round but was unable to respond to Montler's challenge, while South Africa's 2017 world bronze medallist Ruswahl Samaai recorded 7.99m to finish third.
"This victory feels amazing," said Montler. "That was the goal for today.
"The competition was really even. You know that others can always respond to you."
Spanovic, meanwhile, had opened with 6.80m and trailed Sweden's Khaddi Sagnia until the fifth round when she took the lead with 6.88m.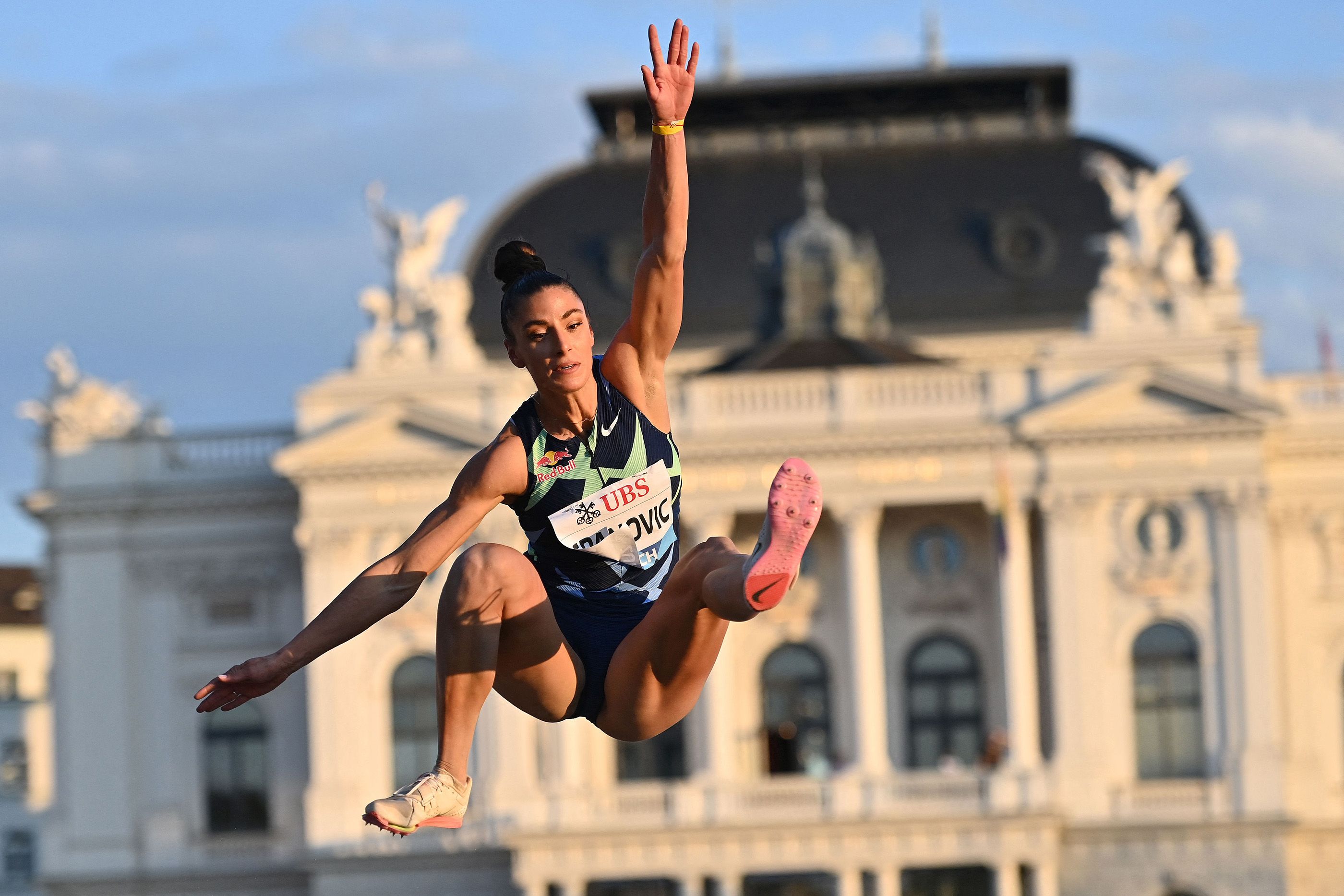 She added another eight centimetres to that with her final jump and when Sagnia could go no farther than her first-round 6.83m leap, her victory was confirmed.
Ukraine's world silver medallist Maryna Bekh-Romanchuk finished third with a best of 6.75m.
"I have missed this feeling," said Spanovic, who has endured injury struggles over the past couple of years. "I am happy that I managed to win the Diamond League Trophy for the third time, after all that I have been through in the last two years.
"Finishing on this level is a good sign for next year."
The competition continues on Thursday, when a further 25 Diamond League titles will be won in Zurich's Letzigrund stadium.
Jess Whittington for World Athletics