Mondo Duplantis signals to the crowd at the Wanda Diamond League meeting in Stockholm (© Diamond League AG)
"Every year there's something new. It's an important time for me," says Swedish pole vault star Mondo Duplantis, as he sits in the Oslo sun and considers everything he has to look forward to over the next few weeks, months and years. "I want to make my mark known and put my name out there and try to do something legendary."
Something else legendary, that is. When it comes to putting his name out there, Duplantis has been doing that his whole career. He started pole vaulting at four and set the first in a series of world age bests when he was seven (2.33m). Thirteen years and 3.84m later, he became the senior world record-holder. But the 21-year-old is not content with only flying high. Now he wants to do it on the major stage as he continues his journey to an athletics immortality.


A family affair
Duplantis always knew that pole vault was the sport for him. "I always felt like I was built to pole vault," he says. "I felt like it was meant to be – for me to be the best – and that it would work out some way or another if I just stayed the path."
That path started at the family home in Lafayette, Louisiana, where his eldest brother Andreas was his main inspiration. Six years his junior, Mondo would watch Andreas vault and be awestruck. But the family's athletics roots spread much wider than that, with his father Greg being a 5.80m pole vaulter for the USA and his mother Helena a Swedish international heptathlete. They now coach Duplantis and received the World Athletics Coaching Achievement Award in 2020, the same year in which their son claimed the Male Athlete of the Year honour following his two world record performances. All four of their children showed skill for pole vaulting, with Andreas competing until 2015 and younger sister Johanna also focusing on the discipline, while Antoine moved on to become a baseball player.



"I always thought it was such a unique event that was so fun," says youngest Duplantis brother Mondo, explaining the draw of the pole vault. "My eldest brother was my biggest inspiration. He was my idol and just watching him grow up and be so much better than me – I just wanted to be like him and follow in my brother's footsteps.
"When he was jumping four metres at a time that I was jumping two metres, I just thought that was the most crazy thing and I couldn't understand how it was possible. It was super inspirational and I wanted to keep trying to see what I could do in the sport."
Quite a lot, as it turns out.


'Iron sharpens iron'
Growing up in Louisiana, which is where Helena and Greg met at university, Duplantis had a signed poster of France's Renaud Lavillenie on his bedroom wall. It was Lavillenie that Duplantis would succeed as world record-holder and he credits the sport's big hitters with helping him to reach another level. The camaraderie within the pole vault is well known, as is the fact that the world's best never seem to shy away from competing against each other. As an example, Duplantis' two final competitions ahead of his Olympic debut in Tokyo were the Wanda Diamond League meetings in Oslo and Stockholm, where he was joined by both Lavillenie and the USA's two-time world champion Sam Kendricks – the 21st and 22nd times that the trio had come together in a three-way clash.
"My first time competing against them was when I was 17 years old and I was this rising star kinda kid that had a lot of potential, but you know how those things can go," Duplantis remembers. "From the very beginning they showed me nothing but respect and just treated me like one of the other guys. We fast forward four or five years and now we're here and the situation is a little different – I am a little older and I'm a little better now. It's just cool to see how things can change so much but at the same time relationships can stay so similar to how they were in the beginning."
Reflecting on that competition as a 17-year-old – the Prefontaine Classic in Eugene where he cleared 5.71m to finish fourth – Duplantis adds: "That was crazy, competing against them. I know that the only way to be the best is if you compete against the best – 'iron sharpens iron' kind of stuff.
"I wanted to go out there and not just dip my toes in it, I wanted to dive headfirst and compete at the biggest meet with the biggest guys. I did that and I got beat up a lot of times. I didn't win one meet against these guys in 2017. In 2018 I won a couple, in 2019 I was winning about half the meets and then 2020 it got better, so I think it was super important for me, the way that I did it."


Duplantis' pole vault progression
Age 6: 1.67m
Age 7: 2.33m*
Age 8: 2.89m*
Age 9: 3.20m*
Age 10: 3.86m*
Age 11: 3.91m*
Age 12: 3.97m(i)*
Age 13: 4.15m
Age 14: 4.75m(i)
Age 15: 5.30m
Age 16: 5.51m
Age 17: 5.90m*
Age 18: 6.05m*
Age 19: 6.00m
Age 20: 6.18m(i)* WR
Age 21: 6.10m
*world age best


Duplantis' six-metre competitions
6.05m, Berlin, 12 Aug 2018
6.00m, Fayetteville, 11 May 2019
6.00m, Stockholm, 24 Aug 2019
6.00m(i), Dusseldorf, 4 Feb 2020
6.17m(i), Torun, 8 Feb 2020
6.18m(i), Glasgow, 15 Feb 2020
6.07m(i), Lievin, 19 Feb 2020
6.01m(i), Clermont-Ferrand, 23 Feb 2020
6.00m, Monaco, 14 Aug 2020
6.01m, Stockholm, 23 Aug 2020
6.07m, Lausanne, 2 Sep 2020
6.00m, Brussels, 4 Sep 2020
6.15m, Rome, 17 Sep 2020
6.01m(i), Dusseldorf, 31 Jan 2021
6.03m(i), Rouen, 6 Feb 2021
6.10m(i), Belgrade, 24 Feb 2021
6.05m(i), Torun, 7 Mar 2021
6.10m, Hengelo, 6 Jun 2021
6.00m, Karlstad, 22 Jun 2021
6.01m, Oslo, 1 Jul 2021
6.02m, Stockholm, 4 Jul 2021

In 2012 Duplantis was a 12-year-old 3.97m vaulter, in 2016 he was 16 with a 5.51m best. Both years he remembers tuning in to the Olympic Games at home, knowing that one day he would make it there.
"I remember watching it from the couch and seeing the way that Renaud and those guys were jumping," he says. "I always thought that I was going to be in that situation – I could picture myself in the Olympic final, going for that gold and being in that 1-2 battle that Renaud was in with Thiago (Braz, in 2016) or that Renaud was in with Bjorn Otto and Raphael Holzdeppe at the Olympics before. I've always loved watching Olympic finals because it has given me so much inspiration. I don't really remember that many of them other than 2012 and 2016 – I was a bit young at that point – but 2012 and 2016 I remember watching them live and thinking 'one day I am going to be in that situation' and we're getting closer to that becoming a reality, so that's cool."
That's not to say there hasn't been some disappointment along the way. In fact, it was missing out on the world title in 2019 which helped to fuel the 2018 European champion to his world records.
"Without the 2019 World Championships loss, I don't think I would have broken the world record the following indoor season because I wanted to win so bad," says Duplantis, who went on to clear 6.17m in Torun in February 2020 and then 6.18m in Glasgow just a week later, to improve on Lavillenie's previous world record of 6.16m which had stood since 2014. Later that year Duplantis also cleared 6.15m in Rome for the highest ever outdoor vault.
"There were so many times, especially in that period from 2017 to 2020, where I had these losses that were really motivating because once you win a little bit and then you lose a little bit, you don't want to lose."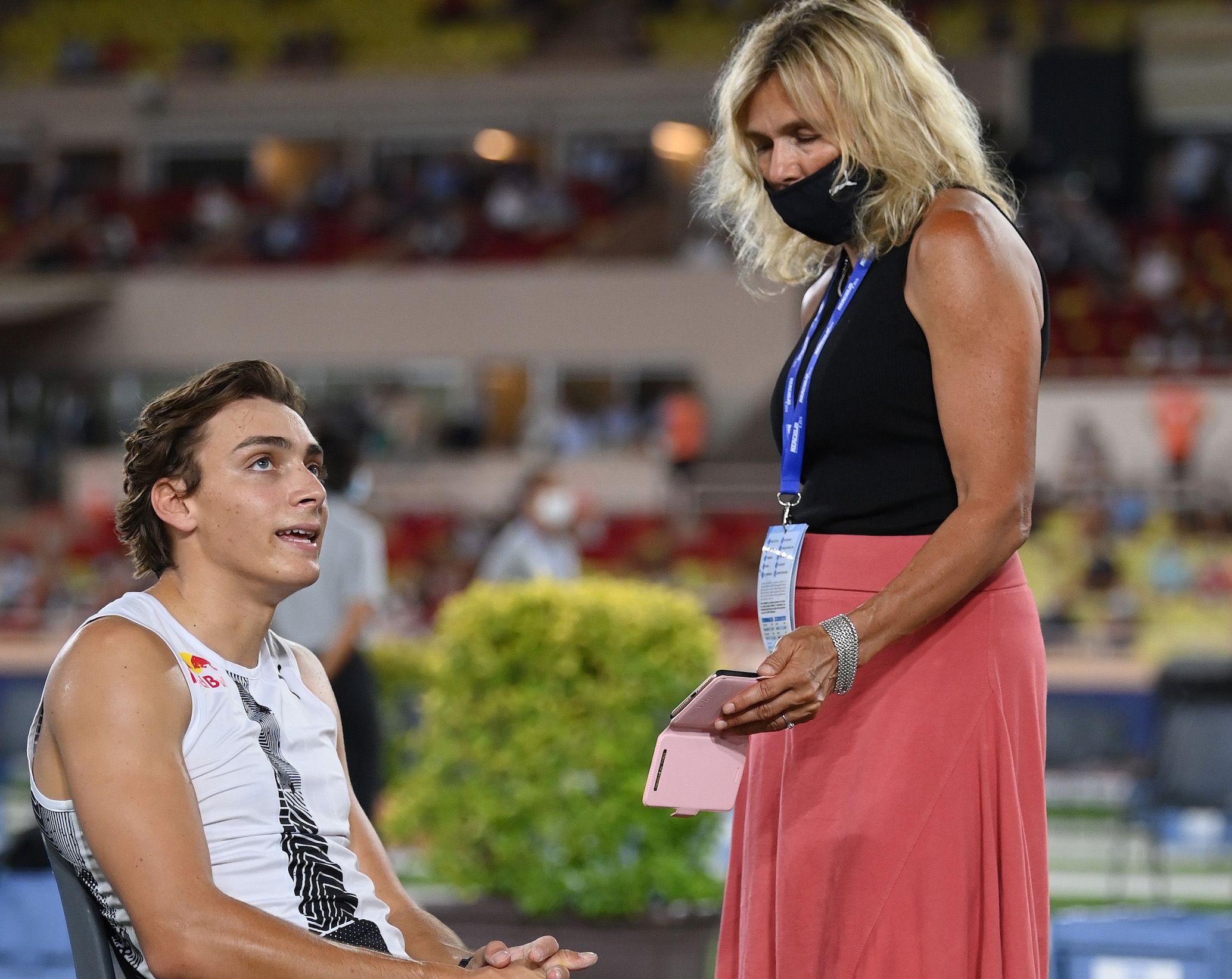 Mondo Duplantis with his mother and coach, Helena Duplantis (© Getty Images)


One of Duplantis' passions outside of athletics is golf, where "the only thing that matters is the next shot". He takes that mindset into the pole vault, too.
"I think the mindset is very similar in the sense that it's so important as an athlete to have short-term memory loss and forget about what just happened, because the only thing that matters is what happens next, and the thing that is going to happen – that's the only thing that you can control," explains the 2018 world U20 champion.
"That's how I go into every meet because it doesn't matter that I am the world record-holder or that I jumped the highest jump this year – I still have to go out there and I still have to jump. They don't care that I am the world record-holder, I don't just get the trophy right away when I show up to the meet. What just happened doesn't matter. It's only about what I'm doing in that moment."


From Stockholm to Tokyo
It certainly seems that despite soaring great heights, Duplantis still has his feet firmly on the ground. It could be nerve-racking making an Olympic debut as a big favourite, but the pressure experienced is comparable, he says, with the feeling he had returning to vault in front of a home crowd at the Bauhaus-Galan – his final meeting before the Games.
"I hadn't felt that kind of pressure on me in quite a long time," he said after a competition which he won with 6.02m and then attempted a 6.19m world record, as he also did in Oslo three days earlier. "I haven't been able to really jump in front of a full Swedish crowd since I became the world record-holder so having my family here – including my eldest brother who hasn't seen me jump since 2018, had never seen me jump six metres and is the reason I jump in the first place – was super special. Having my girlfriend and her family here, the whole home crowd rooting for me – I couldn't lose in front of them, so that's another level of it.
"The people that you want to make the most proud are the people that are close to you," he adds. "Your family, close friends, the people who have supported you from the beginning – those are the people that you want to make the most proud and those are the people that when I go to Tokyo, I am going to represent. Those people were all in the crowd today (in Stockholm) so I really wanted to perform well. I think the pressure is going to be comparable, even though Tokyo may be a bigger deal and a little more prestigious."
In 2021, at the age of 21, Duplantis has taken his tally of six-metre-plus competition wins to – you guessed it – 21. His aim will be to add to that list and get gold in Tokyo, which would be yet another vault towards that legendary status he seeks.
Jess Whittington for World Athletics