Asimenye Simwaka competes at the Tokyo 2020 Olympic Games (© Getty Images)
Some 17 months before the Tokyo 2020 Olympic Games, Asimenye Simwaka's name was only synonymous with women's football in Malawi, owing to her scoring finesse with club and country.
Simwaka had neither trained in athletics nor competed in any race in the s-shaped former British colony, which shares borders with Tanzania, Mozambique and Zambia in Southern Africa. Yet all that changed in the blink of an eye on 16 February 2020 for the fourth born in a family of seven.
In her base of Mzuzu City located in the Northern Region, fortune flirted with coincidence, giving birth to Simwaka's bouncy athletics career. On that day, the 24-year-old heard on the radio that a national cross country championship would take place a few kilometres away at Mzuzu Golf Club.
Out of sheer adventure and fun, Simwaka decided to go and witness the cross country, only to end up registering and competing with resounding success.
Little wonder, when asked about that day, that Simwaka seemed to have stored its sights and sounds in the safest corners of her memory bank away from the reach of forgetfulness.
"How can I forget that day?" Simwaka says when asked about her memories of her debut into athletics.
"I remember vividly everything about that day. I left home and went to Mzuzu Golf Club where the cross country was to take place.
"When I arrived at the club, I saw athletes registering in order to participate in the race. For a moment, I thought it was only for selected people. I went closer, mustered courage, then decided to register for participation. Being my first time, you would have thought I would go for the juniors' category but somehow, I found myself registering for the senior women's 10,000m category."
The sight of experienced runners Mary Kamwendo and Caroline Mhango did not deter Simwaka, who had arrived at the venue dressed in a pair of shorts and a vest.
Finally, the race started. Off went Simwaka, anonymous at first in the crowd of runners before finally bursting clear, one by one leaving her closest pursuers in her wake as if she were a seasoned runner.
Onlookers were stunned. Simwaka, too, was surprised by herself, even more so when she eventually won the gold medal in 42:48 after seeing off 19 other runners.
She repeated that feat by also being part of the team that claimed first place in a relay race for 10,000m.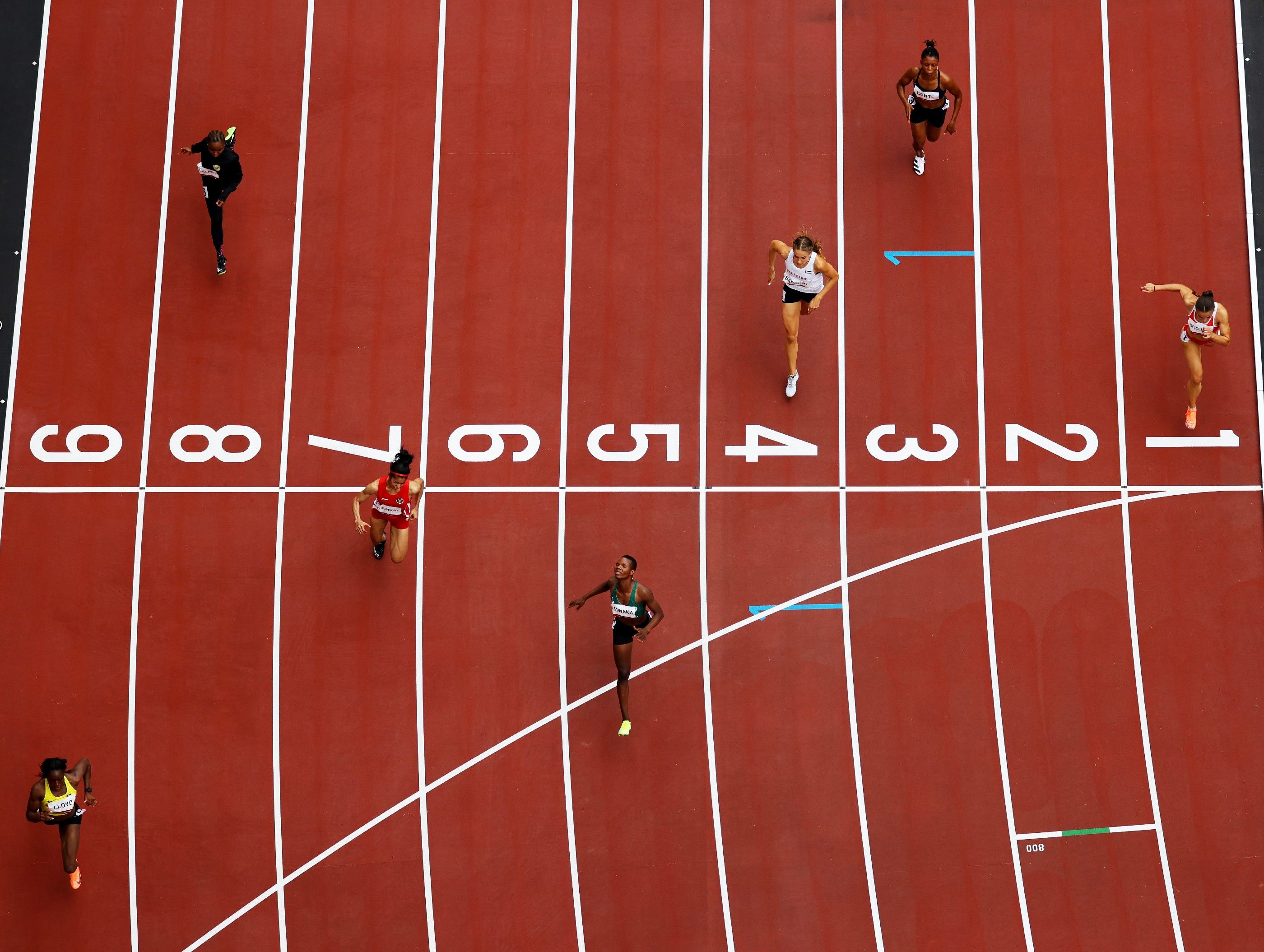 Simwaka would go on to switch cross country for sprint events (© Getty Images)

"It was just the stuff of pure dreams," Simwaka recalls. "I could not believe that I had won gold from such a field of experienced athletes. Not only was this my first-ever involvement in athletics, but also I had never been trained in athletics."
Simwaka received €37 (35,000 Malawian Kwacha) prize money and a medal.
That was not all. She received more tokens of appreciation from well-wishers, including a traffic police officer who offered to be her sponsor.
"That day, before I won the prizes, I just didn't have anything on me and I needed money badly. Thankfully, I got it," Simwaka says.
In total, she went home with €80 (75,000 Malawian Kwacha); quite a fortune considering that her parents needed money that day.
"I remember that things were not OK at home when I left, so I gave my parents part of the money to buy groceries and I spent the remainder on my personal needs," she says
Now Simwaka is the undisputed poster girl for Malawi athletics after having shattered national records in continental competitions and at the Tokyo Olympic Games.


National athletics team call-up
Winning the cross country paved the way for her call-up to the national athletics team that was preparing for the Olympic Games.
It was during the team camp that the coaching panel switched Simwaka from long distance to sprint events. Eventually, she made the athletics team that traveled to Zambia for Olympic qualifying races and her results kept improving.
She started with 24.19 for 200m at an All Comers Meet race held at the National Heroes Stadium in Lusaka, Zambia, on 10 March, also running 57.46 for 400m on the same day. Events in April and May followed.
Then, in the final qualifying tournament held in June, Simwaka broke the national 200m record at the Cameroon Championships, clocking 23.51 at the Stade Omnisports Ahmadu Ahidjo, Yaounde.
At the same venue, she ran 52.57 for 400m, getting mightily close to becoming the first athlete from Malawi to qualify for the Olympics.
"I was milliseconds away from qualifying," she said. "I challenge you that with adequate training, incentives and better facilities, I can make it and become the first-ever qualified athlete from Malawi."
While Asimenye did not earn Olympic qualification, she did make the Malawi team for the Games on solidarity.
Once at the Olympics, Simwaka clocked 11.76 to finish second in the 100m preliminary round, breaking Susan Tengatenga's 12.25 national record which had stood for 12 years. She then improved to 11.68 to finish eighth in the first heat.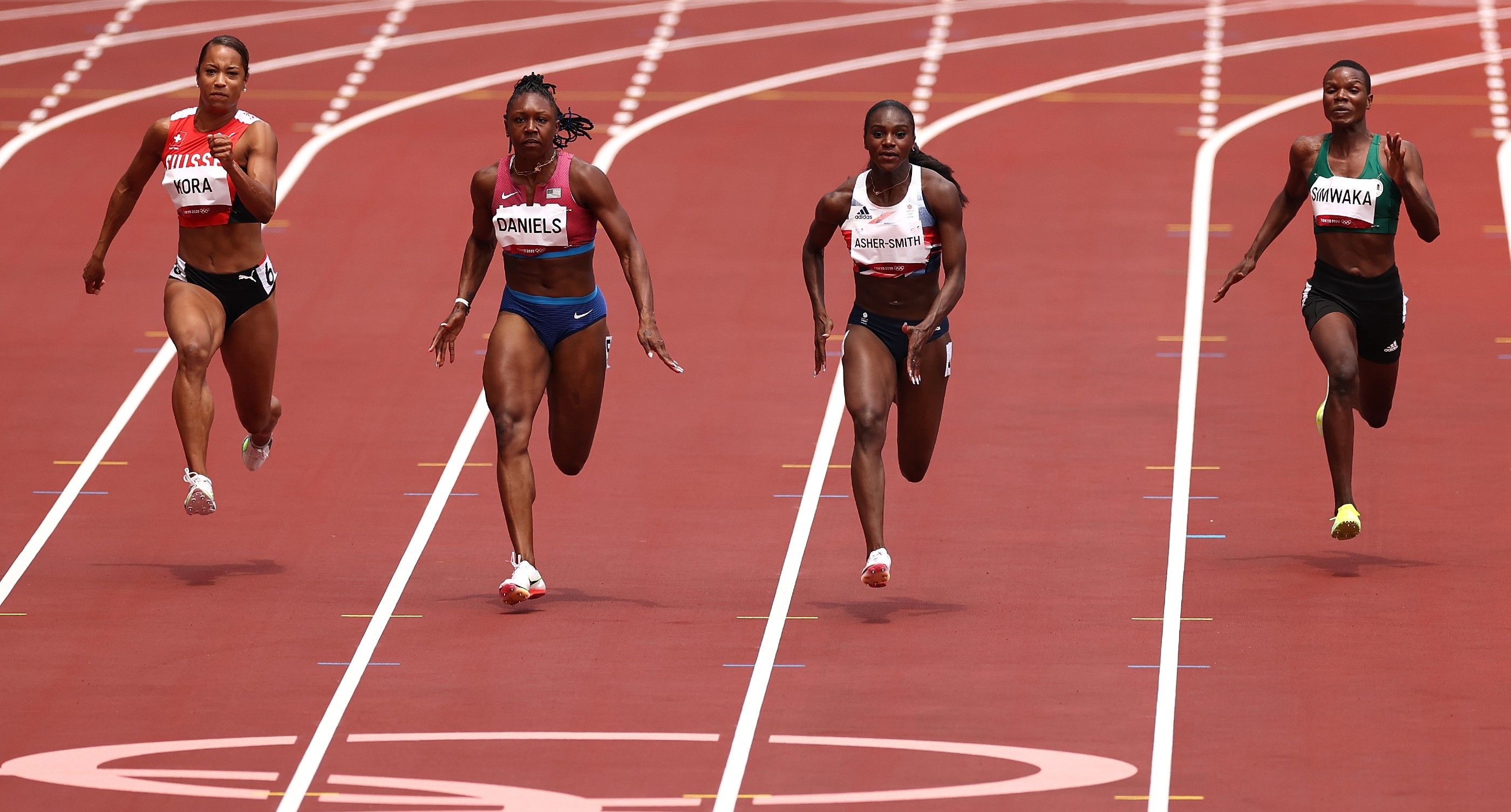 Asimenye Simwaka races in the first 100m heat at the Tokyo 2020 Olympic Games (© Getty Images)

Such a record was not enough for Simwaka to reach the semifinals, but she earned a ticket to the African Championships and learned a lot at the Olympics after rubbing shoulders with some of the best athletes in the business.
"I learnt that winning a race is also about how you start," she says. "Previously, I would start a race anyhow, but I realise that the acceleration has to start with the speed of the feet."
There is no doubt that Simwaka is now Malawi's trending star athlete; a holder of national records in the 100m, 200m and 400m.
All that for an athletics career barely six months old.


Balancing football and athletics
As soon as Simwaka returned from the Olympics, she switched her allegiance to her first love, football, as a key member of Mzuzu-based top club Topic Sisters and the national team.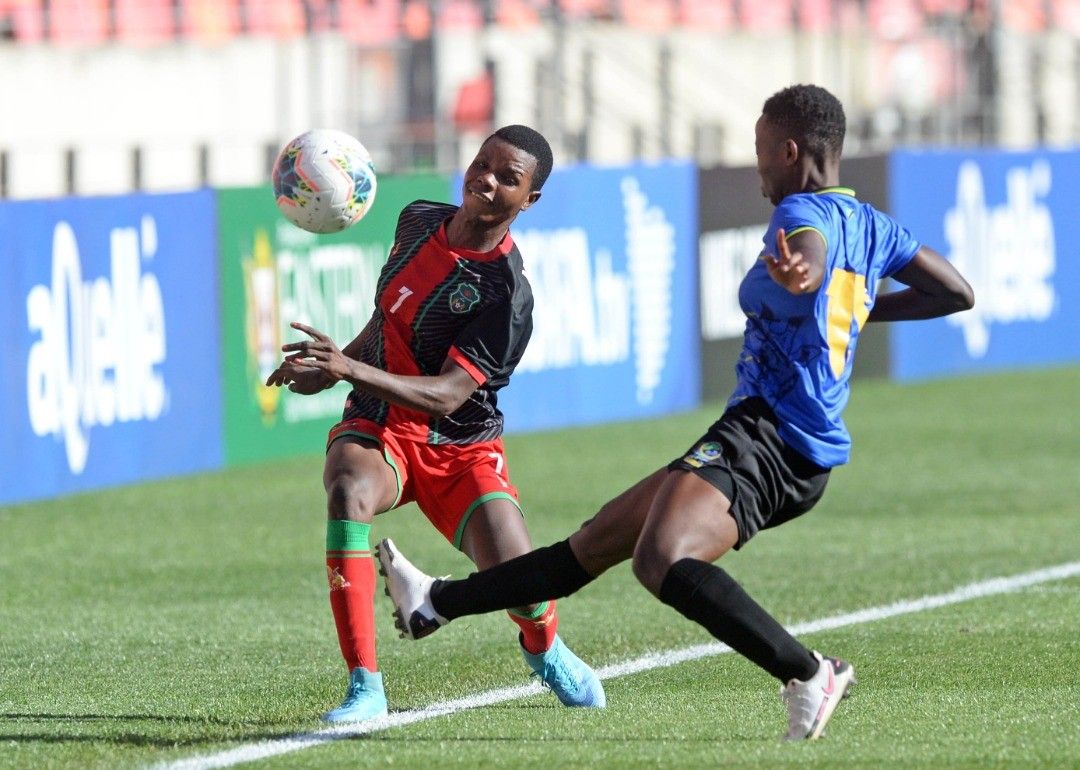 Footballer Asimenye Simwaka (© Malawi Olympic Committee and Football Association of Malawi)

Soon she joined Malawi camp training ahead of the COSAFA Women's Championship in Port Elizabeth, South Africa. At the same time, the Athletics Association of Malawi (AAM) came calling, asking that the Football Association of Malawi (FAM) release the footballer turned sprinter to participate in a national championship at Bingu National Stadium in Lilongwe.
Simwaka did make the women's football team for South Africa, where Malawi lost 2-1 to South Africa and beat Angola 2-0 and Mozambique 3-2 in the group stages before sneaking through to the semifinals.
In the last-four stage, Malawi met South Africa again and this time around, Simwaka helped the squad to beat the hosts 3-2 to reach the final for the first time.
Malawi eventually lost 1-0 to Tanzania in the final, played at the Nelson Mandela Bay Stadium, but such a defeat did little to dampen the contribution of Simwaka and the national team. A day after their arrival from South Africa, Malawi President Lazarus Chakwera hosted the women's football team for a dinner at the State House in the capital Lilongwe, where each player received money as a token of appreciation.
With such success in both sports, Simwaka's sights remain on both the running track and football field, despite the different dynamics of the two disciplines.
"I cannot say which one is easier," she says, "but with football, you need to exercise caution to avoid injuries as the game involves physical contact, whereas in athletics, you focus on yourself."
Peter Kanjere for World Athletics