Elliot Giles at the World Athletics Championships Doha 2019 (© Getty Images)
Elliot Giles vividly recalls the turning point in his career.
It didn't occur in the competition arena or on the training track. Instead, it happened at a karaoke night at the student union of St Mary's University.
"This one day at university I remember really struggling with my work and I was unable to put sentences together, so I left the library confused and in a huff," he says. "As I was walking past the student union, there was a karaoke going on. Then I remembered the promise I'd made to myself."
Just one year prior, Giles had been involved in a motorcycle crash. As a result, he suffered a damaged posterior cruciate ligament, a torn gluteal, a severe hematoma on his back and brain damage.
"The physical recovery involved six months of hellish pain, but the mental recovery took a lot longer and was more difficult," he says. "When you've got brain damage, you don't really know what's going on. I felt quite lost for a long time, and being away from home made it harder. I even had to learn to read and write again.
"It forced me to learn more about myself, and I decided to start doing the things that scared me."
And, having a fear of speaking or performing in public, he was reminded of his pledge on that day at university. He duly headed into the student union bar and asked the DJ if he could have a turn at karaoke.
"I picked the rudest song you could ever think of – Colt 45 by Afroman – because I figured that if my performance was bad I could at least make people laugh," he says. "I did it, though.
"It was awful, but I remember walking off the stage and thinking, 'if I can do that, then there's no reason to be afraid of anything'."
He faced some of his other fears, too. He climbed some floodlights in Portugal in a bid to conquer his fear of heights. Shortly after, back in the UK, he fixed up the motorbike on which he had a crash, then drove it all the way to London. "My mom went absolutely crazy at me," he recalls.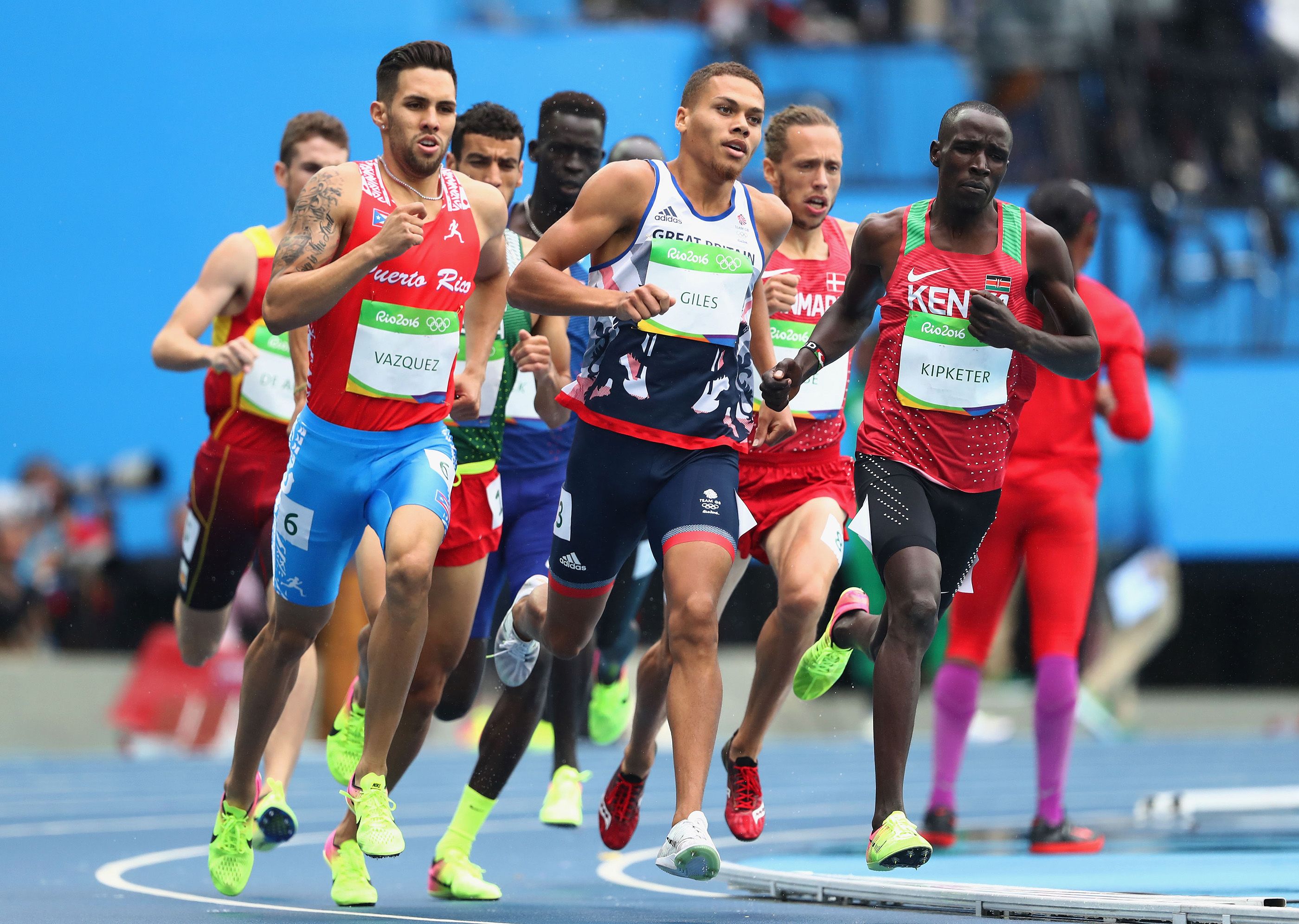 Elliot Giles (centre) in action at the Olympic Games in Rio (© Getty Images)
His approach – not just in his recovery from the crash, but in many aspects of his training – may be unorthodox, but it is clearly working. Just 18 months after his crash, having had to learn to walk again, as well as recover from brain damage, he won the UK 800m title, took bronze at the European Championships and represented Great Britain at the 2016 Olympic Games in Rio.
His progress since then has continued, and he has competed at the last two World Championships and finished fourth at the 2018 World Indoor Championships. More recently, he went undefeated over 800m during the 2021 indoor season and capped his campaign with a national indoor record of 1:43.63 in Torun, elevating him to second on the world indoor all-time list for 800m.
But had the crash not happened, Giles says, he may not have even reached the elite level at all.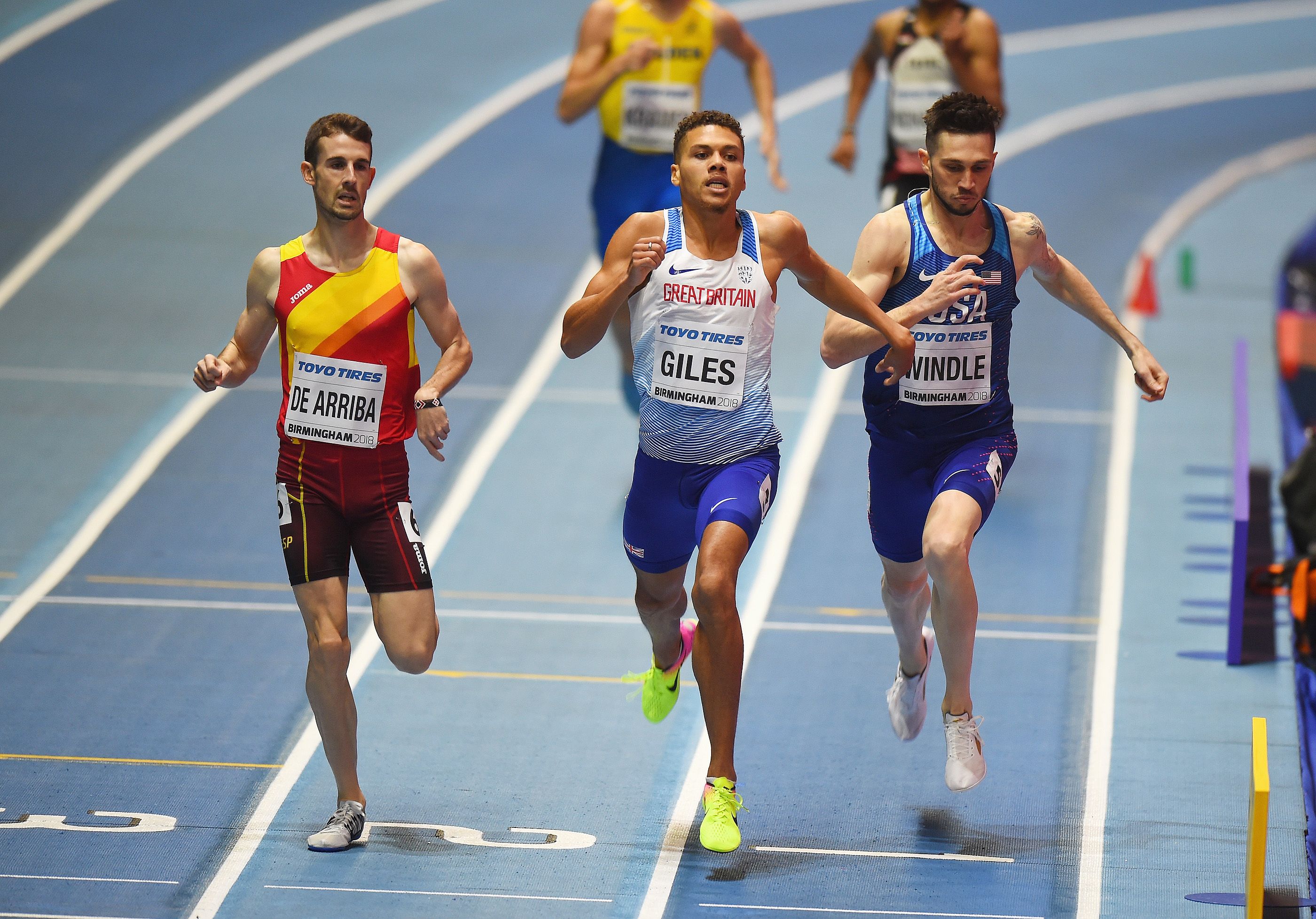 Elliot Giles in action at the World Indoor Championships Birmingham 2018 (© Getty Images)


Rebuilding the foundations
After taking up athletics at the age of 15, Giles enjoyed a couple of years of promising results before injury at the start of 2012 halted his progress. The persistent injuries kept him out of action for the best part of two years – and then came the motorbike crash.
"The crash actually reset things and forced me to slow down," says Giles. "Before that, I was quite obsessive with my training and I'd always end up doing too much, getting stuck in a vicious cycle of injuries and recovery.
"Although it was painful, the crash was probably the best thing that happened to me. It made me far more resilient mentally and slowed me down to the point where I had to chill out and do things slowly while I rebuilt the foundations."
Working under the guidance of coaches Jon Bigg and Dan Stepney at Phoenix Track Club in Brighton, a big part of Giles' rebuilding process has involved finding out what works best for his injury-prone body.
"We only run three or four times a week, max," says Giles, who was born and raised in Birmingham but now lives in Surrey. "We only ever – and I must stress this – do three running sessions a week, plus maybe one session of drills. We've kind of figured out how my body works. Everyone else pings out 60-plus miles a week, but I ping out 15-20, yet I can still compete with the best.
"I still train on my other non-running days, I'm still smashing the Elliptigo," he adds. "I'd argue I probably cross-train better than anyone else in the world."


View this post on Instagram

Giles didn't change anything with his approach to the 2021 season. It was simply a case of building on the foundations.
"We haven't changed anything in training, we've just been consistent," he says. "Prior to last year, I'd typically tear my calf about three times a year, and each time I'd have to take three to six weeks out. But since the end of last summer, I've missed only 10 days of training. For me, that's unheard of. Even the year before, heading into 2020, I missed about six to eight weeks of training and I still had a good summer.
"I've just been consistent as I can be," he adds. "It's not always about how talented you are; consistency will trump that every single time."
Giles' adaptability and resourcefulness extends beyond training, too. Back in 2018, as a way of saving money at a time when he wasn't earning much from the sport, he bought a second-hand disability bus and turned it into a mobile home.
"I lived in it for six months and managed to save enough money to get a place of my own," he says. "In all honesty, the novelty wore off very quickly, but I still use the bus now when I travel down to Brighton for training sessions, sometimes staying in it overnight. It's got heating, a toilet, a shower, an oven, a fridge – everything I need."


View this post on Instagram

It's no wonder, then, that Giles has been able to make the most out of the difficult situation in the wake of the coronavirus pandemic.
"Darwin said it's not about who's the smartest or the best; it's whoever's the most capable of adapting is the one who thrives," reasons Giles. "We've adapted to the pandemic and we've continued training and working and we've excelled. It's worked out really well."
Record run
Following a season opener of 1:45.50 at the World Athletics Indoor Tour Gold meeting in Karlsruhe, Giles knew he was capable of going significantly quicker.
"Whatever I start my season with, I know I'll go on to improve by about two seconds," he says.
He ran a marginally quicker 1:45.49 in Lievin two weeks later, then sat down with his coaches and studied his splits from his first two races, working out where he'd been going too slow and where he had made any errors. They then devised a plan for his next race, at the World Athletics Indoor Tour Gold meeting in Torun on 17 February.
"I knew exactly what I needed to do to run a British record," says Giles. "I knew where I needed to hold my form and where I needed to push on. Everything went to plan and I felt far more comfortable than I thought I'd feel. It was just one of those races where I had the balance just right.
"Over the years I've learned how to run an 800m; like any skill, it's something that has to be learned. I know how I should feel at each point." he adds. "So when the pacer in Torun went off quite fast for the first 200m, I knew not to go with him. I got to 400m and still felt quite comfortable. I could feel that the pace was good and solid too, and I knew that I didn't need to pick it up. Jamie (Webb) came on my shoulder just after half way and I thought, 'damn, it's too comfortable, you need to push on'. It all worked out well in the end."



But despite smashing Seb Coe's British indoor record and becoming the second-fastest man in history for the distance indoors, Giles refuses to get carried away. With the current depth in the UK, he knows there are no certainties when it comes to Olympic selection.
"I've got to make the team first," says Giles, who trains alongside 2017 world 800m finalist Kyle Langford and Olympic 1500m finalist Charlie Grice. "There are so many good guys in the UK at the moment.
"Let's be honest, I've only run 1:43 once," he adds. "I need to back it up before I can consider myself a contender (for Olympic medals). You're only as good as your average races, so I would say at the moment I'm a solid 1:45 runner and if the stars align I can run a 1:43. I know I can run 1:45 by myself, but until I can run 1:43 by myself, I'm not a 1:43 runner.
"The moment you put yourself on a pedestal is the moment you're there to be shot at. I'm certainly not on a pedestal and I know other guys will have seen what I've done so I need to step my game up so I can keep doing the same."
Stepping up
In among his 800m outings this year, Giles contested a couple of 1500m races on the indoor circuit, clocking outright PBs of 3:37.61 and 3:36.90 to move into the UK indoor all-time top 10.
His staggeringly low mileage makes his 1500m feats all the more impressive, but Giles says his natural endurance is one of his biggest strengths and he's keen to tap into that in future.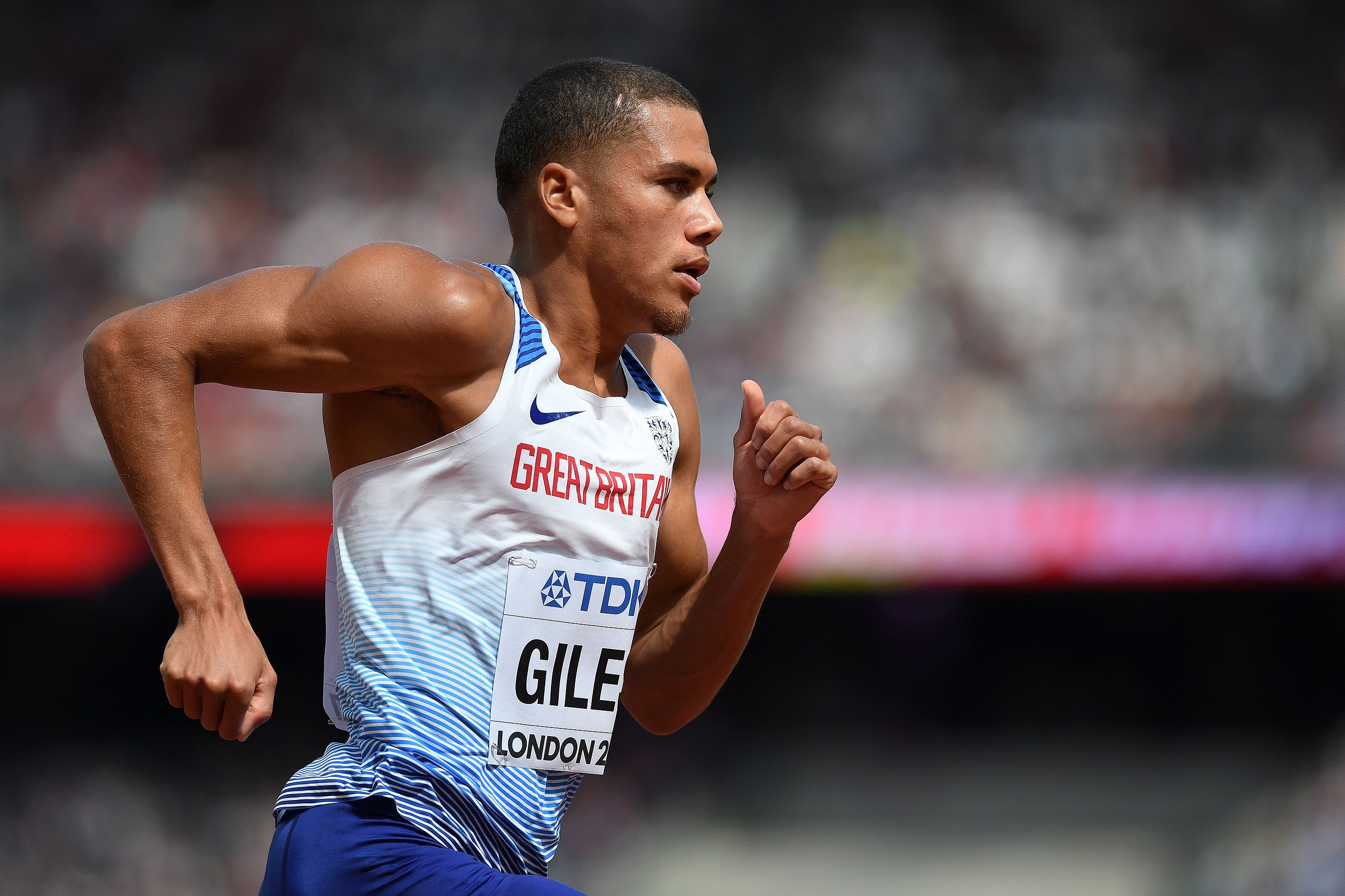 Elliot Giles at the World Championships London 2017 (© Getty Images)
"I'm really good over the longer stuff," he says. "Naturally my abilities definitely lie more with endurance than speed. Although I do stupidly small mileage, I think – and I must stress that it means nothing until you do it – I could be just as good over the 1500m as I am in the 800m.
"After I ran 3:37 and 3:36 this indoor season, I realised that if I learn how to run this event properly, I could run very, very quick. That's not going to happen in a couple of races, that's going to take time. And at the moment the 800m is going so well, so I don't want to invest too much time in the 1500m. But the 1500m definitely helps the 800m.
"Ultimately I think I will end up in the 1500m," he adds. "I've only done 3:36 so far, but I think we will be trying to target something in the low 3:30s outdoors this year."
For now, though, the 800m remains his No.1 priority. And having recovered from a motorbike crash and conquered many of his other demons along the way, Giles now fears no one each time he takes to the start line.
Jon Mulkeen for World Athletics