Oliver Hoare wins the 1500m at the New Balance Indoor Grand Prix (© Getty Images)
Ollie Hoare went to the World Athletics Indoor Tour meeting at Ocean Breeze Athletic Complex on New York's Staten Island on 13 February to run the 1500m with one thing in mind.
"We'd had a good training camp in Scottsdale (Arizona) and the goal was to run an Olympic qualifier and make a statement," Hoare relates.
"We certainly did that," the 24-year-old from Sydney's southern suburbs adds, this time with considerable understatement. Three minutes 32.35 seconds after the sound of the starter's gun, Hoare had improved his outright personal best by more than two seconds, leaving 3:29.47-man Jake Wightman a similar margin behind and smashing Stewart McSweyn's Australian and Oceania records by almost three seconds.
"As a season opener, it was kind of crazy," Hoare observes.
"It certainly was, Ollie," Stan Laurel might have put it. Quite the dramatic impact. But if Hoare wants to binge athletics drama, he need not even venture out of his Australian family home. His father, Greg, is an old running mate of Andrew Lloyd's who pulled off one of the most dramatic wins in Australian Commonwealth Games history in Auckland in 1990, running down Olympic champion John Ngugi in the final straight of the 5000m.
"Andrew and Dad are great mates," Hoare says. "Once Dad found the footage of that race on the net, he would play it over and over.
"I've seen that race about a million times," Hoare adds with a laugh.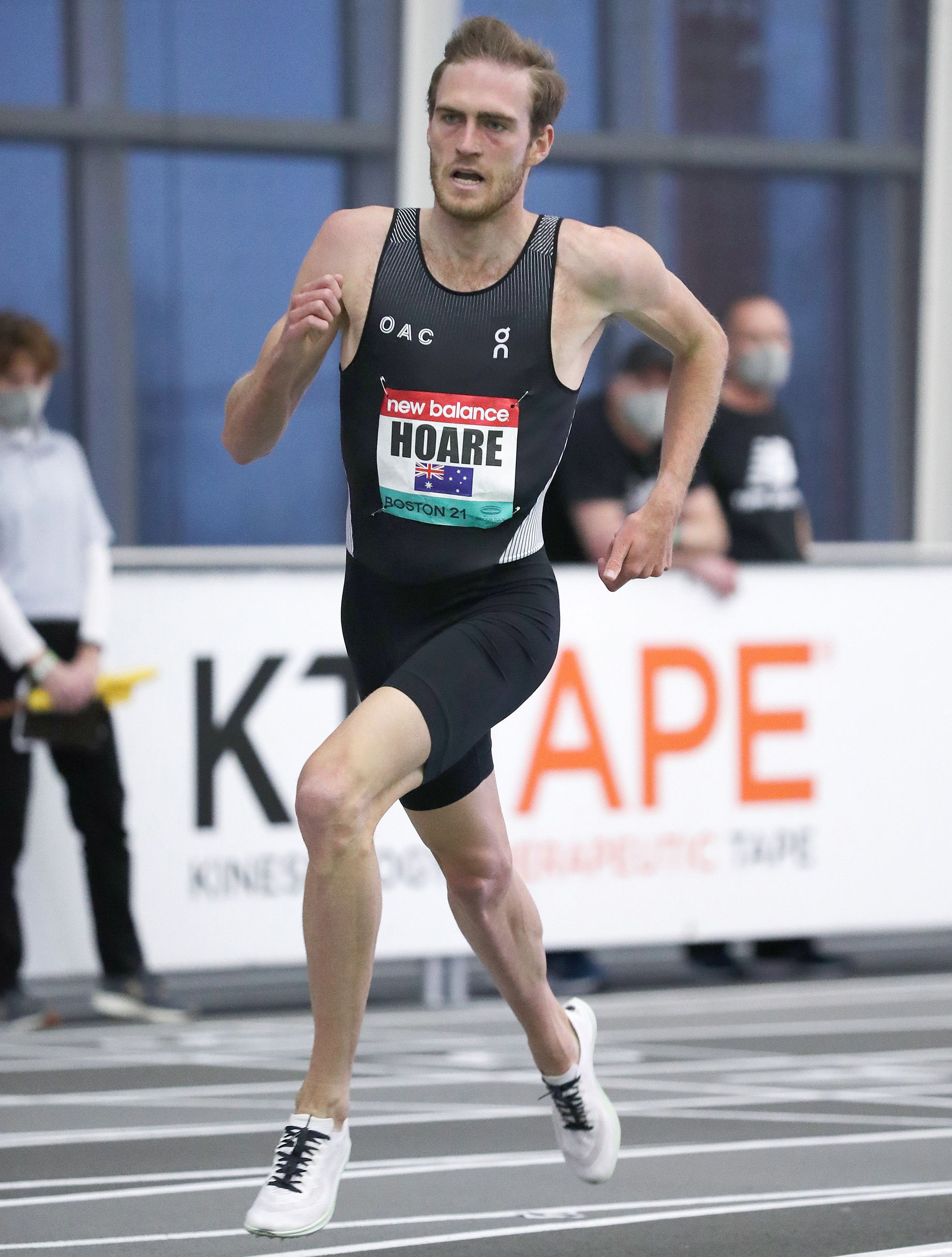 Oliver Hoare in action at the New Balance Indoor Grand Prix (© Victah Sailer)
Hoare's 1500m was the star turn of a stellar couple of nights in the (short) history of Australian indoor athletics. More recently, he ran 13:22.16 for 5000m, improving his personal best by more than six seconds. He had been on course to finish inside the Olympic qualifying standard of 13:13.50 but he fell off the pace in the final 700 metres.
Another Australian to race well at Ocean Breeze was Morgan McDonald who ran 8:14.92 in the two miles to smash the venerable national record previously held by Clarke-era steeplechaser Kerry O'Brien.
Ocean breezes didn't reach as far as Fayetteville, Arkansas, where that same night another rising Australian talent, Charlie Hunter, won the 800m in 1:45.59, slashing more than a second-and-a-half off a more recent national record – Joseph Deng's 1:47.27, set in 2019. This was also an Oceania record.
The previous evening, Hunter had finished third in a mile dominated by his teammates from the University of Oregon, in an Australian record of 3:53.49 which had, in its turn, improved by a full second the record Hunter had set a fortnight earlier. (A few weeks later he won the NCAA indoor 800m title in 1:45.90.)
Admittedly, some of Australia's indoor records were long overdue for improvement. Trouble is, there's not usually much opportunity. Many Australian records, especially in the middle-distances, date back to the 1960-70 era when Ron Clarke, Ralph Doubell and Kerry O'Brien travelled regularly to the thriving US indoor circuit (which coincided with the Australian summer, so they were all in top form), while others like Kerry Pearce, who set a world record for two miles, were based at US colleges.
Mind you, Covid-19 and the quarantine requirements mandated by most countries – including Australia and New Zealand – are likely to impose their own complications on travel, and Olympic selection, for US-based Australian athletes.
Hoare, for example, was in Australia late last year, combining a visit home with the requirement to depart the US and re-apply for a new visa. He endured two weeks' hotel isolation in quarantine then, and is not prepared to do so for the national championships. Hunter, who hails from Gosford, was considering coming back, but it is understood Hoare, Hunter and McDonald have been granted exemption from the championships.
It will make Olympic selection more difficult. The national championships in Sydney next month are the official trials event, but only one place is guaranteed to be solely dependent on performance then. Any athlete who wins their event (or is first Australian) and has the automatic qualifying standard will be selected.
The rest are discretionary, though if recent practice is followed, all who can be selected will be selected, largely following finishing order in the trials. That's simple in most events where there will be fewer than three athletes with the qualifying standard. It's fiendishly complex where there is more than three, and further complicated if some do not or cannot run the championships, even if requests for exemption are granted.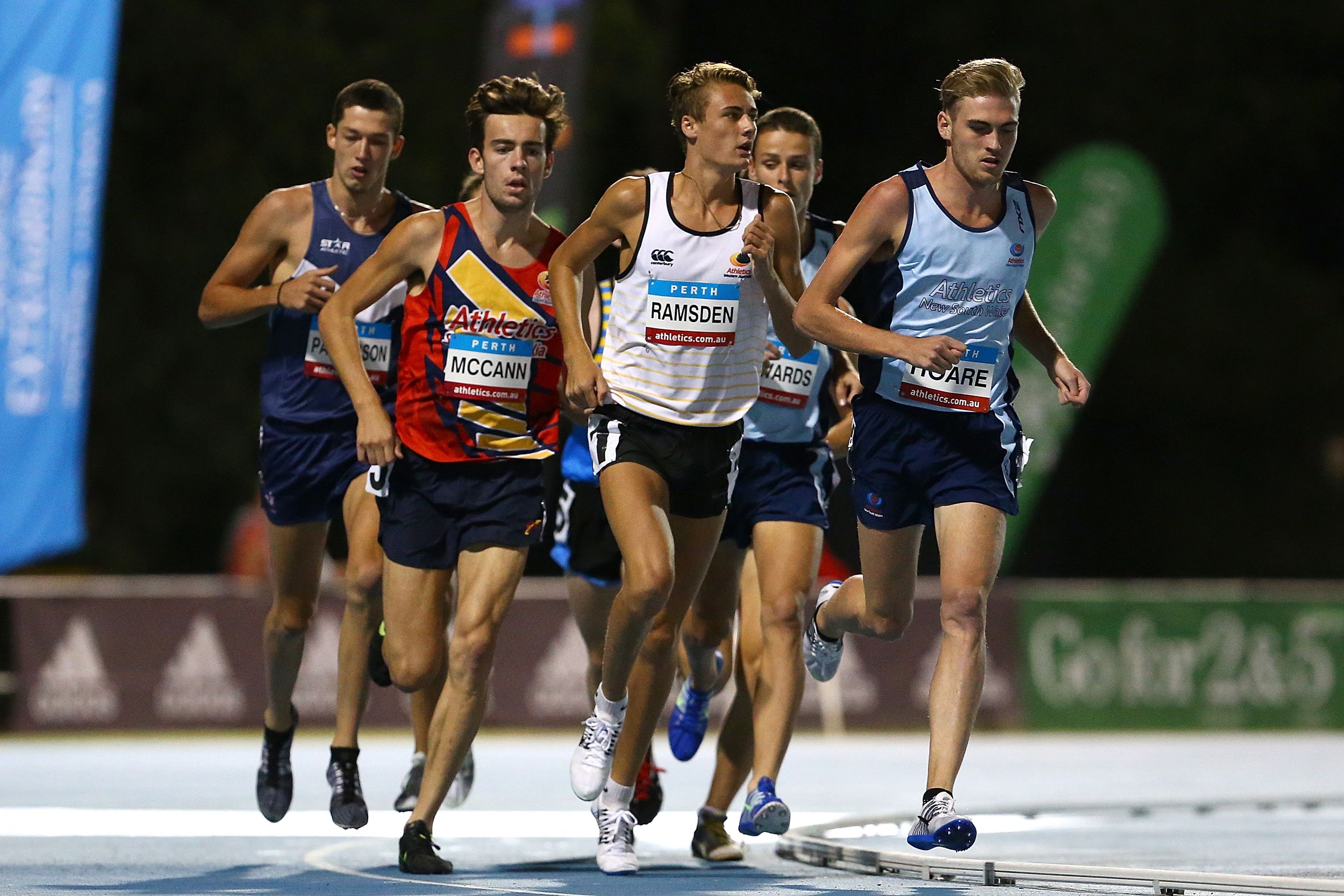 Oliver Hoare and Matthew Ramsden in action at the 2016 Australian U20 Championships (© Getty Images)
Take the men's 1500m: McSweyn, Hoare and Matt Ramsden already have the standard. Some, or all, of Jye Edwards, Ryan Gregson, Luke Mathews, Hunter and Jordan Williamsz are likely to get it. Olympic years inevitably bring dark horses. It looms as a selection nightmare.
Getting all the contenders into one race, in one place, at one time aside, there is also generational change in the air. There are links between three of the younger guns. Ramsden and Hoare met in the de Castella U20 3000m at the Zatopek meeting in 2015. Hoare had a 15-metre lead with 300 metres to go before Ramsden ran him down to win.
Ramsden ran well at the World Championships in Doha, reaching the 1500m semifinal and narrowly missing out on the final.
"Matt is a fantastic racer," says Hoare. "He's been great for Australian athletics."
Hoare also shares a bond with McDonald, who preceded him at the University of Wisconsin. "I have known Morgan since I was a 10-year-old, running at the national cross country championships in Perth in 2007-8," he told Athletics New South Wales last year.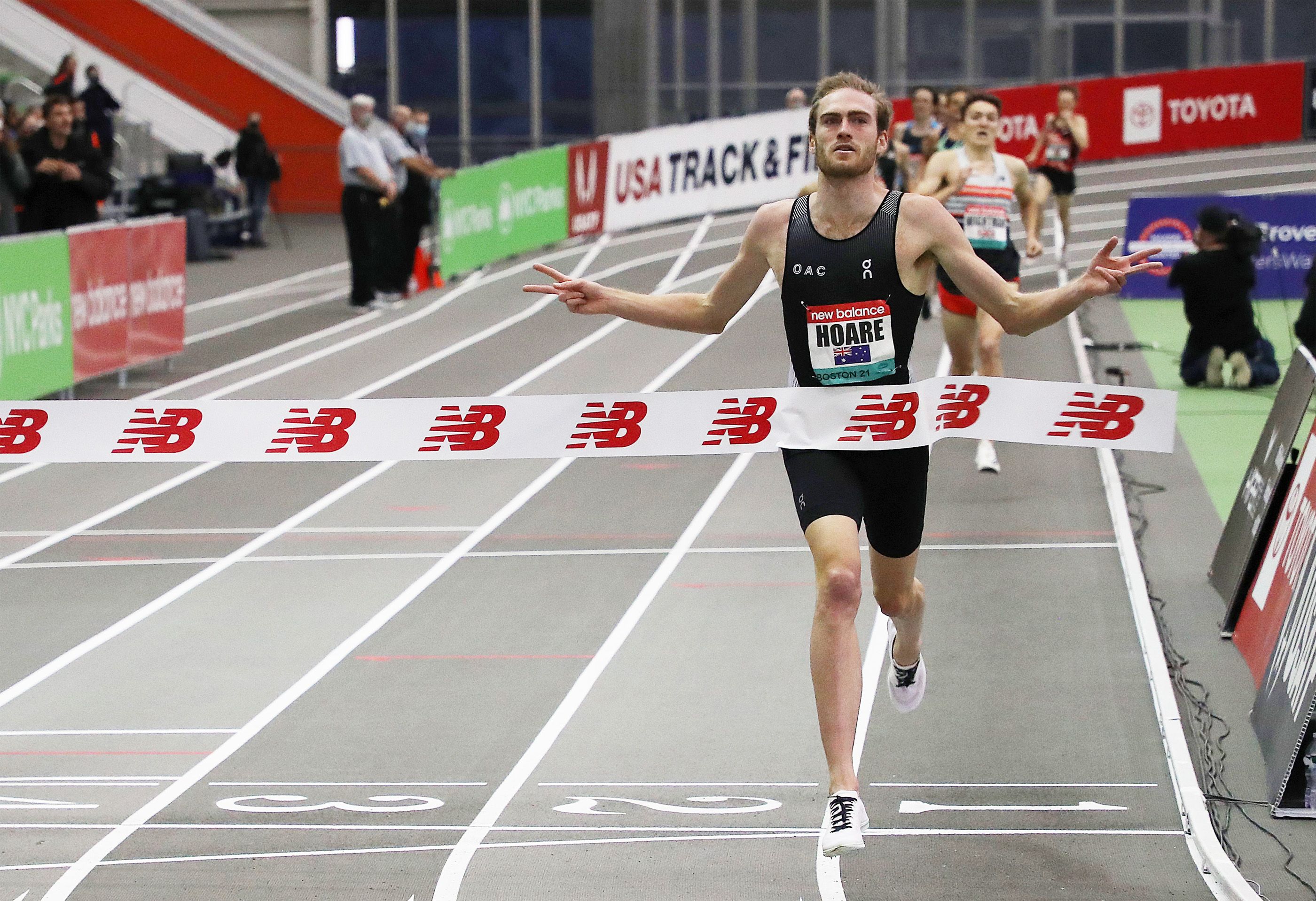 Oliver Hoare wins the 1500m in an Oceanian indoor record of 3:32.35 at the New Balance Indoor Grand Prix (© Getty Images)
"Morgan has been a mentor and a good mate." As they are likely to be contesting different events, that friendship may not be stress-tested in the race to Tokyo.
McDonald, Hunter and Ramsden were U20 teammates at the World Cross Country Championships in Guiyang in 2015. It wasn't a memorable result – McDonald 40th of 118, Hunter 106th and Ramsden DNF – but Hunter says it was "special to represent Australia for the first time. It shaped me in exposing me to high-level athletes".
For Hoare, Hunter and all the other contenders, the battle for a place in Australia's Tokyo team could be every bit as character-building.
Len Johnson for World Athletics