Sada Williams in 400m action at the World Athletics Championships Oregon22 (© AFP / Getty Images)
When Sada Williams thinks about what she achieved this season, the 24-year-old knows it could have long-lasting significance for the next generation of athletes in Barbados.
"It definitely is an example to the other ones coming up that even though we're from a little island, we can do big things," she says. "It's a great feeling to be an example."
Williams' story is not simply that of a gifted sprinter fulfilling her talent, becoming, as she did, the first Barbadian woman ever to win a medal at the World Athletics Championships when taking 400m bronze in Oregon. It's also a story of an athlete navigating the notoriously difficult path from the underage to senior, overcoming injuries and making a tough choice to leave her nation behind to ultimately get where she wanted to be.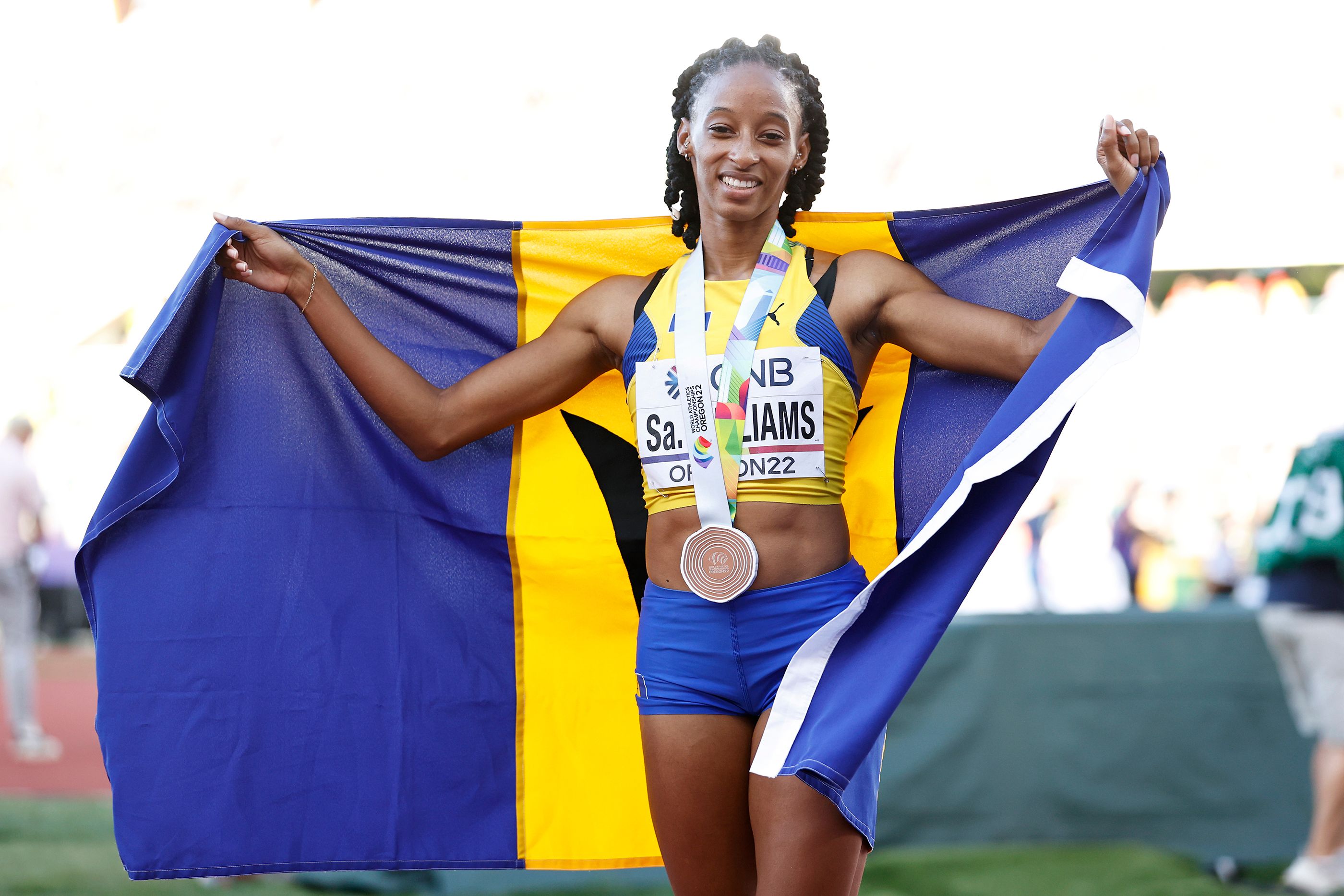 Sada Williams celebrates her 400m bronze at the World Athletics Championships Oregon22 (© Getty Images)
Williams was born in Saint Philip in the eastern part of Barbados but grew up in Saint Michael on the west side of the island. In global terms, Barbados is a tiny place – just 34km long and 23km wide, with a population of just under 300,000 – yet like many Caribbean islands, it punches significantly above its weight in sprinting, most notably through the world 110m hurdles title won by Ryan Brathwaite in 2009 and the Olympic 100m bronze medal won by Obadele Thompson in 2000.
In 2014, Williams announced herself as the next potential star, winning the Carifta Games 400m title in 53.39 at the age of just 16. She went on to reach the world U20 400m semifinal in Oregon that year and also made the 400m final at the Youth Olympic Games in Nanjing.
She started running in primary school, but her talent wasn't immediately obvious. "I was okay, let's just say that," she laughs. "I don't think I had those (Olympic) dreams then, but from about 14, 15, I started to get serious, wanting more. It was a joy representing my country so I wanted to do that more on a global stage."
Under the guidance of national coach Ramon Armstrong, she clocked a national U20 record of 52.39 in 2015 and won 200m bronze and 400m silver at the Pan American U20 Championships, while in 2016 she again struck 400m gold at the Carifta Games. But that was when the problems started, with Williams suffering the first of several hamstring injuries that halted her development – meaning it was another three years before she lowered her 200m or 400m personal best.
"I hurt them three times," she says. "The third time was actually a tear – they said I shouldn't have been able to walk."
The last of those injuries occurred in 2018 when Williams was in Gold Coast, Australia, ahead of the Commonwealth Games. After missing out on that championship and the rest of the season, she knew something had to change. In September that year, she moved to Jamaica, enrolling at UTech in Kingston and joining the MVP Track Club, training under the guidance of coach Stephen Francis.
"Every year since I've been there, I get better, faster," says Williams, who trained alongside a horde of world-class sprinters like Shericka Jackson, Stephenie Ann McPherson, Junelle Bromfield and Janieve Russell. "It was different to what I'm accustomed to. I was always at home and went to a foreign country where I didn't know anyone."
Was the training harder?
"Definitely," laughs Williams. "I was used to the 200m training and then I had to switch to the 400m."
Part of the reason she left the 200m behind was to lower her chance of hamstring issues, and in Jamaica Williams soon adjusted to the early-morning training routine at MVP. "In the off-season it's like 5am, 5:30," she says. "During the season it's 6, 6:30."
Within her first year she saw the benefits of that work, with Williams lowering her 400m PB three times in 2019, the last of them coming in the world 400m semifinals in Doha where she finished fourth in 51.31, and 10th overall. Last year she was better again, lowering the Barbadian record to 50.11 to finish third in her Olympic semifinal in Tokyo, but again, it wasn't enough for the final, leaving her ninth overall.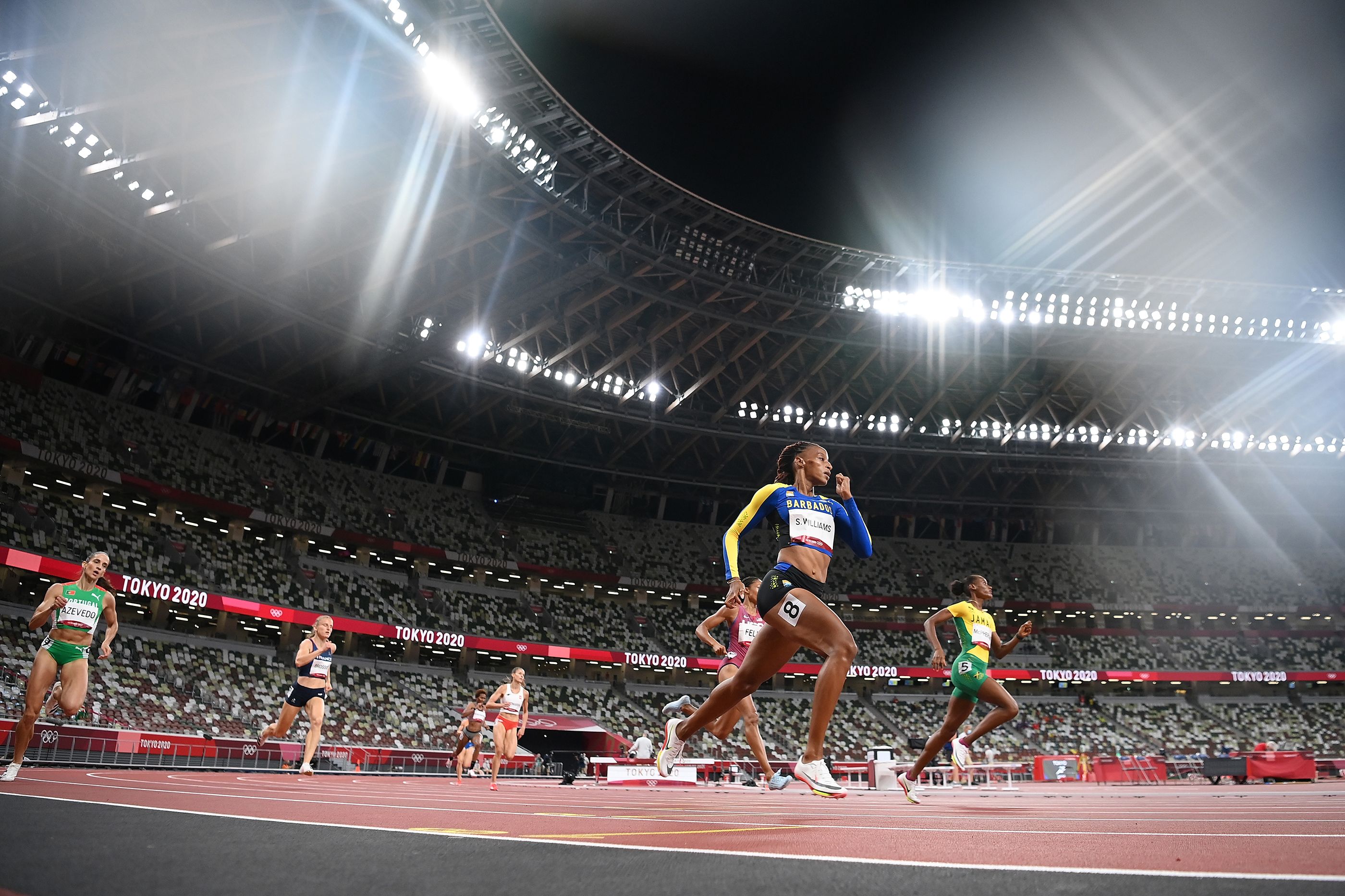 Sada Williams competes in the 400m semifinals at the Olympic Games in Tokyo (© Getty Images)
"I believe if I made that final I could have gone a lot faster," she says. "I'm not sure about a medal, but I knew I could have gone much faster."
That would have to wait until this year. Heading into the World Athletics Championships Oregon22, Williams had two goals: to make the final and break the national record. She very nearly did both in the semifinal, her 50.12 to advance in second just one hundredth of a second shy of her best.
But she knew she could go faster. Before the final, Francis didn't offer her any final words of advice, knowing how Williams prefers to prepare.
"I don't like to talk to people before I have to run, I'm in my zone," she says. "Running in lane seven, I (couldn't) see people behind me so I had no choice but to go and then hopefully hold on."
Williams rocketed through the opening 300 metres and turned for home level with Olympic champion Shaunae Miller-Uibo. "I saw her in the corner of the eye, I just tried to hold on and do the best I could," she says. "When I (saw) the finish line, I was so happy because I was like, 'it's almost over, almost there.'"
Miller-Uibo pulled away up the home straight to win in 49.11, with Marileidy Paulino coming through for second in 49.60 and Williams winning bronze in a national record of 49.75. Her reaction when she crossed the line?
"Oh my God, I knew I won a medal but it hadn't sunk in," she says. "When I saw 49.7 it was like, 'okay, national record,' but after the race lactic always comes. I couldn't even walk."
As she spoke to the media, Williams kept a lid on her emotion but she knew that was only going to be temporary. "When I get back out (of the mixed zone), I'm going to cry so bad," she said.
Her superb season continued in the weeks after. Williams went to the Commonwealth Games in Birmingham as the favourite for the 400m and lived up to that billing, sprinting to gold in 49.90. A fortnight after that, she won silver in 49.86 at the NACAC Championships in The Bahamas behind Miller-Uibo.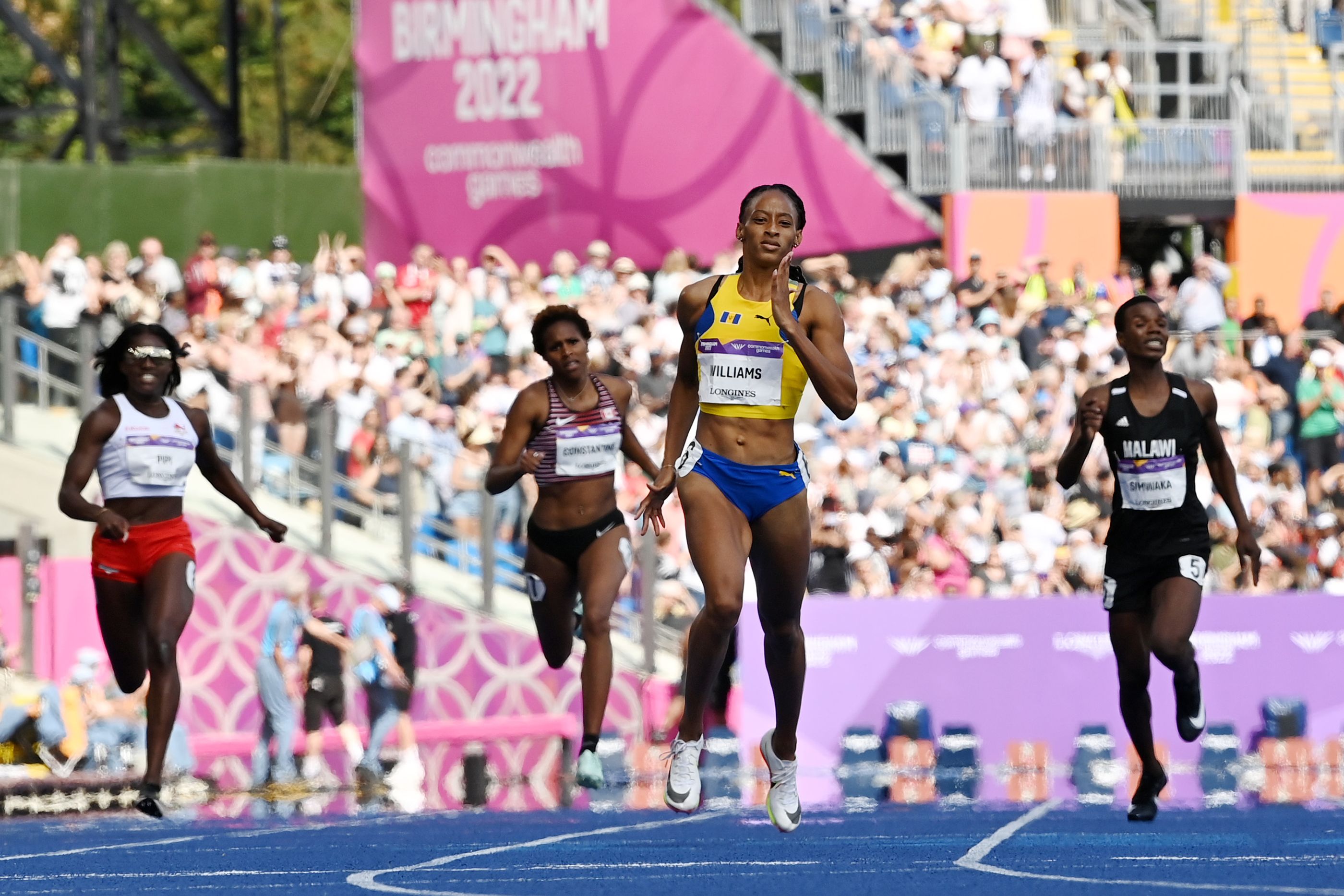 Sada Williams on her way to Commonwealth Games 400m gold in Birmingham (© Getty Images)
Three championships, three medals, and one very proud athletics nation. "When I put on my national colours, it brings me great pride and joy," says Williams. "I know they were watching back home."
It's been a breakthrough year, one she's certainly not taking for granted given how unlikely this seemed as she made that tough transition to the senior ranks. Her advice to others on that journey?
"It's a whole different ball game and it's super hard, it's so challenging," she says. "Just don't give up. Keep running. Keep trying."
What does the future hold? Having run below 50 seconds four times this season, a new number is already in Williams' mind as she looks to 2023 and beyond.
"48," she says. "Once I believe it, I can do it."
Cathal Dennehy for World Athletics