US distance runner Sara Hall (© Cortney White)
For athletics fans, Sara Hall is probably best known for her stunning marathon performances of 2020: the finishing kick to end all finishing kicks in London, where after 26 miles of hard running in the miserably grey and cold rain, she unleashed a stunning sprint gear, and hurtled past world champion Ruth Chepngetich to finish second. It was so impressive it achieved the ultimate 2020 accolade of becoming a meme. Then, just a few months later, there was her brilliant performance at the Marathon Project in Arizona, clocking another PB of 2:20:32 for the win and to become the second fastest marathon runner in US history.
But if all this was an unexpected late career renaissance for Hall, and an astonishing turnaround after the heartbreak of a DNF in the Olympic marathon trials, her personal story might be even more extraordinary. In October 2015 she and her husband Ryan went to bed one night as a couple, and woke up part of a family of six. The couple had adopted four Ethiopian sisters: Hana (15), Mia (13), Jasmine (8) and Lily (5) and brought them back to their home in the US.
"It was kind of surreal," says Hall. "I felt like I was acting in a sitcom, playing the part of a suburban mom. All of a sudden I was driving them to school in our big old family car." Of course, in reality the process was actually far from sudden – the couple had long had associations with Ethiopia, with many friends in the country, and had always enjoyed training there. Even once they had made the decision to adopt in Ethiopia and met the girls, they took their time. "We spent a lot of time in Ethiopia training, and we would visit the girls during that time. So we'd built a lot of trust with them and really got to know them. I think that really helped everyone's adjustment, but it was a surreal time for sure."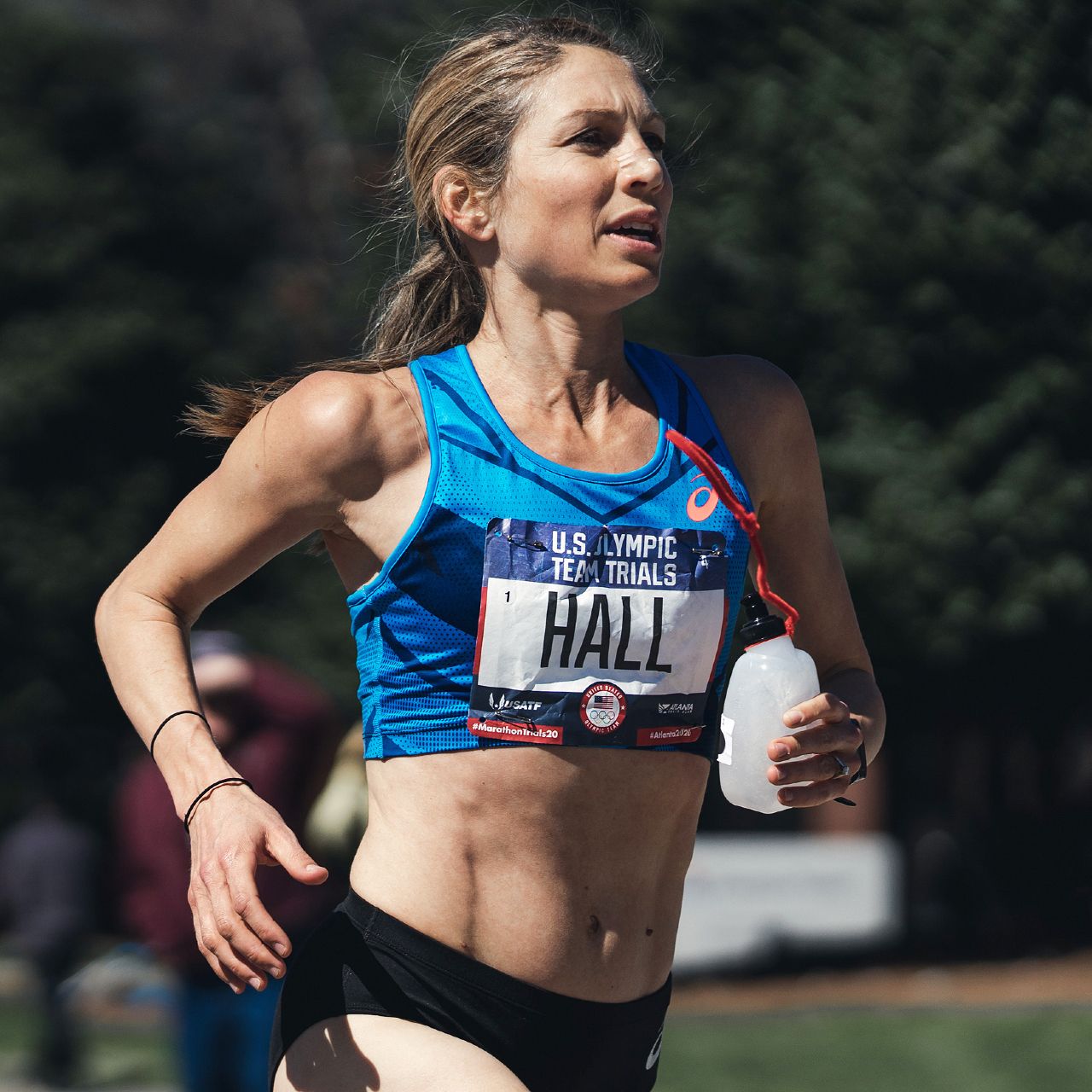 Sara Hall races at the 2020 US Olympic Team Trials (© Cortney White)

For their daughters, the culture shock of moving to the US must have been huge. "They didn't know any English when we met," agrees Hall. "I learned their language – Amharic – and we were teaching them English in the orphanage on our visits. But when we put them in school in the US we didn't know if that would even work because they'd never been to school before. My 15-year-old was starting eighth grade having never been to school for a day in her life. But she – they all – just immersed themselves in it and I think that really helped them."
In fact, for those who like to ponder the effects of nature vs nature, Hall's eldest daughter Hanna is quite the study. Now a freshman at Grand Canyon University in Arizona, she is a three-time state champion and clearly a prodigious talent. Her sister Mia has also recently started running more seriously, and the girls both now join Sara for runs. Yet when the Halls first met their daughters, none ran so much as a single step. The orphanage where they had lived for three years was their entire world, and though they were cared for, opportunities for sport were non-existent.
"They definitely knew of their country's running heroes, though," recalls Hall. "They had seen some races on TV and when we told Hana that we were both runners, she said: 'Oh I want to be a runner!' That was cool because otherwise I think I would have wondered if it was, you know, kids trying to get their parents approval by doing the things they love."
Of course, with a pedigree like Hall's – not to mention husband Ryan's 59:43 US record-holding half-marathon and 2:04:58 marathon – the girls clearly have big running shoes to fill. And, as with many parents, finding the right line between pushing and easing off has been tricky for the Halls.
"I think I'm still figuring that out, and I like to talk to other people whose parents ran, about their experiences," she says. "When you see a kid has a talent, you want to be able to communicate to them: 'Look, if you want to be good at this, you could be', but also kind of leave it up to them, too. I think distance running takes a lot of internal drive to be good at it, and I think for me, that always came from within. I've always felt like if they have that fire, I will fan that flame – but I want to see their own fire for it first."


View this post on Instagram

Her two youngest daughters have yet to find what fuels their own fires, and that is absolutely fine with Hall. "There's lots of different reasons to do sports, like just for fun," she says. "Jasmine, who is 13, did cross country for two seasons and was undefeated, but was very much just seeing it as fun and hasn't run for the last couple of years. I started myself in basketball and soccer and I think that's actually a better way to become a good runner anyway, to do those sports early on. There's just not as much pressure with team sports, and you learn teamwork.
"Typically, the professional athlete, everything's kind of revolving around you – you're eating, and sleeping, and training, and everything outside of training is all about rest, minimising energy expenditure at all costs," muses Hall. "But then you become a parent and that's out the window. You can't just go into energy conserve mode – you're constantly tuning in with them and like, and seeing what they're needing." Little surprise, then, that when the couple initially adopted the girls, Hall expected it to signal the end of her top-flight career.
Instead, that, and the move up to the marathon distance, seems to have revitalised it. So, did her new family life actually prove a new source of fuel for that fire? She laughs: "I think I've been able to improve despite it, definitely not because of it! It's been difficult. That's why I share stuff, because I think on the outside it could look like it's been really easy but it hasn't, by any means.
"I never thought I would want to do this with kids, just be torn in different directions. Having talked to other families who had adopted older kids, they'd all had a really difficult road, really life-altering for the family. And I was willing for these kids, willing to walk that road with them, do what they needed to heal from the trauma they've been through. But it turned out that wasn't really the case with them, they have just handled everything really remarkably so far. So it allowed me to continue to do what I'm doing".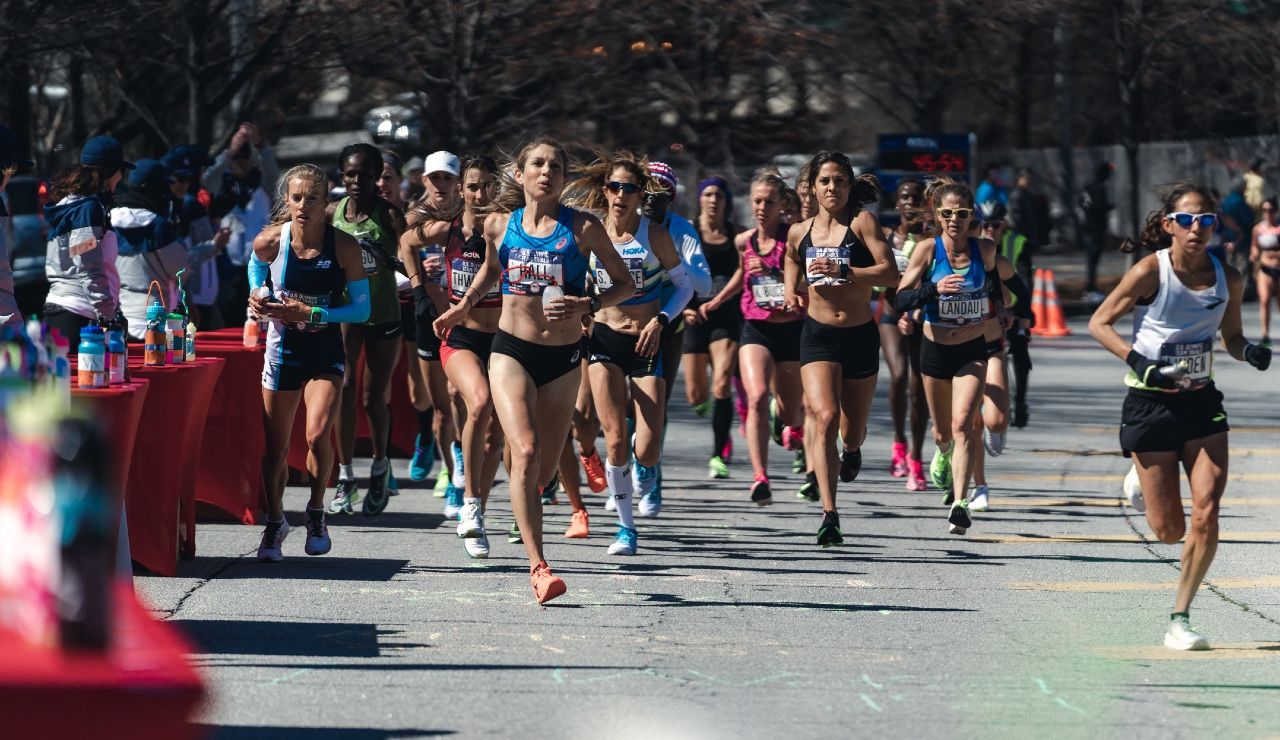 Sara Hall says she has some "unfinished business" in the marathon (© Cortney White)
And that, these days, is quite definitely 26.2 miles, as fast as she can. "I've just loved marathon training. I think I should have been doing this a long time ago," says Hall. "I just found my body had a lot of room to grow my aerobic capacity. Each build-up I'm able to add in more and absorb it better and so even though I'm getting older, I feel like I'm kind of young as far as the marathon goes. Maybe starting the marathon later just allowed me to have more mileage in my tyres."
These days, Hall also has to contend with nerves from her daughters' races as well as her own. Fortunately, she says she doesn't suffer too badly for them. "But I do get really excited," she adds. "I'm sprinting around the course trying to cheer for them 20 times!" But it's important to Hall that her daughters also learn how to fail – and see her do it, too. "I think it's really powerful for them to see me do something that makes me come alive – and see me fail and pick myself back up again after the biggest failure of my career – and train through a pandemic and then have the best race of my career. That's the kind of stuff you want to instil in your kids and they learn more through watching you than from what you say."
The girls certainly have two incredible role models to watch at home. And while she may not be at the Olympics, Hall's marathon journey is far from over, she confirms. "I think I have some unfinished business there," she says, "and I'm really looking forward to having some World Marathon Majors back in their normal glory, with the whole field."
And if she can kick like she did in London on a miserable day with an elite-only field and no spectators, then surely with fair conditions, and the cheers of the crowd behind her, a sub-2:20 and that US record is well within her grasp.
Kate Carter for World Athletics