Sha'Carri Richardson at the USATF Golden Games (© Getty Images)
"We're not done yet," exclaimed Sha'Carri Richardson, speaking trackside after the second of her sub-10.80 100m runs at the USATF Golden Games on Sunday (9). Seeing the path the 21-year-old has blazed so far, it's easy to believe her.
Blasting out of the blocks at the World Athletics Continental Tour Gold meeting in Walnut, California, all eight finalists were pretty evenly matched until suddenly, they weren't. Finding an extra gear in the second half of the race, Richardson's acceleration was mesmerising. Bright blue hair flowing behind her, she surged ahead, crossing the finish line in 10.77 despite running into a -1.2m/s wind. Less than two hours earlier, Richardson had run 10.74 (1.1m/s) to win her heat – the fastest ever wind-legal time recorded in the first round of a 100m competition.
"I definitely was expecting a different time, a different execution," she said after the final. "But I executed a fine race and I walked away with the dub (win), so I'm not disappointed.
"Whenever it comes, it comes, but I'm most definitely wanting to make history. Wanting to let everybody know that every time I step on the track, there's going to be history made."



It was in 2019 that Richardson's history-making really started. Storming into the spotlight at the NCAA Championships in Austin, the Texas native broke both the world U20 100m and 200m records – her respective times of 10.75 and 22.17 making for the second-best ever women's one-day double behind Merlene Ottey's achievements at the 1990 Weltklasse Zurich meeting.
The Louisiana State University freshman turned pro a few days later. "I thank my coaches, family, friends and fans for all the support while here at LSU," she wrote in a statement at the time. "I would like to announce that I have decided to pursue my lifelong dream and become a professional athlete." She relocated to Clermont, Florida, and in 2020, despite the pandemic, she backed up the previous year's performances with runs of 10.95 and 22.00, times which ranked her third and second for 100m and 200m respectively on the season's global lists.
Having missed out on making the USA team for the 2019 World Athletics Championships, Richardson started the postponed Olympic season in sensational style. At the Miramar Invitational in Florida on 11 April, she won the 100m final in 10.72 to become the sixth fastest woman in 100m history.
"My coach will be proud but he'll say I still have more work to do, and I agree," she said at the time. "My season is going to be unbelievable."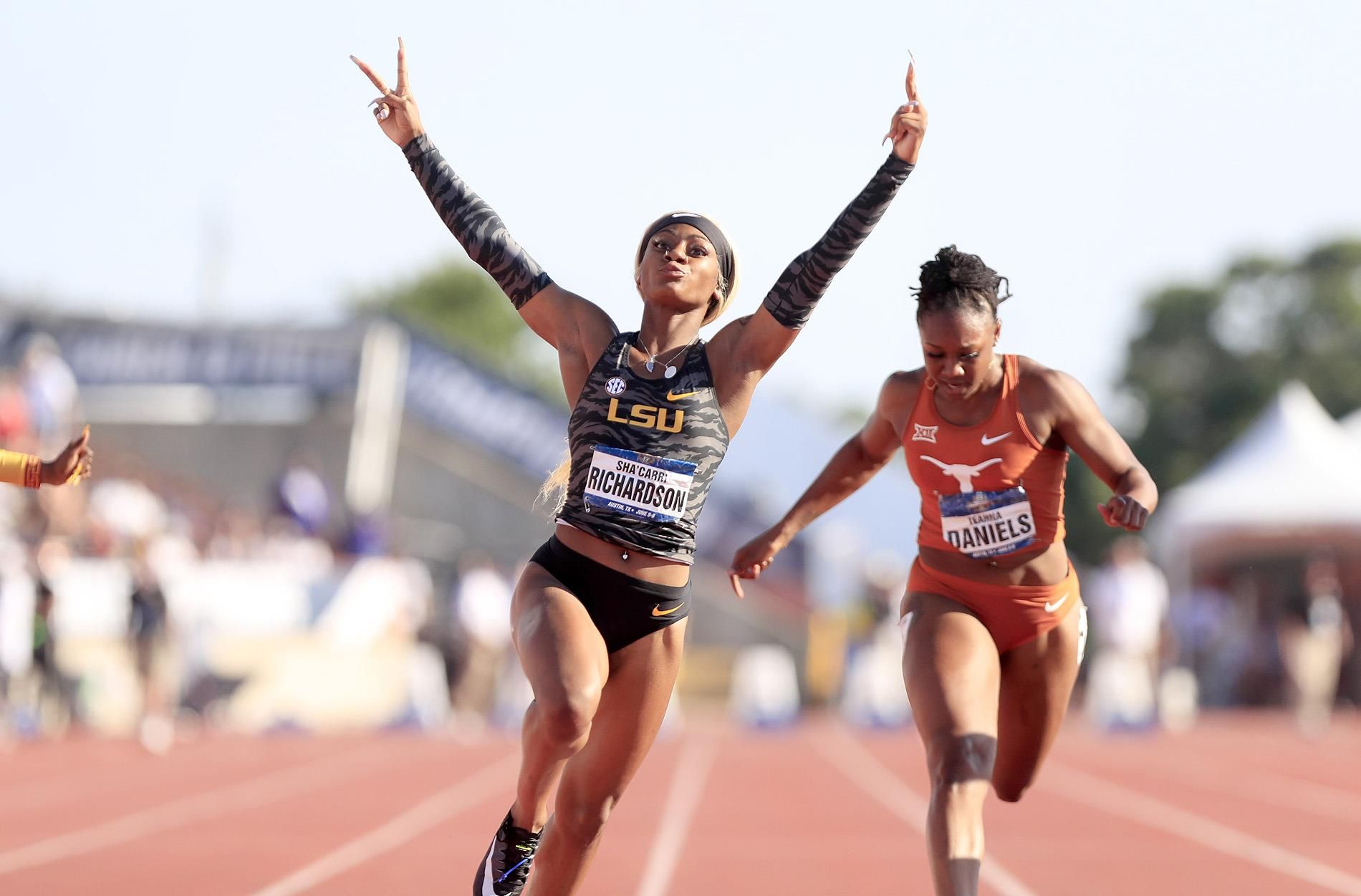 Sha'Carri Richardson wins the 100m at the NCAA Championships (© Kirby Lee)

That season continued with a 22.11 200m at the Tom Jones Memorial Invitational before her pair of sub-10.80 100m runs in California. According to wind adjustment calculators, running 10.77 into a -1.2m/s wind is worth sub-10.7 in still conditions, or sub-10.6 with the maximum allowed 2.0m/s tailwind. So just how fast does she think she can go?
"I don't necessarily have a target time that I want to run (this year) – it's a range I would love to get into," said Richardson, who has been announced for the Wanda Diamond League meeting in Gateshead, UK, on 23 May. "I definitely want to get into the sub-10.7 range and from there, just to continue to execute and get faster."
The world record, of course, is Florence Griffith-Joyner's 10.49 from 1988 and inevitably, also because of her style, comparisons have been made between Richardson and the three-time Olympic gold medallist, who is a source of inspiration.
"If I do have a role model in the sport of track and field it would be the legendary and amazing, one and only, Flo-Jo," said Richardson who, in turn, will now be inspiring future track stars herself. "It feels amazing to be able to be a role model and have people look up to me, but I always encourage them to be themselves because being yourself is what is going to make you who you actually are."
Although Richardson has enjoyed great success over the past few years, things have not always been easy and speaking on the eve of Mental Health Awareness Week, she explained: "My mental health experience has definitely been a journey for me. At every level of track, or just different chapters of life, my mentality has been challenged to change or to grow. So being able to accept and acknowledge my mental health and not run away from it but embrace it and encourage myself to make sure my mental health is just as strong as my physical – that's a very key and important thing behind my success."
That balance, along with her hard work and determination, continues to see Richardson rise. After all, there's more history to be made.
Jess Whittington for World Athletics