Jasmine Camacho-Quinn on her way to a 12.32 100m hurdles win in Florida (© Shawn Price)
Continuing her comeback in style, Jasmine Camacho-Quinn stormed to a 100m hurdles win in 12.32 (1.7m/s) to move to equal seventh on the world all-time list at the Tom Jones Memorial Invitational in Gainesville, Florida, on Saturday (17).
Prior to her season opener one week before, Camacho-Quinn's last outdoor hurdles race had been in 2019 and the Rio 2016 Olympian had started questioning whether her future lay in competing over the barriers.
But her perseverance is paying off and in Gainesville the two-time NCAA champion took 0.08 off her own Puerto Rican record, which had been set in 2018, to make a statement in Olympic year.
Behind her, British sisters Tiffany Porter and Cindy Sember both clocked 12.62, with Brittany Anderson finishing fourth in 12.91.
View this post on Instagram

In the men's 110m hurdles, USA's world 60m hurdles record-holder Grant Holloway – who clocked a wind-assisted 13.04 (2.2m/s) a week earlier – ran a world-leading 13.07 (1.3m/s) for a dominant win. Trey Cunningham was second in a PB of 13.28.
World 400m champion Steven Gardiner went quickest over one lap, clocking 44.71 in his first 400m race since his world title win in Doha in 2019, as Britain's Matthew Hudson-Smith was second in 45.53. Fastest in the women's events was Jessica Beard with a time of 51.00.
Javianne Oliver won the women's 100m from Olympic long jump champion Tianna Bartoletta – 11.12 to 11.16 (2.2m/s).
The men's 100m saw the quickest time come in the university race as Jo'Vaughn Martin improved his PB from 10.40 to 9.94 (1.6m/s) to equal the world lead. Justin Gatlin went quickest in the 'Olympic Development' races with 9.98 (1.4m/s) ahead of Andre De Grasse with 9.99, Kenny Bednarek with 10.03 and Noah Lyles with 10.08.
Just one week after clocking 10.72 for 100m, Sha'Carri Richardson continued her fine form to run 22.11 (1.0m/s) in her 200m season debut on the first day of Tom Jones Memorial Invitational action on Friday (16).
It is the 21-year-old's second quickest ever time for the distance behind her PB of 22.00 set in Florida last August and saw the world U20 record-holder win the heat by almost half a second ahead of Lynna Irby with 22.57.
World and Olympic medallist Blessing Okagbare was third in 22.66.
The time clocked by Richardson – who moved to sixth on the world all-time list with her 100m run the week before – is the second fastest in the world at this early point of the season behind Shaunae Miller-Uibo's 22.03 from earlier this month.
World 400m bronze medallist Fred Kerley went quickest in the men's 200m heats, equalling his PB with 20.24 (0.9m/s) ahead of Jereem Richards with 20.30. Erriyon Knighton won another heat in 20.39 (0.5m/s).
McLaughlin runs 100m hurdles PB
World 400m hurdles silver medallist Sydney McLaughlin improved her 100m hurdles PB to 12.92 (0.2m/s) at the Bryan Clay Invitational in Azusa, California, on Friday (16).
With that result, the 21-year-old becomes the first woman to break 13.00 for the 100m hurdles, 23.00 for 200m and 53.00 for the 400m hurdles.
She was back in action just 40 minutes later and ran 51.16 in the 400m heats.
New wind legal 12.92 100mH PR for Sydney McLaughlin (@GoSydGo) in the Bryan Clay prelims. 👏
📺: https://t.co/sw9nzYxLdh pic.twitter.com/U24UF9QdSr

— FloTrack (@FloTrack) April 16, 2021

The 2016 world U20 champion Candace Hill was quickest in the 100m heats with 11.13 (0.5m/s) – her fastest time since that world under-20 win.
Brazil's Paulo Andre Camilo ran a wind-assisted 10.05 (2.4m/s) in the men's heats as Ameer Webb opened his season by winning the first heat in 10.09 (0.8m/s). An hour later Webb ran a wind-assisted 20.52 (2.2m/s) for 200m.
Malaina Payton followed up her recent 6.81m PB with 6.74m (1.7m/s) to win the long jump.
Simbine wins in Pretoria
African and Commonwealth champion Akani Simbine clocked 9.99 (0.2m/s) to win the South African 100m title in Pretoria on Friday (16). The day before, the national record-holder with 9.89 had run a wind-assisted 9.82 (2.8m/s) in the semifinals.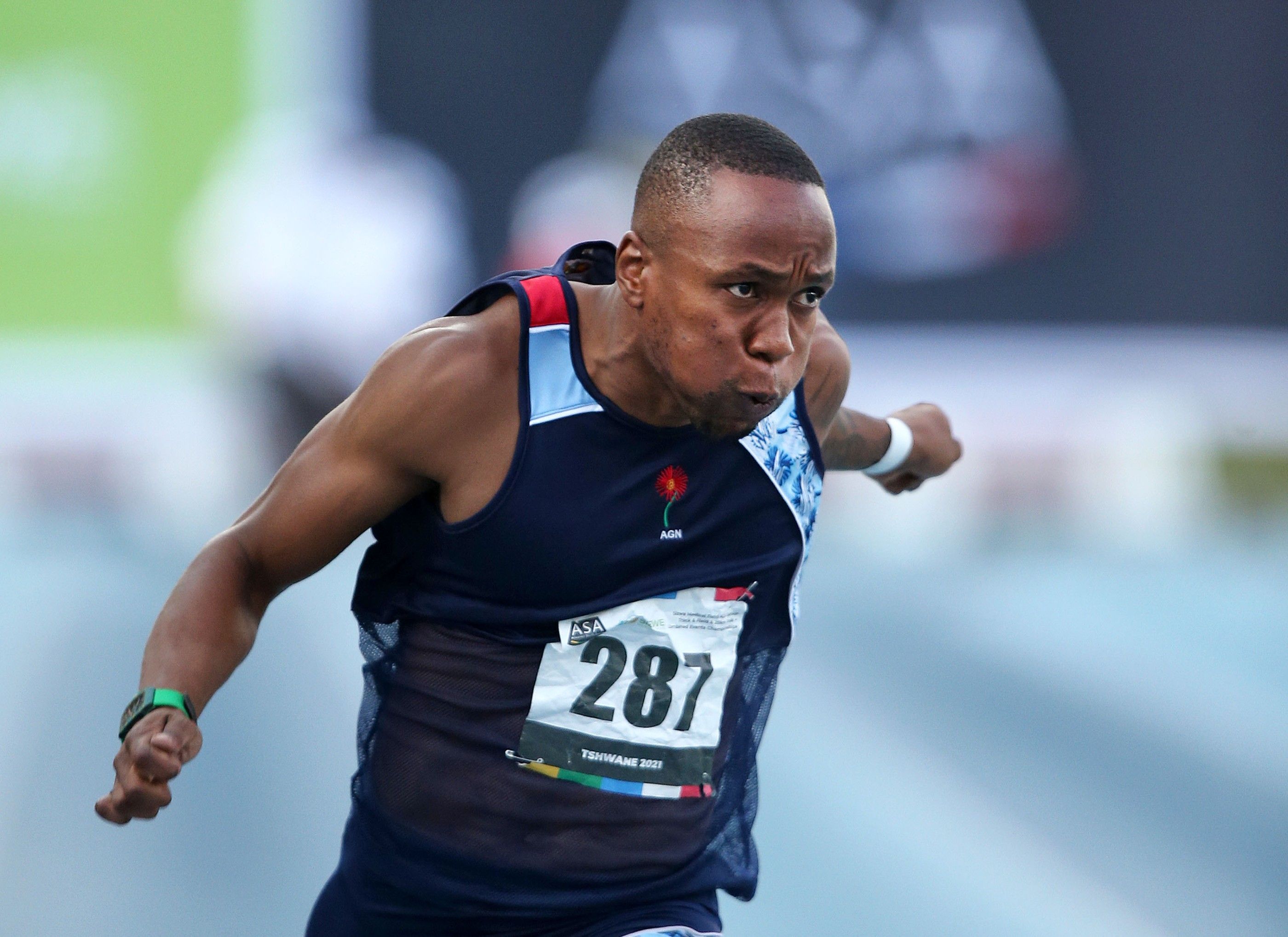 Akani Simbine wins the South African 100m title (© Reg Caldecott/Tuks Sports)

Gift Leotlela was second in the final, running 10.16, and Thembo Monareng was third in 10.33.
"I'm glad to run another sub-10 and the key is to stay healthy," said Simbine. "It's another big year and I'm sticking to the main goal, which is the Tokyo Olympics."
Reabetswe Moloi won the women's title, equalling her PB set in the heats with 11.55 (-0.5m/s).
Tiaan Kleynhans won the men's 110m hurdles final in 13.62, with African record-holder Antonio Alkana finishing fourth in 14.02 after hitting a hurdle. The women's 100m hurdles title was claimed by Marjone Fourie in 13.54.
On Saturday (17), Olympic 400m champion and world record-holder Wayde van Niekerk returned after winning his 200m semifinal in 20.38 (-1.4m/s) to match that time to win the final (+0.1m/s), easing up on his approach to the finish line.
"Tonight was just about getting the win and feeling what it's like to win again at championship level," he said.

"Now I can use this momentum going forward. Training is going well and I'm feeling confident in myself."
The 2017 world bronze medallist Ruswahl Samaai leapt 8.16m (1.1m/s) to win the long jump.
Wenda Nel and Le Roux Hamman claimed the 400m hurdles titles, clocking respective times of 55.60 and 49.70.
Kyle Blignaut threw 20.82m to win the shot put ahead of Jason Van Rooyen with a 20.60m throw.
Broadbell blasts to hurdles PB
Jamaica's Rasheed Broadbell improved his 110m hurdles PB from 13.47 to 13.15 (-0.6m/s) at the Velocity Fest #9 meeting in Kingston, Jamaica, on Saturday (17).
The 20-year-old, who had run 13.71 at the #8 meeting in March, finished clear ahead of Commonwealth champion Ronald Levy with 13.43.
Britain's European 100m champion Zharnel Hughes went quickest in the 200m races, running 20.14 for his fastest time on a standard track since 2015.
The women's 200m was won by Jamaica's multiple global gold medallist Shelly-Ann Fraser-Pryce in 22.66 (-0.2m/s) ahead of Stephenie Ann McPherson with 22.90.
Racing the distance for the first time this year, Jamaica's double Olympic champion Elaine Thompson-Herah won the women's 100m in 11.21 (0.0m/s). Running into a -2.0m/s headwind, Nigel Ellis went quickest in the men's 100m with 10.39 as Asafa Powell won another of the heats in 10.48 (-2.5m/s).
Jamaica's 2015 world medallist O'Dayne Richards won the shot put with a throw of 19.15m.
Mboma improves world U20 record
Less than a week after her 49.24 to break the world under-20 400m record* in Lusaka, Zambia, 17-year-old Christine Mboma went faster still with 49.22 at the Namibian Championships.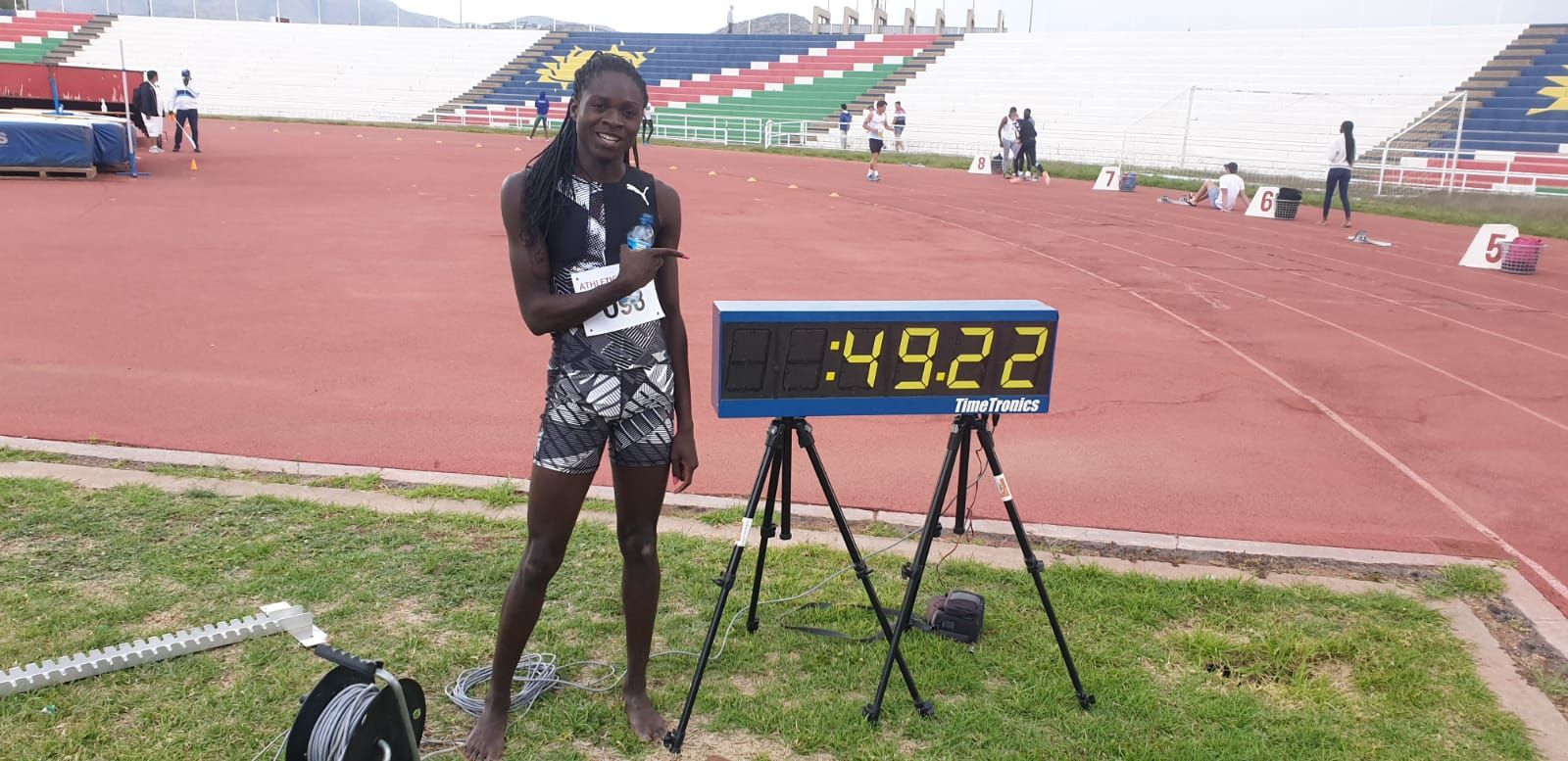 Christine Mboma celebrates her 49.22 400m at the Namibian Championships (© Bradley Agnew/Newton Agency)

Mboma now has the two fastest times in the world clocked so far this season, with her 49.24 on 11 April having improved the long-standing under-20 record of 49.42 set by Grit Breuer at the 1991 World Athletics Championships in Tokyo.
Beatrice Masilingi, who clocked 49.53 behind Mboma in Lusaka, this time ran 50.05 to finish second.
Mu runs 1:57.73 800m
After running a world U20 indoor 800m record* of 1:58.40 in February, Athing Mu improved her time outdoors to a world-leading 1:57.73 to better the North American U20 record time at the Michael Johnson Invitational in Waco, Texas, on Saturday (17).
Racing the distance outdoors for the first time since 2019, the 18-year-old improved on her previous best of 2:01.17 clocked that year in Des Moines. The North American under-20 record of 1:57.74 was set by Sahily Diago Mesa in 2014, while the previous US collegiate record had been Raevyn Rogers' 1:59.10 set in 2017.
Aaliyah Miller finished second in 2:00.87.
Gabrielle Thomas went quickest in the women's 100m with 11.21 (1.5m/s) ahead of Morolake Akinosun with 11.23, while Emmanuel Matadi ran 10.12 (1.4m/s) to lead the men's results.
*subject to the usual ratification procedures
Hobbs and Brisco go sub-11
There were two sub-11 second performances in the women's 100m at the LSU Boots Garland Invitational in Baton Rouge on Saturday (17), with Aleia Hobbs and Mikiah Brisco clocking 10.88 and 10.95 respectively, aided by a 2.4m/s tailwind.
Terrance Laird went quickest in the men's races with 10.06 (1.7m/s).
Favour Ofili with a wind-assisted 22.30 (2.6m/s) and Noah Williams with 20.36 (1.6m/s) were fastest in the 200m events.
Jess Whittington for World Athletics