Nicola Sanders and husband Dominic Bostock celebrate World Down Syndrome Day with sons Oliver and Dexter (© Nicola Sanders)
It might be almost seven years since her successful sprinting career came to an end, but Nicola Sanders is still living life in the fast lane. As mum to two energetic boys, the running hasn't stopped. It's just now the Olympic and world medallist is chasing five-year-old Oliver and four-year-old Dexter, rather than racing her opponents on the track. She wouldn't have it any other way.
Where once were spikes, are mismatched socks. That has proven part of the journey. While the footwear may have changed, one thing which has remained is the need to take things step-by-step – a skill honed by Sanders during her days as an athlete which has also been major in motherhood.
"I don't think anything can really prepare you," Sanders laughs, as she considers whether any of her experiences as an athlete helped to pave the way for parenting. "My athletics feels like a lifetime ago, but I always wanted to have children once I had retired. This being a mum thing is way harder than training and I wish I could have a long afternoon nap like I used to when I was running!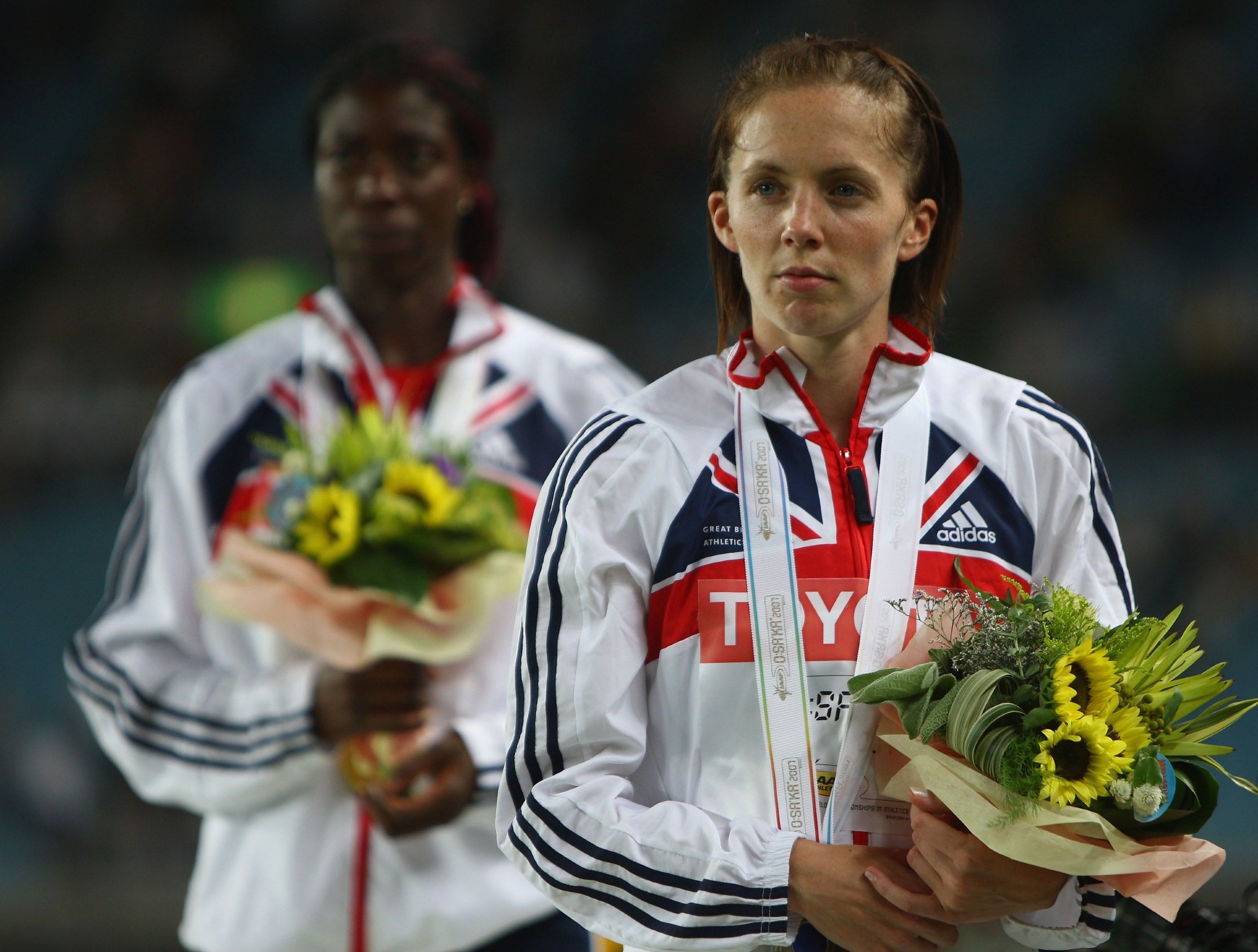 World 400m silver medallist Nicola Sanders on the podium alongside champion Christine Ohuruogu in Osaka in 2007 (© Getty Images)

"I guess there are tough bits in every part of your life, whatever you do – whether it's motherhood or your career," adds the 38-year-old, who won world 400m silver in 2007 and remains the British indoor record-holder in the event thanks to her European title-winning run that same year.
"I had setbacks and injuries, but I got very good at compartmentalising that. In the moment I let myself be sad, frustrated or angry, whatever I felt at the time, but then I was very much like 'okay, what can I do now, going forward?'
"I use that a bit in motherhood but probably more around Oliver's diagnosis. We knew we needed to live in the moment – what can we do to help him, what can we do to help us and what is best for our family?"
World Down Syndrome Day
That is where the mismatched socks come in. As well as running, Oliver loves music and making people laugh. He's a rugby and football fan, and he has Down's syndrome.
Diagnosed when he was just a few days old, Sanders is passionate about raising awareness around the condition.
"Down's syndrome is a third copy of the 21st chromosome, which is why we celebrate World Down Syndrome Day on the 21st of March – the 21st day of the third month," explains Sanders, who is based in the English village of Cookham in Berkshire, where she and her husband Dominic Bostock run a chiropractic and sports massage clinic.
"Oliver has trisomy 21, which is the most common form of Down's syndrome, and it can come with associated health complications such as heart or bowel problems, but Oliver doesn't have those. Essentially, it is a learning disability, it just comes along with some more health risks and certain characteristics that people are more familiar with visually."


View this post on Instagram

The theme of this year's World Down Syndrome Day celebrates the power of connection and Sanders says: "Oliver connects with people really well. All of his friends at school are brilliant and they adore him. To them, he is just Oliver.
"His default to connect with someone is to make a silly noise or do something funny, to make someone laugh. He is very good at it. I think it is his dramatic family roots.
"I asked if his classmates could join Oliver in wearing odd socks on Friday because that is what we do on World Down Syndrome Day. Some people feel a bit uncomfortable because we use the word 'odd', but it is because when you look at the scans of chromosomes, they look like little mismatched socks and obviously people with Down's syndrome have three copies – an odd number – of 'socks'. Also, it is a way of celebrating difference – they don't match, they are not the same, yet they are the same. They are all socks. The same as people with Down's syndrome – they are all people. We use it as a fun way of celebrating difference."
Person first
Sanders is passionate about myth-busting, challenging stereotypes and education on the use of language. Linked back to her days as an athlete, she also finds it important to focus on the now.
"What we try and do by raising awareness on social media and with World Down Syndrome Day is take the stigma away from Down's syndrome and show that it's nothing to be scared of," she says. "Oliver is not ill – it's a syndrome. He wants what every other child wants. He just wants to play with his friends and go to school and be happy and that is all we want for him, and to get rid of some outdated stereotypes and try and see the person before the diagnosis.
"That is a big thing that parents want – person-first language. We would not say 'a Down's syndrome child', but rather 'a child, who has Down's syndrome'. That is what we are really passionate about. He is Oliver first, and he happens to have Down's syndrome."



Nicola Sanders with her son, Oliver (© Nicola Sanders)

Aware of the impact a positive experience at diagnosis can make, Sanders adds: "I have heard horrible stories of people getting the diagnosis where they say: 'I'm sorry, what are you going to do now?' Or even: 'You can leave them here with us', which I can't even imagine.
"We had it done in a nice way. Our consultant said: 'He is going to have the best chance with you as parents – an Olympian and a chiropractor, that's a match made in heaven. He's going to be fine, you're going to be amazing, just go home and be with your baby and enjoy your life'.
"We very quickly learned to live in the moment, to do what Oliver needs right now and try not to look too far in the future and panic about what we can't change and that actually, when we get there, it won't seem a big deal.
"We just want people to stop judging or assuming. I always remember what somebody told me: that his only limitation will be the limitations people put on him. So I always think, expect lots of him – expect him to behave and achieve. Don't put any limitations on him and he can do amazing things."
It remains to be seen whether that means following in mummy's fast footsteps, but Oliver will have full support, whatever route he chooses.
"From when he was born, we were like 'we've got our own Special Olympian!' Sanders smiles. "Obviously I'm not going to be the pushy mum that says Oliver has to be in the Paralympics and Special Olympics because I was an Olympian – I would love him to be sporty but I would just love him to do whatever he wants to do.
"I am hoping that the world is changing along with our dreams for him, and he can find his way in any passion."
For further information on Down's syndrome see Positive About Down Syndrome and Down's Syndrome Association, "and don't forget to wear your odd socks on Sunday!"
Jess Whittington for World Athletics