US shot putter Michelle Carter at the Rio 2016 Olympic Games (© Getty Images)
The USA's 2016 Olympic shot put champion Michelle Carter has announced her retirement from competitive athletics.
The 36-year-old, who also won the 2016 world indoor title and is the US record-holder, confirmed her retirement plans ahead of last weekend's USATF Championships at Hayward Field, a competition that saw her extend her journey in the sport to an impressive 25 years.
Carter's first sport was football but she followed in the footsteps of her father – 1984 Olympic silver medallist Michael Carter – to take up the shot put. Her first competition outside of the United States was the 2001 World U18 Championships in Debrecen, Hungary, where she secured silver behind Valerie Adams. Three years later, Carter became the world U20 champion at the age of 18, throwing a PB of 17.55m in the last round to get gold. Coached by her father, she would go on to become the 2016 world indoor champion and Olympic gold medallist also thanks to her performances in the final rounds.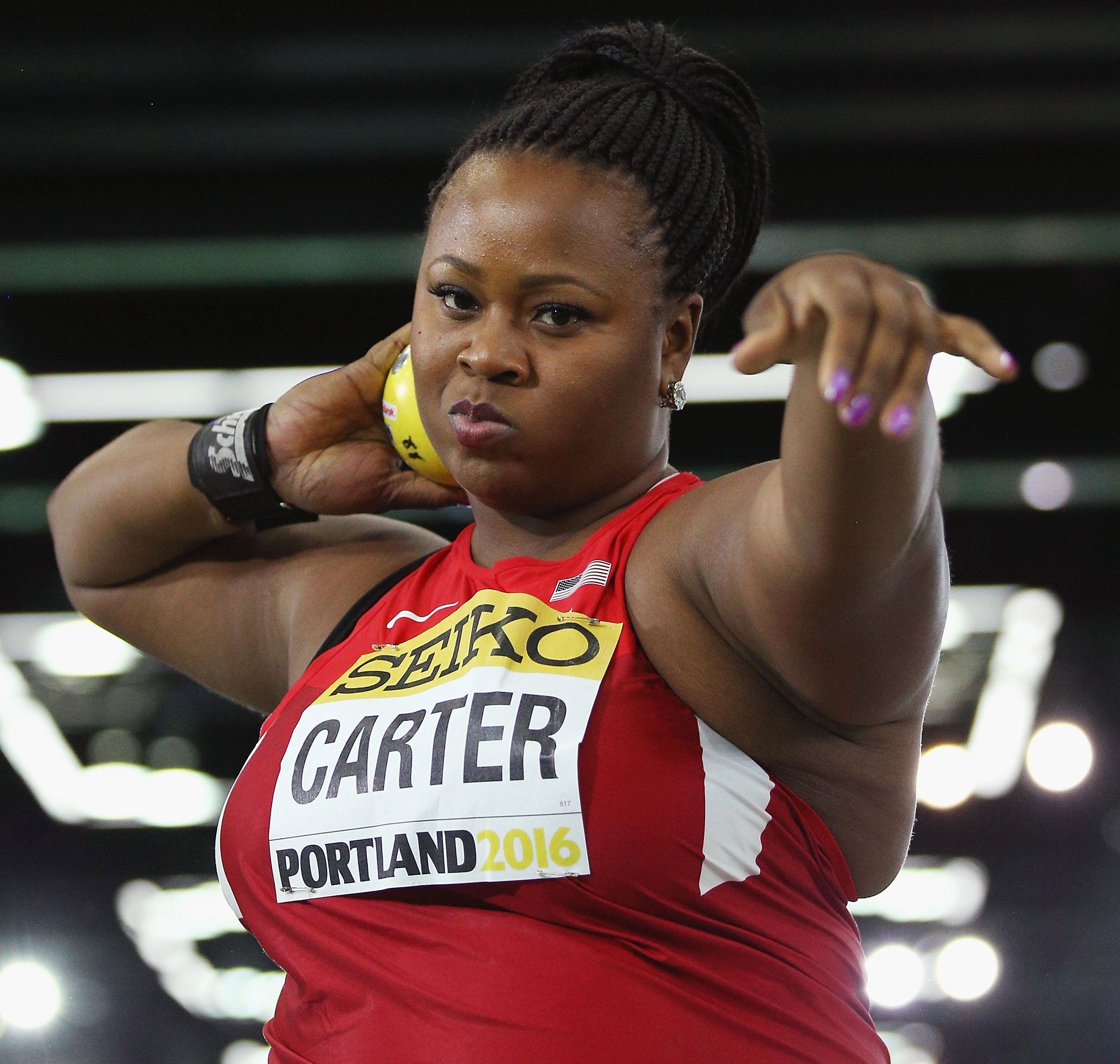 Michelle Carter at the 2016 World Indoor Championships in Portland (© Getty Images)
Carter won the first of her 12 national titles in 2008, securing her a place on the team for her Olympic debut in Beijing. The following year she finished fifth at the World Championships in Berlin and that would prove to be one of five top-eight finishes she achieved on that stage, placing eighth in Daegu in 2011 and fourth in Moscow in 2013 before her bronze medal-winning performances in Beijing in 2015 and London in 2017.
In 2012 she secured silver at the World Indoor Championships in Istanbul before finishing fourth at that year's Olympics in London, but four years later she claimed the top spot at both events.
First, competing on home soil at the World Indoor Championships in Portland, Carter threw an area record of 20.21m in response to Anita Marton's final round throw of 19.33m that had launched the Hungarian into the lead. Similarly, Carter saved her best until last at the Olympics in Rio and threw a US record of 20.63m to win ahead of Adams, who was targeting a third Olympic title.
Carter went on to make another world final in Doha in 2019 and Sunday's shot put final at the USATF Championships was her first competition since April 2021 and following the removal of a benign tumour on her ankle.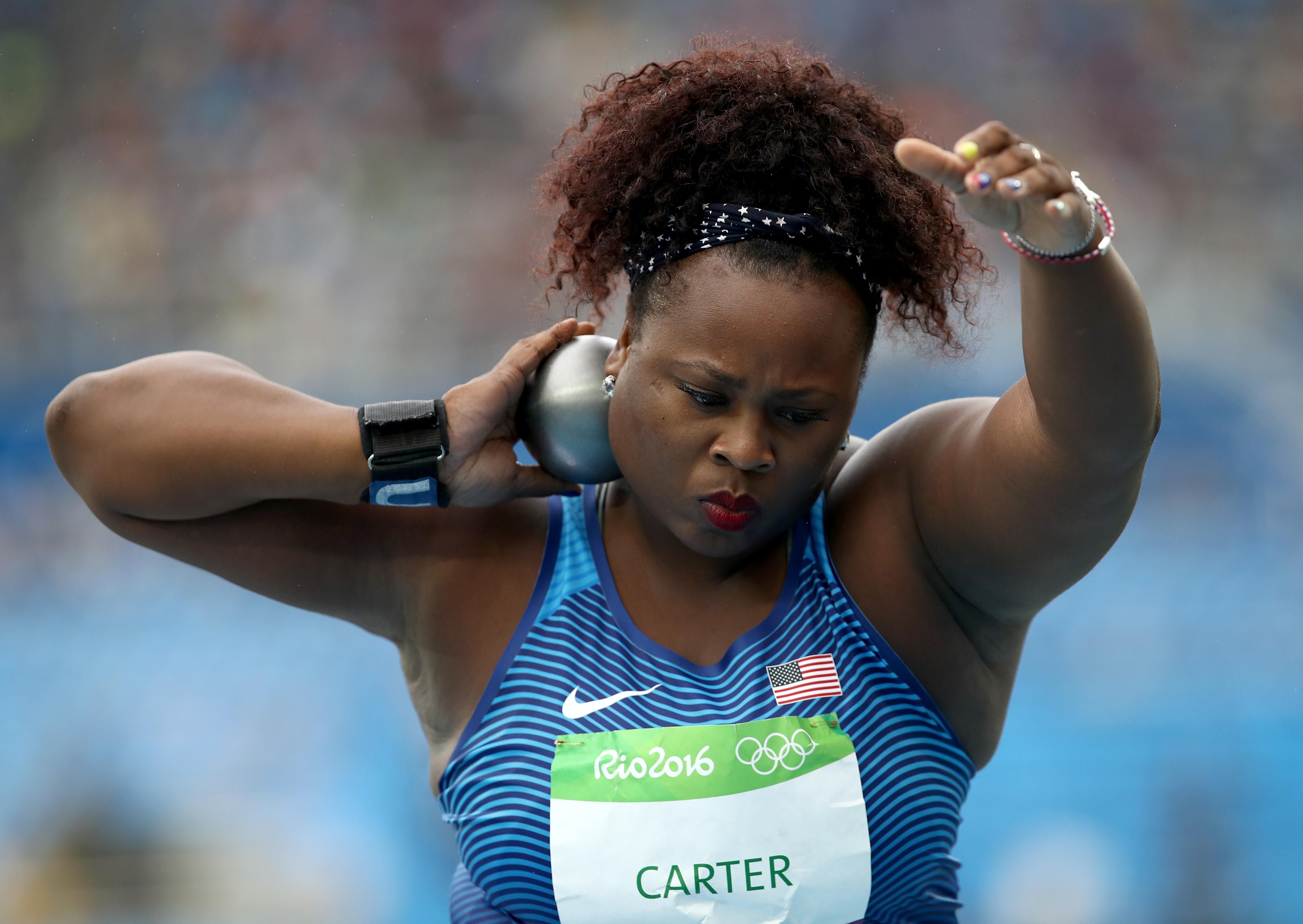 2016 Olympic shot put champion Michelle Carter in Rio (© Getty Images)
"Your girl is going to finally put the shoes up, lay the shot down," Carter said in a video posted to social media. "This year makes my 25th season, and I can't believe that I have been able to have such a great, long career. But I do feel that it is time for me to move on, and it is a little bittersweet because this has been part of my life for most of my life. I have been doing this sport a quarter of a century and it has been amazing."
With plans for a book, podcast and cosmetics line, Carter added: "I am not walking away from track and field completely, I am still very involved and plan to continue to be very involved, but not as a competitor."
Nicknamed the Shot Diva, Carter is also founder of the You Throw Girl Confidence Camp and One Golden Shot, which strives to empower and encourage youth and communities in self-awareness and confidence building.
"At You Throw Girl Camp we really want to build confidence in young female athletes to believe in who they are on and off the field," she said.
World Athletics