Dawid Tomala wins the 50km race walk at the Tokyo Olympic Games (© AFP / Getty Images)
Beating the heat, a loaded field and his own inexperience, Dawid Tomala battled his way to a surprise victory in the 50km race walk in Sapporo on Friday (6) to secure the fourth athletics gold medal for Poland at these Olympic Games.
Tomala, who was contesting the distance for just the third time, made his decisive break from the field as he approached the 30th kilometre and was never threatened en route to his victory in 3:50:08.
It was the slowest winning time since 1972, but given the conditions – 25.7°C at the start at 5:30am, with relative humidity at 79%, to 33°C and 55% humidity by 8:30am and 35°C by 9:00am – a fast time was never in the cards. That stat certainly didn't matter to Tomala.
"It was an amazing day for me. I can't believe it," said the 31-year-old, whose only recorded performance over the distance came in Dudince, Slovakia, in March when he clocked 3:49:23. He made his 50km debut in the Dudince race in 2017 but did not finish.
"The first 30 kilometres was so easy for me," he continued. "It was easy, like (a) slow training (session). Everything was amazing, Too perfect. So I was thinking maybe we can do something."
Luo Yadong of China, the fifth-place finisher at the 2019 World Championships, took control with a surge of his own early on, covering the opening 10 kilometres in 47:57, 35 seconds ahead of a 12-man chase pack that included Tomala and teammate Artur Brzozowski, Japan's Satoshi Maruo and Masatora Kawano and defending champion Matej Toth.
The Chinese national champion forged on but began running out of steam in the 19th kilometre, saw his lead reduced to one second at 20km (1:35:04) and finally drifted back behind the leaders at 22 kilometres.
Germany's Jonathan Hilbert was walking at the front, along with Toth and Tomala who were leading a 17-man lead pack that was strung out over about 15 metres.
About 1:50 into the race, Tomala took his first turn at the front, upping the tempo to build a three-second lead but soon drifted back. He wasn't yet quite ready for what was to come.
Finn Veli-Matti Partanen led through the midway point in 1:58:16, surging into a brief lead ahead of Tomala, Havard Haukenes of Norway, Maruo and Kawano, Hilbert, Toth and China's Wang Qin. Rhydian Cowley of Australia led another chase group of seven who were racing a further two seconds back.
Then Tomala made what would be his decisive move. "The 50km is so boring, I (had) to do something," he would later explain with a laugh.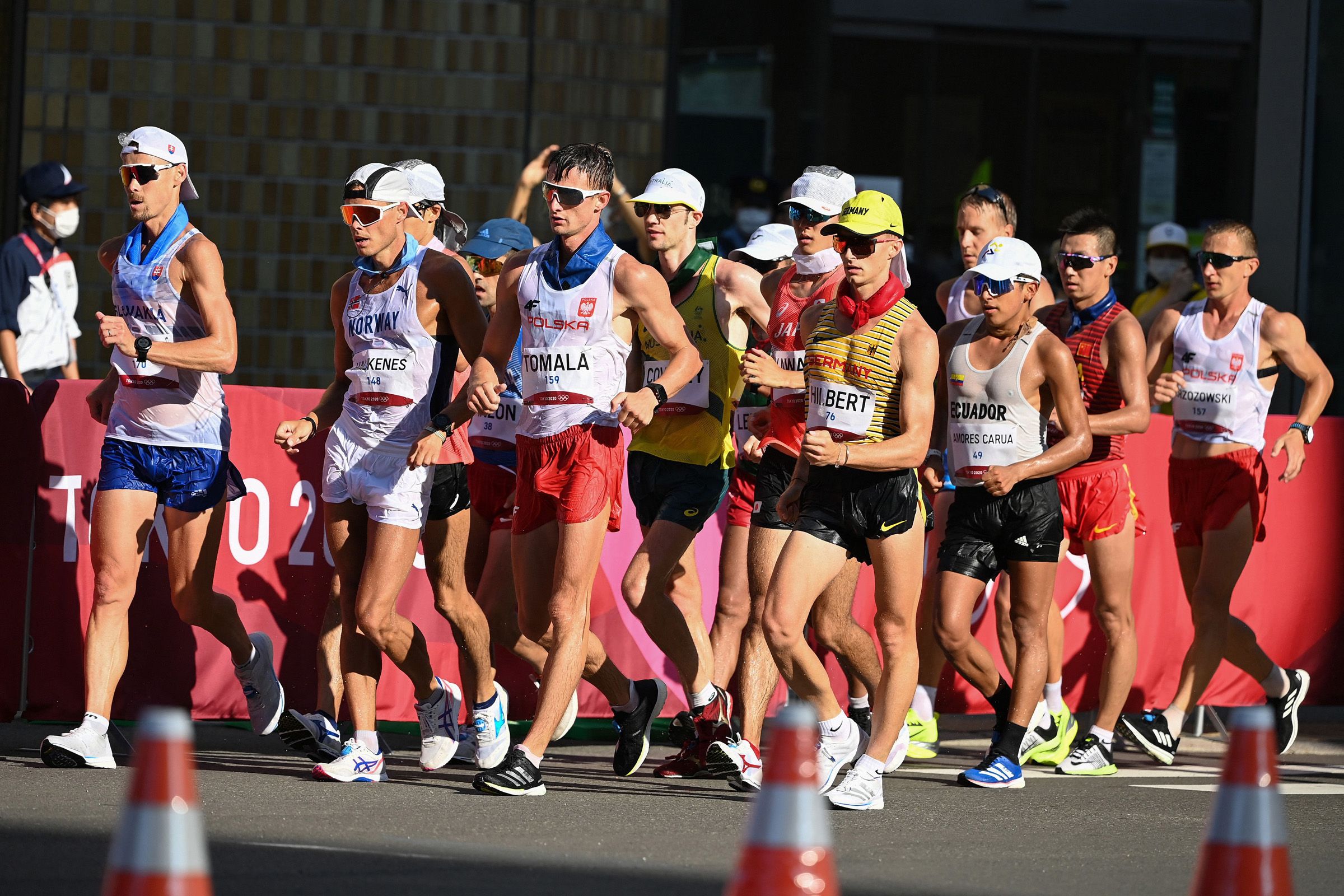 After taking turns with the lead a few more times, he surged ahead to build a nine second lead at 30 kilometres (2:21:21), ahead of some 15 challengers that now made up the chase pack.
He then was transformed into the proverbial man on a mission.
He stretched the nine-second lead he had at 30km to a whopping 1:46 five kilometres later, crossing the 35km mark in 2:42:34 while a dozen men vied to remain in contention in the chase pack.
He kept padding his lead with every passing two-kilometre lap, extending it to 2:27 at 38 kilometres, 2:50 at 40 (3:03:45), to three minutes at 42 and 3:11 at 44.
His surge, pace and the rising temperatures began to take their toll and his lead began to unravel. But in the end it wouldn't break him.
With two kilometres remaining he was 2:03 ahead of Hilbert and Spaniard Marc Tur who were seemingly locked into a stride-for-stride battle for silver. And by the time he reached the finish, he was still a comfortable 36 seconds ahead of Hilbert, who shook off Tur in the final kilometre to finish runner-up.
Canada's Evan Dunfee, who was fourth in Rio five years ago, passed Tur in the waning metres to take the bronze in 3:50:59.
"My body gave me everything today. It is more than I could ever ask for," he said. "I'm proud of what I accomplished today, but I have been dreaming of this moment and winning this medal for 21 years. I am over the moon."
Tur held on to finish fourth nine seconds later, with 45-year-old Joao Vieira of Portugal, the silver medallist at the 2019 World Championships, next in 3:51:28.
Kawano (3:51:56) and Bian Tongda (3:52:01) were next, the first Japanese and Chinese athletes across the line. Australia's Cowley finished eighth in 3:52:01, the only walker to achieve a personal best in the race.
Jesus Angel Garcia of Spain clocked 4:10:03 to finish 35th at age 51 to cap his eighth Olympic appearance, a record for athletics.
Forty-seven of the 59 starts finished - 10 did not finish and two others were disqualified. Among the DNFs was world record-holder Yohann Diniz who struggled with hip, thigh and back pain before finally stepping off the course in the 27th kilometre.
Bob Ramsak for World Athletics
MEN'S 50km RACE WALK MEDALLISTS
🥇
Dawid Tomala 🇵🇱 POL
3:50:08
🥈
Jonathan Hilbert 🇩🇪 GER
3:50:44
🥉
Evan Dunfee 🇨🇦 CAN
3:50:59
Full results