Eliud Kipchoge and Ruth Chepngetich in action in the marathon (© Getty Images)
Men's marathon
Entries | course video | timetable | world rankings | 2021 world list | world all-time list | how it works
Five years ago, marathon world record-holder Eliud Kipchoge was the last champion crowned at the Olympic Games in Rio. He'll be aiming to replicate that achievement in Sapporo on 8 August, the final day of the postponed Tokyo 2020 Games.
Successfully defending any title over the marathon distance is no easy task. Only two runners have managed the feat at the Olympics: 1960 and 1964 champion Abebe Bikila of Ethiopia and East German Waldemar Cierpinski, the winner in Montreal in 1976 and Moscow in 1980. Over the course of his career, Kipchoge has arguably achieved more than both of those legendary marathoners: he's broken the world record, which currently stands at 2:01:39, and pieced together a 10-race unbeaten streak over a five-year stretch which included victories at most of the world's most prestigious races, a record unparalleled in modern marathon running.
That streak finally came to a halt at the London Marathon in 2020, where he finished eighth in 2:06:49, the slowest marathon of his career. But he bounced back in April, winning in Enschede in 2:04:30. Four men have run faster this year in a season still battered by pandemic cancellations, but it was nonetheless a performance which illustrated that Kipchoge is fully capable of winning, even at 36. Indeed, he's widely considered a grand old man of the distance these days, a characterisation that certainly fits at this year's Games when only 11 of the 115 entrants are older.
Picking favourites in a marathon is difficult at the best of times. Throw a pandemic into the picture that ravaged the road racing season over the past 16 months, and it becomes a near impossible task.
That said, Kipchoge can expect a strong challenge from the Ethiopian squad, led by world champion Lelisa Desisa, Shura Kitata and Sisay Lemma. Desisa hasn't run under 2:06 since 2018 but his performance in Doha's difficult conditions in 2019 bodes well for a mid-summer marathon that is also expected to endure warm temperatures. Kitata won the London race that ended Kipchoge's streak, clocking 2:05:41, while Lemma has raced well in recent big city marathons, finishing third in both Berlin in 2019 (2:03:36) and Tokyo (2:04:51) in 2020.



But both of Kipchoge's teammates have run faster more recently, suggesting ambitions to claim more than one podium spot. Lawrence Cherono and Amos Korir earned their spots after finishing second and fourth at last year's Valencia Marathon in 2:03:04 and 2:03:30, respectively, the second and fourth fastest times of 2020.
Stephen Kiprotich, the 2012 Olympic champion and 2013 world champion, leads the Ugandan squad, returning for another shot after a 14th-place finish in Rio. But his most recent top-two finish dates back to 2017 when was second in Fukuoka so Ugandans will have higher hopes for Felix Chemonges, who has a 2:05:12 lifetime best from the 2019 Toronto Marathon, and Fred Musobo, whose 2:06:56 best was set in Daegu in 2019.
Belgian Bashir Abdi could also be factor. The 32-year-old improved his national record to 2:04:20 at the Tokyo Marathon last year. Other notables include Galen Rupp, the 2016 bronze medallist, who earned his return ticket after his victory at the US trials in Atlanta in February last year.
The marathon-mad host nation's hopes lie with Suguru Osako, who broke his own national record with a 2:05:29 run at the Tokyo Marathon in 2020, finishing fourth. He'll be joined by Marathon Grand Championships winner Shogo Nakamura and Yuma Hattori who has a 2:07:27 PB from 2018.
The field also includes Tachlowini Gabriyesos, a 23-year-old Eritrean native who clocked 2:10:55 at the Hahula Galilee Marathon on 14 March to become the first refugee athlete to better an Olympic qualifying standard.
Bob Ramsak for World Athletics
Women's marathon
Entries | course video | timetable | world rankings | 2021 world list | world all-time list | how it works
World record-holder Brigid Kosgei will start as the woman to beat in the marathon when she hits the road on the Games' penultimate day. But she won't be lacking for formidable opposition.
The 27-year-old Kenyan has been among the best marathon runners on the planet since 2017 when she first threatened the 2:20 barrier at that year's Chicago Marathon, finishing second in 2:20:22. She returned the following year to take the title in 2:18:35 and then returned again in 2019 to smash the world record with a jaw-dropping 2:14:04 performance.
She followed up well with a successful title defence at the London Marathon last October in 2:18:58, winning by more than three minutes to secure her fourth consecutive marathon victory.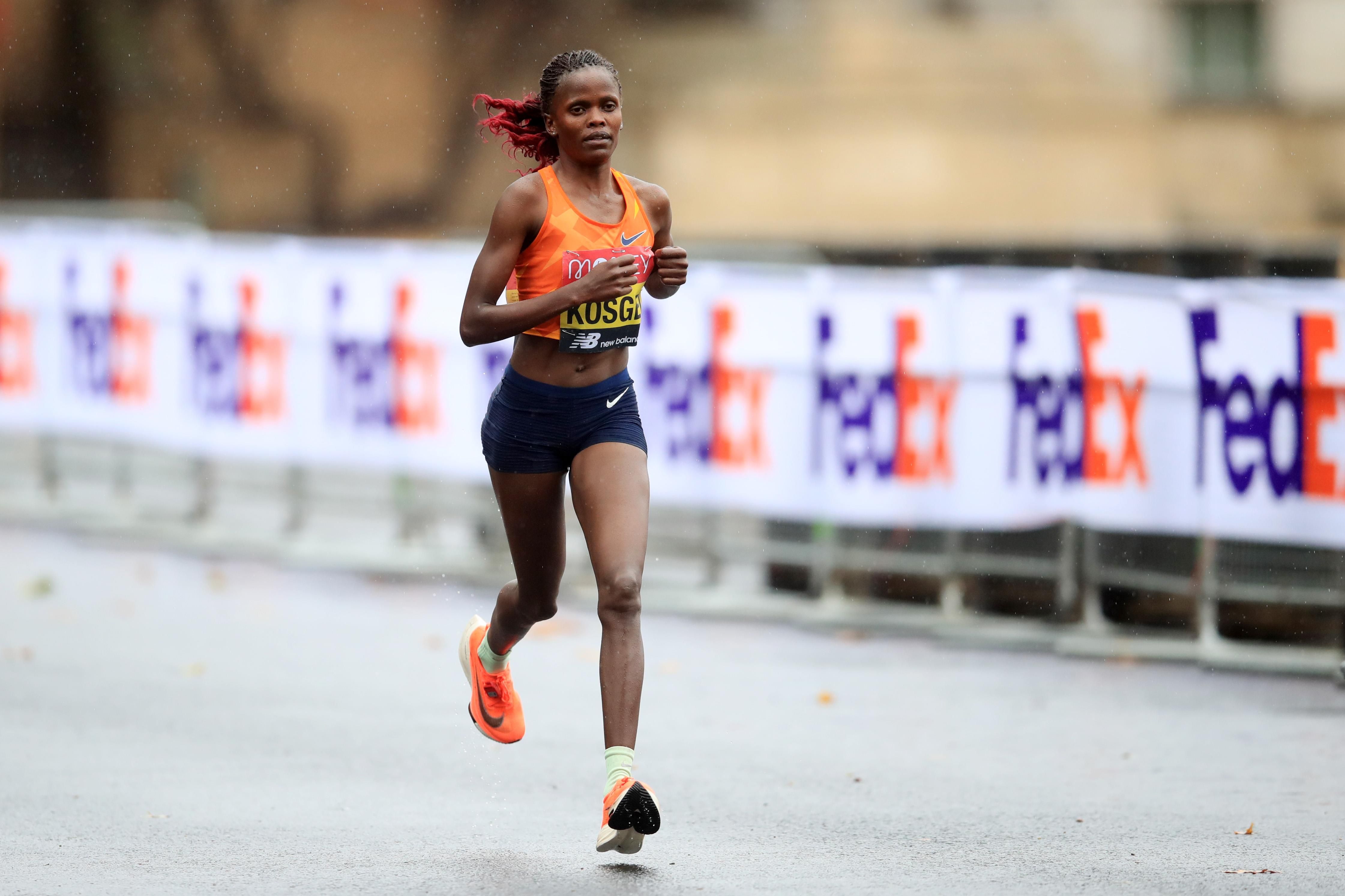 Kosgei hasn't contested the distance since and has only raced twice in 2021, so her current form will be somewhat of a mystery. This will also be the first time she has competed at a major championship. Given her marathon pedigree, though, you can expect her to arrive in Sapporo well prepared.
But she'll have plenty of fast company, beginning with her teammates.
Peres Jepchirchir, the two-time world half marathon champion, heads to her first Olympics courtesy of her 2:17:16 victory at the Valencia Marathon last December, the fastest in the world last year. Just over a month earlier, she broke the half marathon world record for a women-only race, clocking 1:05:16 at the World Half Marathon Championships.
They'll also have Ruth Chepngetich, the world champion, for company. Chepngetich clocked 2:17:08 in Dubai in 2019 that currently places her fourth on the world all-time list. After a third-place finish at the London Marathon last October in 2:22:05, Chepngetich returned to action at the Istanbul Half Marathon earlier this year when she broke the world record in a mixed race, clocking 1:04:02.
That Kenyan trio is about as good as they come. But the Ethiopian team isn't too far off that mark.
Birhane Dibaba clocked 2:18:35 to finish second in Tokyo last year, one of the fastest performances of 2020. Teammate Roza Dereje was even faster a few months earlier, clocking 2:18:30 in Valencia in December 2019. Zeineba Yimer, 23, is another rising star, clocking 2:19:28 and 2:19:54 at the 2019 and 2020 editions of the Valencia Marathon.
Expect Israeli record-holder Lonah Salpeter to be in the hunt. The 32-year-old broke into the all-time top-10 after a sensational 2:17:45 run to win the 2020 Tokyo Marathon and has tuned up with a solid but pressure-free 2:22:37 run at home in March.
Helalia Johannes of Namibia, the surprise bronze medallist at the 2019 World Championships, also made a notable jump last year into the sub-2:20 club, finishing third in Valencia in 2:19:52. She'll turn 41 the week after the Olympics ends and is showing few signs of slowing down. Winner of the Commonwealth title in 2018, Johannes excels in championship races held in hot conditions.
Japan will be well represented by a pair of consistent runners who could be ready to challenge for the podium. Mao Ichiyama has a 2:20:29 lifetime best from her victory at the 2020 Nagoya Marathon and was nearly as fast the following year when winning in Osaka in 2:21:11. Meanwhile, Mizuki Matsuda clocked 2:21:47 to win the Osaka Marathon in 2020 and 2:21:51 to win Nagoya earlier this year.
Bob Ramsak for World Athletics